Best Online Master's in Aerospace Engineering Programs
By Jordan Beliles | Updated 8/4/2022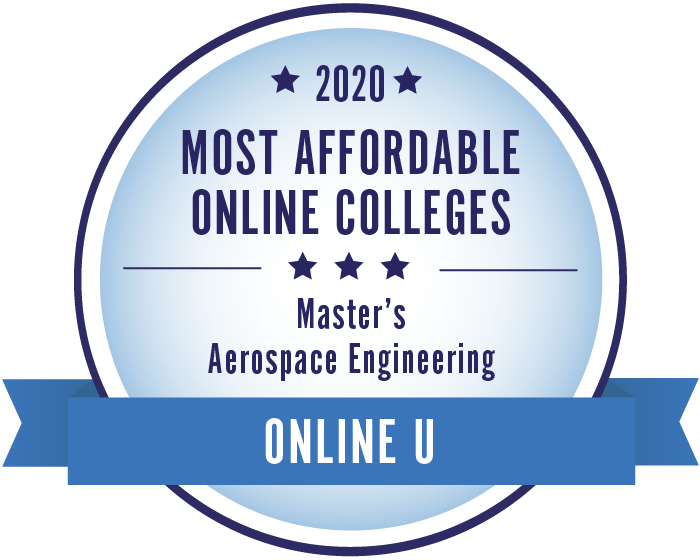 This list highlights the 24 best value colleges offering online master's programs in aerospace engineering. Virginia Polytechnic Institute and State University is ranked #1, offering a Master of Science in Aerospace Engineering (Non-Thesis Option) for $29,559 per year. Graduates of the school reported a median salary of $153,600. In the #2 spot, the University of Illinois Urbana - Champaign offers a Master of Science in Aerospace Engineering for only $17,344 per year, making it an affordable choice for distance learners who are looking for a high quality and affordable education.
Alumni salaries were provided by PayScale. View our methodology for more details or learn more about OnlineU.
| Rank | School | Annual Tuition | Mid-Career Salary |
| --- | --- | --- | --- |
| # 1 | Virginia Polytechnic Institute and State University | $29,559 | $153,600 |
| # 2 | University of Illinois Urbana - Champaign | $17,344 | $139,800 |
| # 3 | University of Southern California | $29,050 | $138,800 |
| # 4 | Stanford University | $20,280 | $131,300 |
| # 5 | Texas A&M University - College Station | $26,402 | $126,900 |
| # 6 | University of Virginia | $8,115 | $117,073 |
| # 7 | Georgia Institute of Technology | $18,700 | $121,000 |
| # 8 | University of Colorado Boulder | $28,440 | $122,200 |
| # 9 | Iowa State University | $10,425 | $113,785 |
| # 10 | Auburn University | $14,235 | $113,835 |
| # 11 | North Carolina State University | $20,185 | $115,059 |
| # 12 | University of Colorado Colorado Springs | $13,263 | $109,000 |
| # 13 | Missouri University of Science and Technology | $18,000 | $110,878 |
| # 14 | Purdue University - Main Campus | $20,220 | $111,300 |
| # 15 | University of Florida | $30,134 | $115,206 |
| # 17 | Embry-Riddle Aeronautical University - Worldwide | $15,000 | $107,800 |
| # 18 | University of South Carolina - Columbia | $8,583 | $99,538 |
| # 19 | University of New Mexico | $4,583 | $97,162 |
| # 20 | University of North Dakota | $11,460 | $98,496 |
| # 21 | University of Central Florida | $10,422 | $94,329 |
| # 22 | Old Dominion University | $8,925 | $86,763 |
| # 23 | Mississippi State University | $7,335 | $84,875 |
| # 24 | University of Alabama | $6,300 | $81,872 |
Salary data provided by

2020 Online Colleges Offering Aerospace Engineering Degrees - Ranking Details
What Is an Aerospace Engineering Degree?
Aerospace engineers design, maintain, and improve aircrafts and spacecrafts. Their work is integral to many important organizations and private enterprises.
During a master's in aerospace engineering, you'll prepare yourself to enter the workforce by applying science-based coursework with instrumentation and laboratory studies. You'll be tasked with learning complex research and development techniques as they relate to fluids, materials, propulsion, and structures. Online aerospace engineering master's programs include both practical and theoretical studies alongside a variety of tools and techniques.
Can You Get an Aerospace Engineering Degree Online?
Some of the best master's programs in aerospace engineering can be found online. As long as the university is accredited by the U.S. Department of Education, or another regional organization, you can rest assured that your online degree is respected among potential employers.
Keep in mind, most online degrees in this field will require some in-person learning. Engineering is an area of study that requires a lot of hands-on work with equipment. This is especially true for aerospace engineering, where you'll need to use special instruments to design complex systems.
How Many Years Is a Masters Degree in Aerospace Engineering?
You'll likely start your college experience by filling out an entrance exam and applying for student loans and scholarships. This process can take months in and of itself. But once you're accepted, it's good to have an idea of how long you'll be studying at the master's level.
While bachelor's degrees in aerospace engineering generally take four years to complete, master's programs can add another one to two years to your education. Each program may vary in length, but most require 30 to 60 credit hours. For aerospace engineering master's programs online, students can often take on a more flexible schedule than on-campus degrees allow. In this case, your degree may take longer, but it may also allow you to maintain a job while you study. For those who have the resources to attend class full-time, an online program can be completed in less than two years.
Program Requirements
In order to be accepted into an online master's degree in aerospace engineering, you'll need to have earned a prior degree in a related field. Ideally, you'll have achieved your bachelor's degree in aerospace engineering, however colleges may also accept other degrees. Bachelor's degrees in aviation, engineering specialties, and space studies are suitable to prepare you for master's-level coursework. When it comes to grade point average, most schools require a 3.0 GPA or higher from your previous degree, which must also come from an accredited engineering institution. A Graduate Record Examination (GRE) may also be required for some programs.
Aerospace Engineering Courses
Aerospace engineering coursework blends physics, mechanics, and a variety of technical and theoretical studies. You can take many of these classes online through your school's learning management system. Some courses, however, require hands-on learning in laboratory settings, where you'll be tasked with designing, assembling, and repairing mechanical equipment. Let's take a look at some of the most common courses in an aerospace engineering master's program.
This course looks at finite wing theory and the mechanisms surrounding it. This critical element of study provides you with an understanding of the aerodynamics related to surface design and other aircraft parts, such as the propeller and rotor.
You'll also study spacecraft mechanics outside of Earth's atmosphere. Topics here will include rocket dynamics, gravitation fields, perturbations, and orbit transfer. Each section is meant to provide you with an understanding of how spacecrafts function in a gravity-free environment.
Hypersonic Aerothermodynamics
Here, you'll study the different aspects of aerothermodynamics when it comes to the high-speed travel of spacecraft and missiles. You'll also learn how to test and model crafts in a hypersonic environment.
Finite Element Fundamentals
This course explores two-dimensional problems and energy principles. You'll discover the Ritz method — which looks at resonant frequencies of spring mass systems, such as complex flywheels — along with finite element methods.
This fundamental aspect of aircraft propulsion requires a deep understanding as an aerospace engineer. In this course, you'll look at the design methodologies and performance analysis of gas turbines, including their complex system of compressors, nozzles, and combustors.
Aerospace Engineering Concentrations
Many aerospace engineering degrees require you to choose an area of specialization, otherwise known as a concentration.
One of the most common concentrations is aerodynamics and fluid dynamics. The former covers the movement of an object through the air while the latter looks at the movement of gasses and liquids.
Or, you may be interested in aerospace structures. In that case, you may want to choose a concentration focusing on how structures behave in high performance scenarios while flying at high speeds through air and space.
Propulsion is another specialization on offer from aerospace master's degrees, wherein you'll learn how to design and test propulsion components from both spacecraft and aircraft.
What Can You Do With an Aerospace Engineering Degree?
Below, you'll find some potential engineering careers for those who graduate with a master's in aerospace engineering. It may be helpful to keep in mind that an 8% job outlook is the national average across the U.S., while $45,760 is the median annual wage for all workers. In general, engineering jobs offer salaries well above this median.
Licensure Requirements
Most entry-level roles in the field of aerospace engineering do not require licensure. Beyond these roles, you'll likely be required to possess a license by either your employer or the state.
The two most common licenses come from the Professional Engineering (PE) and Fundamentals of Engineering (FE) exams. The National Council of Examiners for Engineers and Surveyors (NCEES) administers these exams, which — upon completion — makes you an officially licensed engineer in your state.
Is a Master's Degree in Aerospace Engineering Worth It?
Earning a master's degree in aerospace engineering will prepare you for a lifelong career in a highly competitive industry. If you enjoy solving complex problems and learning both theoretical and practical engineering skills, then earning a master's degree will be worth it. Engineers enjoy high-paying salaries, fulfilling work, and abundant job opportunities in various fields. Let's look at the potential benefits, and possible drawbacks, of studying aerospace engineering:
Potential Benefits
The average engineering salary is higher than most other jobs. Aerospace engineers generally make over $122,000 per year, while most workers in America earn just $45,760, as previously cited above.
Aerospace engineers usually receive excellent benefits. According to California's Employment Development Department, roles in aerospace engineering offer employees both health and life insurance, along with retirement plans and time-off for vacation.
Aerospace engineers enjoy fulfilling work, according to CareerExplorer's job satisfaction survey. As a professional, you'll get the opportunity to work on exciting crafts meant for space travel or develop sustainable systems that are designed to cut back on deadly carbon emissions.
Potential Drawbacks
Aerospace engineers may travel often for work. One of the cons of working on large spacecraft and aircraft is that they're often located off-site in large facilities. This means you may be required to travel, or even relocate for a certain job role.
Remote work is uncommon for aerospace engineers. Another livability factor to consider is that most roles in this field will require you to work in an office, manufacturing facility, research lab.
Aerospace engineers spend a lot of time in front of a computer. Although some hands-on work for maintenance is often required, a lot of the design work is done through computer-aided design programs. Even during flight testing scenarios in a live airfield, much of the work is done behind a computer screen.
FAQS About Online Master's Degrees in Aerospace Engineering
Can I Do Masters in Aerospace Engineering After Electrical, Mechanical, or Computer Engineering?
---
Each master's program in aerospace engineering may have different requirements. However, if you've completed a bachelor's degree in mechanical engineering, electrical engineering, or computer engineering, you will likely be accepted into a master's program in aerospace engineering. Your chances will be increased if you've taken courses related to aerospace or aviation, such as Aerodynamics or Thermodynamics.
Is Aerospace Engineering Tough?
---
Aerospace engineering degrees require a thorough understanding of scientific fields, equations, theories, and mechanics. This means you'll need to be educated in complex mathematics, physics, and technologies. If you plan on leading a team or running a department, employers may ask that you have expertise in communication, business, analytics, and even project management. These factors make aerospace engineering a difficult field to study.
What Can I Do With a Master's in Aerospace Engineering?
---
Aerospace engineers often work for government agencies or military branches, where they design equipment, such as satellites, aircraft, or spacecraft. If you're asking yourself, "Where can I work with a masters in aerospace engineering?," the answer varies depending on job availability and your preferences as a professional.
You may wind up working for the National Aeronautics and Space Administration (NASA) or the Federal Aviation Administration (FAA), two popular organizations for aerospace graduates. Research facilities and academic institutions also hire aerospace engineers, allowing graduates to conduct studies in their field of interest.
Do Aerospace Engineers Get Paid Well?
---
A master's in aerospace engineering salary varies from employer to employer. The Bureau of Labor Statistics (BLS) states that aerospace engineers earn an average income of $122,270 per year. This is well above the average salary for all occupations nationwide. This salary is common, even if you earn a degree from an online university for masters in aerospace engineering.
SpaceX, one of the most prominent private enterprises in space travel, offers aerospace engineers around $107,000 per year, according to anonymous employee submissions on Glassdoor. NASA also hires engineers, with aerospace being one of the most common fields from which they choose candidates.
Bottom Line
Earning an engineering degree is difficult — regardless of what level you're at. If you're able to complete an online master's degree in aerospace engineering you'll be put in a lucrative, albeit competitive, field. Professionals often consider this a fulfilling role because you'll have the opportunity to work on exciting projects, like building crafts or satellites that are sent to space to collect vital data, or work on aircraft and other technologies used by the military. Furthermore, salaries for aerospace engineers are higher than average and include solid benefits for employees. If you have the dedication and resources, master's degree holders will see benefits long after graduation.
Related Articles
2023 Best Online Master's Degrees
A master's program can expand your employment options and earning power. Explore our list of the best online master's programs based on alumni salaries.
2023 Most Affordable Online Master's Degrees in Aerospace Engineering
Discover the most affordable colleges for online master's degrees in aerospace engineering from our 2023 list of programs.