2020 Best Online Marketing Degrees
Online marketing degrees are available at the associate, bachelor's, master's, doctoral, and certificate levels. Marketing professionals ensure that their organization's message speaks to the right people, with the goal of increasing and maintaining market share. Our lists of the best online bachelor's degrees and the best online master's programs in marketing may be helpful to prospective students. These lists are based on manually researched tuition costs and alumni salries provided by PayScale.
In addition to institutional accreditation, students should select marketing degree programs that have programmatic accreditation from the Association to Advance Collegiate Schools of Business (AACSB). Learn more about pursuing an online marketing degree with detailed information about accreditation and career options in the field.
2020 Best Online Colleges Offering Bachelor's in Marketing Degrees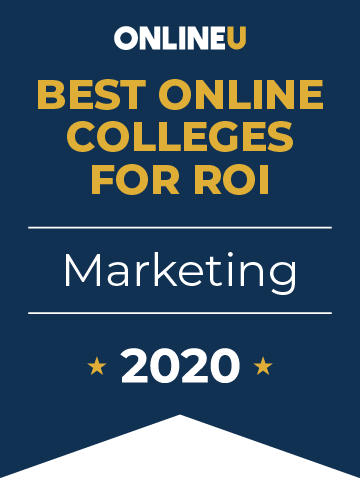 This list highlights the 23 best value colleges offering online bachelor's degrees in marketing. At #1, New England College charges $12,150 per year for their BA in Business Administration/Marketing. Assumption College, ranked #2, offers distance learners a Bachelor of Business Administration - Marketing for $12,720 per year. Alumni reported a mid-career salary of $109,400.
Alumni salaries were provided by PayScale. View our methodology for more details or learn more about OnlineU.
Salary data provided by

2020 Online Colleges Offering Marketing Degrees - Ranking Details
Online Marketing Degree Overview & Career Information
Marketing certificate programs are designed for students who only want to study marketing-specific material, either because they already have an undergraduate degree or they want to gain skills in a very specific field. Associate degrees are broader in that they include general education courses in addition to marketing courses. The first half of a four-year bachelor's degree program mimics that of an associate degree program, while the second half requires students to take more advanced and in-depth marketing courses and electives.
Master's degrees are designed for those who wish to pursue supervisory, leadership, and management career opportunities. Courses may include brand management, marketing research, professional development, sales management, and product development. A thesis is typically required to graduate from a master's degree program.
Marketing doctorates require a significant amount of field research and require students to complete a doctoral thesis that results in a published dissertation. Students may also be required to teach introductory marketing courses and take field exams as part of their training.
Online Associate Degrees in Marketing
Associate degrees in marketing prepare students to identify potential customers for a product or service and market effectively to this customer base. These programs last two years and consist of approximately 60 credit hours. High school graduates and those with a valid GED may seek admission.
Students in the marketing associate program study the psychology of consumers, how to communicate with customers and colleagues effectively, and specific sales techniques. Some programs particularly emphasize concepts in e-commerce, promotion, and research. Additional required courses include statistics, organizational behavior, financial accounting, micro- and macroeconomics, consumer behavior, and services marketing.
Depending on the degree, marketing students may be required to complete an internship as a prerequisite for graduation. This hands-on experience places students in a business in their local area, where they can practice examining local markets and creating messages for consumers.
Graduates of associate programs can seek entry-level positions in market research, product management, and Internet marketing. Associate graduates are more likely to land administrative support roles at larger businesses, as many marketing roles require a bachelor's degree. Other possible career opportunities exist in retail settings, such as sales and customer service positions. As with most business positions, previous professional experience can help candidates land a job.
Online Bachelor's Degrees in Marketing
Bachelor's degrees in marketing are usually business programs with a specialization in marketing topics. Students learn how to perform marketing research and predict consumer behavior for particular products. These programs take four years to complete and require about 120 credit hours of coursework. Prospective marketing bachelor's students will need to assemble the general admissions packet for a four-year college or university, which usually includes a high school diploma or GED certificate, standardized test scores, and letters of recommendation.
The curriculum in the marketing program is comprised of a general business core along with a set of marketing classes. Courses in accounting, finance, management, information systems, and economics provide students with the ability to understand marketing topics as they affect an entire business enterprise. Marketing specialization classes discuss advertising, marketing behavior, marketing research, global marketing, and e-marketing, among other topics. Students learn how to pinpoint a target market, identify the market's interests and wants, and develop a marketing or advertising campaign. Some bachelor's programs require an internship in a marketing department or firm prior to graduation.
The marketing bachelor's can be a great springboard for a variety of careers in marketing. Marketing management, sales management, and marketing research analysis are possible career opportunities.
Online Master's Degrees in Marketing
The master's degree in marketing provides advanced education in marketing research and management. Master's-level coursework will address the concepts used to target customers and develop effective advertising campaigns. These programs typically take one to two years to complete and are offered through the business school of colleges and universities. Students complete 12 to 15 classes in a variety of theoretical and applied marketing topics. Applicants typically need a bachelor's degree with a high GPA, as well as GMAT or GRE scores. Professional business experience may be required in some programs.
The curriculum in the marketing master's degree program can take an integrated approach or focus in a particular marketing area. Integrated programs look at a wide variety of marketing topics, such as marketing decisions, strategy, statistics and analysis, digital marketing, and brand management. Other master's degree programs focus on a particular area of marketing, such as marketing research or public relations. Some programs include a general curriculum with optional focuses in areas such as marketing analytics.
The marketing graduate program is excellent preparation for competitive marketing or sales management positions. A master's degree can help candidates stand out in the tough job competition that comes with these sought-after positions. Career opportunities may include advanced positions in Internet and digital marketing, advertising sales, product promotion, and public relations management.
Online MBA Degrees in Marketing
The marketing MBA combines courses in general management topics with in-depth study of the many aspects of product development, promotion, and sales. The degree consists of 2 to 3 years of coursework and 15 to 25 courses. Admission requires an accredited bachelor's degree. In some cases, applicants may need professional experience as well.
The marketing MBA core curriculum covers an interdisciplinary set of business topics. Classes in finance, accounting, and economics teach students the skills for developing a budget, navigating the market system, and growing capital. Other commonly required classes include management ethics, information systems, decision making, leadership skills, and organizational behavior.
The marketing specialization requires three to eight classes in areas such as public relations, advertising, market research, product development, branding, and international marketing. Some MBA programs require a capstone experience, where students develop a large project such as a mock advertising campaign or media strategy.
The MBA in marketing can help professionals land sought-after advertising, business, and promotions management positions. Marketing professionals with a firm understanding of digital marketing and online promotion are likely to have better opportunities.
Online Doctoral Degrees in Marketing
A doctorate in marketing takes between four and five years to complete. The typical applicant to a doctorate program in marketing already has a bachelor's degree in business or in marketing, a master's degree or an MBA, and a strong resume with experience in several areas of the field.
Doctoral programs in marketing vary by institution, but some courses show up on almost every curriculum. For instance, most students pursuing a PhD in this field will study statistics in detail, learning appropriate research methods, data interpretation, and application of results. Most programs also devote time to studying international marketing, Internet marketing, and general digital marketing. Every doctorate program will ask students to apply what they have learned in an independent research and writing project known as a dissertation, which can take a year or more to complete.
Very few marketing professionals who are active in the field today have doctoral degrees. There is limited room for corporate advancement once one has become the director of marketing for a major company, and a doctorate in marketing is unlikely to help anyone who already has an MBA or marketing experience. The majority of people who earn doctorates in marketing choose to work as professors, consultants, or researchers.
Professors help train the next generation of marketing professionals while participating in research projects. Consultants work for various marketing departments, training current employees or working on company projects. Researchers typically work for universities or independent marketing research agencies, conducting and analyzing studies to ensure that businesses are employing the most effective possible marketing campaigns.
Online Certificates in Marketing
The marketing certificate can be a great way to engage in marketing fundamentals, such as market research and analytics. Enrolling in a certificate program can also be a great way to update your knowledge of current marketing trends, such as social media marketing. These programs take less than one year to complete, and typically require four to eight courses.
Marketing certificates are more commonly offered at the graduate level, with a bachelor's degree as a prerequisite. Some colleges and universities also offer undergraduate certificates that can be completed as part of a bachelor's degree or as a stand-alone program. Students who are considering pursuing a marketing master's degree at a later time should consider pursuing an accredited certificate program with for-credit courses that can be applied to the higher degree.
The coursework in the marketing certificate revolves around marketing principles, market research skills, marketing communication, and strategic marketing. For example, the foundational marketing practices course discusses marketing from the perspectives of the product manufacturer and consumer, along with issues such as pricing and distribution. Students also learn about consumer behavior and how to assess research findings about product appeal and target markets.
Marketing certificates can be useful for individuals at a variety of different places in their marketing careers. A broad certificate can be great for those with a more general bachelor's degree who want to prepare for marketing research or management positions. More focused certificates, such as social media or strategic marketing programs, can be useful for current marketing professionals looking to stay up-to-date on the latest developments in the field. Marketing certificates can also be useful for advertising and sales specialists or managers.
Accreditation
When researching prospective schools, it's important to find out whether the institution has been accredited by a legitimate accrediting agency, especially for online schools. Accreditation helps ensure that you will receive a quality education that will adequately prepare you for a marketing career. Colleges and universities that choose to participate in the accreditation process are carefully reviewed by independent agencies that have been approved by the US Department of Education or the Council for Higher Education Accreditation.
Accreditation is important because it proves to students, other schools, and prospective employers that an institution and its programs meet acceptable standards with regard to the curricula, administration, student services, and other aspects. Most employers and schools only accept credits and degrees from accredited colleges and universities, and federal aid is only granted to students who enroll at an accredited school. Schools and programs that do not have accreditation may not meet the necessary standards of proper education, so it's recommended that students select a marketing program at an accredited online school.
Online Internet Marketing Degrees
The Internet is constantly changing the way that businesses market themselves and their products. Mastering search engine optimization (SEO), social media, and web analytics is essential to successful marketing campaigns today. A degree program in Internet marketing will prepare students to help businesses design and implement strategies to reach customers and measure the effectiveness of online campaigns.
Internet marketing degrees are available online at the associate, bachelor's, master's, and certificate level. Associate degree programs in Internet marketing focus on the skills and knowledge needed for entry-level work in the field, such as web design, search engine optimization (SEO), advertising basics, and social media marketing. Bachelor's degree programs provide students with a strong general education foundation as well as a more in-depth understanding of the principles and technologies behind Internet marketing. Graduates of associate and bachelor's programs may enter the field as SEO copywriters, web designers, and social media marketers.
Some colleges and universities offer a two-year MBA degree with a specialization in Internet marketing. These programs are ideal for professionals looking to learn new skills and move into management and consulting positions. In addition to learning about the fundamentals of business, MBA students also study Internet marketing technologies and how they may be used to gather data, analyze it, and use it to design effective campaigns. Internet marketing certificate programs are beneficial for professionals and small business owners who want to learn how to use the Internet to promote their business. Some programs may only last a weekend, while others may take nine months or more.
Career Opportunities for Marketing Degree Graduates
Online marketing degrees have the benefit of being specialized, while still allowing graduates to choose from several different career paths. Students learn business skills and effective communication, which are useful in a variety of career areas, as well as marketing research and marketing strategies.
Depending on your own interests and career goals, a marketing program can take you into a number of career areas. A bachelor's degree is the usual requirement for entry-level positions, while a master's or MBA can open up management or advanced positions. Here are some of the most popular marketing career opportunities available today:
Copywriter
Copywriters combine grammar, composition, and marketing strategies to craft messages that help sell products. A bachelor's degree in marketing, English, or communications is a good way to prepare for a career as a copywriter. Copywriters may work as freelance writers or as employees of advertising and public relations firms. They craft advertising slogans, press releases, and other content relating to a product or service.
Copywriters often work under tight deadlines, and they must be able to face rejection or critiques of their ideas on a regular basis. Writers that work as self-employed consultants have to handle the stress that comes with looking for new projects on a regular basis.
Public Relations Expert
The goal of a public relations specialist is to control the image of a particular brand or company. PR specialists make announcements about product changes, field questions from journalists, and mitigate the effects of negative information about the brand. Public relations workers also promote positive aspects of their company or client's brand through various media outlets.
Public relations specialists need strong interpersonal, writing, and communication skills to produce effective public messages about a client or employer. Long hours, high-stress situations, and tight deadlines account for the $54,000 median pay range PR experts earn per year. (BLS)
Research Analyst
Research analysts are interested in every aspect of what makes a product sell, including packaging, ad campaigns, and store placement. Analysts conduct local and national research to determine what sells a product. They work within companies or as consultants to determine who will purchase a product and why.
Analysts possess strong analytical and math skills, and they have an eye for interpreting data. A four-year marketing degree is the most common route for entering this field. Most analysts work as part of a larger marketing firm and come from either a business or math background. With an estimated growth of 32 percent over the next several years and an average salary of around $60,000, the market research analyst field can be an enticing opportunity for marketing grads. (BLS)
Social Media Expert
In the past decade, Facebook, Twitter, and other social media outlets have grown to be some of the most popular modes of communication. Social media experts use these outlets to promote a company's name and brand. Social media consultants develop ad campaigns, create e-mail blasts, write blogs, and apply SEO practices to generate web traffic for their organization.
Marketing students with a strong set of writing skills and an understanding of the technical and social aspects of these medial outlets may find a good fit as a social media specialist. Social media practices that work today may change tomorrow, and these experts have to constantly adapt to this changing landscape.
This website offers school details to prospective students as an informational resource. The appearance of a school listing on this website should not be interpreted as an endorsement of the school by this site.