Best Online Bachelor's in Business Management Degrees
Many schools offer online business management degrees that are designed to help students prepare for the 750,800 new job openings projected to emerge over the next eight years. Our college rankings list shows students' annual tuition rates and mid-career salaries, which allows students to choose a program that offers the highest return on investment. We also rank the best online master's degrees in this program.
2020 Best Online Colleges Offering Bachelor's in Business Management Degrees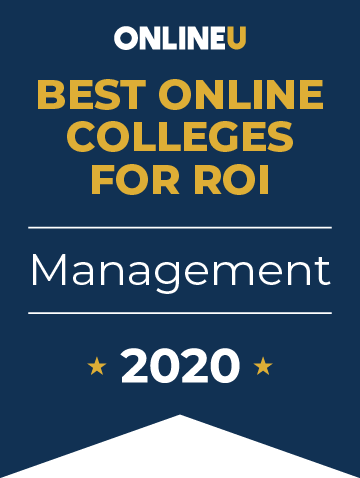 The following 23 schools offer the best online bachelor's in business management degrees based on their low tuition rates and high mid-career salary potentials. The University of Alaska Fairbanks is ranked #1, offering a Bachelor of Applied Management for $9,690 per year. Graduates of the school reported a median salary of $116,400.
Alumni salaries were provided by PayScale. View our methodology for more details or learn more about OnlineU.
| Rank | School | Annual Tuition | Mid-Career Salary |
| --- | --- | --- | --- |
| # 1 | University of Alaska Fairbanks | $9,690 | $116,400 |
| # 2 | Norwich University | $11,250 | $101,300 |
| # 3 | University of Massachusetts - Amherst | $11,700 | $100,314 |
| # 4 | University of New Mexico | $10,795 | $99,257 |
| # 5 | University of St. Francis | $11,970 | $99,700 |
| # 6 | New York University | $26,654 | $105,357 |
| # 7 | California Baptist University | $18,390 | $99,200 |
| # 8 | Southern Utah University | $6,006 | $93,900 |
| # 9 | California State University - East Bay | $18,864 | $97,143 |
| # 10 | Lesley University | $13,350 | $94,800 |
| # 11 | University of Massachusetts - Dartmouth | $12,060 | $93,157 |
| # 12 | Washington State University | $11,550 | $92,857 |
| # 13 | St. Peter's University | $14,850 | $94,000 |
| # 14 | West Virginia State University | $9,480 | $90,000 |
| # 15 | Langston University | $13,865 | $90,400 |
| # 16 | City University of Seattle | $20,520 | $93,000 |
| # 17 | Kean University | $9,935 | $88,700 |
| # 18 | National Louis University | $10,260 | $87,871 |
| # 19 | The University of Texas Permian Basin | $9,233 | $87,300 |
| # 20 | Arizona State University | $15,900 | $89,025 |
| # 21 | Mercer University | $14,250 | $87,900 |
| # 22 | George Mason University | $41,700 | $98,657 |
| # 23 | New England College | $12,150 | $86,200 |
Salary data provided by

2020 Online Colleges Offering Business Management Degrees - Ranking Details
---
Overview of an Online Bachelor's Degree in Business Management
Online business management degrees are designed to help students qualify for many types of business and managerial occupations. Courses cover the financial, operational, and staffing concerns found in all sizes and types of business organizations. Some schools, including those with online programs, offer Bachelor of Arts programs, which provide a broad educational foundation, while others offer Bachelor of Science programs that typically focus on industry-specific skills. Additionally, some schools feature a Bachelor of Business Administration degree with a concentration in management.
Based on our analysis of 174 colleges offering online bachelor's degrees in management, the median annual tuition rate is $14,555. Online programs can be cheaper because they sometimes charge the in-state rate to non-residents, and distance learning eliminates on-campus costs, such as transportation and housing.
Common Courses
Business management programs provide a basic understanding of managerial operations, including financial planning, organizing, and controlling, as well as related fields, such as finance and accounting. Students learn to work individually or in groups, which allows them to enhance their collaboration, leadership, communication, and critical thinking skills. Some schools require online business management students to gain practical experience by completing capstone projects or internships. The following are some of the courses commonly found in a business management program.
Often one of the early classes in an online business management program, this course gives students a broad overview of management functions. Course materials cover the business environment, corporate culture, organizational structure, and strategy. Students also start to see the manager's role in business operations and the need for specific skills, such as decision making, goal setting, and ethical leadership.
Statistical data plays an important role in managerial decision making and performance measurement, so this course teaches students how to collect, analyze, and apply this information in a business environment. A math-heavy course, business statistics explores both descriptive and inferential statistics. Other possible topics include market research, quality control, and forecasting.
This course explains how business organizations manage money to maximize value for the shareholders or owners. Students learn about the role of cash in day-to-day operations, as well as long-term concerns such as funding sources, investments, the allocation of financial resources, and taxes. Coursework covers how to understand and interpret financial documents.
Sometimes split across two terms, a course in economics explores the production, distribution, and consumption of goods and services, including the exchange of wealth. Macroeconomics looks at the larger global economic system as well as smaller national and regional economies. Microeconomics, by contrast, looks at the actions of individuals and firms to see how they impact the economy.
Financial and Managerial Accounting
Another subject sometimes divided into two terms, an accounting course helps students understand an organization's financial records. The section on financial accounting covers basic accounting methods and bookkeeping, explaining such concepts as debits and credits. Managerial accounting then enables students to interpret and make decisions based on these financial records. Coursework may require students to apply their understanding of finances to managerial functions, such as planning and budgeting.
Fundamentals of Marketing
Most marketing courses begin by introducing the "four Ps" of marketing — product, price, promotion, and place (or distribution). Students discover the purpose of marketing and how efforts are made to build brand awareness and attract an organization's target audience. Students also learn how marketing is closely intertwined with many other business functions, such as accounting, production, and shipping.
Information Systems Management
For future managers, a course in information systems management goes beyond the fundamentals of information networks, databases, software, and business communications. Students understand how managers use these systems as tools for making better decisions, solving problems, working more efficiently, and gaining advantages over competitors.
Careers for Management Graduates
Acquiring a management degree can be the first step on a wide range of potential career paths across many different industries. According to Burning Glass Technologies, 62,204 business management positions became available from August 2020-2021. Of these, 43.7% required less than two years of work experience and another 42.3% required only three to five years of experience. Additionally, only 1.8% of these required an advanced degree. Overall, management may be a promising field for college graduates, who may be interested in pursuing one of the following potential occupations.
Applying to an Online Business Management Program
In general, prospective students must submit an application form and possibly a corresponding fee when applying to an online program. They may also be asked to submit some of the following documentation along with their application:
Official high school transcripts (or college transcripts (if some coursework has been completed) with a minimum GPA ranging from 2.5-3.0
SAT or ACT scores
Letter(s) of recommendation from teachers, supervisors, or other mentors
An essay or personal statement
A resume showing extracurricular activities and jobs, especially those demonstrating leadership abilities and community service
The Importance of Accreditation
Prospective management students should select a school that has been accredited. Enrollment in an accredited program may be required to transfer credits between schools or enroll in a graduate program, and it is a requirement to be eligible for federal financial aid. Accreditation means that a school has met rigorous standards of excellence according to an independent agency sanctioned by the U.S. Department of Education and the Council for Higher Education. Business students may also want to verify that their chosen online program has received additional program-level accreditation from the Accreditation Council for Business Schools and Programs.
---
Frequently Asked Questions About Online Business Management Degrees
How Long Does It Take To Get a Business Management Degree Online?
Most business management bachelor's degrees require the completion of 120-126 credit hours. Students enrolled full time generally complete this program in four years, but part-time students may require additional semesters to finish the program. If you have previous college or applicable work experience, you may be able to satisfy some of your degree requirements and graduate sooner.
What Certification Will I Need?
Although management professionals are not generally required to be certified, project management or Six Sigma certification can be an advantage in some industries. Project Management Professional certification, which focuses on mastering common project management skills and tools, can take up to a year to complete. Depending on the program you choose, you may need a bachelor's degree to enroll. Six Sigma programs will teach you proven methods for improving processes, quality, and productivity.
Related Articles
2023 Best Online Bachelor's in Marketing Degrees
Prospective students may enjoy our list of the best schools offering online bachelor's in marketing degrees for 2023, ranked by tuition costs and alumni salaries.
2023 Best Online Bachelor's in Supply Chain Management Programs
Our 2023 rankings feature the best online bachelor's in supply chain management, based on return on investment.