Best Online Bachelor's in Liberal Studies Degrees
Online liberal studies degrees, available at the associate, bachelor's, master's, and certificate levels, provide a strong academic foundation for students who want to use education to broaden their general understanding of the world or who are naturally drawn to a particular subject in the humanities or science disciplines. The interdisciplinary umbrella of liberal studies includes subjects such as biology, English, music, and physics, among others. We highlight the best 25 schools, based on tuition rates and alumni salary data provided by PayScale.
2020 Best Online Colleges Offering Bachelor's in Liberal Studies Degrees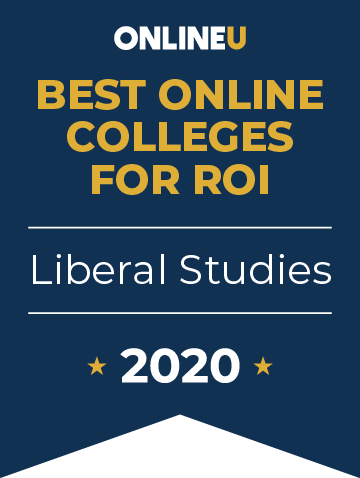 The 25 schools on this list are the best value options for obtaining an online bachelor's degree in liberal studies based on alumni salaries and low tuition rates. Saint Louis University-Main Campus is ranked #1, offering a B.A. in General Studies for $19,500 per year. Graduates of the school reported a median salary of $142,100. University of North Dakota, ranked #2, offers a tuition rate of $11,970 per year. Alumni reported a mid-career salary of $137,667.
Alumni salaries were provided by PayScale. View our methodology for more details or learn more about OnlineU.
| Rank | School | Annual Tuition | Mid-Career Salary |
| --- | --- | --- | --- |
| # 1 | Saint Louis University-Main Campus | $19,500 | $142,100 |
| # 2 | University of North Dakota | $11,970 | $137,667 |
| # 3 | Indiana University-Southeast | $19,346 | $135,100 |
| # 4 | University of Pennsylvania | $19,040 | $123,200 |
| # 5 | University of Arkansas | $7,568 | $112,800 |
| # 6 | Rowan University | $12,103 | $110,500 |
| # 7 | Southeast Missouri State University | $9,000 | $105,167 |
| # 8 | University of Louisiana-Lafayette | $11,198 | $104,957 |
| # 9 | University of Missouri | $11,622 | $100,450 |
| # 10 | Mount Saint Mary's University - CA | $41,592 | $111,200 |
| # 11 | Jacksonville State University | $11,310 | $96,000 |
| # 12 | University of Virginia | $13,260 | $96,500 |
| # 13 | California State University - Fullerton | $7,650 | $93,075 |
| # 14 | University of Alaska Fairbanks | $8,877 | $91,500 |
| # 15 | The University of Montana | $21,600 | $96,075 |
| # 16 | University of Kansas | $11,916 | $90,008 |
| # 17 | California State University-Chico | $5,742 | $87,513 |
| # 18 | University of North Alabama | $10,500 | $88,900 |
| # 19 | Excelsior College | $15,300 | $90,700 |
| # 20 | Liberty University | $11,700 | $88,100 |
| # 21 | University of Toledo | $17,573 | $90,050 |
| # 22 | University of Kentucky | $17,100 | $89,729 |
| # 23 | West Texas A&M University | $7,953 | $85,567 |
| # 24 | Youngstown State University | $15,006 | $87,800 |
| # 25 | Northern Illinois University | $11,146 | $85,910 |
Salary data provided by

2020 Online Colleges Offering Liberal Studies Degrees - Ranking Details
Overview of Online Liberal Studies
Online students hoping to prepare for transfer to a four-year college or university may want to pursue an associate degree in liberal studies. These online degrees are typically offered through community colleges and cover the general education requirements of a bachelor's degree through classes in composition, social science, natural science, and humanities. Online bachelor's degrees in liberal studies provide a larger foundational knowledge in the arts and sciences and tend to offer students flexibility in the courses they choose. Depending on the school, bachelor's students may even have an opportunity to specialize their degree. For example, students interested in writing could tailor their liberal studies degree to include creative writing, modern literature, and nonfiction writing.
Online master's degrees can afford greater career opportunities and the chance to perform research. For example, a student with an undergraduate degree in political science could complete an online master's in liberal studies and develop a thesis based on political science theories. Doctoral degrees in liberal studies traditionally focus on training scholars for advanced research and teaching careers. Students in these PhD programs take advanced coursework and collaborate with a faculty advisor to develop a hypothesis and research project.
Online Bachelor's Degrees in Liberal Studies
The bachelor's in liberal studies is a comprehensive four-year degree that includes courses in art, science, and the humanities. Students who enroll in these programs often do so because they have many interests and don't want to pinpoint one specific major, or they may choose liberal studies if they are interested in becoming an elementary school teacher and need a strong foundation in all of the core subjects. Liberal studies bachelor's degrees can lead to any number of possible careers, ranging from medicine and research to teaching and writing.
Program Requirements
Applicants to online bachelor's degree programs are required to have a high school diploma or associate degree and must submit transcripts from high school and any colleges they may have previously attended. Many schools will require applicants to submit standardized test scores and some may have minimum GPA requirements for admission. Online bachelor's degrees usually take about four years to complete.
Curriculum
The courses required for an online liberal studies major will vary by school and by students' interests and chosen concentrations. Almost all programs will require general education credits which usually include a combination of math, science, writing, history or social studies, and sometimes fine arts or foreign languages.
Composition classes, which train students to write effective essays, are often some of the first classes that first year students take. Writing papers is an important part of all liberal studies programs, so students are usually taught right away how to do so in a creative, academically compelling manner. They will then apply these skills in liberal arts courses such as history. History classes encourage research, which is also a critical component of liberal studies.
Psychology classes are some of the most popular electives, and are often mandated by liberal studies departments. Psychology is the study of human behavior and thinking, and many students choose to minor in this discipline. Philosophy is another popular course option for liberal studies students, involving the study of various ways of thinking, with special focus on the different philosophical movements. Because sciences are also included in this degree, most students are required to take at least one (usually more) basic science course, such as physics or biology.
The Importance of an Accredited Online Liberal Studies Degree
Liberal studies students are strongly encouraged to select an online degree or certificate program at a school that has been accredited by an agency recognized by the United States Department of Education. Because accreditation is only granted to colleges and universities that have volunteered to have their degree programs, faculty members, and student resources carefully evaluated, students who attend these schools can feel more confident that they are getting a valuable education. Accreditation also enables students to transfer credits to other higher education institutions and apply for financial aid.
The Council for Higher Education Accreditation and US Department of Education offer free, up-to-date databases of agencies and accredited schools and programs. For more information about accreditation, please check out our comprehensive accreditation guide.
This website offers school details to prospective students as an informational resource. The appearance of a school listing on this website should not be interpreted as an endorsement of the school by this site.
Related Articles
Best Online Colleges & Degrees
Our rankings are the first of their kind to use student salary and debt data from the government to highlight the best online colleges.
Best Online Bachelor's in Business Management Degrees
Our lists of the best online bachelor's in business management degrees rank schools according to their annual tuition rates and alumni salaries.