2020 Best Online Liberal Studies Degrees
Online liberal studies degrees, available at the associate, bachelor's, master's, and certificate levels, provide a strong academic foundation for students who want to use education to broaden their general understanding of the world or who are naturally drawn to a particular subject in the humanities or science disciplines. The interdisciplinary umbrella of liberal studies includes subjects such as biology, English, music, and physics, among others. We highlight the best 25 schools, based on tuition rates and alumni salary data provided by PayScale.
2020 Best Online Colleges Offering Bachelor's in Liberal Studies Degrees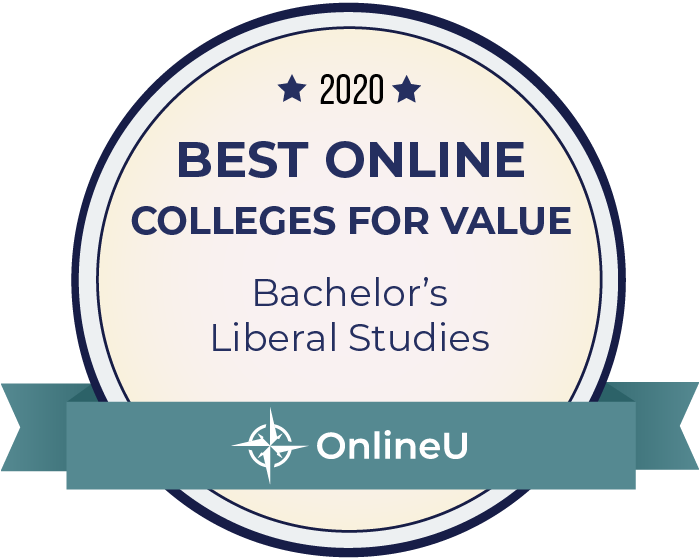 The 25 schools on this list are the best value options for obtaining an online bachelor's degree in liberal studies based on alumni salaries and low tuition rates. Saint Louis University-Main Campus is ranked #1, offering a B.A. in General Studies for $19,500 per year. Graduates of the school reported a median salary of $142,100. University of North Dakota, ranked #2, offers a tuition rate of $11,970 per year. Alumni reported a mid-career salary of $137,667.
Alumni salaries were provided by PayScale. View our methodology for more details or learn more about OnlineU.
Salary data provided by

2020 Online Colleges Offering Liberal Studies Degrees - Ranking Details
Online Liberal Studies Degree Overview & Career Information
Online students hoping to prepare for transfer to a four-year college or university may want to pursue an associate degree in liberal studies. These online degrees are typically offered through community colleges and cover the general education requirements of a bachelor's degree through classes in composition, social science, natural science, and humanities. Online bachelor's degrees in liberal studies provide a larger foundational knowledge in the arts and sciences and tend to offer students flexibility in the courses they choose. Depending on the school, bachelor's students may even have an opportunity to specialize their degree. For example, students interested in writing could tailor their liberal studies degree to include creative writing, modern literature, and nonfiction writing.
Online master's degrees can afford greater career opportunities and the chance to perform research. For example, a student with an undergraduate degree in political science could complete an online master's in liberal studies and develop a thesis based on political science theories. Doctoral degrees in liberal studies traditionally focus on training scholars for advanced research and teaching careers. Students in these PhD programs take advanced coursework and collaborate with a faculty advisor to develop a hypothesis and research project.
Online Associate Degrees in Liberal Studies
Associate degrees in liberal studies are two-year programs that introduce students to a broad range of humanities, art, and sciences disciplines. Many students use their associate degree to complete the general education requirements necessary to transfer to a four-year school. Because liberal studies encompasses so many different courses, these degrees also allow students to explore a variety of academic disciplines.
Program Requirements
Applicants to an online associate degree program will need to have earned a high school diploma, GED, or equivalent. Usually, online schools will require submission of transcripts from high school and any college courses that applicants have taken. Once enrolled, students can expect to devote two years to earning their associate degree.
Curriculum
Because online liberal studies associate degrees are designed to give students a strong foundation and introduce them to the theories, concepts, and critical thinking skills used in higher education, curriculum will likely vary depending on what students' interests and future goals are. Many liberal studies courses emphasize writing skills and help students understand the basics of writing conventions, organization, audience, and style.
One course that many associate degree students take is an introduction to art history. Art history courses focus on different styles of art, artists, and the impact they have had on different cultures throughout history. Art history courses are often broken up by genre, so you could take a course in medieval art or pop art or Roman art, to name a few examples. Another class you might take is an introductory anthropology course. Anthropology is the study of humans and human behavior, and students are introduced to different groups of humans and tribes to learn about their culture, habits, and history.
Literature classes are also common during associate degree programs. Students will read and analyze great works of literature and different authors and novels. Liberal studies majors can also study different languages; for example, some students might take a class in Latin to learn about the roots of the English language. A class in Latin may be particularly helpful if you plan to study law or medicine. Students may also take a variety of religious theory classes on everything from Islam and Buddhism to studying the Bible as literature. The study of religion, history, and culture is a theme throughout the liberal studies major.
Online Bachelor's Degrees in Liberal Studies
The bachelor's in liberal studies is a comprehensive four-year degree that includes courses in art, science, and the humanities. Students who enroll in these programs often do so because they have many interests and don't want to pinpoint one specific major, or they may choose liberal studies if they are interested in becoming an elementary school teacher and need a strong foundation in all of the core subjects. Liberal studies bachelor's degrees can lead to any number of possible careers, ranging from medicine and research to teaching and writing.
Program Requirements
Applicants to online bachelor's degree programs are required to have a high school diploma or associate degree and must submit transcripts from high school and any colleges they may have previously attended. Many schools will require applicants to submit standardized test scores and some may have minimum GPA requirements for admission. Online bachelor's degrees usually take about four years to complete.
Curriculum
The courses required for an online liberal studies major will vary by school and by students' interests and chosen concentrations. Almost all programs will require general education credits which usually include a combination of math, science, writing, history or social studies, and sometimes fine arts or foreign languages.
Composition classes, which train students to write effective essays, are often some of the first classes that first year students take. Writing papers is an important part of all liberal studies programs, so students are usually taught right away how to do so in a creative, academically compelling manner. They will then apply these skills in liberal arts courses such as history. History classes encourage research, which is also a critical component of liberal studies.
Psychology classes are some of the most popular electives, and are often mandated by liberal studies departments. Psychology is the study of human behavior and thinking, and many students choose to minor in this discipline. Philosophy is another popular course option for liberal studies students, involving the study of various ways of thinking, with special focus on the different philosophical movements. Because sciences are also included in this degree, most students are required to take at least one (usually more) basic science course, such as physics or biology.
Online Master's Degrees in Liberal Studies
An online master's degree in liberal studies is a broad program that fosters a cross-disciplinary scientific and intellectual exploration and focuses on the pursuit of knowledge and the ability to reason and think critically. Because it is such a broad program, the master's in liberal studies gives students the opportunity to explore a variety of subjects and hone analytical skills that may be useful in further studies or in their careers.
Program Requirements
Prospective online master's students will need to have a bachelor's degree from an accredited institution in order to be eligible. Applicants typically need to submit personal essays, letters of recommendation, resumes, and sometimes graduate entrance exam scores and/or writing samples. These degrees typically take one to three years to complete and require 10 to 15 courses, along with a thesis project.
Curriculum
The core curriculum in the majority of online liberal studies master's degrees focuses on advanced theory and research skills. Students typically have a wide range of courses to choose from. Most programs have a certain number of core courses that are required in order to achieve the degree. In most programs, this takes the form of some type of interdisciplinary seminar in the first semester, a capstone course at the end of the program, and perhaps one or two more required courses in between. Possible core courses may include political communications, critical theory, national identity and development, modern ethical theory, and fundamental theology. Some form of in-person interaction may be required for an online master's degree in liberal studies, particularly when completing the capstone thesis or project.
The career opportunities pursued by master's in liberal studies graduates are quite varied, from policymaking or research to business or teaching. Examples of some of the roles for graduates include research assistant, freelance writer, journalist, business manager and administrator, or human services specialist, to name a few. Many people who earn a master's in liberal studies don't immediately enter the job market, and instead, use the degree to become more prepared for law school or other graduate study.
Online Doctoral Degrees in Liberal Studies
Doctoral programs in liberal studies are typically designed to train students in quantitative and qualitative research methods. Students choose an interdisciplinary concentration that encompasses subjects such as psychology and behavioral science, history, math, philosophy, political science, and communications, to name a few. A doctorate in liberal studies is a broad exploration, encouraging a collective study of many subjects rather than a focus on one precise discipline.
Program Requirements
Doctorates in liberal studies can take up to five years to complete and are offered as either a Doctor of Liberal Studies (DLS) degree or a Doctor of Philosophy (PhD) degree, depending on the university. Applicants need an accredited bachelor's degree or master's degree, depending on the type of doctoral program. Some programs offer students the option of enrolling in a master's degree program and then continuing their education with an interlinking doctorate program. Applicants will need to submit some combination of transcripts from their bachelor's or master's degree programs, standardized test scores, personal statements, resumes or CVs, and letters of recommendation.
Curriculum
Foundational classes in the online liberal studies doctoral degree program typically include statistics and analysis for a particular area of liberal studies. Students learn how to interpret research findings, sample sizes, and other data. Advanced courses will depend on the area that students choose to concentrate on, but they will likely involve extensive reading assignments and advanced research in liberal studies.
While coursework is of course vital for any degree, the hallmark of the liberal studies doctoral degree is the dissertation. The dissertation is typically composed of a lengthy research project, which the student then distills into the dissertation paper. Faculty members help students develop their thesis, anticipate issues with the project, and focus their conclusions. Many PhD programs require that students act as teaching assistants or graduate instructors during the degree, which is helpful preparation for instructional positions at the college level. On-site training for online students may also include other on-the-job training, internships, or laboratory research.
Online Certificates in Liberal Studies
Online liberal studies certificates are typically designed for professionals or post-master's students who wish to expand on their current breadth of liberal studies knowledge. Students who are interested in a graduate certificate in liberal studies will need to meet the admissions criteria for a master's degree from the college or university they are interested in attending. Applicants must hold a bachelor's degree or master's degree, depending on the program, and the school will request copies of official transcripts for all postsecondary programs you have attended. A prospective student may also need to submit a resume and letters of recommendation when applying for admission. Course requirements for certificates typically vary from 15 to 24 credits and can be completed in one or two years.
Required courses for a student enrolled in a liberal studies certificate program will depend on the subject the student has chosen. Certificates are available in general liberal studies or in a more specialized liberal studies discipline, such as Spanish language and literature, education media and technology, or global studies. Students who are enrolled in a general liberal studies certificate may take a directed individual study course to pursue a topic of their choice or take classes in English, history, economics, math, science, religion, art, or foreign language. Students may also be required to take an exit exam before completing the program.
The creative problem-solving and leadership skills students obtain during a liberal studies certificate program will make them more marketable professionals and help qualify them for positions in a wide range of settings, from education and business to healthcare and non-profit companies.
The Importance of an Accredited Online Liberal Studies Degree
Liberal studies students are strongly encouraged to select an online degree or certificate program at a school that has been accredited by an agency recognized by the United States Department of Education. Because accreditation is only granted to colleges and universities that have volunteered to have their degree programs, faculty members, and student resources carefully evaluated, students who attend these schools can feel more confident that they are getting a valuable education. Accreditation also enables students to transfer credits to other higher education institutions and apply for financial aid.
The Council for Higher Education Accreditation and US Department of Education offer free, up-to-date databases of agencies and accredited schools and programs. For more information about accreditation, please check out our comprehensive accreditation guide.
This website offers school details to prospective students as an informational resource. The appearance of a school listing on this website should not be interpreted as an endorsement by the school of this site.