Best Online Liberal Studies Degrees
By Holly Johnson | Updated 10/11/2022
Online liberal studies degrees, available at the associate, bachelor's, master's, and certificate levels, provide a strong academic foundation for students who want to use education to broaden their general understanding of the world or who are naturally drawn to a particular subject in the humanities or science disciplines. The interdisciplinary umbrella of liberal studies includes subjects such as biology, English, music, and physics, among others. We highlight the best 25 schools, based on tuition rates and alumni salary data provided by PayScale.
2020 Best Online Colleges Offering Bachelor's in Liberal Studies Degrees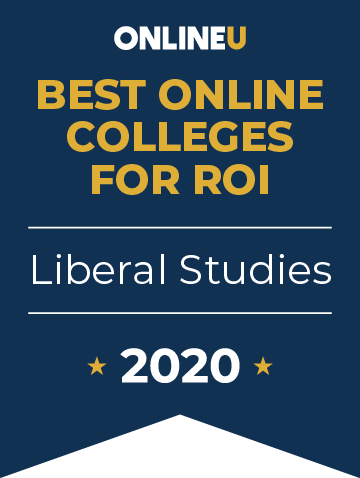 The 25 schools on this list are the best value options for obtaining an online bachelor's degree in liberal studies based on alumni salaries and low tuition rates. Saint Louis University-Main Campus is ranked #1, offering a B.A. in General Studies for $19,500 per year. Graduates of the school reported a median salary of $142,100. University of North Dakota, ranked #2, offers a tuition rate of $11,970 per year. Alumni reported a mid-career salary of $137,667.
Alumni salaries were provided by PayScale. View our methodology for more details or learn more about OnlineU.
| Rank | School | Annual Tuition | Mid-Career Salary |
| --- | --- | --- | --- |
| # 1 | Saint Louis University-Main Campus | $19,500 | $142,100 |
| # 2 | University of North Dakota | $11,970 | $137,667 |
| # 3 | Indiana University-Southeast | $19,346 | $135,100 |
| # 4 | University of Pennsylvania | $19,040 | $123,200 |
| # 5 | University of Arkansas | $7,568 | $112,800 |
| # 6 | Rowan University | $12,103 | $110,500 |
| # 7 | Southeast Missouri State University | $9,000 | $105,167 |
| # 8 | University of Louisiana-Lafayette | $11,198 | $104,957 |
| # 9 | University of Missouri | $11,622 | $100,450 |
| # 10 | Mount Saint Mary's University - CA | $41,592 | $111,200 |
| # 11 | Jacksonville State University | $11,310 | $96,000 |
| # 12 | University of Virginia | $13,260 | $96,500 |
| # 13 | California State University - Fullerton | $7,650 | $93,075 |
| # 14 | University of Alaska Fairbanks | $8,877 | $91,500 |
| # 15 | The University of Montana | $21,600 | $96,075 |
| # 16 | University of Kansas | $11,916 | $90,008 |
| # 17 | California State University-Chico | $5,742 | $87,513 |
| # 18 | University of North Alabama | $10,500 | $88,900 |
| # 19 | Excelsior College | $15,300 | $90,700 |
| # 20 | Liberty University | $11,700 | $88,100 |
| # 21 | University of Toledo | $17,573 | $90,050 |
| # 22 | University of Kentucky | $17,100 | $89,729 |
| # 23 | West Texas A&M University | $7,953 | $85,567 |
| # 24 | Youngstown State University | $15,006 | $87,800 |
| # 25 | Northern Illinois University | $11,146 | $85,910 |
Salary data provided by

2020 Online Colleges Offering Liberal Studies Degrees - Ranking Details
What Is a Liberal Studies Major?
An online liberal studies degree can help you become a well-rounded professional with a broad understanding of the world around you. However, you'll want to know exactly what this degree program entails on the bachelor's level before you get started as well as the courses you'll take and the careers you can pursue after graduation.
Pursuing an online bachelor's degree in liberal studies helps you gain an understanding of the inner workings and common motivations of human beings. Students who pursue this program are introduced to various concepts from history, philosophy, literature, and the arts, as well as how these interests have impacted the trajectory of mankind. Students who pursue a liberal studies degree online learn how to explore key concepts with a critical eye and view important historical events from multiple perspectives.
Students who pursue this program are introduced to various concepts from history, philosophy, literature, and the arts, as well as how these interests have impacted the trajectory of mankind.
While students can pursue an online bachelor's degree in liberal studies without any prior college experience, this degree program is also common for students who already have some college credit. Some schools that offer a liberal arts major allow you to transfer credits from other institutions in order to complete your bachelor's degree online.
Some online liberal arts degree programs online are even competency-based or self-paced, meaning you have some flexibility in how and when you learn. Many also let students dive into their coursework without taking any additional college entrance exams or having to meet a minimum GPA requirement prior to enrollment.
Liberal Arts vs. Liberal Studies: Are They the Same?
As you compare schools to find the best online liberal arts degree, you may have noticed that some institutions say "liberal arts," while others say "liberal studies."
Fortunately, you do not need to worry about how various programs are titled one way or another. For the most part, these terms are used interchangeably, and both degree programs offer similar curriculum and entry requirements.
Why Is Liberal Studies Important?
Liberal studies programs help students gain a broader understanding of people and the world around them. Education in liberal arts also prepares students to think critically about the problems of the world as well as potential solutions — especially when it comes to cultural awareness, the environment, foreign policy, social justice, and ethics.
This is why students who pursue a liberal studies degree online are prepared for entry into a wide range of fields. While this degree program does not necessarily tie to a specific career or industry, the lessons imparted can help anyone become a more thoughtful, determined employee.
Still undecided on your major? Check out some of the best online degrees in liberal studies subjects: history, philosophy, English, and art.
Common Courses for Liberal Studies Degrees Online
Students who pursue an online liberal studies degree will need to take a broad range of courses in many fields of study. Ultimately, the best online liberal arts degrees are designed to encompass a wide range of subjects from the humanities to history, philosophy, and science.
Courses to look for in an online liberal arts degree program include the following:
This course teaches students the basics of reading and writing in the academic world. Students learn about academic discourse and the art of rhetoric, all while studying famous writings from ancient times up to our recent past. A research paper may be required to complete this course.
All liberal arts majors study diversity on a broad spectrum, including its impact and implications on a national and global level. Various cultures are explored in this course as well as the political and social factors that come into play when aiming for a more diverse and inclusive society. Diversity studies courses also introduce students to the concepts of ethnic identity, queer identity, and feminism.
Courses in ethics introduce the concept of morality, as well as how different populations and cultures decide what is right or wrong. The theory of value (goodness vs. badness) is studied during this course, along with the dueling concepts of virtue and vice. Liberal arts students will walk away from this course with a better understanding of people's ethical boundaries as well as the cultural and social factors that decide them.
This course imparts knowledge about cybersecurity and its importance on the global stage. Students learn how governments and societies use cybersecurity to protect their data and interests, as well as how they use technology to accomplish strategic goals. Other topics covered include how cybersecurity is used to monitor populations, both for virtuous and nefarious purposes.
Liberal arts students also study philosophy, both at a beginning and intermediate level. This course helps students understand the way people view the world and how viewpoints have changed over thousands of years based on cultural shifts and major historical events. Philosophy teaches students to ask some of the most important questions of all time, including those surrounding existence, knowledge, reason, and values.
While curriculum may vary from school to school, common courses in a liberal arts program aim to impart an extensive amount of knowledge that can apply to professional life.
What Is a BA in Liberal Studies Good For?
An online bachelor's degree in liberal studies can lead to rewarding careers in a number of fields. Here are some of the jobs you may pursue with this degree after completing this program at the bachelor's level:
Is a Liberal Studies Degree Useless?
An online liberal arts degree can be as worthwhile as any other bachelor's degree. Your results depend on factors like how hard you study in school, the types of experiences you are able to gain as part of your degree program, and the positions you apply for after you graduate.
If you ask people you know, you'll also find that many people with bachelor's degrees wind up working in fields that are not related to their degree at all. That said, earning a bachelor's degree can help you get your foot in the door in any number of rewarding positions, at which point you'll receive more training and build your experience as time goes on.
Can You Teach With a Degree in Liberal Arts?
To work as a teacher at grade school or high school, you'll need to complete a teacher education course in addition to your bachelor's degree program. According to the BLS, public school teachers are also required to have a state-issued certification or license.
An online liberal studies degree can also help you begin a career as a postsecondary teacher. Although, you'll need a master's degree, at minimum, to teach at community colleges and a PhD or doctoral degree to teach at the collegiate level.
What Liberal Arts Major Career Makes the Most Money?
How much you can earn with an online liberal arts degree will depend on where you live, how much experience you have, and the exact field you find work in. However, it's important to note that some careers for liberal studies majors tend to pay higher salaries than others.
The chart below is based on the annual mean wages reported by the BLS:
The Highest-paying Jobs for Liberal Arts Majors Nationwide
| Career | Median Annual Salary (May of 2021) |
| --- | --- |
| Marketing Managers | $153,440 |
| Sales Managers | $143,290 |
| Purchasing Managers | $134,590 |
| Administrative Services Managers | $113,030 |
| Sales Representatives | $102,750 |
| Credit Analysts | $88,030 |
| Financial Specialists | $87,350 |
| Technical Writers | $81,470 |
| Writers and Authors | $81,120 |
| Insurance Underwriters | $79,940 |
Benefits of a Liberal Studies Degree
There are several benefits one can gain from an online liberal arts degree, including the unique perspective one acquires when learning about important issues that impact our world. For example, liberal studies degrees help people understand different cultures and ethnicities, which can lead to better relationships and more empathy for others.
A bachelor's degree in liberal studies can also help people get their foot in the door in any number of important fields, at which point they can grow their base of knowledge as they gain more experience.
Many careers that can begin with a liberal studies degree also see high levels of job satisfaction overall. For example, according to CareerExplorer's surveys asking how much people enjoy their jobs, editors experience a high level of job satisfaction, and that authors experience some of the highest levels of job satisfaction of all careers combined.
This being said, there are some downsides that come with pursuing a liberal arts degree online as well. For example, this degree is not tied to a specific field or career, so you may have to try a few jobs before you find a profession you truly love.
Bottom Line
As you search for the best online liberal arts degree program that fits your your needs, you'll want to make sure you're only comparing accredited schools and programs. This step can help you ensure your online degree is respected and that you'll receive the highest quality education money can buy.
Speaking of money, you'll also want to compare financial aid opportunities that can help you pay for your online degree, including scholarships you can apply for and student loans that can fill in the gaps. With some research and comparison shopping, you can find a liberal arts program that is both fulfilling and affordable.
Related Articles
2022 Best Online Bachelor's Degrees in the U.S.
Earning an online bachelor's degree can vastly expand your career options and earning power. We've ranked the best colleges by alumni salaries.
Best Online English Degrees
Online bachelor's in English degrees are offered at a variety of colleges. Our rankings feature the best, based on return on investment calculated with median alumni salary and debt.