Best Online Bachelor's in Law Enforcement Degrees
Online law enforcement programs will help prepare students to work in local police departments, federal agencies, national parks, and courts. The schools that made our list of best online law enforcement colleges are particularly strong options for aspiring law enforcement professionals, based on tuition costs and alumni salaries reported by PayScale. Online law enforcement degrees are available at the associate, bachelor's, master's, and certificate levels.
Students should also consider accreditation and career options when choosing an online degree in law enforcement. Since there is no specific programmatic accreditation for law enforcement degrees, students should focus on institutions with regional or national accreditations when selecting which online schools to attend.
Online Law Enforcement Bachelor's Degrees You May Be Interested In
Advertisement
Purdue University Global
Annual Tuition: $14,358
1 Programs (view all)

Southern New Hampshire University Online

Liberty University
Annual Tuition: $11,700
1 Programs (view all)

2020 Best Online Colleges Offering Bachelor's in Law Enforcement Degrees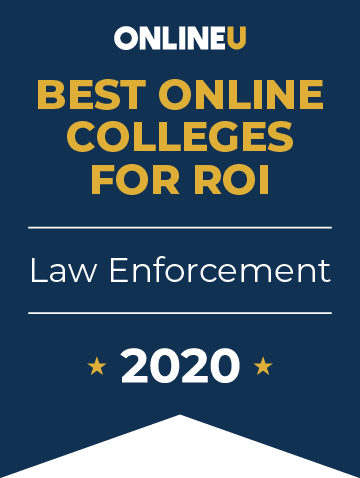 Distance students seeking bachelor's degrees in law enforcement will find that these 16 colleges offer the best value based on affordability and alumni salaries. A degree from Western Illinois University has an impressive return on investment, with an annual tuition of $9,179 and alumni reporting a mid-career salary of $76,200. At #2, Southeast Missouri State University has one of the least expensive tuitions on the list, charging only $9,000 per year for its BS in Criminal Justice - Law Enforcement Academy Track.
Alumni salaries were provided by PayScale. View our methodology for more details or learn more about OnlineU.
| Rank | School | Annual Tuition | Mid-Career Salary |
| --- | --- | --- | --- |
| # 1 | Western Illinois University | $9,179 | $76,200 |
| # 2 | Southeast Missouri State University | $9,000 | $76,000 |
| # 3 | Bemidji State University | $8,758 | $70,800 |
| # 4 | Park University | $12,450 | $63,700 |
| # 5 | Middle Tennessee State University | $13,500 | $63,100 |
| # 6 | Eastern Kentucky University | $12,270 | $61,800 |
| # 7 | Florida State University | $20,581 | $60,000 |
| # 8 | Upper Iowa University | $14,130 | $56,700 |
| # 9 | Bellevue University | $13,600 | $54,000 |
| # 10 | Missouri Western State University | $11,820 | $49,400 |
| # 11 | Metropolitan State University | $4,037 | $46,100 |
| # 12 | Indiana State University | $11,656 | $48,800 |
| # 13 | Florida Atlantic University | $21,595 | $52,400 |
| # 14 | Trine University | $32,330 | $55,900 |
| # 15 | Lindenwood University | $14,850 | $46,100 |
| # 16 | Tiffin University | $14,260 | $40,300 |
Salary data provided by

2020 Online Colleges Offering Law Enforcement Degrees - Ranking Details
Overview of Online Law Enforcement
Education requirements vary due to the many career options within the law enforcement field. Entry-level positions at the local and state levels require an associate degree, though some local opportunities may be afforded to those who hold only a high school diploma. With 60 units of required coursework, an associate degree can be completed in two years. In order to be eligible to work for the federal government, professionals must hold at least a bachelor's degree. This degree will take participants around four years to complete; after earning a degree, students may go on to work at agencies like the FBI or CIA. Pursuing a master's degree will help professionals gain advanced positions as well as future promotions and pay increases. A typical graduate program can be completed in two years.
Online Bachelor's Degrees in Law Enforcement
All federal law enforcement agencies require at minimum a bachelor's degree in law enforcement thus all interested candidates will want to consider enrolling in a bachelor's program. Through four years of study, students will complete a total of 120 units. Students take a wide range of classes on topics like applied criminal justice analysis, criminal justice research, perspectives on crime and delinquency, ethical decisions and police, contemporary police strategies, legal traditions, and criminal investigation. Graduates will be prepared to work in the federal government, but they will also be more likely to earn promotions and pay increases in their current professional settings. First-time freshman will be required to have a high school diploma or a GED plus a satisfactory SAT or ACT score. Bachelor programs in law enforcement are available at the university level as well as at vocational schools.
Accreditation
Accreditation is an important factor when it comes to committing to a specific school or program. It ensures the quality of the program—meaning the curriculum, faculty, resources, and student evaluation systems have been deemed exceptional through an unbiased review conducted by an outside organization. Students can have full confidence that they are going to receive an education that is going to fully prepare them for their future profession upon graduation. It must also be noted that federal financial aid is only available for students who are taking part in accredited programs. Accreditation can also play an important role in job searching post-graduation. Many employers want to rest assured that their candidates have been properly trained and thus may only recognize degrees received through accredited programs. The Commission on Accreditation for Law Enforcement Agencies, Inc. (CALEA), is a non-profit organization that internationally accredits law enforcement, communications, training academy, and campus security agencies. CALEA promulgates standards around best practices in public safety and how an agency should operate.
Careers in Law Enforcement
There are many career paths that can be followed within the field of law enforcement. One choice is federal criminal investigator. Individuals with this title investigate crimes that have taken place against the public as well as the government. Daily tasks include things like gathering evidence, conducting interviews to collect intelligence, making arrests, and testifying in court. Criminal investigators will need at least a four-year degree and must be under the age of 37 to qualify for the job. Candidates must also pass a background check before they can be considered. Once a candidate has passed all qualifications, they will then have to undergo basic training, which lasts about two months. During the two months of basic training, candidates will learn about interviewing, case management, surveillance, physical training, firearm handling, and vehicle operation.
Another notable job title is police officer. The main job of a police officer is to serve and protect people and their property. On a daily basis, they enforce laws, respond to calls, conduct patrols, conduct traffic stops, issue citations, arrest suspects, write reports, and testify in court. Police officers may have as little as a high school diploma—however, professionals who hold a college degree will find better career opportunities including promotions and advanced positions. All candidates must be at least 21 years of age, pass a background check, and graduate from a training academy. Once the candidate has been hired with an agency, they will also undergo on-the-job training before being released to conduct duties on their own. Lastly, police officers will need to pass regular physical exams.
This website offers school details to prospective students as an informational resource. The appearance of a school listing on this website should not be interpreted as an endorsement of the school by this site.
Related Articles
Best Online Criminology Degrees
Our list of the best online criminology degrees at the bachelor's level is based on tuition affordability and alumni salary from PayScale.
2022 Best Online Criminal Justice Degree Programs
Discover top online criminal justice degrees ranked by alumni salaries to find the best program to kickstart your career.