2020 Best Online Law Schools
Pursuing a degree in law can be rewarding for many reasons. From the satisfaction of winning a hard-fought legal battle to playing a key role in maintaining a just society, many find their passion in this fulfilling career path. The projected median annual salary for lawyers is $126,930 per year, but there are plenty of other opportunities in the field for those who don't want to go to law school. Paralegals and legal assistants are essential to the work attorneys do, and these roles often only require an associate degree or certificate. These professionals can expect to earn a median salary of $52,920 per year. Below is our ranked list of the best online bachelor's degrees in law. Continue reading for more information about career opportunities and accreditation within this field.
2020 Best Online Colleges Offering Bachelor's in Law Degrees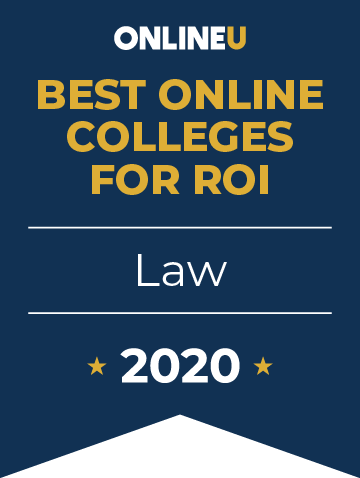 The following 5 schools offer the best online bachelor's in law degrees, based on their low tuition rates and high mid-career salary potentials. The University of Maryland Global Campus is the #1 school, with an average alumni salary of $61,100 and an annual tuition rate of $14,970 for their Bachelor of Science in Legal Studies. Second-ranked Stevenson University offers a BS in Business Administration - Employment Law and Mediation for $13,500 per year. Graduates of the school's law program earn a median salary of $59,100.
Alumni salaries were provided by PayScale. View our methodology for more details or learn more about OnlineU.
| Rank | School | Annual Tuition | Mid-Career Salary |
| --- | --- | --- | --- |
| # 1 | University of Maryland Global Campus | $14,970 | $61,100 |
| # 2 | Stevenson University | $13,500 | $59,100 |
| # 3 | Rowan University | $12,103 | $52,700 |
| # 4 | University of Central Florida | $11,515 | $52,300 |
| # 5 | Liberty University | $11,700 | $50,200 |
Salary data provided by

2020 Online Colleges Offering Law Degrees - Ranking Details
Overview of Online Law
Online associate degrees are available in law-related areas such as legal assistant or paralegal studies, court reporting, legal studies, law enforcement, and criminal justice. Associate programs combine general education courses with specialized courses that support a working understanding of the law, such as contracts, torts and personal injury, legal research and writing, and professional ethics. An online bachelor's degree in legal studies, criminal justice, or paralegal studies can be used to help prepare students for law school or entry-level positions within the legal field. Bachelor's-level coursework is typically heavy in political science, communications, and writing.
Online master's and certificate programs in law can be designed for non-lawyers who want to understand the law and its place in business and society, or for licensed attorneys who would like to specialize in an area such as international law or intellectual property issues. The Master of Laws (LLM) degree program usually takes one year to complete and requires that students complete a thesis. The Juris Doctor degree provides students with the skills and credentials to become practicing lawyers, while other doctoral degrees in law-related areas prepare graduates for academic positions in research or education. Many law schools allow students to specialize in a specific area, such as advocacy, public law, or business law.
Many online law school programs require the completion of an on-site internship in the student's local community. Since the legal environment is a very unique work setting, prospective legal professionals can benefit from this hands-on experience. Internships may take place in settings such as legal aid organizations, corporations, or attorney general offices.
Online Associate Degrees in Law
An associate degree in a law-related area such as legal studies or paralegal studies will provide students with the tools and expertise necessary to find an entry-level position within the field of law. Both paralegal and legal assistant roles involve assisting an attorney in a variety of legal tasks. These programs require candidates to have a high school diploma or its equivalent. An associate degree usually takes students two years to complete, although some online schools offer programs that allow for program completion in 15 months.
Law and paralegal students study legal jargon and procedures, methodologies for research, and legal applications for computers. Other courses introduce subjects such as individual taxation, corporate taxation, real estate law, torts, and constitutional law. Many schools will provide the student with a focus or area of interest within the degree program. Courses within the focus may include domestic relations, immigration law, environmental law, wills and estates, employment law, and certain advanced law courses as well. Along with the core classes in legal studies, associate degree students also complete general education requirements, such as math, natural sciences, social sciences, and the humanities. Some programs include an internship requirement in which candidates work under an experienced assistant or attorney to receive school credit.
Upon degree completion, students usually find work in law offices, private law firms, or businesses such as banks, insurance companies, or real estate offices, among many other possibilities. Some students may use an associate law degree as a jumping off point for further education, including law school, but for the most part, the degree prepares students to do clerical work within law offices. Some employers prefer to hire candidates with professional experience, and associate students are advised to pursue co-op work or internships during their degree. Familiarity with a particular field of law, such as finance, healthcare, or insurance, can also increase a graduate's job prospects.
Online Bachelor's Degrees in Law
Online bachelor's degrees in pre-law, legal studies, or paralegal studies are designed to introduce students to a variety of liberal arts topics and help them develop the critical thinking skills that are required for legal work. Bachelor's programs in law and paralegal studies take four years and train students in legal office administration and other legal support skills; some programs are bachelor's-completion degrees and accept transfer students with a paralegal associate degree. Standard admission requirements include a high school diploma or the equivalent and college entrance scores.
While a specific pre-law bachelor's degree is not required to apply for Juris Doctor (JD) programs, this type of degree can be an excellent way for prospective JD students to explore the legal field. The curriculum of a potential degree program should be examined carefully, as pre-law school and paralegal degrees can vary significantly in their coursework and requirements. Most schools that offer online bachelor's degrees in legal and paralegal studies don't have an on-site requirement, but you will likely need to complete an internship or work experience in your community as part of the graduation requirements.
The curriculum in law and paralegal bachelor's programs combines study in specific law areas and skills with general education classes. Major courses in the program discuss legal research and writing, civil law, criminal law, information technology, legal terminology, counseling and negotiation, and legal ethics. Many bachelor's programs also include courses in the management and administration of legal offices. Those preparing for a career as a paralegal can expect to take classes in legal research, legal databases, client confidentiality, and ethics.
Graduates of the law and paralegal studies bachelor's are well situated to begin or expand a career as a paralegal or legal assistant. Although many paralegals possess an associate degree, some employers prefer to hire those with an advanced credential. Current paralegals can pursue a bachelor's in order to qualify for supervisory or legal office administration roles in larger law firms and legal departments.
Online Master's Degrees in Law
There is a wide variety of law and legal studies degree programs available at the master's level. These are advanced degrees, designed for students and experienced professionals who either want to gain an in-depth understanding of law in general or gain specialized knowledge in a particular legal area. Degree titles can range from a Master of Jurisprudence (MJ) to Master of Arts (MA), Master of Science (MS), or Master of Laws (LLM). Students can choose concentrations in legal studies, education law, health law, business law, criminal justice, law enforcement administration, legal research, and many others, depending on their career path.
The master's degree in law or legal studies is a highly flexible degree. As such, the curriculum can vary greatly between schools and based on the individual student's needs. In many cases, students are required to take several classes from the first-year Juris Doctor degree curriculum, such as torts, legal writing and research, property, and criminal law. This gives students a firm foundation in legal basics. Students then choose electives to tailor the degree to their interests, such as taxation, international law, environmental law, or energy law. These programs last one to two years and are useful for anyone who needs an advanced understanding of the US legal system or who plans to pursue career advancement in a legal office without actually becoming an attorney.
Master's degrees in specialized areas of law usually take one or two years of full-time study. These master's degrees are designed for professionals who do not plan on practicing law, but who have particular career goals that include an element of legal acumen. Business professionals, journalists, healthcare administrators, education administrators, and researchers are just some of the types of people who could benefit from a law-oriented master's degree. For example, those with a background in engineering or science could pursue a degree program in patents in order to sit for the patent bar exam. Those who successfully complete the degree and pass the exam would be authorized to write patents for scientific and engineering clients.
The Master of Laws, also known as the LLM degree, is an advanced professional degree. In the United States, the LLM takes three years to complete and is usually designed for attorneys from foreign countries who want to become versed in American law. In some US states, an ABA-accredited LLM degree can qualify graduates to sit for the bar exam in order to practice law. Other schools offer LLM degrees for US attorneys who want to gain advanced training in a particular legal area, such as telecommunications law or criminal law.
Online Doctoral Degrees in Law
A doctoral degree is the highest level of education in the field of law. Doctor of Philosophy (PhD) and Doctor of Law and Policy (DLP) degrees are available to online students, and Juris Doctor (JD) degrees are available to students who attend on-campus programs. The state of California is one exception to this rule, where students do have some online JD options; however, graduates of these programs would only be able to take the bar exam and practice in the state of California. In most US states, an ABA-approved JD is required to take the bar exam and become a licensed attorney.
Doctoral programs generally take three to seven years to complete and require between 60 and 90 credit hours. Depending on the program, eligible applicants must have a bachelor's or master's degree and are expected to present letters of recommendation, official transcripts, and written essays that describe their intentions. Doctoral concentrations are available in subjects such as criminal justice or law and public policy; they are designed primarily for experienced professionals who would like to advance in their current career or work in research and academia.
Students in most doctoral law programs will learn how to conduct independent research and will be required to complete a written dissertation. Courses may cover subjects such as justice administration, law and society, bioethics law, qualitative research methods, approaches to political understanding, higher education instruction, and emergency management, and students may be required to take a dissertation seminar as well.
Doctoral graduates often become lawyers in various capacities or advance into roles as judges, legal researchers, or university professors. In order to practice law, individuals must become licensed by passing a state bar examination.
Online Certificates in Law
Online certificate programs are available for a wide variety of law-related careers such as legal assistant, legal nurse consultant, legal secretary, criminal justice, and law enforcement, but the most common law certificate is the paralegal certificate. Paralegal certificate programs are undergraduate programs that introduce students to legal administration and paralegal skills. The paralegal certificate program prepares the student for work as a paralegal in private law firms or businesses. Paralegals have duties that include interviewing, investigating claims, preparing legal forms, conducting research, and assisting lawyers in court and other activities.
Although most online law and paralegal studies certificates take a year to complete, programs range in length from seven months to two years. The type of certificate program chosen, the school, the curriculum, and other factors will determine the exact length of the program. Certificate program applicants are typically required to have a high school diploma or a GED, but many associate or bachelor's degree graduates enroll in certificate programs as well.
While some employers prefer to hire candidates with an associate or bachelor's degree, others hire those with a paralegal certificate and provide additional on-the-job training. While law firms will likely remain the largest employer of paralegals, other industries, such as financial institutions, healthcare facilities, and insurance firms, also hire additional paralegals to save on costs.
The curriculum will depend on the type of program you choose, but some examples of legal certificate courses include legal terminology, legal research and writing, tort law and claims, contracts, ethics, courtroom procedures, and the basics of criminal, business, and civil law. Some certificate programs allow students to choose electives in the particular areas of law that interest them. Possible electives include property, corporate, probate, family, employment, immigration, or tax law, wills and trusts, property and creditor rights, and civil litigation. Students may also be required to participate in an internship in a local law firm, which can provide hands-on training.
Accreditation
Accreditation is granted to colleges, universities, and individual degree programs that choose to be evaluated by an outside agency and then successfully meet the agency's requirements for high academic standards. It's recommended that students choose an accredited program or school to ensure that they receive a high-quality education with regard to its curriculum, faculty, and student resources and outcomes.
Although not required, paralegals can look for accredited programs through the American Bar Association. The ABA approves only a small number of 100 percent online paralegal programs, as they typically look for more traditional educational approaches primarily in on-site settings. Other accredited law-related degree and certificate programs can be found through either the Council for Higher Education Accreditation or the US Department of Education.
For students who plan to become a licensed attorney, it should be noted that in order to sit for the bar exam in most states, you will need to graduate from an on-campus Juris Doctor program that has been accredited by the American Bar Association. The ABA does not currently accredit any 100 percent online JD programs. Review the particular requirements for licensure in your state via the National Conference of Bar Examiners.
Legal Office Administration
If you are interested in working in a law office, assisting an attorney, or managing the administrative duties for a legal firm, a degree in legal office administration can qualify you for this type of career. Legal office administration degrees teach students about business practices in law offices, methods of communication, record keeping, billing, and laws relevant to careers in legal administration.
Legal office administrators of all varieties organize, manage, and assist in the legal process, enabling attorneys to do their best possible work in service of the law. Duties range from basic clerical tasks, paperwork, and billing and information systems to interacting one-on-one with lawyers and clients. For all of these duties, the legal office administrator or assistant must combine secretarial duties and skills with legal acumen.
Legal office administration degrees are available at the associate, bachelor's, and master's level and take between two and four years to complete. Because careers as legal office secretaries, assistants, and administrators don't require certification, it is possible to work in legal offices with any of these degree levels completed. Higher-level degrees can make it easier to be hired by law offices, but the main advanage of advanced study is the increased liklihood of a more senior job title, increased duties and responsibilities, and higher income. No degree program requires passage of the bar exam or culminates in licensure to practice law in the state in which the degree was awarded; therefore, degree programs in legal office administration are not awarded as often by law schools.
The master's degree programs available in legal assisting are often Master of Business Administration (MBA) programs. Whereas the undergraduate degree will prepare students for work performing day-to-day clerical services or assisting lawyers and clients, a master's degree will provide students with the advanced skills necessary for running a legal office or entire firm. Some master's degree programs will qualify graduates to take the Certified Legal Manager (CLM) assessment, which grants licensure to manage a legal office to those who pass. Admission to an MBA program will require a completed bachelor's degree, letters of recommendation, and a personal essay.
Legal Studies
Online legal studies degrees provide students with an understanding of the ways that US law works and the ways that justice translates into law. Graduates can use these degree programs to enter positions as legal assistants and paralegals, public administrators, or law enforcement agents. Associate degrees in legal studies are most commonly used to learn the skills of legal writing and research. Bachelor's degrees can be used to prepare for graduate study in law or to enter administrative positions. Master's programs in legal studies are usually aimed at non-lawyers who seek a working knowledge of the law.
Undergraduate certificates and associate degrees in legal studies provide the analytical skills to do legal research and support the legal work done by lawyers and other professionals. Coursework discusses legal philosophy, the law and society, legal analysis and writing, and legal research. Graduates possess a well-rounded understanding of the legal system in society, as well as the skills to assess legal issues through research and writing.
Online bachelor's programs in legal studies provide a more in-depth look at the US legal system, and they may offer the ability to specialize in a particular legal area, such as public administration or pre-law. Core classes discuss social and political thought, sociology, American politics, American history, and constitutional government. Other courses look at the way law currently functions in society or how public policy affects citizens in areas such as drug policy, law enforcement, or social inequality.
Online master's degrees and graduate certificates in legal studies are intended to provide a graduate-level foundation in legal issues, which can be useful in areas such as business, public administration, or social work. Master's programs typically have a small core of classes in a legal area and electives that allow students to tailor the degree to the particular law area that is relevant to their goals. Some law master's programs are coursework-only, while others require the completion of a thesis.
Associate and undergraduate certificates in legal studies are usually offered by community colleges and vocational schools. Some have open admissions, meaning that all who meet the minimum requirements (usually a high school diploma) are accepted. Others require additional documents, such as letters of recommendation and a personal statement. Bachelor's programs typically require the same admissions packet as the associate degree, along with SAT or ACT scores. Master's programs require an accredited bachelor's degree, usually with a high GPA. Some require writing samples.
Paralegal
Paralegal degrees are designed to provide students with the necessary skills and education for paralegal careers. Students may often complete online degrees without ever having to visit a physical classroom, and courses may be taken as quickly or slowly as the student's work and home life permit. Paralegals help lawyers research cases and manage their relationships with clients. General paralegal degrees teach students about legal research, law databases, and maintaining client confidentiality. More specialized programs prepare students for paralegal careers in areas such as bankruptcy, public policy, or criminal defense. For more information about how to become a paralegal, check out the Complete Guide to an Online Paralegal Degree.
Frequently Asked Questions About Law Degrees
Is an online law degree credible?
An online law degree is credible, but it depends on which program you attend. Schools and employers can check a school or program's accreditation status. If you are pursuing a bachelor's degree, there are many accredited online programs available. However, to become a licensed attorney, you must earn a Juris Doctor degree from a school accredited by the American Bar Association. There are no fully-online programs accredited by the ABA, so any JD degree earned online will not qualify you to become a licensed attorney in most states.
In what states can you practice law without a law degree?
To become a licensed attorney, you must take the bar exam. There are only four states that allow you to take the bar exam without earning a law degree: California, Vermont, Virginia, and Washington. The states of Maine, New York, and Wyoming will allow you to substitute a legal apprenticeship for some years of law school, but still require at least some time spent in legal education. All other states require lawyers to earn their JD to become licensed.
What is the best bachelor's degree for law school?
This website offers school details to prospective students as an informational resource. The appearance of a school listing on this website should not be interpreted as an endorsement of the school by this site.
Related Articles
2020 Best Online Colleges for Paralegal Certificates
Our list of the most affordable online paralegal certificates highlights schools that stand out for their academics and affordability.
2021 Best Online Colleges & Degrees
Our 2020-2021 rankings are the first of their kind to use student salary and debt data from the government to highlight the best online colleges.