2020 Best Online Bachelor's in Information Technology (IT) Degrees
Online information technology degree programs are available at the associate, bachelor's, master's, doctoral, and certificate levels. Degree accreditation should be an important consideration for prospective students choosing a program, as should cost and quality. Our best online bachelor's list for IT degrees highlights the 25 schools with low tuition costs and comparatively high alumni salaries, as reported by PayScale. Our master's rankings may also be helpful for prospective information technology students.
2020 Best Online Colleges Offering Bachelor's in Information Technology Degrees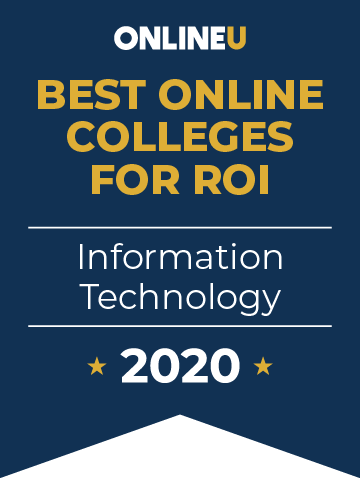 Ranked based on affordability and earning potential, these 25 schools offer the best online bachelor's degrees in information technology. Ranked #1 is SUNY at Albany, with a low tuition of $10,590 and a high median salary of $184,700. At #2, the University of Virginia has one of the least expensive tuition rates on the list, charging only $13,260 per year for its Bachelor of Interdisciplinary Studies - Information Technology.
Alumni salaries were provided by PayScale. View our methodology for more details or learn more about OnlineU.
Rank
School

Annual Tuition

Mid-Career Salary

#

1

SUNY at Albany

$10,590

$184,700
#

2

University of Virginia

$13,260

$150,000
#

3

City University of Seattle

$22,005

$130,600
#

4

Kennesaw State University

$5,562

$113,900
#

5

Mercer University

$14,250

$117,300
#

6

Excelsior College

$11,400

$112,200
#

7

Fort Hays State University

$6,778

$109,500
#

8

Arizona State University

$15,900

$110,000
#

9

Florida International University

$13,488

$105,800
#

10

Golden Gate University

$20,460

$106,800
#

11

Mercy College

$18,934

$105,500
#

12

Franklin University

$12,338

$99,700
#

13

Western Governors University

$6,750

$96,300
#

14

Tarleton State University

$6,044

$96,000
#

15

Hodges University

$20,700

$101,800
#

16

Kent State University at Kent

$20,007

$97,600
#

17

Bellevue University

$13,600

$94,000
#

18

Colorado Christian University

$14,070

$92,800
#

19

University of South Florida Online

$13,547

$92,200
#

20

National University

$16,650

$93,200
#

21

University of Wisconsin-Stevens Point

$26,432

$96,600
#

22

Southern New Hampshire University Online

$9,600

$88,700
#

23

Campbell University

$13,950

$89,500
#

24

Saint Leo University Online

$11,100

$86,900
#

25

George Mason University

$41,700

$97,900
Salary data provided by

2020 Online Colleges Offering Information Technology Degrees - Ranking Details
Online Information Technology Degree Overview & Career Information
Associate degrees in areas such as mobile device applications, software development, or database management provide students with an introduction to IT concepts. These degrees are often designed to prepare students for further study at the bachelor's or master's level. Bachelor's degrees build upon introductory concepts and allow students to explore different electives to pinpoint the area of IT they would like to specialize in. After completing general education requirements, the course content will depend largely on the type of IT program you're attending.
Master's-level IT programs nearly always include a focus or specialization relevant to a certain career path and may also require students to conduct research. Examples of master's degrees in information technology include network administration, information security, modeling and simulation, or project management. Doctoral degrees in information technology disciplines are designed for professionals who wish to expand their skills into leadership or research areas; they often include advanced concepts in IT business management, consultation, or education.
Undergraduate and graduate IT certificates are available in a wide range of areas such as information science, web design, IT management, and software development. Certificates can help current professionals update their skills in order to advance in their career, or they can introduce less experienced students to new technical concepts and help prepare them for further education.
Online Bachelor's Degrees in Information Technology
The bachelor's degree in information technology trains students in a blend of computer science and practical technology management topics, which is useful for professional roles in IT. Students also gain critical thinking skills and cultural understanding, from the humanities and sciences requirements of the degree. These four-year programs require 40 to 50 courses. Applicants need a high school diploma or GED.
The major curriculum in the IT bachelor's degree investigates a variety of topics related to business-level information systems. Core classes include information security, UNIX administration, telecommunications and networking, information systems architecture, and IT project management. Along with didactic courses, students are typically required to complete design and project-based labs. Along with the major core, many IT programs require that students specialize in a particular area within this wide field. Possible focuses include systems administration, information security, web development, and infrastructure management. Many programs also require the completion of a capstone course during the student's senior year, in which students take on a large project within their IT interest area.
The information technology bachelor's is a highly flexible program and can lead to a number of roles in private industry, non-profits, or the public sector, since nearly all organizations utilize IT. The bachelor's degree is the entry-level requirement for computer programmer, database administrator, network administrator, web developer, and information security specialist positions. After gaining some professional experience, bachelor's graduates may move into supervisory or advanced roles, such as IT project manager, systems analyst, or network architect.
Job and Salary Information
What is the job outlook for the information technology field?
As the importance of technology increases rapidly, information technology (IT) professions continue to experience rapid growth. Unlike computer science, which is focused on programming and innovation, IT primarily concerns itself with building and maintaining networks, databases and computer systems, using existing technologies. With the focus on new system software, big data, cloud computing, and information security threats, more and more companies are hiring qualified candidates who understand how to implement and run new software solutions.In today's technology and information driven world, IT is an absolutely necessity for businesses and organizations of all sizes. Due to the rising demand, the Bureau of Labor and Statistics projects the IT field to grow at a rate of 13% to 19% through 2026. This means that over a half million new jobs are projected to open up in this industry in the next 8 years.
What jobs can you get with a bachelor's in IT?
The list of popular jobs that people can get with a bachelor's degree in IT is quite long and varied, depending on one's specific skill sets, interests, certifications and prior experience. Here are several common jobs for bachelor's in IT graduates:
What kind of salary should I expect with a bachelor's in IT?
Information technology is a high-paying profession, with an average salary of $80,000. Recent graduates can expect to enter the industry at the lower end of the pay scale, with an average salary of $58,646. However, after 10-20 years in the field, information technology graduates can expect an average salary of $95,582.
The Importance of Accreditation
The US Department of Education recognizes several independent agencies that accredit IT degree programs or institutions that offer IT programs. Before they can become accredited, schools and degree programs go through a rigorous evaluation process to prove to the accrediting agency that they meet established academic standards. Attending a school or program that has earned accreditation can help students feel confident that they are receiving a high-quality education that implements current research and is taught by competent instructors. It will also enable students to transfer credits to other accredited schools and apply for scholarships and financial aid, as these financial benefits are typically only awarded to students who are enrolled at an accredited school or program.
ABET, or the Accreditation Board for Engineering and Technology, grants accreditation to information technology and information systems degree programs and is recognized by the US Department of Education and the Council of Higher Education Accreditation. Colleges and universities can also be accredited, and IT programs that are offered at these institutions are also considered to be accredited. Current lists of accrediting agencies, schools, and programs can be found via ABET, USDE, or CHEA.
Types of Online IT Certification
Microsoft Certifications
A popular kind of certification for IT professionals is offered by Microsoft. To maximize their chances of earning this credential, students are encouraged to enroll in preparatory classes at various distance learning colleges and universities. Microsoft Certified Professional (MCP) certifications are available in the following information technology categories: server, desktop, applications, database, and developer. The stages of certification that are currently available for these IT categories are Microsoft Office Specialist (MOS), Technology Associate (MTA), Solutions Associate (MCSA), Solutions Expert (MCSE), and Solutions Developer (MCSD).
Cisco Certifications
Cisco also offers private online classes that enable students to become certified IT professionals. Topics that are discussed include routing, network security, switching, and wireless. Individuals may opt to become certified on five different levels: entry, associate, expert, professional, and architect.
This website offers school details to prospective students as an informational resource. The appearance of a school listing on this website should not be interpreted as an endorsement of the school by this site.