2020 Best Online Human Services Degrees
Accredited online human services degree programs are offered at the associate, bachelor's, master's, doctoral, and certificate levels. Online human services degree programs train students to serve the public in a variety of capacities including alcohol and drug counseling, rehabilitation counseling, family and marriage therapy, social work, and school counseling. Aspiring undergraduate students looking to tailor their search may want to focus on the schools on our best colleges rankings list, which highlights top schools, based on tuition rates and alumni salaries reported by PayScale.
Prospective students should consider the accreditation of their online degree programs. Depending on their career plans, accreditation may be a requirement. Counseling, social work, and other clinically focused programs require state licensure so students should consult their state board for relevant accreditation requirements.
2020 Best Online Colleges Offering Bachelor's in Human Services Degrees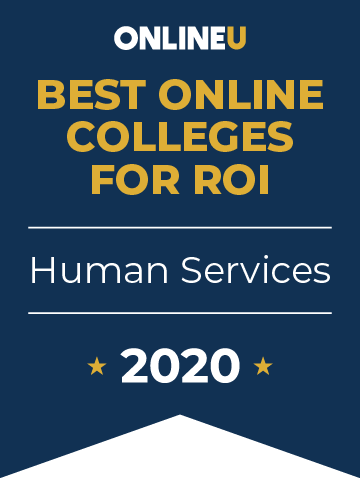 The following 5 schools offer the best online bachelor's in human services degrees, based on their low tuition rates and high mid-career salary potentials. Ranked #1 is SUNY Empire State College, with a low tuition of $10,943 and a high median salary of $65,700. At #4, University of Maine at Augusta has the least expensive tuition on the list, charging only $8,970 per year for its Bachelor of Science in Mental Health and Human Services.
Alumni salaries were provided by PayScale. View our methodology for more details or learn more about OnlineU.
Salary data provided by

2020 Online Colleges Offering Human Services Degrees - Ranking Details
Online Human Services Degree Overview & Career Information
Undergraduate certificate and associate degrees in human services can prepare graduates for administrative roles and assistant clinical work in areas like social work or alcohol and substance abuse counseling. While coursework varies by degree, common classes in these programs include counseling theory and techniques, interviewing, legal and ethical issues, psychopathology, and multicultural issues.
Online bachelor's degree programs in areas such as social work, counseling, and family and marriage therapy prepare students to work on cases for clients or patients, usually under the direction of a professional with graduate-level credentials or a state license. Other degrees in public administration areas such as emergency management and homeland security cover topics like management, finance, and human resources, as they apply to public service organizations.
An online master's degree in human services can prepare students to conduct clinical work with patients to help them overcome life challenges or find the public services they need. Students learn about topics like human behavior, case management, and the structure of the welfare system. Master's programs in public administration usually cover topics like human services management, non-profit management, or public policy and administration.
Students can earn online doctoral degrees in human services specifically or in closely related fields like psychology, public health, marriage and family therapy or social work. These programs can prepare graduates to diagnose and treat individuals with mental illnesses, conduct research or teach at the college level, or work in executive roles at public service institutions.
Online Associate Degrees in Human Services
The human services associate degree program provides graduates with the skills to serve and assist clients from a variety of cultural and socioeconomic backgrounds. Graduates of an associate human services degree online may go on to work in entry-level nonclinical positions in human services settings. Possible roles include clinical manager, administrative assistant, human services assistant, child care worker, or life skills educator. Depending on their state's counseling licensing laws, graduates may also be able to pursue roles as addiction and substance abuse counselors.
Program Requirements
Students in online associate programs will need complete about 20 to 25 classes which usually takes about two years. Applicants need a high school diploma or GED to be eligible for admission and may need to submit high school transcripts and/or transcripts from any college coursework they have previously completed.
Curriculum
The curriculum in an online human services associate degree program covers the skills for advising and advocating for individuals in a human services or social services capacity. Students learn how to work with groups and individuals to provide them with useful information and nonclinical counseling. Core classes in these degrees cover human services populations, social justice, and the psychology of human relations. Other courses provide skills for direct contact with clients, such as client interviewing, counseling skills, case management, and crisis intervention. Many human services associate degree programs require an internship or practical experience in a human services agency. These experiences may take place in social services agencies, individual and family services, public health clinics, hospitals, or other outreach settings.
Online Bachelor's Degrees in Human Services
The bachelor's degree in human services prepares graduates to work in direct contact with clients or in administrative positions in service-oriented organizations. These programs contain a core of humanities and science courses, as well as the human services theory and skills-based classes.
Program Requirements
Applicants to an online bachelor's degree program will need a high school diploma or GED. They will need to submit transcripts from high school and from any previous college-level coursework. Some schools will also require SAT or ACT scores. Online bachelor's degrees in human services take about four years to complete. Students can expect to take roughly 120 semester credit hours of coursework.
Curriculum
The online human services bachelor's curriculum provides a well-rounded introduction to the skills of the helping professions. Students learn the skills for effecting change at the individual, group, and community level. Core classes explore interpersonal communication, human services methods, and assisting in diverse communities. Other courses focus on the skills of counseling, client interviewing, and intervention. Many programs also train students in the administrative aspects of human services organizations, such as fundraising and program development.
Many human services bachelor's programs include the opportunity to specialize in a particular aspect of the helping professions, such as child and family services, substance abuse, emergency management, or health and human services management. Most programs require an internship or practicum in a local human services agency.
Individuals with an online human service bachelor's degree can go on to become social workers, case managers, substance abuse counselors, career counselors, and human services specialists in non-profits, public agencies, and the private sector. Besides direct-contact positions, the bachelor's degree can also lead to work as a general administrator, program director, or supervisor in a human services agency after some years of professional experience.
Online Master's Degrees in Human Services
Master's programs in human services provide students with the skills to help and counsel individuals in nontherapeutic settings. These degrees can also be used to study administrative issues involved in running a human services organization, such as a social services agency or non-profit.
Program Requirements
Online master's degrees in human services take about two years to complete and require 12 to 15 courses. Applicants need a bachelor's degree from a regionally accredited college and demonstrated interest in the helping professions. Some schools have minimum GPA requirements and require letters of recommendation in addition to transcripts from applicants' undergraduate degree programs.
Curriculum
Graduate-level human services courses cover the structure of the human services sector, skills for working directly with clients, and business principles for running a human services organization. Classes focus on human services policy, the structure of the social services industry, and development issues faced throughout the lifespan. Other courses cover topics such as the skills for interviewing clients, providing them with useful information, and directing them to other useful services. The administrative core of the degree is primarily focused on program evaluation, legal issues in human services, and organizational behavior.
Many master's programs in human services allow students to select a specialization in an area like gerontology, public health, or human services management. Most programs require an internship or supervised work experience in a human services setting.
Graduates of these online programs may go on to work in administrative roles in community outreach, social services, healthcare, and other helping organizations in the public, private, and non-profit sectors. Those new to the field can use the skills of the program to enter positions as lay counselors, nonclinical social workers, and other roles that involve direct contact with clients.
Online Doctoral Degrees in Human Services
Online doctoral degrees in human services prepare students for senior leadership roles as social service practitioners. Program emphasis is on development of action-oriented research skills for application in a diverse service delivery system. After completing a doctoral degree in the field, graduates may go on to work in the public sector, non-profit organizations, and private sector including settings such as community health centers, homeless shelters, hospitals, mental health centers, nursing homes, rehabilitation centers, and senior community centers. Areas of practice for graduates include addiction recovery, administration, child advocacy, child care assistance, consultancy, policy analysis, research, and teaching.
Program Requirements
Applicants to an online doctoral degree in human services should have an accredited master's degree in a social sciences discipline. Programs require completion of 90 to 102 credits, including dissertation research, which takes approximately three to five years.
Curriculum
The doctoral curriculum allows students to develop a comprehensive knowledge base in human services theory, research, and practice. Key focus areas in doctoral training include ethics, leading change, program development and management, research, and strategic planning. Programs adopt a multidisciplinary approach in teaching students how to solve complex social problems. Core areas covered by the curriculum include administrative issues, culture and psychology, ethics, historical analysis of human services, leadership, organizational management, public sector finance issues, social change for human services professionals, and social justice.
Doctoral specializations include clinical social work, counseling, criminal justice, disaster management, family studies, human services administration, public health, and social policy analysis and planning. Students are required to take a comprehensive exam after completion of coursework. Those who take the exam successfully proceed to conduct dissertation research and writing. Residencies are common in many online doctoral programs; these help to foster academic and professional development.
Online Certificates in Human Services
Online human services certificates are usually aimed at specific areas of human service work, such as communities, social outreach, non-profit work, mental health, or healthcare in general. Within these specifications, certification areas differ in level and may require that you've completed previous work in the field or have a related associate or bachelor's degree. Certifications in human services usually take just a few months to complete (one semester) and require anywhere between 15 and 20 units.
Depending on the human services specialty you plan on working in, your courses will vary; however, some of the most common courses you can expect to take include philosophy of social work, communication, clinical sociology, and utilizing community resources. Other courses that you may be able to choose from include non-profit fund management and organization, accountability, leadership, strategic response, and healthcare or facility management.
Those who earn a certificate in human services have an advantage of specializing in a particular area of the field, but their certificate will need to be accompanied by additional education in order to become eligible for most jobs. Certificate holders are well suited for nonclinical positions in healthcare facilities supporting patients with mental illnesses or physical disabilities; they may also work within community outreach programs or non-profits helping those in need.
Accreditation for Online Human Services Degrees
Accreditation is an evaluation process that schools and individual degree programs may choose to participate in to demonstrate to the public that they meet established standards of excellence. Programmatic accreditation is granted by trade-specific accrediting bodies, and institutional accreditation is granted by regional or national accrediting bodies. Students who choose to enroll in an accredited degree program can feel confident that they are receiving a high-quality education that will be worth their time and monetary investment. Attending an accredited program will benefit students who plan to apply for federal financial aid or transfer credits to another school, as accreditation is a requirement for both of these things.
Certification and licensing requirements for many careers in the human services field often include a degree from an accredited program. The Council on Social Work Education is an important accrediting body for social work programs, and the Council for Accreditation of Counseling & Related Educational Programs (CACREP) accredits counseling-related degree programs. In areas such as public administration, programmatic accreditation may not be required, but it can be useful for pinpointing quality programs. Specialized accreditation for programs is awarded by agencies such as the Association of Collegiate Business Schools and Programs (ACBSP) and the National Association of Schools of Public Affairs and Administration (NASPAA).
While the US Department of Education does not perform any accreditation services of its own, it does formally recognize several independent accrediting agencies. The Council for Higher Education Accreditation is another reliable authority that offers a list of recognized agencies and accredited schools and programs. For more information about accreditation, please visit OnlineU's accreditation hub.
Certifications for Human Services Professionals
Because human service professionals contribute to the well-being and safety of clients who are often in a vulnerable state, some positions require certification or licensure. It's always best to verify any legal requirements necessary for your profession in your particular state, but clinical social work and counseling are two human service careers that do typically require certification or a license.
While nonclinical or direct-contact social workers aren't usually required to have a license, all US states require that clinical social workers obtain registration or licensure of some sort. Clinical social workers typically need a two-year Master of Social Work degree from an accredited institution and at least two years of supervised work experience before they can be eligible to take the licensing exam. Once they have a license, social workers must complete continuing education hours to keep their skills and their certification current. Please visit our Complete Guide to an Online Social Work Degree for further details about certification and licensure for social workers.
Another common career path for human services graduates is professional counseling. All US states require counselors who provide direct patient care to obtain some sort of certification or license to practice. Licensed counselors must usually complete a two-year master's degree program, two years of supervised clinical experience, and an exam. They must also complete continuing education hours to maintain their license. Optional professional certification provides counselors with additional credentials in general counseling or in a counseling specialization such as school counseling, mental health counseling, addictions counseling, or rehabilitation counseling. Please visit our Complete Guide to Online Counseling Degrees for more information about certification and licensing requirements for counselors.
Online Public Administration Degrees
Online degree programs in public administration equip students with the skills and expertise that allow them to effectively tackle issues associated with economic development, social justice, and sustainability. If you have a keen interest in the diverse issues that inform the public agenda and are committed to upholding social justice, working in public administration will give you many opportunities to make a difference. Numerous career opportunities are available for public administration graduates in government, non-profit organizations, and in the private sector. Graduates can take up leadership and management roles at various levels in advocacy, consultancy, project implementation, research, or policy making.
Bachelor's programs focus on administrative management, community dynamics, disaster recovery, fiscal budgeting, government structure, politics, and public policy. The coursework gives students sharp insights into social issues and teaches them how to effect change through government systems. Most bachelor's programs require students to complete a capstone course.
Master's programs can enhance students' leadership potential and provide them with a unique set of analytical and management tools that can be applied across a broad range of sectors. Core areas in master's programs include governmental fiscal decision making, human resources in public and non-profit sectors, management information systems, organizational behavior, public organization and management, and research methods. Programs also offer students the opportunity to specialize in areas such as criminal justice, emergency management, government administration, healthcare management and policy, and policy analysis. A capstone project is a typical requirement of master's programs.
Doctoral programs are ideal for those looking to engage in sophisticated research. These programs allow students to develop their understanding of the foundations of public administration and other key areas in the field, such as methodology, organizational theory, program and policy evaluation, public sector financial analysis, and strategic management. Programs offer students the opportunity to specialize in a specific area and complete a dissertation project. Graduates can find leadership positions in consultancy firms or think tanks, or take up teaching positions in universities.
Online Public Safety Management Degrees
Public safety management degree programs help students develop the skill set necessary for a broad range of careers, such as law enforcement, community organizing, homeland security, disaster preparedness, and crime prevention social work. Graduates will have an understanding of what it takes to keep the public safe, the improvements that can be made, and the measures that are taken every day to maintain public safety. Those who are seeking careers in public safety management must have a strong interest in helping people and an understanding of how communities (and even nations) are organized. An interest in politics is also beneficial for students of public safety management.
The degree level a person chooses in public safety management will have a significant impact on what career choices they have after graduating. An associate degree is best for those careers that don't technically require a college education, but where a college education may prove valuable. For example, a police officer with an associate degree in public safety management may qualify for promotions to sheriff or squad leader. Some may become instructors or trainers within the police force. Other careers for these graduates include head of security and corrections officer.
A bachelor's degree provides similar opportunities, but those who earn bachelor's degrees in public safety management may also qualify for careers with the government. As undergraduates, students will study police science, fire science, homeland security, terrorism, criminal justice, and criminology. Programs may have specialization options or certain emphases.
Public safety management graduates with a master's or doctoral degree hold top jobs with large-scale police forces -- particularly those in major cities -- or with government agencies like the National Guard or National Security Council. Those who want to lead police departments, work for the CIA, or become top military professionals are most likely to benefit from graduate degree programs. Public safety management graduate students often complete theses or dissertations based on their own experiences in the field and their own research. After earning a doctorate in public safety management, some graduates may choose to become professors rather than agency directors.
Career Paths for Human Service Graduates
Employment opportunities for individuals in the human services industry are varied. There are many determining factors, such as education, level of experience, and scope of practice. However, all positions have one aspect in common: they each focus on enhancing life conditions for others. Your career may involve working with children and families, elderly people, former prison inmates, homeless people, immigrants, individuals suffering from mental illnesses or other disabilities, persons with addictions, or veterans.
Some of the career specializations available for human services professionals include addictions counselor, case work aide, clinical social work aide, family services assistant, human services worker, or social work assistant. Below, we've highlighted three common professional roles in the human services field:
Life Skills Counselor
Also known as life skills coaches, these individuals advise children, adolescents, adults, and the elderly on how to improve their lifestyle. They mostly work with underprivileged groups in a wide array of circumstances and settings. They provide a host of educational classes, help build self-esteem, support anger management, and assist clients in developing goals for their future. They also closely monitor the growth of their clients and make assessments that help determine their personal needs. Life skills counselors are likely to find employment in community centers and schools, or some of them have their own private practices. Most employers require professionals in this arena to have a master's degree in human services or another career-related field. Certification is not necessary, but it confirms an individual's competency level.
Group Home Manager
Workers in this sector oversee the daily operations of group homes, facilities that provide 24-hour care to juvenile delinquents, disabled citizens or ex-convicts. They are involved in planning budget expenses, initiating programs and services, and coordinating schedules. They also are responsible for hiring, training, and terminating group home staff. Group home managers typically need a bachelor's degree in human services or another career-related field.
Gerontology Aide
Entry-level positions in this field are open to high school graduates, as most employers are willing to offer on-the-job training. Individuals care for elderly citizens who are not able to be self-reliant. They bathe, feed, and administer medication to their clients. They also provide physical therapy and oversee social activities. Nursing homes, adult day cares and hospitals are the most common sites for gerontology aides. They may be required to have a driver's license and undergo a background check. Certification and degree programs are essential to career advancement.
This website offers school details to prospective students as an informational resource. The appearance of a school listing on this website should not be interpreted as an endorsement of the school by this site.