2020 Best Online Bachelor's in Human Resources Degrees
Our lists of best online bachelor's programs and best online master's programs in human resources highlight top schools, based on tuition rates and alumni salary data provided by PayScale.
Human resources is a good choice for students who enjoy working with and helping others. Prospective students can learn about accreditation standards for human resources degrees or read our overview of the three main subject areas covered in most human resources degree programs: accounting and finance, law, and management. We also provide information about the many degree specializations available in human resources to help you narrow down your options.
2020 Best Online Colleges Offering Bachelor's in Human Resources Degrees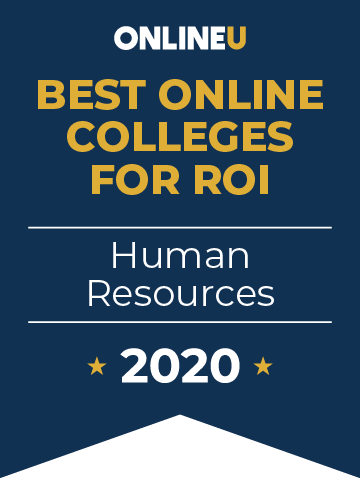 The 25 online colleges on this list are the best value options for online bachelor's degrees in human resources, based on their tuition and alumni-reported salaries. Assumption College is ranked #1, offering a Bachelor of Business Administration - Human Resources Management for $12,720 per year. Graduates of the school reported a median salary of $113,800. Second-ranked Norwich University offers a Bachelor of Science in Management Studies - Human Resource Management for $11,250 per year. Graduates of the school's human resources program earn a median salary of $101,300.
Alumni salaries were provided by PayScale. View our methodology for more details or learn more about OnlineU.
Salary data provided by

2020 Online Colleges Offering Human Resources Degrees - Ranking Details
Online Human Resources Degree Overview & Career Information
Associate degrees provide students with a foundation of both general education courses and human resources topics, such as employee compensation and benefits, creating job advertisements, and labor relations issues. Graduates with a two-year associate degree may qualify for some entry-level HR positions, but many jobs require at least a bachelor's degree.
Bachelor's programs require four years of study and include both general liberal arts requirements as well as core classes and electives in HR subjects. Classes directly related to majors in HR include industrial or labor relations, industrial psychology, and organizational development. Other classes that may be required of students include information technology, business management, finance, and different subjects in education.
Master's degrees are required for HR professionals seeking advanced positions that involve supervision and management. These graduate programs usually allow individuals to specialize in a certain area of human resources management. In addition to earning a master's degree in HR, candidates can also qualify for advanced positions in this field by pursuing a master's in labor relations or business administration.
Scholars or business professionals with a master's degree may pursue a doctorate in human resources areas such as management, workforce development, and organizational leadership. Doctoral programs encourage students to use current research theories to solve complex HR management issues. Graduates will be prepared for HR leadership positions or postsecondary teaching and research careers.
Online Bachelor's Degrees in Human Resources
The human resources bachelor's degree teaches students how to manage employee relations in order to boost productivity within an organization. Prospective HR bachelor's students need a high school diploma or GED. Applicants may also need SAT/ACT test scores and a particular high school GPA. This degree program typically requires 120 credit hours and four years of full-time work.
The HR bachelor's degree typically includes a core of business classes, along with a specialization in human resources topics. The business core includes courses in accounting, statistics, business information systems, finance, business law, operations management, and business communication. Future human resources workers are thus able to perform their roles with a vision of the entire organization's success in mind. The human resources focus in the degree discusses the skills for recruiting and retaining the best employees. Students study labor economics, human resources management, employee development, and compensation and benefits planning.
A bachelor's degree is the typical entry-level requirement for human resources specialist positions. At small organizations, human resources specialists may oversee all areas of employee relations, while those in larger organizations might specialize in recruitment, placement, or labor relations. After gaining professional experience, specialists may be able to enter human resources management positions. The Bureau of Labor Statistics states that job seekers with a relevant bachelor's degree and professional experience are likely to have the best HR job prospects. (BLS)
Accreditation for Online Human Resources Degrees
Prospective human resources students are encouraged to research online degree programs that are offered by accredited institutions. Accreditation means that a school has voluntarily gone through a comprehensive evaluation process by an outside agency and been deemed acceptable by that agency. While some disciplines have field-specific accrediting agencies to evaluate individual degree programs, the human resources discipline does not. Instead, students may choose a human resources program at a school that has been accredited for its overall academic offerings.
Attending an accredited school will help students meet eligibility requirements for federal financial aid and for transferring credits among other accredited institutions. It can also help students feel confident that they are investing their time and money in a degree program that meets high academic standards. The US Department of Education and the Council for Higher Education Accreditation both recognize several regional and national accrediting agencies and list them on their websites. Please visit our accreditation hub for more information about the benefits of accreditation.
What Will I Learn in an HR Degree Program?
Deciding upon a major is not just about deciding if the degree will lead to a rewarding career or education. Whatever you decide to major in will change your schooling experience significantly and can mean the difference between being satisfied or unsatisfied with your education over the next few years. Therefore, it is important to understand what courses you will be taking if you choose to study human resources. Below are some areas of study that you are likely to encounter if you study human resources:
Accounting/Finance: When working in HR, you will come across situations where you will influence the finances of the company you are working for, including issues dealing with employee compensation, payroll, and staffing needs. Classes in finance and accounting will provide you with the tools to understand how to make these decisions and to predict the impacts they will have on a business as a whole. These classes will involve some math and logic skills.
Law: Whether you are making a decision about hiring contractors, firing an employee, or dealing with employee misconduct situations, as an HR professional, it's important to understand the basics of employment law. While you won't need to understand law to the same extent that a lawyer would, it's important for HR professionals to be able to analyze laws and rights as well as determine how to best comply with them. HR professionals are in charge of coordinating with attorneys to ensure that their company is implementing lawful policies. Courses will typically cover legal basics and employment law, among other topics.
Management: Throughout your study of HR, you will likely come across multiple classes in management and leadership. These classes will teach you everything from communication skills and human behavior to employee training principles and labor relations. Some classes will teach you practical skills that you can take directly into your first HR job, while others will teach you abstract concepts to help you solve problems. These classes will be integral to your education and will provide you with a set of skills to take into your first HR position.
Human Resources Career Specializations
Human resource management is the part of an organization that recruits and manages the people who work within that organization. HR duties are performed by specially trained individuals who act as a liaison between different departments of a company and ensure that the approach to managing employees is strategic and uniform. HR professionals may oversee everything from recruiting and payroll to employee misconduct and training, as well as legal issues. A job in human resources can be incredibly varied (as with an HR generalist) or quite narrow (as with a college recruiter). The following list represents just some of the areas that HR professionals may specialize in:
Benefits Administration: Providing employee benefits, such as insurance or retirement, creates a need to manage the plans associated with those benefits. This includes selection of providers and negotiations, which is often an annual process. Many organizations track usage of benefits and survey employees on their preferences related to benefits; they then use the data from these sources to design a benefits strategy that will maximize employee satisfaction while managing costs. An HR education or a general business education is very helpful in this specialty.
Compensation Management: Many companies make an effort to ensure uniformity in the wages paid to similar employees performing comparable work. Reviewing the classifications of employees and ensuring that all employees are accurately categorized can be handled by a compensation expert in human resources. Such reviews (typically performed annually) may also involve review of outside salary surveys to ensure that the organization's compensation is competitive enough to attract qualified candidates.
General HR Management: As organizations become larger, the issues associated with their workforces get more complicated, and the risk associated with inconsistent policies increases. A human resources manager is typically involved in running processes that ensure that a company is in compliance with the law and consistent in its treatment of all of its employees. An organization may create policies around situations such as employee complaints of harassment, discrimination or other behaviors covered by law or statute, employee misconduct, employee requests for time off due to medical issues, performance appraisals, or separations (voluntary employee departures, terminations, and layoffs).
It is possible to learn these skills on the job -- particularly in companies that have someone with a legal background crafting and communicating policies. However, a specialized HR education can greatly improve someone's ability to carry out these functions, many of which involve nuanced understanding of legal concepts such as at-will employment, protected classes, and legal precedents related to them. Typically, in order to land a general HR position, a candidate will be required to have earned a bachelor's degree or have prior HR experience.
Payroll and Record Keeping: At the most basic level, human resources requires careful record keeping. Any time an organization adds a new employee, there are official federal and state forms that need to be collected, recorded, and filed. Throughout the tenure of any given employee, there can be numerous updates to those records (for example, certain federal tax forms must be updated annually, and employees can typically make changes each year to their health insurance and retirement plans). For hourly employees, someone in either the accounting or human resources department will review and finalize time records before payment is issued. Payroll also requires filing and payment of certain taxes.
Recruiting: The human resources department of an organization will often provide support to managers in the hiring of employees. This support can be as simple as placing advertisements and doing paperwork associated with formally opening the position, or it can involve active recruitment (sometimes referred to as "headhunting"): proactively reaching out to individuals who may be a fit for the role and working to get them interested in the role. A human resources professional can also provide training for managers on how to interview prospective employees -- both how to ask good, insightful questions that lead to a beneficial hire and how to avoid topics that might create the risk of a discrimination claim if the candidate did not get hired. Recruiters may find themselves traveling a fair amount for their job.
Training and Development: Some organizations recognize that organizational effectiveness is best supported by providing consistent training to employees. Identifying the topics, frequency, and participants for such training and ensuring that such training is taking place is sometimes handled by a human resources department. It can also come out of a dedicated training department, a training professional within an operations team, or other areas of an organization. An education in human resources with a concentration in training and development is important to a job in this area.
This website offers school details to prospective students as an informational resource. The appearance of a school listing on this website should not be interpreted as an endorsement of the school by this site.