2020 Best Online Bachelor's in Hospitality Management Degrees
Hospitality management is a flexible degree that can be leveraged into a wide variety of career opportunities. Graduates may opt to go into the hotel business as a hotel manager or director of housekeeping, into the restaurant industry as a restaurant or catering manager, into the tourism business as a travel agent or tour operator, or into event planning as a conference organizer or bridal consultant. Many of these careers offer median salaries in the range of $40,000 to $55,000. Students who enter into one of the online hospitality management degree programs on the ranked list below will find themselves studying business management, finance, and marketing concepts in a tightly focused learning environment with hospitality-specific cases and applications. Keep reading to learn more about accreditation and related degree options.
2020 Best Online Colleges Offering Bachelor's in Hospitality Management Degrees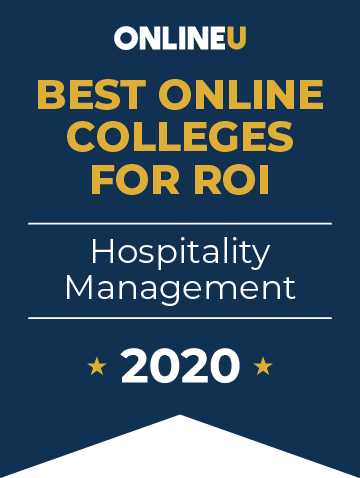 The following 17 schools offer the best online bachelor's in hospitality management degrees, based on their low tuition rates and high mid-career salary potentials. Graduates of the #1 school, the University of Massachusetts - Amherst, report earning a median salary of $78,600. At #6, Missouri State University has the least expensive tuition on the list, charging only $8,850 per year for its Bachelor of Science in Hospitality Leadership.
Alumni salaries were provided by PayScale. View our methodology for more details or learn more about OnlineU.
Rank
School

Annual Tuition

Mid-Career Salary

#

1

University of Massachusetts - Amherst

$12,750

$78,600
#

2

Southern Illinois University - Carbondale

$9,637

$74,600
#

3

Washington State University

$11,550

$73,700
#

4

University of Missouri

$11,622

$72,700
#

5

Johnson & Wales University-Online

$15,180

$74,000
#

6

Missouri State University

$8,850

$67,945
#

7

Texas Tech University

$9,540

$66,600
#

8

Oregon State University

$14,850

$68,545
#

9

Florida International University

$10,376

$66,700
#

10

Arizona State University

$15,900

$65,600
#

11

University of South Carolina-Columbia

$20,856

$64,700
#

12

University of Central Florida

$11,515

$57,200
#

13

East Carolina University

$21,009

$60,836
#

14

Northeastern State University

$14,790

$55,700
#

15

University of Utah

$31,736

$62,464
#

16

University of Alabama

$11,250

$46,200
#

17

Norfolk State University

$16,920

$43,600
Salary data provided by

2020 Online Colleges Offering Hospitality Management Degrees - Ranking Details
Online Hospitality Management Degree Overview & Career Information
Online associate degrees in hospitality management are typically offered as an Associate of Science (AS) degree. These programs are often designed to train graduates specifically for the workforce, but some are designed to segue into a bachelor's degree in hospitality. Common courses include food science, commercial food preparation, organization and management, tourism planning, and restaurant management. Most programs also require a small grouping of general education classes in topics like personal finance, college writing, and literature.
The online bachelor's degree in hospitality management is the degree most likely to lead to supervisory roles such as grounds supervisor, convention services manager, event manager, and guest service representative. The bachelor's degree program is often a business administration degree with a specialization in hospitality management. Core classes include subjects such as accounting in the hospitality industry, operations, food production management, and leadership in the hospitality setting. Many programs require a certain number of years of professional experience in hospitality or a certain number of documented hours of work experience. Many online programs in this field require an internship.
Online master's degree programs and graduate certificates in hospitality management address advanced business skills for the hospitality industry. Students study strategic management, information technology, organizational behavior, and law as they apply to the hospitality industry. Electives can be used to tailor the program to the particular hospitality area students plan to work in, such as casino or restaurant management. Most graduate programs require an internship in a management or administrative setting.
Online Bachelor's Degrees in Hospitality Management
There are relatively few bachelor's degree programs in the United States that are dedicated to hospitality management; more popularly, students enroll in a Bachelor of Business Administration program that offers specializations in hospitality management. As business schools struggle to attract business students, they often implement more and more specialization programs to suit the specific needs of career-minded college students, and hospitality management is one such specialization. A bachelor's degree program usually requires a four year, full-time commitment from students. Once students graduate with a degree in hospitality management, they will be able to market themselves at hotels and similar environments around the world.
As with any general bachelor's degree program, a program in hospitality management requires students to take general education classes alongside program-specific requirements. These general education requirements typically take two years and include liberal arts subjects such as literature, writing, history, science, arts, and mathematics. The rest of the program will involve courses specific to hospitality management. Some of the classes that students might encounter include the following:
Food and Beverage Operations Management: This is a core requirement of most programs and is often taken in the first semester of study. The class provides students with an overview of food and beverage management and a foundation for the rest of the program.
Fundamentals of Accounting: A basic accounting course is generally required for any graduate in hospitality management. Students will learn bookkeeping skills, from logging incoming and outgoing finances to income tax reporting.
Leadership and Organization: Hospitality management is, at its core, a degree in management and leadership. Students will learn how to apply leadership principles to a real work setting.
Planning and Cost Control: Often the difference between a successful business venture and a failure can be traced back to a reduction of extra costs through careful planning. This course examines some basic strategies for how to plan ahead and reduce costs for your business.
Strategic Marketing: Another important skill for any manager is how to market a business to bring in the most money. This class covers basic principles of how to bring in business through current marketing techniques.
Students will likely have access to many of the same organizations, competitions, and societies that business students do. They may participate in marketing challenges or honors society marketing events. Hospitality management is also an excellent field for internships; students can work in hotels, bed and breakfasts, or resorts to gain practical experience and establish contacts for future career endeavors.
The Importance of Accreditation
If you decide to invest your time and money in higher education, it's wise to make sure that the program you select is of the very highest quality. The Accreditation Commission for Programs in Hospitality Administration (ACPHA) is an accrediting body that can help you choose a worthy associate or bachelor's degree program. While specific programmatic accreditation is not required for hospitality management positions, it can be useful for identifying programs that cover particular student outcomes and for narrowing down the field of prospective degree programs you're considering.
Programmatic accreditation is a process by which a particular degree program or type of school is evaluated by a third-party organization. Unlike institutional accreditation, programmatic accreditation cannot be used for federal financial aid funding, but it does indicate that a program meets high standards, and it may help you earn professional certifications or credentials later in your career.
Accreditation is useful for hospitality management schools, in particular, because the accreditation process takes into account the specific skills and techniques students will need to be successful hospitality managers. ACPHA ensures that a program's curriculum covers subjects such as hospitality marketing, operations, accounting, financial management, legal issues, ethical considerations, organization theory, and administrative processes. ACPHA also makes sure that students have access to sufficient hands-on experience so that they leave their degree program with the appropriate skills.
Along with the course curriculum, ACPHA also evaluates the qualifications of a school's instructional staff and their effectiveness as teachers. ACPHA also investigates the student services available, such as counseling, industry exposure, and clear program standards. Each school's financial status is also assessed to make sure the program is solvent and able to meet its financial demands. The school's library collection, learning facilities, and audio-visual equipment are also taken into account.
Related Degrees
A hospitality management degree is closely related to many other degrees in the field of hotel and food services and hospitality management. The most closely related programs are hotel management and food and beverage management. These degrees cover many of the same topics as hospitality management, but they are more focused in their approach. Hotel management is specific to the management of hotels, large casinos, or resorts, while food and beverage management is often sought after by those interested in creating restaurant chains or upscale food or beverage establishments.
Tourism and travel is also closely related to the field of hospitality. A tourism and travel degree focuses on ways to increase tourism, provide tourism-related services to consumers, and capitalize on both business and leisure travel. Many who graduate with this degree work for hotels, cruise lines, local tourism offices, or travel agencies. Many students who pursue a degree in hospitality management might also be attracted to a degree in business or marketing. The important skills of running or establishing a business, working effectively with clients and customers, and successfully marketing a product or idea are relevant and can be easily transferred to careers within the hospitality industry.
This website offers school details to prospective students as an informational resource. The appearance of a school listing on this website should not be interpreted as an endorsement of the school by this site.