Best Online Bachelor's in Homeland Security Degrees
Online homeland security degrees are available at the associate, bachelor's, master's, doctoral, and certificate levels. They provide students with opportunities to pursue careers working against terrorism as well as man-made and natural disasters. The schools on our best online colleges ranking are particularly good options for prospective students to explore. Schools were ranked based on tuition rates as well as alumni salaries provided by PayScale.
There is no specific programmatic accreditation for homeland security degrees. However, prospective students should make sure that the institutions they choose to attend have received institutional accreditation. In addition to institutional academic accreditation, students should look for interdisciplinary programs that include coursework in risk management, technological issues, public policy, and general planning and management concepts.
Online Homeland Security Bachelor's Degrees You May Be Interested In
Advertisement
Purdue University Global
Annual Tuition: $14,358
1 Programs (view all)

Southern New Hampshire University Online

Grand Canyon University
Annual Tuition: $17,800
1 Programs (view all)

2020 Best Online Colleges Offering Bachelor's in Homeland Security Degrees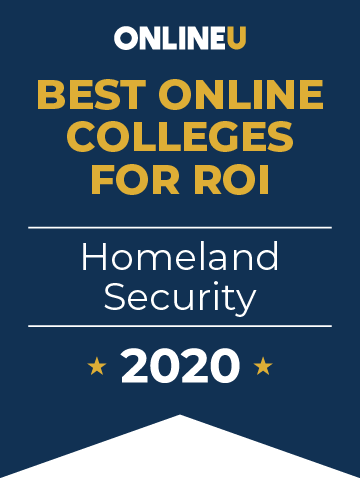 Ranked based on affordability and earning potential, these 25 schools offer the best online bachelor's degrees in homeland security. At #1, DeSales University charges $15,240 per year for their Bachelor of Arts in Homeland Security. Thomas Edison State University offers distance learners a Bachelor of Science in Homeland Security and Emergency Management for $9,856 per year. Alumni reported a mid-career salary of $88,000.
Alumni salaries were provided by PayScale. View our methodology for more details or learn more about OnlineU.
| Rank | School | Annual Tuition | Mid-Career Salary |
| --- | --- | --- | --- |
| # 1 | DeSales University | $15,240 | $100,800 |
| # 2 | Thomas Edison State University | $9,856 | $88,000 |
| # 3 | Mercy College | $18,934 | $90,400 |
| # 4 | Excelsior College | $15,300 | $84,300 |
| # 5 | Norwich University | $11,250 | $80,700 |
| # 6 | University of New Haven | $20,150 | $81,100 |
| # 8 | SUNY Empire State College | $10,943 | $76,500 |
| # 9 | University of Alaska Fairbanks | $10,140 | $75,800 |
| # 10 | Arizona State University | $15,900 | $77,600 |
| # 11 | University of Maryland Global Campus | $14,970 | $77,200 |
| # 12 | Wichita State University | $6,708 | $67,200 |
| # 13 | Saint Leo University Online | $11,100 | $65,600 |
| # 14 | National University | $16,650 | $66,500 |
| # 15 | Saint Louis University-Main Campus | $19,500 | $67,200 |
| # 16 | Park University | $12,450 | $63,700 |
| # 17 | Sam Houston State University | $12,963 | $63,800 |
| # 18 | Campbell University | $13,950 | $63,800 |
| # 19 | Middle Tennessee State University | $13,500 | $63,100 |
| # 20 | Eastern Kentucky University | $12,270 | $61,800 |
| # 21 | Liberty University | $11,700 | $59,000 |
| # 22 | Keiser University | $19,808 | $58,900 |
| # 23 | Mercer University | $14,250 | $54,700 |
| # 24 | Bellevue University | $13,175 | $54,000 |
| # 25 | Tiffin University | $14,260 | $40,300 |
Salary data provided by

2020 Online Colleges Offering Homeland Security Degrees - Ranking Details
Overview of Online Homeland Security
Individuals interested in pursuing an online degree in homeland security can find options at the associate, bachelor's, master's, and doctoral level. There are also certificate programs available. At the associate level, students will spend two years studying general education courses as well as specialized classes that cover the basics needed to start a career in the field. Graduates of an associate degree can find entry-level work in such areas as law enforcement and security, or go on to earn a bachelor's. At the bachelor's level, students will gain the skills and knowledge that they need in order to address a variety of security threats, such as how to prepare for and respond to disasters, protect infrastructure, and address terrorism. Upon completion of a bachelor's program, graduates will be able to find work in a variety of settings, from the government to private security.
Master's degree programs are also available for those who wish to seek additional education in order to advance their careers and gain higher leadership positions within the field. A master's degree program will usually take two years to complete. Students in the program may be able to focus their studies in a particular area, such as information security, food defense, or geospatial intelligence. Doctoral degrees are another advanced educational option, and may be a good choice for those who wish to teach at the university level or who want to work in research or as a consultant. A doctoral degree will take anywhere from four to seven years to finish and will require writing a dissertation.
Lastly, there are also certificate programs available in the field of homeland security. These programs may be an appropriate option for someone who is not ready to commit to a full master's degree, but who still wants to earn additional education to advance their career. These certificate programs are commonly offered at the graduate level, meaning applicants must already have a bachelor's degree. Certificate programs are usually intended for professionals with experience in the field.
Online Bachelor's Degrees in Homeland Security
An online bachelor's degree in homeland security provides a solid foundation in safety and security issues, focusing on vital components of the homeland security field such as critical infrastructure protection, disaster preparedness and response, and intelligence sharing and analysis, in order to address concerns ranging from terrorism to natural and man-made disasters. Bachelor's degrees are offered by colleges and universities, usually taking four years to complete the required 120 credit hours. With an associate degree, 60 credits are covered and two additional years are sufficient to complete the bachelor's degree. Applicants need at least a high school degree or GED to apply for a bachelor's degree program and must have achieved minimum GPA standards. A bachelor's degree in homeland security covers general education courses, writing and seminar classes, electives, and a final capstone project, depending on the program. Homeland security coursework includes classes on risk analysis, mitigation & disaster recovery, government security, border & immigration control, transportation security, and more. Job security upon graduation is very high, with graduates landing careers in government positions, in the military and Coast Guard, law enforcement, and public and private security.
The Importance of an Accredited Online Homeland Security Degree
In the United States, over 3,000 regionally accredited institutions of higher education educate nearly 17 million students. Seven regional accrediting agencies are responsible for setting quality standards for certificates and degree programs offered by these schools. The primary goal of accrediting commissions is to ensure that students get the learning resources they need to build professional skills in their fields of study. Regional accrediting agencies conduct annual reviews of each institution to ensure that it maintains quality standards on a school-wide and regional basis. Regional agencies also share information so that quality standards for schools have a level of consistency on a nationwide basis. There are no rules or regulations in the homeland security field that require professionals to hold degrees from a regionally accredited school. However, a credential from a regionally accredited institution can offer an edge in the job market because employers can feel assured that applicants from these schools have an excellent academic preparation for current demands in the field.
Careers in Homeland Security
Jobs in homeland security provide high job security, performance-based increases, flexible hours, and a wide variety of promotion opportunities. Students and graduates can work for the Department of Homeland Security, the military, law enforcement, government, security consulting companies, and private insurance companies. For government jobs in homeland security, veterans are considered preferential hirees. According to the Bureau of Labor Statistics, military career job growth is expected to remain stable through 2024. Day-to-day responsibilities differ depending on the career, but individuals can expect variance in their schedule and a combination of interpersonal and technical duties.
This website offers school details to prospective students as an informational resource. The appearance of a school listing on this website should not be interpreted as an endorsement of the school by this site.
Related Articles
Best Online Human Services Degrees
There are many options for pursing online bachelor's in human services degrees. Compare the programs with the highest return on investment based on alumni salary and debt.
Best Online Master's in Homeland Security Degrees
These rankings of the best online master's in homeland security degrees highlight the schools that provide both low tuition rates and high reported alumni salaries.