2020 Best Online History Degrees
An online degree in history can provide students with a nuanced understanding of history throughout the world and an improved capacity for processing and analyzing information. Prospective online history students should make sure to attend an accredited school, like one of our 2020 best online colleges offering bachelor's in history degrees or our best online master's programs in history. These schools were ranked based on their tuition rates and alumni salaries reported by PayScale. Graduates may go on to have careers in sectors that require strong writing, communication, and research skills.
2020 Best Online Colleges Offering Bachelor's in History Degrees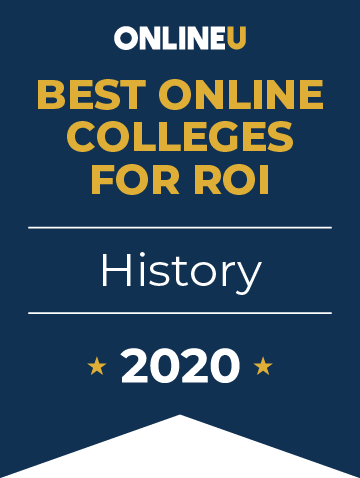 Ranked based on affordability and earning potential, these 25 schools offer the best online bachelor's degrees in history. At #1, Washington State University charges $11,550 per year for their Bachelor of Arts in History. At #23, University of Idaho has the least expensive tuition on the list, charging only $8,304 per year for its Bachelor of Science in History.
Alumni salaries were provided by PayScale. View our methodology for more details or learn more about OnlineU.
Salary data provided by

2020 Online Colleges Offering History Degrees - Ranking Details
Online History Degree Overview & Career Information
An online associate degree in history is good preparation for students who plan on continuing their educations by earning bachelor's degrees in the field or a similar academic discipline. These online degrees combine classes in world history with other humanities and liberal arts classes. Foundational courses explore subjects such as philosophy, natural science, social science, and fine arts.
An online bachelor's degree in history will introduce students to the process of researching and examining history, as well as studying the histories of different regions around the globe. Common courses discuss the history of Western civilization, the history of Europe, United States history, and Middle Eastern history. Other courses may look at the historical development of particular populations or topics, such as women's history, the history of religion, or the history of film. Some programs allow or require students to specialize the degree in an area like the history of science, African American history, or art history.
Online master's degrees in history enable students to focus heavily on a particular historical region, era, person, or event. Several programs also allow students to assess and compare factors that have impacted the United States and other countries. The programs often draw from other disciplines, such as sociology, political science, economics, English literature, and environmental studies. Graduate certificates in history are also available for educators or other working professionals who want to closely examine the history of a particular region or a historical event, such as American history, military history, the Civil War, or classical history.
Online Associate Degrees in History
Online associate degrees in history teach students fundamental skills that can be applied to a wide range of jobs and activities. For that reason, these programs are great choices for undergraduate students who want to study history without committing to four years of full-time study or who plan to complete an associate degree before furthering their education at the bachelor's level.
Program Requirements
Associate degree programs usually take two years to complete and about 60 semester credit hours. Most online schools will require that applicants have a high school diploma or GED. Applicants may need to submit transcripts from high school and any college courses they have previously taken.
Curriculum
Students in an online associate degree program can expect to take some general education courses including English literature, biology, and mathematics in addition to history-specific classes. Most degrees will include coursework in some combination of world history, American history, African-American history, history of women, Eastern religions, history of Western civilization, regional history, art history, historical geology, world politics, and the history of human rights.
Job opportunities for associate degree holders in history range from teaching assistantships and park historians to document archivists and research assistants. Many graduates continue their education by obtaining a bachelor's or master's degree in a specialized area of historical study.
Online Bachelor's Degrees in History
The online bachelor's degree in history introduces students to major events and themes in human development, from ancient times to today. In the process, students gain a historical context for current events, as well as research and critical thinking skills.
Program Requirements
These programs require four years which is usually equivalent to at least 120 credit hours of work. A high school diploma or GED is required to apply. Most online schools will also require applicants to submit standardized test scores (SAT or ACT scores) and transcripts from high school and any colleges that an applicant may have previously attended.
Curriculum
The curriculum in the history online bachelor's degree surveys history in varying regions around the world, from prehistoric events to today. Common core classes include overviews of history research methods, ancient history, medieval history, US history, and the history of ethnicity and race in the United States. Students are also required to take survey courses in the history of particular geopolitical regions, such as Asian, Latin American, or African history.
At some schools, along with taking the major courses in an array of historical areas, students can also specialize their online bachelor's degree in a particular historical subtopic, such as women's history, European history, or the history of science. Most programs require a capstone course or thesis project, in which students complete a significant research paper in their focus area.
Online history bachelor's graduates may be prepared for a variety of careers that require critical thinking, writing, and reading skills. Graduates can apply for positions as administrators, human resource managers, legal assistants, and marketing analysts, to name a few. Others pursue teacher certification to teach history at the high school level. Still others go on to graduate study in law, library science, political science, or another humanities area.
Online Master's Degrees in History
Students looking to pursue studies in history at the graduate level may be interested in an online master's degree in history. Master's degree programs in history help broaden students' perspectives of different cultures and economies. Students focus on obtaining knowledge related to influential time periods, people, and events. They're expected to delve into independent research, as well as complete a capstone project. To learn more about online master's programs in history, see our master's overview which includes a list of the best programs.
Online Doctoral Degrees in History
Earning an online doctoral degree in history will equip students with the training and experience necessary to pursue a career in academia or another field that requires a nuanced understanding of the past, such as professional research, archaeology, and academic publishing. Admission generally requires a relevant preceding degree—either a bachelor's or a master's—along with GRE scores. On average, an online history PhD program takes four years to complete.
Doctoral coursework in history is heavily focused on research and scholarly interpretation of historiographic literature, which may include classes in logical reasoning, analytic writing, and data analysis. Students usually engage directly with primary sources within an area of concentration (e.g., military history, regional history, or history of a given time period). In addition, students are often required to complete courses in several other areas of history outside of their concentration and demonstrate proficiency in a second language.
Degree programs culminate in doctoral research, a dissertation, and an oral dissertation defense. The dissertation may be preceded by a prospectus (or dissertation proposal) that must be approved by the department, and students may be required to publish scholarly research in an academic journal. The overarching objective of this doctoral research is to make a significant contribution to the knowledge of history. Upon graduation, many graduates pursue academic research roles and professorships.
Online Certificates in History
Applicants to a certificate in history program must usually hold a bachelor's degree to be considered. Prospective students will need to submit official transcripts from all postsecondary programs they have attended. An 18-credit certificate can be completed in less than one year.
The courses required for a history certificate program depend on the particular concentration a student selects. An American history certificate may include courses in US constitutional history, the American Revolution in context, the Civil War, the United States in the 20th century, and history and popular culture. A student focused on ancient and classical history could expect to take courses focusing on Medieval Europe, late antiquity and Byzantium, the Greek civilization, the Roman Republic and Empire, and the Renaissance and Reformation. Requirements for a certificate in European history would include classes in the Great War, World War II in context, modern European history, 18th and 19th century Europe, and the history of the Enlightenment.
The Importance of an Accredited Online History Degree
Prospective online students should make sure that their schools of choice are regionally or nationally accredited in order to ensure that their learning experiences will meet national educational standards. Accredited schools and degree programs have had their curricula, faculty, student resources and outcomes, and research capabilities carefully evaluated by an independent organization. Attending an accredited school will enable you to access any federal financial aid you might qualify for and help you meet eligibility requirements for transferring credits from one accredited institution to another. This is especially important for students who plan to attend graduate school.
The Council for Higher Education Accreditation and the US Department of Education formally recognize several regional accrediting agencies and provide databases of accredited schools on their websites for prospective students. Please visit the OnlineU accreditation hub for more information about how accreditation works and why it's important.
Career Opportunities for History Majors
Online history degrees help students develop critical thinking skills and a broad understanding of culture. Because of this, a history degree can open up many possible careers in fields such as education, consulting, law, business, financial services, government institutions, and non-profit administrations. A few examples of potential career options for people with history degrees include teaching history at the middle or high school level, history professor, journalist, librarian, museum curator, and travel writer.
This website offers school details to prospective students as an informational resource. The appearance of a school listing on this website should not be interpreted as an endorsement of the school by this site.