2020 Best Online Healthcare Management Degrees
Healthcare management is a field that requires scheduling, planning, problem solving, and leadership skills. Healthcare managers work with patients and employees in clinics and hospitals to ensure that the facilities run smoothly and effectively. An online healthcare management degree is essential to succeeding in this relatively competitive industry, where the top officials usually have graduate degrees. Education in the field of healthcare management is available at every degree level, so students may choose to study at whatever level is most appropriate for their career goals. Those interested in undergraduate programs may find our list of the best online bachelor's in healthcare management degrees helpful in their research. Prospective graduate students can browse our list of the best online master's programs. Schools on these lists offer the best value based on alumni salaries and low tuition rates.
Prospective healthcare management students are encouraged to select an online degree program that has been accredited by the Commission on Accreditation of Healthcare Management Education (CAHME). This commission attempts to ensure that students are investing their time and money in a quality degree program that will properly train them for their management work. Read More
2020 Best Online Colleges Offering Bachelor's in Healthcare Management Degrees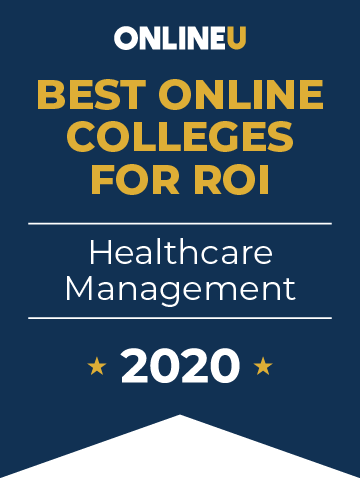 The 25 schools on this list are the best value options for obtaining an online bachelor's degree in healthcare management based on alumni salaries and low tuition rates. Graduates of the #1-ranked school, Massachusetts College of Pharmacy and Health Sciences, earn a median salary of $121,800 after earning their Bachelor of Science in Health Sciences- Healthcare Management. In the #2 spot, The George Washington University offers a BSHS in Clinical Operations and Healthcare Management for $18,450 per year, giving distance learners a quality education and a high earning potential.
Alumni salaries were provided by PayScale. View our methodology for more details or learn more about OnlineU.
Salary data provided by

2020 Online Colleges Offering Healthcare Management Degrees - Ranking Details
Online Healthcare Management Degree Overview & Career Information
Associate degrees in healthcare management are two-year degrees that explore the basics of the US healthcare system, as well as leadership and administration principles in finance, management, and human resources. They also provide students with a basic understanding of how to navigate the insurance system and the laws and ethics governing healthcare. While earning a bachelor's degree, students will learn more in-depth concepts with regard to business topics around healthcare administration, communications, and technology. Since most bachelor's degree programs have general requirements, students will also take classes in the humanities, math, general sciences, and social sciences.
The master's degree in healthcare management is a good investment for ambitious students who hope to hold leadership positions at the top US hospitals and clinics. Master of Business Administration (MBA) degrees are also available in healthcare management. Students will further develop their leadership and problem-solving skills while also mastering essential business and healthcare administration topics. Some master's degree programs require a thesis.
Doctoral degree programs in healthcare management last three to five years and provide students an opportunity to examine advanced theories in select healthcare management topics. Students will write a dissertation on a topic of their choice, based on their own original research. Most people who are admitted to doctoral degree programs have experience as administrators.
Undergraduate and graduate certificate programs in healthcare management last approximately one year. They provide students and professionals of varying educational backgrounds with an opportunity to learn about healthcare management and administration in a relatively short time frame and without the commitment of earning a degree.
Online Associate Degrees in Healthcare Management
Online healthcare management degrees at the associate level can be found most easily through business schools and community colleges. The 60 semester credits earned in associate programs are taken at the undergraduate level and cover general education requirements, as well as basic information about the practice of healthcare management. The associate-level degree requires no prior training, certification, or schooling; in some cases, students can begin or even complete these two-year degrees while still enrolled in high school.
Along with general studies requirements, associate programs in healthcare management can feature medical billing, medical terminology, anatomy and physiology, and even some law and ethics in medicine. The associate degree in healthcare management is primarily intended to lead students into the bachelor's, and eventually master's, degree in the same field; therefore, not a lot of management-specific courses and extra-curricular activities will be available at this level.
For someone who has earned an associate degree in the healthcare administration field, some of the best jobs available will be in medical billing and coding, provided the applicants have studied medical billing and insurance practices enough to pass a certification exam. Healthcare administration leadership positions often require a graduate degree.
Online Bachelor's Degrees in Healthcare Management
Compassionate people with excellent business skills may wish to consider earning a bachelor's degree in healthcare management. This degree program requires four years of full-time study and the completion of up to 120 credit hours. Program applicants must have a high school diploma or equivalent. Many schools also require a strong background in science and computers as well.
In most cases, aspiring healthcare managers usually need at least a bachelor's degree to accomplish their career goals. Bachelor's programs teach students about fundamental practices in clerical support, business administration, human resource management, accounting, and quality assurance. Students also learn how to effectively apply critical thinking skills and technical knowledge. Core classes in bachelor's degree programs typically include organizational management, managerial communications, medical terminology, healthcare marketing, ethics and laws for administrators, strategic planning, and health information systems. Most online programs require students to use a variation of interactive materials, such as videoconferencing, discussion boards, audio recordings, recorded lectures, and slide shows.
Bachelor's degree holders in healthcare management work as administrators in medical clinics, doctors' offices, hospitals, rehabilitation centers, psychiatric facilities, nursing homes, and outpatient centers. Individuals seeking an executive position should pursue a master's degree, whereas those who wish to become an independent researcher or consultant must usually obtain a doctorate degree.
Online Master's Degrees in Healthcare Management
Master's degrees in healthcare management are usually found in Master of Business Administration (MBA) programs and can act as a major or specialization within the management-level business degree. Master's programs take one to two years and usually include 36 to 48 semester credits. For these career-specific programs, the required bachelor's degree usually takes the form of a business degree, although it is sometimes possible to enroll in an MBA program without having completed an undergraduate degree in business.
Master's-level healthcare management courses instruct students in the practices and procedures of healthcare facilities as well as business management. Because most applicants to healthcare management programs have a background in business or medicine, their initial courses or workload can be strongly influenced by which basic foundation courses have been completed and which ones haven't.
Health management MBA students will gain a thorough understanding of medical practices, medical terminology, medical billing and coding methods, and legal requirements and standards of healthcare. Business courses will cover accounting and finance, personnel management and organization, and general leadership and management. Some courses combining healthcare and business might include the history of healthcare management or economic decision making in medicine.
In many cases, those attending healthcare administration master's programs are aspiring hospital directors. Although this position is technically available to healthcare-related MBA graduates, many hospitals are looking for those who hold a doctoral degree in medicine as well as education in business management.
Online Doctoral Degrees in Healthcare Management
Students in healthcare management doctoral programs study advanced business principles as they apply to the healthcare sector. The minimum prerequisite for admission is usually a bachelor's degree, but some programs require a master's degree and professional experience. The PhD program takes three to five years to complete. Students take 20-30 courses and complete a dissertation project.
The curriculum in the healthcare management doctorate includes courses in business and the healthcare system. Courses help students understand the ways in which finance, accounting, marketing, and human resources apply to the sensitive healthcare environment. Other classes discuss healthcare information systems, biostatistics, public health, and quality assurance. A doctorate in healthcare management usually requires the completion of a dissertation. Students conduct research and field studies in a particular aspect of healthcare delivery or facility management, then prepare a lengthy report on their conclusions.
Some graduates with doctorates in healthcare management choose careers in academia and become researchers and professors, helping to train the next generation of healthcare managers and administrators. The PhD can also be used to land top executive roles in hospitals, nursing care facilities, outpatient care centers, and other healthcare settings. Graduates can become directors, vice presidents, presidents, and chief executive officers.
Online Certificates in Healthcare Management
The graduate certificate in healthcare management trains leaders that can address the business and ethical issues that arise in a healthcare environment. Online certificates target current or aspiring managers, take about one year to complete, and require 6 to 10 classes. Applicants need an accredited bachelor's degree. Undergraduate certificates in healthcare management are less common and only require a high school diploma.
The curriculum in the healthcare management certificate provides a multidisciplinary introduction to healthcare administration. Courses such as healthcare finance, supervision in healthcare, and project management in healthcare discuss the techniques and tactics used to keep a hospital, nursing facility, or outpatient care center running efficiently. Other courses analyze healthcare policy, ethics, and cultural topics. These classes address the sensitive, nonquantitative issues that can affect healthcare delivery. Healthcare ethics and diversity in healthcare courses discuss principles for ensuring quality care and meeting the healthcare needs of culturally disparate communities. Other classes look at the history of the US healthcare system and healthcare reform.
Current clinical practitioners or managers in other sectors can use the healthcare management certificate to increase their understanding and enter a management role in healthcare. Current assistant managers or managers of smaller departments can use the certificate to advance into supervisory roles at bigger facilities. All types of healthcare facilities, including hospitals, nursing homes, assisted living facilities, group physician practices, home healthcare services, and outpatient care facilities, require managers. Graduates can thus choose from a number of work environments.
The Importance of Accreditation
Students seeking online healthcare management degrees or certificates are encouraged to choose a program that has been accredited in order to ensure high-quality instruction and positive outcomes. Accreditation is a designation that schools and individual degree programs can work toward to demonstrate to the public that they are capable of providing an adequate academic experience for students. Independent accrediting agencies carefully evaluate curricula, faculty members, student resources, and the quality of their research programs and only grant accreditation to those schools and programs that meet their strict criteria.
Besides institutional accreditation, which is important for all degree programs, you can also look for programmatic accreditation by specialized healthcare groups. The Commission on Accreditation of Healthcare Management Education accredits healthcare management programs and is recognized by the US Department of Education and the Council for Higher Education Accreditation.
Attending an accredited school will not only be beneficial when presenting your resume to future employers, but it will also help you meet eligibility requirements for federal financial aid and help you transfer your earned credits to other accredited institutions. Please visit OnlineU's accreditation hub for more information about the benefits of accreditation.
Licensure and Certification
After you finish your degree, you may be interested in earning a license or professional certification in healthcare management. In many types of healthcare settings, managers are not required to have state licenses. The exceptions are for administrators in nursing care facilities and assisting living facilities; check your state's regulatory board for information that pertains to you.
Becoming certified in a specific professional area demonstrates a high degree of specialization to prospective employers. There are a variety of voluntary certifications for healthcare managers, each of which indicates mastery of a different skill. For example, healthcare managers for insurance carriers might consider earning a certification in risk management or information systems, while managers for hospitals might elect to work toward a certification in account management or a specific medical field.
The Professional Association of Health Care Office Management and the American College of Health Care Administrators offer several types of certification opportunities. Additionally, employers and experts in this field encourage professionals to become involved with a respected organization that supports the advancement of healthcare management, such as the Healthcare Financial Management Association.
Employment Opportunities for Healthcare Managers
Hospitals are the most popular employers of healthcare managers. As hospitals come in all shapes and sizes, healthcare managers have some flexibility when choosing between potential employers. Smaller hospitals tend to have greater interpersonal responsibilities, while larger hospitals may hire healthcare management professionals for specific departments within the larger organization.
Healthcare clinics are usually designed for specialized practitioners, and they are typically smaller than mainstream hospitals. Clinics may include specializations such as dentistry, podiatry, psychiatry, dermatology, and hospice care centers. These facilities are apt to hire generalist healthcare managers who are able to take on a greater span of responsibilities, such as managing systems for an entire facility. Unlike larger hospitals, these managers are often required to interact with most of the facility's personnel.
Insurance carriers work with the healthcare sector to provide a variety of health services. These carriers have demands for a variety of healthcare managers but usually hire the ones who have a higher degree of specialization within their fields. For example, an insurance carrier may hire a systems director specifically to implement a new information system. People working in the insurance field also possess other quantitative skills such as cost-benefit analysis, econometrics, and statistics.
This website offers school details to prospective students as an informational resource. The appearance of a school listing on this website should not be interpreted as an endorsement of the school by this site.