Best Online Bachelor's in Health Care Management Degrees
Healthcare management is a field that requires scheduling, planning, problem solving, and leadership skills. Healthcare managers work with patients and employees in clinics and hospitals to ensure that the facilities run smoothly and effectively. An online healthcare management degree is essential to succeeding in this relatively competitive industry, where the top officials usually have graduate degrees. Education in the field of healthcare management is available at every degree level, so students may choose to study at whatever level is most appropriate for their career goals. Those interested in undergraduate programs may find our list of the best online bachelor's in healthcare management degrees helpful in their research. Prospective graduate students can browse our list of the best online master's programs. Schools on these lists offer the best value based on alumni salaries and low tuition rates.
Prospective healthcare management students are encouraged to select an online degree program that has been accredited by the Commission on Accreditation of Healthcare Management Education (CAHME). This commission attempts to ensure that students are investing their time and money in a quality degree program that will properly train them for their management work. Read More
2020 Best Online Colleges Offering Bachelor's in Healthcare Management Degrees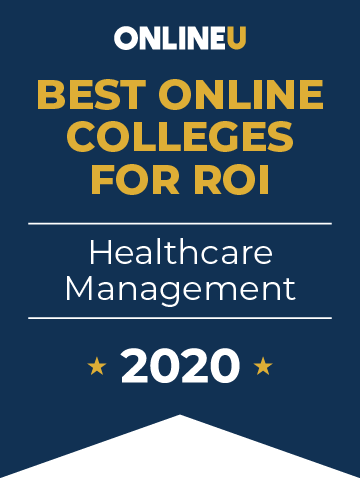 The 24 schools on this list are the best value options for obtaining an online bachelor's degree in healthcare management based on alumni salaries and low tuition rates. Graduates of the #1-ranked school, Massachusetts College of Pharmacy and Health Sciences, earn a median salary of $121,800 after earning their Bachelor of Science in Health Sciences- Healthcare Management. In the #2 spot, The George Washington University offers a BSHS in Clinical Operations and Healthcare Management for $18,450 per year, giving distance learners a quality education and a high earning potential.
Alumni salaries were provided by PayScale. View our methodology for more details or learn more about OnlineU.
| Rank | School | Annual Tuition | Mid-Career Salary |
| --- | --- | --- | --- |
| # 1 | Massachusetts College of Pharmacy and Health Sciences | $13,795 | $121,800 |
| # 2 | The George Washington University | $18,450 | $106,344 |
| # 3 | University of Virginia | $16,230 | $105,285 |
| # 4 | Oregon Institute of Technology | $11,822 | $98,369 |
| # 5 | Concordia University - Irvine | $14,850 | $98,463 |
| # 6 | LeTourneau University | $11,250 | $96,540 |
| # 7 | Rutgers University | $19,200 | $95,055 |
| # 8 | St. Peter's University | $14,850 | $92,640 |
| # 9 | Indiana University-Northwest | $9,080 | $88,114 |
| # 10 | Ottawa University Online | $14,970 | $84,971 |
| # 11 | Concordia University - Chicago | $14,720 | $84,838 |
| # 12 | Excelsior College | $15,300 | $83,309 |
| # 13 | Thomas Edison State University | $9,856 | $80,796 |
| # 14 | California Baptist University | $18,390 | $84,133 |
| # 15 | University of Minnesota Online | $13,364 | $81,901 |
| # 16 | University of St. Francis | $11,970 | $81,207 |
| # 17 | Southeast Missouri State University | $9,000 | $79,771 |
| # 18 | South Texas College | $6,000 | $76,900 |
| # 19 | Concordia University - Texas | $13,800 | $78,386 |
| # 20 | Southern Illinois University - Carbondale | $9,637 | $76,330 |
| # 21 | Indiana University-Southeast | $19,346 | $79,500 |
| # 22 | Misericordia University | $13,330 | $76,237 |
| # 23 | The University of Findlay | $14,260 | $76,204 |
| # 24 | Jefferson College of Health Sciences | $19,557 | $77,658 |
Salary data provided by

2020 Online Colleges Offering Healthcare Management Degrees - Ranking Details
Overview of Online Bachelor's in Healthcare Management Degrees
The goal of healthcare management bachelor's degrees is to produce administrative leaders who can manage medical facilities. As a student of this major, your instructors will try to instill knowledge of the U.S. healthcare system, effective business practices, and data analysis, along with critical-thinking and communication skills.
Bachelor's degrees in healthcare management usually require 120 credit hours of coursework, with about half of that dedicated to electives and core courses in the major. This is supposed to take four years, though you could potentially graduate early or take longer to finish the degree. Your program might feature an optional or required internship toward the end of the curriculum, which would allow you to gain real-world experience in a healthcare office.
Online Format
Most program administrators design online degrees to feature asynchronous courses with no set meeting times. This is because the convenience of asynchronous learning has increased the popularity of online degrees.
If you pursue a healthcare management degree online, you will sign in to a learning management system to watch recorded lectures, read assignments, submit work, and ask and answer questions in discussion forums with your classmates and professor.
If you pursue a healthcare management degree online, you will sign in to a learning management system to watch recorded lectures, read assignments, submit work, and ask and answer questions in discussion forums with your classmates and professor. Note that you'll complete any internship requirements live at an employer's facility, even if all of your coursework is online.
Admission Requirements
Applying to college can feel daunting, so it helps to make sure you're prepared with what you'll need. Here's a list of things that most colleges ask for when you apply:
High school or GED transcripts showing a minimum GPA of 2.5; some schools have lower GPA requirements or an open admission policy

Official college transcripts (for degree-completion programs)

One or two letters of recommendation from teaches, mentors, or coaches
Online Bachelor's in Healthcare Management Concentrations
Healthcare is a vast and complex field, and not every aspect is likely to appeal to you. You might prefer to tailor your studies with a concentration in an area of interest, which could potentially improve your marketability in that narrower area.
In truth, healthcare management is itself often a concentration of another major, such as business or health sciences. For example, you might pursue a Bachelor of Science in Business Administration with a concentration in healthcare management. But some Bachelor of Science in Healthcare Management programs offer concentrations of their own, and we've listed a few of these below.
Finance is crucial to keeping the lights on at any medical facility. Your healthcare finance professors will lecture on microeconomics, budgets, medical billing, and the U.S. medical insurance system.
Human resources (HR) specialists recruit, train, compensate, and monitor the progress of healthcare employees. As a student in this concentration, you may learn about hiring and retention practices, performance management, employee benefits plans, and HR technology.
Healthcare technology is changing fast and expanding into every corner of the health industry. Courses in this concentration generally cover information technology, medical record-keeping applications, clinical and diagnostic machines, and cloud computing.
Courses in an Online Bachelor's in Healthcare Management
Each healthcare management program is different, but most of them have comparable learning outcomes that target the same competencies. For this reason, their curricula often contain many similar courses. We've listed a few of these common classes here to give a flavor for what you'll encounter as a bachelor's student.
Students learn to navigate the complicated legal landscape in healthcare. Topics usually include HIPAA and its updates, the federal regulatory framework, state healthcare laws, and partnership with legal counsel.
This course's syllabus pulls readings and lessons from organizational leadership and applies them to health settings. Faculty often cover leadership theories, the psychology of motivation, organizational behavior, and strategic planning and budgeting.
Health managers need to ensure that potential patients are aware of their facilities, so they need to understand marketing as well as any business leader. As such, this class contains lessons on market research, the marketing mix, brand management, digital venues, and maintaining customer relationships.
Quality Control and Risk Management
The quality of patient care has real consequences for people's lives, and any lapses put their facilities at risk of censure from regulators. This class covers how to ensure a consistently high level of care, from developing safety routines to performing regular quality audits.
Accreditation for Online Bachelor's in Healthcare Management
Accreditation is a seal of approval from an independent review organization. Institutions can earn accreditation, but so can individual degree programs. Institutionally accredited schools are eligible to offer federal financial aid, which is an important consideration for most college students.
Programmatic accreditation may further attest to the quality of a degree's curriculum and instruction. The following accreditors review healthcare management programs.
The Association to Advance Collegiate Schools of Business accredits programs in what it calls "health services/hospital administration."
Healthcare Management Careers
You may set down several career paths with a healthcare management education. Your classes contain lessons about the U.S. healthcare system, but they typically also reinforce transferable skills that can serve well in a variety of management roles, such as critical thinking, problem-solving, and effective communication.
Annual Median Salary:
$99,290
Job Growth Rate:
9% growth in 2020-2030
These managers maintain the smooth operation of their employers' facilities. They require a detail-oriented mindset, budgeting and HR knowledge, and strong organizational skills, all of which a healthcare management degree usually teaches.
Annual Median Salary:
$126,230
Job Growth Rate:
9% growth in 2020-2030
This field has the most tenuous connection to healthcare management, because HR managers often have undergraduate or advanced degrees specifically in HR. But you might be able to earn an HR concentration during your healthcare management bachelor's degree, which may help you capture the interest of hiring managers outside the healthcare field.
Annual Median Salary:
$101,340
Job Growth Rate:
32% growth in 2020-2030
Healthcare management faculty generally assume that these are the roles their students are interested in, for good reason: They tend to pay well and the field is expanding at several times the average rate for U.S. jobs. In addition to new jobs, the Bureau of Labor Statistics (BLS) projects 51,800 open positions each year through 2030 due to regular turnover.
Annual Median Salary:
$74,000
Job Growth Rate:
15% growth in 2020-2030
These professionals run initiatives for organizations that try to help people solve problems: social service government agencies, nonprofits, or even healthcare employers. As such, there's some crossover with healthcare management work. The analytics company Lightcast even notes the similarity in skills that employers request in job ads for healthcare administrators and social services managers: communication, teamwork, budgeting, and staff management.
Licensure and Certification
A professional license is a legal requirement to perform a job in a particular state. The good news is that no states require healthcare managers to be licensed in order to work.
However, you can earn several professional certifications. These are extra credentials attesting to your expertise in a particular area of the profession. Certifications may help you market yourself more effectively to hiring managers or negotiate better pay from your current employer, but there's no objective data on which healthcare management certifications lead to the best outcomes.
To get any of the following certifications, you need to pay a fee and pass a comprehensive exam. This list isn't exhaustive; you may find employers who prefer different certifications.
The Certified Medical Manager requires at least two years of work experience and 12 hours of post-secondary education credits.
You can become a Certified Professional in Healthcare Risk Management if you have at least five years of experience after earning your bachelor's degree. Although the American Hospital Association provides this certification, you can achieve it if you work in risk management in any healthcare setting.
How To Choose an Online Bachelor's in Healthcare Management
When making important decisions, it helps to first gather the facts that matter to you. You can ask yourself the following questions during the initial phase of research into bachelor's degrees.
Is this degree accredited?

To avoid low-quality diploma mills, it's best to only consider institutionally accredited colleges. Most schools list their accreditation status prominently on their websites.

Beyond this, you might check whether specific healthcare management degrees are programmatically accredited. Graduating from a programmatically accredited program typically isn't a requirement to work in healthcare management, but it could be a nice-to-have feature that helps you decide between programs.

Do I want to study online or in person?

If you definitely want an online program, you may be able to eliminate several schools right away because they don't offer the degree you want at a distance. This is a good time to think through what you want: a fully online program with asynchronous learning for maximum convenience? A hybrid model with some on-campus classes to give a flavor of the traditional college experience?

What will the degree cost?

This is an important question for nearly every applicant. To stay organized, you can make a spreadsheet comparing the cost of tuition and the various fees at each school you review.

How do alumni fare in the job market?

Our Salary Scores give you insight into the career outcomes of real program graduates. This can help with comparing the median starting salaries of healthcare management alumni from various colleges.

What else is important?

Your top factor in school selection may be someone else's seventh consideration, and vice versa. Think about what matters to you, then find out how each school is likely to meet your needs. For example, you might check a college's site to see whether it has an office of diversity and inclusion, or you can contact an admissions officer for details about virtual tutoring and writing help.
FAQs About Online Healthcare Management Degrees
What Is the Difference Between Healthcare Management and Healthcare Administration?
---
Management deals with higher level strategy, budgeting, and planning. Healthcare managers lead healthcare administrators as they perform daily tasks that keep medical facilities functioning.
What Degree Is Best for Healthcare Administration?
---
If you want a healthcare administration career, it makes the most sense to earn a healthcare administration degree. You can pursue options from the associate to doctoral levels. At higher levels, you might find some crossover between the healthcare administration and management fields, because graduate degrees often aim to prepare leaders in their fields.
Is Health Management a Good Career?
---
Healthcare management is a very good career if you judge it on the two big numbers: salary and job outlook. Medical and health services managers earn median annual pay that's more than twice the median rate for all U.S. jobs, and the growth rate in new jobs is four times faster than the average growth rate for all occupations combined. Whether you actually enjoy the work is another matter, so make sure to talk to academic and career counselors before settling on your major.
How Long Does It Take To Become a Manager in Healthcare?
---
People's experiences differ, but often you need at least six years to become a healthcare manager. Most management jobs require at least a bachelor's degree, which schools design to last four years. After graduating, you may be able to land a management role right away, but most people need at least a few years of experience as an individual contributor before they're promoted to a supervisory role.
Related Articles
Best Online Master's in Healthcare Management Degrees
These rankings of the best online MS and MBA in healthcare management degrees highlight schools with low tuition rates and high reported alumni salaries.
Guide to Online Healthcare Administration Degrees
Explore this guide to online healthcare administration degrees to learn about potential careers for grads, answers to FAQs, and resources for students.