2020 Best Online Graphic Design Degrees
Online graphic design degrees are available at the associate, bachelor's, master's, and certificate levels. We ranked the best graphic design schools, according to tuition costs and alumni salaries provided by PayScale. An online graphic design degree includes coursework that combines technical skills and creativity. Before enrolling in an online graphic design program, students should make sure that their schools are accredited. In addition to institutional accreditation, students should look for programs that are accredited by the National Association of Schools of Art and Design (NASAD).
2020 Best Online Colleges Offering Bachelor's in Graphic Design Degrees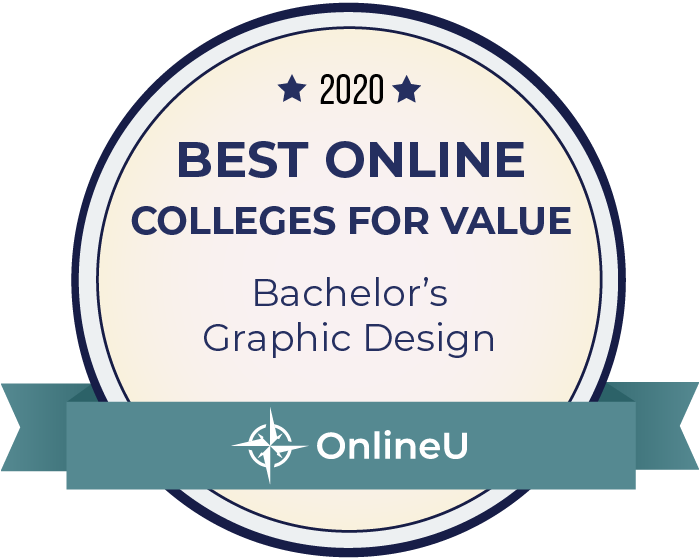 The following 5 schools offer the best online bachelor's in graphic design degrees, based on their low tuition rates and mid-career salary potentials. At #1, the University of Maryland Global Campus charges $14,970 per year for their Bachelor of Arts in Graphic Communication. Southern New Hampshire University Online offers distance learners a BA Graphic Design and Media Arts for $9,600 per year. Alumni reported a mid-career salary of $58,100.
Alumni salaries were provided by PayScale. View our methodology for more details or learn more about OnlineU.
Salary data provided by

2020 Online Colleges Offering Graphic Design Degrees - Ranking Details
Online Graphic Design Degree Overview & Career Information
Graphic design students typically learn how to use popular software, like Photoshop and InDesign, as well as how to use computer programming languages that can help them build and adjust their designs online. Design classes discuss illustration, print design, color theory, photography, and web design, and students practice combining images and text in a variety of formats. Undergraduate programs are good for developing a solid portfolio, which is necessary preparation for staff-level design jobs. A master's degree can be useful for advancing into art director positions.
Associate degrees and undergraduate certificates in graphic design can provide a solid foundation that can help motivated students to pursue graphic design assistant positions. These programs include courses in areas like the Adobe Creative Suite, typography, and color theory. Some career-oriented programs may specialize in a particular design area, such as web design or interactive design.
Bachelor's degrees can provide the necessary depth and breadth in graphic design to pursue a variety of jobs. Students take courses in visual communication, graphic design theory, print design, and electronic layouts, along with classes in general education areas like humanities, natural science, and social science. Students in a bachelor's program also develop a portfolio of exceptional design projects, which can be used later to apply for jobs or graduate school.
A master's degree in graphic design can be a good choice for people with or without graphic design backgrounds, as these degrees may be advanced or entry level. The master's degree usually focuses around a thesis project, a large piece of graphic design work that showcases what the student has learned, as well as their top design ideas. Students with graphic design backgrounds can choose to focus the master's program in a particular design area, such as branding or digital design.
Online Associate Degrees in Graphic Design
Graphic design professionals use a variety of technical and artistic skills to create original presentations, such as websites, logos, and print publications. Associate degree programs in graphic design help students develop the essential tools to make them effective in the field.
Program Requirements
These programs typically require 18 months to two years of full-time study and the completion of approximately 60 credit hours. High school graduates with strong computer and visual art skills are encouraged to apply.
Curriculum
Students in associate graphic design programs learn basic concepts and technical skills. They learn to apply problem-solving skills to industry-related issues and often work on individual projects that cultivate their abilities. Coursework in graphic design includes classes in illustration, drawing, media aesthetics, typography, and computer graphics. Students are also introduced to software applications commonly used in the field.
Graphic design programs may require students to complete portfolio projects in order to graduate. Students' portfolios can become professional assets as they begin to find work in the field. Graduates with an associate degree in graphic design often become freelance designers or graphic design assistants, but some entry-level graphic design positions may require that applicants hold a bachelor's degree.
Online Bachelor's Degrees in Graphic Design
The bachelor's degree program in graphic design provides a foundation in art history and practice, as well as the particular skills involved in print and digital design. Students in graphic design bachelor's programs learn how to create commercial art in the form of logos, typography, ads, web pages, digital animation, and more.
Program Requirements
Online bachelor's graphic design programs take four years to complete and require about 120 credit hours of coursework. They can be pursued at art and design colleges as well as traditional universities. Along with a high school diploma or the equivalent, many programs require the submission of an art portfolio documenting the applicant's abilities.
Curriculum
The graphic design coursework includes training in basic artistic skills, followed by training in the design practices for creating pleasing arrays of graphics and text. Beginning courses include art history, drawing, illustration, and painting, which help students develop the basic artistic ability they will use for later design work. Design courses discuss such topics as typography, advertising design, 3-D design, and web design. Many programs require a thesis or portfolio development project during the student's senior year; this large, integrated project can be used to apply for internships and jobs after graduation.
The graphic design field is a competitive one, and many firms expect applicants to have a relevant bachelor's degree. Graduates of the bachelor's program are well situated to enter assistant roles in advertising, design, and web development firms; after a year or more of experience, assistants may move into a staff position. The most competitive graphic design opportunities will be for those with a strong understanding of design skills relating to new technology, such as mobile applications and website design.
Online Master's Degrees in Graphic Design
Master's degree programs in graphic design provide students with the opportunity to delve deeply into design theory and emerging issues in the field. Graduate degrees in graphic design are available at the Master of Fine Arts (MFA) level or the Master of Arts (MA) level. Some schools use the title "MFA" and "MA" interchangeably, so it's important to look at the curriculum (such as studio work versus academic classes), rather than the title, to determine the focus of the degree.
Program Requirements
Online graphic design master's programs can be completed in two to three years, depending on the applicant's background; most programs require between 10 and 15 courses. Applicants with a bachelor's degree in graphic design or another visual art field might be able to complete the program in a shorter time frame than applicants with a bachelor's in a non-art area. Most programs require the submission of an art portfolio, along with evidence of bachelor's degree completion.
Curriculum
The coursework in the online graphic design master's degree focuses on advanced, specialized, and current issues in graphic design. Students typically participate in several graduate-level seminars discussing issues such as sustainability in design, packaging design, and typography. The seminars are accompanied by design studio classes, where students create pieces of design based on their own visions and the topics of their courses. The backbone of the degree is the thesis project, where students typically spend a year or more crafting and developing a design project that draws on their graduate courses and their own innovative vision.
An MFA in graphic design requires a significant amount of independent studio work. To graduate, students must complete a thesis, which is a complex design project in their particular design area. The MA in graphic design usually requires more academic courses than the studio-focused MFA. Students take courses in design concepts like typography, interactive design, illustration, and branding. MA programs may also require a thesis and studio work.
Like all artistic careers, the success of a designer is largely based on their portfolio and body of work, so the thesis project of the master's degree can be a useful avenue for broadening one's creative output. Graduates can use the program to become a graphic designer, launch their own design companies, or teach design at the college level.
Online Certificates in Graphic Design
According to the US Bureau of Labor Statistics, the standard entry-level education required for a graphic design career is a bachelor's degree. This, however, doesn't mean that a traditional four-year degree in graphic arts is the only possible path toward employment. A number of accredited schools offer professional certificates in graphic design which will help students looking for jobs and internships build outstanding portfolios to show prospective employers.
A certificate might be useful for someone who would like to work on developing a portfolio, or for someone who is just looking to develop a stronger background in art and design. The certificate can also be useful as professional development for artists, animators, or others who need an understanding of basic graphic design tools.
Some schools offer certificate programs that consist of eight or nine courses, while others have more rigorous programs that require students to take up to 13 courses. Online certificate programs tend to offer some scheduling flexibility, making them ideal for students who have jobs or other responsibilities to consider. Many schools suggest that their programs can be completed within one to two years, sometimes sooner.
Generally, college degrees are not prerequisites for professional certificates, though there are always exceptions. A high school diploma or GED certificate is usually sufficient. As for a portfolio or a background in art, many professional certificates in graphic design are actually intended for students without art training. They're considered introductions to the foundations of design. Some programs, particularly the more demanding ones, might require students to have knowledge of the most widely used design software before starting coursework. A number of online certificate programs, however, are designed for students who have yet to learn these tools.
The Importance of an Accredited Online Graphic Design Program
Accreditation isn't only important for degrees in medicine or other high-stakes fields. This certification can also help you evaluate graphic design programs and choose a quality degree. Graphic designers have to understand the latest design tools in order to stand out in this technical career. Accreditation can be a way to determine whether a program exposes students to the most up-to-date design technologies.
The first type of accreditation is institutional accreditation. It is important for all degrees, regardless of the field. In addition to institutional accreditation, there is also programmatic accreditation. Programmatic accreditation only applies to a particular type of program or degree within a school.
As with all online degree programs, prospective graphic design students should look for schools with a legitimate institutional accreditation from a regional or national accrediting body. Although it's not required, programmatic accreditation can also be a sign of a great graphic design degree program. The National Association of Schools of Art and Design is the main accrediting body for undergraduate and graduate graphic design degrees. Prospective students can also verify the accreditation of schools and programs via the Council for Higher Education Accreditation.
What Students Will Learn in an Online Graphic Design Program
Graphic design is visual communication, so graphic designers must learn how to create visually appealing combinations of words and pictures in a number of different formats. To learn how to do this, students take courses in art and design, specific graphics areas, digital design, and professional processes.
For example, an overview course like design and art theory introduces students to the concepts behind color and composition. To gain an understanding of the psychological impact that good design can have on a culture, students examine the ways in which art and design have been used throughout history. Other classes, like digital expression, focus on using artists' tools to create a narrative, which is very important in commercial graphic design.
Other classes look at specific graphic design components. A course on logos and symbols, for example, discusses the ways that very succinct types of graphic design can make an impact. In these online courses, specific art techniques lead to good logo design. Classes in digital graphic design, such as video game design and animation, address the ways that sound and moving pictures can convey a message and cover the editing and technical skills to help students succeed in this popular and ever-changing field.
Some courses, such as production management, look at graphic design projects in the real world of commercial art and teach students how they would design and execute those projects. Learning these industry practices is crucial for taking the skills learned in the degree out into the job market.
Graphic design has become a field that depends heavily on computer use. Students of brick-and-mortar schools might have access to school computer labs and computers with all the design software needed for their coursework installed. Online schools will require that their students have some kind of access to the programs they need to complete their assignments. Any students who wish to have design software available on their home computers might consider buying the versions that are licensed for student use; often, student versions cost less than the professional versions.
This website offers school details to prospective students as an informational resource. The appearance of a school listing on this website should not be interpreted as an endorsement by the school of this site.