2020 Best Online Bachelor's in GIS Degrees
Online geographic information systems (GIS) degrees are available at the bachelor's, master's, doctoral, and certificate levels. Geographic information systems (GIS) is the science of capturing, storing, manipulating, analyzing, and managing different types of geographical or spacial data. People study GIS because it aids in solving a number of spatial problems such as creating maps, locating geographic data, measuring physical characteristics of the earth, and extracting information from structured sets of geographic data.
2020 Best Online Colleges Offering Bachelor's in Geographic Information Systems Degrees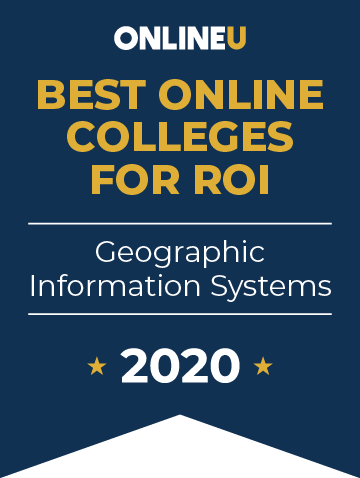 The schools featured on this list offer the best value options for obtaining an online bachelor's degree in geographic information systems (GIS) based on alumni salaries and low tuition rates. Graduates of the #1 school, University of Arizona, report earning a median salary of $89,300 after earning their Bachelor of Science in Geographic Information Systems Technology. With the lowest tuition on the list, Delta State University offers two bachelor's degrees in geographic information systems for an affordable rate of $7,501 per year. Alumni from this school reported a mid-career salary of $66,653
Alumni salaries were provided by PayScale. View our methodology for more details or learn more about OnlineU.
| Rank | School | Annual Tuition | Mid-Career Salary |
| --- | --- | --- | --- |
| # 1 | University of Arizona | $15,750 | $89,300 |
| # 2 | Oregon State University | $13,905 | $81,900 |
| # 3 | North Carolina A&T State University | $17,280 | $82,393 |
| # 4 | North Park University-Chicago | $16,500 | $78,909 |
| # 5 | Delta State University | $7,501 | $66,653 |
| # 6 | Florida Atlantic University | $21,595 | $69,300 |
| # 7 | Western Illinois University | $8,883 | $59,600 |
| # 8 | Unity College | $14,100 | $59,983 |
| # 9 | Arizona State University | $15,900 | $54,200 |
Salary data provided by

2020 Online Colleges Offering Geographic Information Systems Degrees - Ranking Details
Overview of Online Geographic Information Systems
Many positions within the field will require a bachelor's degree, which will take fours years to complete comprising of 120-credit hours of coursework. Online master's degree programs are also available to prepare professionals to take on senior roles in more specialized areas. Students can receive their graduate diplomas in two years depending on their choice of full-time or part-time study. Professionals who are looking to advance their careers but don't want to commit to a full graduate degree program can participate in a post bachelor's online certificate program, which can be completed in a year or less.
Online Bachelor's Degrees in Geographic Information Systems
By participating in an online bachelor's degree program in geographic information systems students will learn the mapping and programing skills needed to be successful in the industry. Key courses within a geographic information systems curriculum include website design, data base design and management, cyber law and ethics, geospatial programing, information technology communications, computer platforms technology, and information technology portfolio planning. A typical online bachelor's degree program is comprised of 120 total credit hours and will take students four years to finish. Many graduates go on to work as geospatial scientists, remote sensing technologists, user interface developers, and geographic information systems analysts. Applicants who wish to participate in an online bachelor's degree program will need to submit their high school diploma or GED certificate along with transcripts. Applicants will also be required to submit transcripts from each post-secondary they attended. an admissions essay may also be required.
The Importance of an Accredited Online Geographic Information Systems Degree
Regional accreditation is the process in which an outside, non-profit organizations conducts a quality review on a a specific program or school. This is something that should be taken into consideration before making a final commitment to a school. These quality reviews ensure that the program is taking all of the necessary steps to provide the best education for the students involved. Reviews are conducted on things like curriculum, facilities, teaching material, student resources, and faculty. Students who may be in need of financial aid will want to apply for accredited programs because federal financial aide is only available through accreditation. Many employers in the professional world will not recognize a degree unless it has been received through an accredited program. For this reason accreditation can make the job search upon graduation a much easier process. Lastly, many institutions will only accept transfer credits that have been accredited. If a student feels that they may need to transfer institutions anytime in their future this must be considered.
Careers in Geographic Information Systems
In a world that is becoming increasingly reliant on various new technologies, there are many career options available to those that earn an online degree in geographic information systems. Graduates might find work in such fields as environmental resource management, urban planning, or cartography. Those who go to work in the field of cartography using geographic information systems will likely work under the title of geographic information specialist. These specialists will use GIS to create and update maps that digitally present spatial information. These maps will be used in a variety of settings, like planning the use of land, marketing, geology, and environmental studies.
Another notable option for online GIS graduates is to find work as a geographer. These professionals can work for the federal government or private organizations, and their job involves creating maps based on a variety of geographic data. These maps are not always just maps of land features or cities; they may also include visual representation of things like cultural structures or political features. Geographers will look at geographic data and combine it with information relating to things like economics, health, or the environment, and then create a map that accurately represents this information. This information is used for a variety of purposes, from planning the layout of roads to determining the best way to respond to a disaster. Geographers usually need a bachelor's degree to find work within the federal government or in entry-level jobs. A master's will help them to advance in their career.
This website offers school details to prospective students as an informational resource. The appearance of a school listing on this website should not be interpreted as an endorsement of the school by this site.
Related Articles
2020 Best Online Master's Degrees in Environmental Science
The schools featured on this list provide the best online environmental science degrees. Rankings are based on tuition rates and alumni salaries.
2020 Best Military-Friendly Online Colleges
These are the best online colleges for military affiliated students. Research tuition assistance, the Yellow Ribbon program, and more benefits.