Best Online Bachelor's in GIS Degrees
An online bachelor's degree in geographic information systems (GIS) aims to familiarize students with the tools and techniques commonly used to document the earth's surface. Prospective distance learners can review our list of the best online GIS programs to find schools that offer the greatest return on investment. Graduates of GIS programs might go on to pursue geographic or cartographic work for government agencies, universities, or architecture and engineering companies. Below the rankings list, we provide information about online GIS programs, potential careers for GIS degree graduates, and GIS industry certifications.
2020 Best Online Colleges Offering Bachelor's in Geographic Information Systems Degrees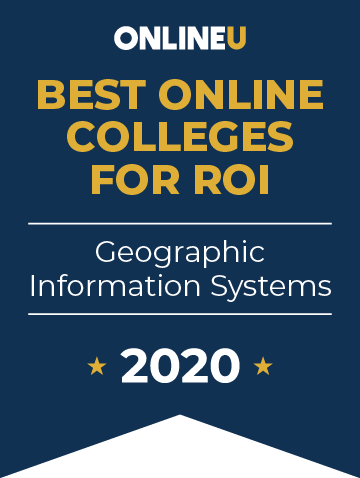 The schools featured on this list offer the best value options for obtaining an online bachelor's degree in GIS based on alumni salaries and low tuition rates. Graduates of the highest ranked school, the University of Arizona, report earning a median salary of $89,300 after earning their Bachelor of Science in GIS Technology. With the lowest tuition on the list, Delta State University offers two bachelor's degrees in GIS, with each costing $7,501 per year. Alumni from this school reported a mid-career salary of $66,653.
Alumni salaries were provided by PayScale. View our methodology for more details or learn more about OnlineU.
| Rank | School | Annual Tuition | Mid-Career Salary |
| --- | --- | --- | --- |
| # 1 | University of Arizona | $15,750 | $89,300 |
| # 2 | Oregon State University | $13,905 | $81,900 |
| # 3 | North Carolina A&T State University | $17,280 | $82,393 |
| # 5 | Delta State University | $7,501 | $66,653 |
| # 6 | Florida Atlantic University | $21,595 | $69,300 |
| # 7 | Western Illinois University | $8,883 | $59,600 |
| # 8 | Unity College | $14,100 | $59,983 |
| # 9 | Arizona State University | $15,900 | $54,200 |
Salary data provided by

2020 Online Colleges Offering Geographic Information Systems Degrees - Ranking Details
Frequently Asked Questions About Online GIS Degrees
What Is a Geographic Information System?
GIS applications are computer systems that gather and display geographic information. These systems consist of software and hardware components that collect location data — such as elevation, forestation, or political boundaries — and present it in a user-friendly way. A common example is a map app, which is available on most smartphones.
Is a GIS Degree Worth It?
Although there's no definite answer to this question, it's important to note that several of the most common career fields for GIS graduates have low projected growth rates through 2030, so it may be difficult to land a job after graduating. For example, geographers can expect a 1% growth rate and surveyors can expect a 2% rate, both of which are below the 8% average for all U.S. jobs.
If you're unsure whether GIS is suitable for online learning, keep in mind that much of the coursework is computer-based and includes a more practical application of technical skills rather than emphasizing class dialogue.
A GIS program's difficulty depends on your aptitude for the knowledge and skills required of the GIS field, which typically include spatial analysis, math, science, and field research. Even if you excel at the core GIS courses, you still need to take required liberal arts classes to complete a bachelor's degree, and some of these subjects may be more difficult for you.
Can You Get an Accredited Bachelor's Degree Online?
All nine schools on our rankings list are regionally accredited, which means that an independent agency has certified the quality of their education and services. Regional accreditation qualifies schools to accept federal financial aid and makes transferring credits between colleges much easier. There is no broad programmatic accreditor for GIS, but the U.S. Geospatial Intelligence Foundation (USGIF) and Accreditation Board for Engineering and Technology (ABET) accredit programs in the narrower specializations of geospatial intelligence and geomatics, respectively.
Overview of Online GIS Programs
GIS programs aim to instill knowledge that includes creating maps, measuring physical characteristics of the earth, and extracting information from structured sets of geographic data. Students interested in GIS can earn both undergraduate and graduate degrees in the subject. Many jobs in the field require a bachelor's degree, but some colleges also offer GIS master's degrees that can help prepare students for senior roles in more specialized areas. Students can complete this graduate program in just two years at a full-time pace, though many choose to enroll part-time while they work. Professionals who don't want to commit to a full master's program can pursue a GIS graduate certificate program, which might take a year or less.
Online Bachelor's Degrees in GIS
A GIS bachelor's degree usually consists of 120 credit hours and can take as little as four years to complete with a full-time schedule. Students take core courses in geospatial programming, photogrammetry, software development, and computer platforms to develop their skills in math, data science, coding, and decision-making. Students may also study Python programming and web mapping, along with important processes, such as GIS data analysis, visualization, and quality control. They may be able to specialize by taking electives in a concentration, such as resource conservation or app development. Some programs conclude with an internship to give students practical work experience.
Students take core courses in geospatial programming, photogrammetry, software development, and computer platforms to develop their skills in math, data science, coding, and decision-making.
Applicants typically need to submit their high school diploma or GED transcripts, letters of recommendation, and a personal essay. Colleges often require a minimum high school GPA of 2.5. Some schools ask for ACT or SAT scores, but this is becoming increasingly less common.
GIS Careers
A background in GIS may help alumni qualify for a range of entry-level job opportunities. GIS degrees are designed to impart knowledge and skills that help graduates enter fields such as cartography, surveying, and geospatial data and intelligence. These may be satisfying careers for people who enjoy using complex technology to visualize data for a variety of purposes. But as mentioned above, several related fields are growing slowly, which may be due to improved GIS technology increasing individual employees' efficiency.
Below, we've listed several occupations that alumni of an online bachelor's degree in GIS can pursue. All salary and job outlook data for the 2020-2030 period come from the Bureau of Labor Statistics.
Cartographers design and produce maps. A degree in GIS might help potential applicants learn to gather data from satellites, aerial photography, and ground surveying equipment so they can visually represent territory. About one-third of cartographers work for local governments, with another 25% working for architecture and engineering firms.
Conservation scientists monitor natural resources and make plans to increase their health and quantity. GIS education could familiarize these professionals with tools to measure deforestation, water levels, and the effects of natural disasters on resource management efforts.
Geographers collect and report on data about the earth's features, including humanity's physical and cultural impact on the land and water. More than half of them work for federal agencies, such as the Environmental Protection Agency or National Oceanic and Atmospheric Administration. Geographers frequently visit field sites to take measurements using GIS and other tools.
Photogrammetrists render detailed landscape images from photographic data. They make frequent use of aerial and satellite photography and often help turn two-dimensional images into three-dimensional interactive maps. Some photogrammetrists work as analysts for U.S. intelligence agencies.
Surveyors record landscape measurements. Nearly three-quarters of them work for architecture and engineering companies determining property lines. They often spend long periods taking measurements outdoors, including using GIS technology. Surveyors must earn a license before they can move into senior positions, and becoming licensed requires passing an exam after years of work experience.
GIS Industry Certifications
Earning a GIS certification can lead to increased job prospects and salary potential, and some employers may not hire candidates without professional certifications. Candidates must pass an exam to earn a credential, usually after working in their field for a specified period.
We've listed some certifications that might interest GIS graduates below, along with the kinds of jobs they might benefit.
Related Articles
2022 Best Online Master's Degrees for Environmental Science
If you want to pursue an environmental science degree online, check out our list that features online schools ranked by the highest alumni salary.
Data show today's environmental science grads have more diverse job prospects
We analyzed employment outcomes for 20,000+ environmental science graduates to find out where today's alumni are finding jobs.