Best Online Bachelor's in Finance Degrees
If you're intrigued by the way money fuels the world's economy and you'd like to assist other people and organizations in managing their money effectively, earning an online bachelor's degree in finance might be the first step toward a fulfilling career. A finance degree is designed to prepare graduates for an array of occupations, many with annual salaries in the $60,000-$90,000 range.
Below is our ranked list of the best online finance degree programs. Following that, we've provided details about bachelor's degrees in finance, common courses, careers, and certifications to help you determine whether this degree is right for you.
2020 Best Online Colleges Offering Bachelor's in Finance Degrees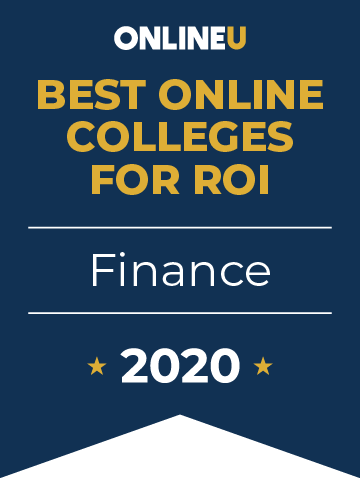 Ranked based on affordability and earning potential, these 24 schools offer the best online bachelor's degrees in finance. LeTourneau University offers a Bachelor of Business Administration - Finance for $14,250 per year. Graduates of the school's finance program earn a median salary of $123,500. The most affordable school on this list is #18-ranked Bemidji State University, which charges just $8,758 per year. Graduates report earning a median mid-career salary of $76,800, making this school a good return on investment.
Alumni salaries were provided by PayScale. View our methodology for more details or learn more about OnlineU.
| Rank | School | Annual Tuition | Mid-Career Salary |
| --- | --- | --- | --- |
| # 1 | LeTourneau University | $14,250 | $123,500 |
| # 2 | University of Massachusetts - Amherst | $11,700 | $111,400 |
| # 3 | Franklin Pierce University | $12,000 | $107,400 |
| # 4 | Northeastern University | $16,230 | $108,600 |
| # 5 | California State University-East Bay | $18,864 | $109,100 |
| # 6 | University of Minnesota Online | $13,364 | $102,050 |
| # 7 | Park University | $12,450 | $100,000 |
| # 8 | Old Dominion University | $12,210 | $92,400 |
| # 9 | Wilmington University | $11,811 | $91,600 |
| # 10 | University of Maryland Global Campus | $14,970 | $88,200 |
| # 11 | Florida International University | $10,376 | $84,300 |
| # 12 | Rutgers University-Camden | $29,012 | $91,100 |
| # 13 | Troy University | $10,140 | $82,800 |
| # 14 | Northern State University | $10,537 | $82,300 |
| # 15 | University of Massachusetts - Dartmouth | $12,060 | $81,800 |
| # 16 | National University | $16,650 | $81,400 |
| # 17 | DeSales University | $15,240 | $79,700 |
| # 18 | Bemidji State University | $8,758 | $76,800 |
| # 19 | Columbia College | $11,250 | $77,300 |
| # 20 | Northwood University-Michigan | $14,105 | $78,100 |
| # 21 | Kansas State University | $14,745 | $78,300 |
| # 22 | Dallas Baptist University | $29,220 | $84,000 |
| # 23 | Franklin University | $12,338 | $76,100 |
| # 24 | University of Memphis | $15,390 | $76,900 |
Salary data provided by

2020 Online Colleges Offering Finance Degrees - Ranking Details
Overview of Online Finance
Finance students have the option of earning degrees at every level through online programs. The associate degree curriculum introduces students to key topics in the field, such as financial institutions, financial statement analysis, global economic trends, and investments. Bachelor's programs offer students a broader, more well-rounded education with additional general education and business core courses. Finance major courses may include analysis for financial management, ethics, financial markets and institutions, and investments and portfolio management. Bachelor's programs usually include a capstone course, which requires enrollees to complete a business project.
Online graduate degrees in finance are designed for those who want to expand upon their undergraduate knowledge base. The core of the finance master's program includes courses in advanced business and finance areas, such as financial accounting, econometrics, and financial modeling. The curriculum of doctoral programs integrates theory, research, and students' personal reflection with practice. Doctoral students are also required to take a comprehensive exam, conduct an original research project, and write a dissertation.
Is a Finance Degree Better Than an Accounting Degree?
Both finance and accounting are math-heavy programs that involve a great deal of analytical thinking, which some students may find challenging. However, these majors are well suited to those who are detail-oriented and enjoy working with numbers. Accounting focuses on documenting, tracking, and interpreting financial data primarily for business organizations, where finance is focused on the management, growth, and protection of money for individuals and organizations. Finance may be the more versatile of the two, as a degree in finance prepares students for a broad range of occupations in many types of work environments.
---
Online Bachelor's Degrees in Finance
A bachelor's degree in finance combines a core of business classes with the financial expertise to develop financial reports, analyze financial data, and effectively invest an individual's or organization's capital. Some finance programs include courses from the arts and humanities for a Bachelor of Arts degree, while others focus on building industry-specific skills, leading to a Bachelor of Science degree. There are also some schools that offer a Bachelor of Business Administration degree with a concentration in finance.
A bachelor's degree in finance combines a core of business classes with the financial expertise to develop financial reports, analyze financial data, and effectively invest an individual's or organization's capital.
Like most bachelor's degrees, a finance degree typically requires the completion of 120 credit hours of coursework. Most students need approximately four years to complete graduation requirements. However, students who have already taken some college classes may be able to graduate in less time, and those who've earned associate degrees may earn a bachelor's degree in as little as two years. Applicants need a high school diploma or the equivalent to be considered, and they may be required to have a minimum GPA of 2.5 and high scores on the ACT or SAT. Tuition rates for online finance programs vary, but some schools offer in-state resident tuition to online students.
---
Online Bachelor's in Finance Courses
Although finance programs include a number of specialized courses on finance, they often begin by introducing students to the fundamental concepts of business. Among the core business courses typically included in an online finance program are Principles of Management, Accounting, Business Law, Macroeconomics, Microeconomics, Business Information Systems, and Introduction to Corporate Finance. Students then proceed to take core courses in finance, which may include the following.
International Finance: Especially useful for students headed toward careers in international business, this course explores some of the common characteristics and financial uncertainty involved in global finance. Key concepts include fixed versus floating exchange rates, currency swaps, currency derivatives, international tax management, diversification, and emerging equity markets.
Investments: Some finance majors may decide to become financial planners, and this course helps prepare students for a career in managing investments. Students learn various methods, techniques, and strategies for developing and maintaining financial portfolios that meet specific investment goals. Additional topics include mutual funds, retirement savings, and commodities.
Money and Banking: In this course, students explore the role of banking and other financial institutions in the economy. Some of the many topics covered include money markets, interest rates, capital markets, the Federal Reserve system, bank management, foreign exchange markets, and monetary theory and policy. Coursework may also explain the causes and outcomes of recent financial crises.
Risk Management and Insurance: All business organizations face some degree of financial risk, so this course teaches students common methods of risk assessment and strategies for minimizing an organization's exposure. Coursework also covers the need for insurance — one of the primary tools used in managing risk — and details various types of insurance, such as life, property, medical, and liability insurance.
Advanced Corporate Finance: While introductory Corporate Finance courses typically provide a broad overview for all business students, this advanced course expands on many key topics such as valuation, cost of capital, capital management, equity and debt financing, and option pricing theory and applications. Coursework challenges students to think like financial executives when making strategic decisions. This course may be considered a capstone course in some programs.
---
Accreditation for Finance Degrees
When researching programs, it's important for prospective students to look for accredited online finance programs. Accreditation is a designation granted to institutions of higher education that meet high standards with regard to their curricula, faculty members, student resources, and research capabilities. Institutional accreditation means that the entire school has been accredited by a regional or national accrediting agency, and programmatic accreditation means that one particular program within the school has been approved. Finance degree programs are often accredited by one of two agencies that specialize in business programs: the Association to Advance Collegiate Schools of Business or the Accreditation Council for Business Schools & Programs.
Accreditation helps reassure students that they're receiving a high-quality education and that their online finance degree will be valued by future employers. Attending an accredited school is also necessary for students who plan to apply for federal financial aid or graduate school. To confirm a school's accreditation status, students can check the U.S. Department of Education or Council for Higher Education Accreditation databases.
Attending an accredited school is also necessary for students who plan to apply for federal financial aid or graduate school.
---
Is an Online Finance Degree Worth It?
In the finance industry, a bachelor's degree in finance or business is a requirement for most entry-level positions. Yet, it's not unusual for prospective students to wonder whether earning a degree will be worth the investment of money, time, and effort. Most students have personal circumstances that need to be factored into their decision, such as career goals, responsibilities, and financial resources. Individuals who are trying to decide if they should pursue an online finance degree may want to consider some of the following pros and cons:
Potential Advantages
The study of finance develops a broad base of skills. Finance programs typically require students to take courses from several different business disciplines. In the process, they learn such skills as how to prepare financial documents and how to use common business software programs. These courses also provide opportunities to enhance "soft" skills, including analysis, problem solving, and strategic thinking.
A finance degree can lead to a wide range of occupations. The financial expertise and business acumen students gain while earning their degrees helps prepare them for many different career paths. Some graduates may prefer to work with individuals and families as advisors or bankers, while others may want to manage the finances of business organizations. Additionally, the well-rounded education in business that comes with a finance degree allows alumni to branch out into far more business-related careers, even venturing into entrepreneurship.
Distance learning means having more education options. By including online finance programs in the mix of possibilities, prospective students can select the best finance program to fit their career aspirations and budget without having to relocate.
Potential Drawbacks
Finance professionals often work in stressful environments. Many finance occupations require employees to put in long days with the possibility of evenings and weekends devoted to work. Additionally, the work can be intellectually and emotionally taxing because professionals are managing large amounts of money for other people.
The distance learning environment makes it more difficult to network. Because online students don't typically connect with peers and professors in person, they may have to put more effort into establishing relationships, primarily through discussion boards and email.
---
What Can You Do With an Online Bachelor's in Finance Degree?
A career in finance may be an excellent choice for those interested in wealth management and growth, whether it's for individuals or business organizations. Bachelor's in finance graduates earn $73,000 a year on average, but many finance professionals earn higher wages. For example, personal financial advisors and financial analysts have median annual salaries over $80,000, while financial managers are among the highest paid, earning annual wages well over $100,000. The following list includes some entry-level careers open to finance majors, as well as potential paths for growth in the field.
---
Certifications for Finance Professionals
Finance professionals may decide to pursue some form of certification, depending on their chosen occupation. In many cases certification is optional, but it may make job candidates more attractive because it demonstrates expertise and a commitment to professional growth. The following are just some of the more common certifications in the finance industry.
This website offers school details to prospective students as an informational resource. The appearance of a school listing on this website should not be interpreted as an endorsement of the school by this site.
Related Articles
2022 Best Online Colleges in the U.S.
Earning an online bachelor's degree can vastly expand your career options and earning power. We've ranked the best colleges by alumni salaries.
2022 Best Online Business Degree Programs
Explore the best accredited colleges offering online business degrees ranked based on alumni salary.