2020 Best Online Bachelor's in Finance Degrees
A degree in finance is a great option for students who are interested in mastering the concepts of financial fundamentals in business. We offer a list of the best online colleges offering finance degrees and the best online master's in finance programs, ranked based on tuition costs and alumni salary data provided by PayScale.
2020 Best Online Colleges Offering Bachelor's in Finance Degrees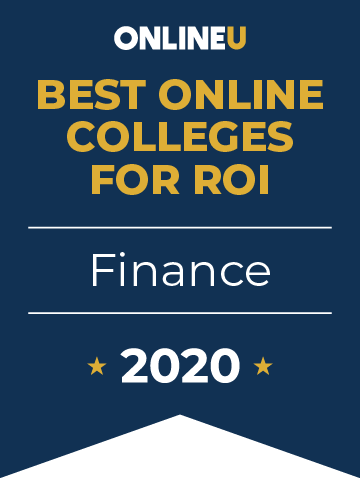 Ranked based on affordability and earning potential, these 24 schools offer the best online bachelor's degrees in finance. LeTourneau University offers a Bachelor of Business Administration - Finance for $14,250 per year. Graduates of the school's finance program earn a median salary of $123,500. The most affordable school on this list is #18-ranked Bemidji State University, which charges just $8,758 per year. Graduates report earning a median mid-career salary of $76,800, making this school a good return on investment.
Alumni salaries were provided by PayScale. View our methodology for more details or learn more about OnlineU.
| Rank | School | Annual Tuition | Mid-Career Salary |
| --- | --- | --- | --- |
| # 1 | LeTourneau University | $14,250 | $123,500 |
| # 2 | University of Massachusetts - Amherst | $11,700 | $111,400 |
| # 3 | Franklin Pierce University | $12,000 | $107,400 |
| # 4 | Northeastern University | $16,230 | $108,600 |
| # 5 | California State University-East Bay | $18,864 | $109,100 |
| # 6 | University of Minnesota Online | $13,364 | $102,050 |
| # 7 | Park University | $12,450 | $100,000 |
| # 8 | Old Dominion University | $12,210 | $92,400 |
| # 9 | Wilmington University | $11,811 | $91,600 |
| # 10 | University of Maryland Global Campus | $14,970 | $88,200 |
| # 11 | Florida International University | $10,376 | $84,300 |
| # 12 | Rutgers University-Camden | $29,012 | $91,100 |
| # 13 | Troy University | $10,140 | $82,800 |
| # 14 | Northern State University | $10,537 | $82,300 |
| # 15 | University of Massachusetts-Dartmouth | $12,060 | $81,800 |
| # 16 | National University | $16,650 | $81,400 |
| # 17 | DeSales University | $15,240 | $79,700 |
| # 18 | Bemidji State University | $8,758 | $76,800 |
| # 19 | Columbia College | $11,250 | $77,300 |
| # 20 | Northwood University-Michigan | $14,105 | $78,100 |
| # 21 | Kansas State University | $14,745 | $78,300 |
| # 22 | Dallas Baptist University | $29,220 | $84,000 |
| # 23 | Franklin University | $12,338 | $76,100 |
| # 24 | University of Memphis | $15,390 | $76,900 |
Salary data provided by

2020 Online Colleges Offering Finance Degrees - Ranking Details
Overview of Online Finance
Undergraduate finance degree programs cover the fundamentals of accounting, business management, economics, and finance. The associate degree curriculum introduces students to key areas in the field such as financial institutions, financial statement analysis, global economic trends, and investments. Bachelor's programs offer students the opportunity to specialize in a specific area that represents their career interests. This may include analysis for financial management, ethics and enterprise, financial markets and institutions, and investments and portfolio management. Bachelor's programs usually include a capstone course, which requires students to complete a business project.
Master's programs allow students to expand their undergraduate knowledge base. The core of the finance master's program includes courses in advanced business and finance areas such as financial accounting, econometrics, and financial modeling. Other common courses include international finance, corporate finance, and risk management. The curriculum of doctoral programs integrates theory, research and students' personal reflection with practice. Doctoral students are also required to take a comprehensive exam, conduct an original research project, and write a dissertation. Those who study at the graduate level can apply their advanced knowledge in finance to professional roles in consultancy, corporate finance, investments, personal finance, research, and teaching.
Online Bachelor's Degrees in Finance
The bachelor's degree in finance combines a core of business classes with the financial skills to develop financial reports, analyze financial data, and wisely invest a business or organization's capital. These four-year programs are often offered through the business school of a traditional college or university and require about 120 credit hours of coursework. As with most bachelor's programs, applicants will need a high school diploma or the equivalent to apply.
The finance bachelor's includes a set of general education courses, the business foundation, and the finance specialization. General education courses in topics like humanities, math, and English support critical thinking abilities and general college-level reasoning skills. The business core is an interdisciplinary set of classes that helps students understand a functioning business from many angles. Common courses include marketing, accounting, economics, leadership, and organizational behavior. Finance specialization classes include managerial finance, investing, financial institutions, and risk and insurance.
The broad yet practical skill set of the finance bachelor's degree is useful for entering a number of professions. Graduates could go on to become financial analysts, budget analysts, or financial managers within a business, helping the organization interpret its financial situation and prepare for the future. Other graduates go on to become stock brokers, insurance underwriters, or personal financial advisors. The quantitative analysis and business skills of the finance program can be applied to a wide variety of careers.
Accreditation for Online Finance Degrees
When researching potential online finance degrees, it's important to choose a program that has been accredited. Accreditation is a designation granted to degree programs and institutions that meet high academic standards with regard to their curricula, faculty members, student resources, and research capabilities. Institutional accreditation means that the entire school has been accredited by a regional or national accrediting agency, and programmatic accreditation means that one particular degree program has been accredited.
Accreditation of either the school or the degree program you choose can help you feel confident that you're going to receive a high-quality education and that your degree will be valued by future employers. Attending an accredited school is also necessary if you plan to apply for federal financial aid or graduate school.
Finance degree programs are often accredited by agencies that specialize in business programs, such as the Association to Advance Collegiate Schools of Business (AACSB) and the Accreditation Council for Business Schools & Programs (ACBSP). Both of these agencies are recognized by the US Department of Education (USDE) as being trustworthy accrediting bodies. It's wise to visit the USDE's accreditation database before submitting an admissions application for any degree program you may be considering. Please visit OnlineU's accreditation section for more information about the benefits of accreditation.
Certifications for Online Finance Graduates
While completing an undergraduate or graduate a degree in finance will entail intensive business training, many employers also require specific certifications, depending on the field of work. Certifications are designed to help professionals maintain a high level of integrity in specific financial areas. Since the large number of finance certifications can be overwhelming, we've highlighted a few of the most popular ones here.
Actuary Certifications: Actuarial science, the study of risk management, is a major aspect of financial management for businesses. While many finance majors are well trained in calculating risk and expected returns, obtaining an actuarial certification signals to employers one's proficiency in the field. In the United States, different certifications are required for different careers. For example, a certification from the American Academy of Actuaries is required for anyone to sign official actuarial opinions. Another form of actuarial certification comes from the Casualty Actuarial Society, which certifies its holders to assess property and casualty risk.
Certified Managerial Accountant: The certified managerial accountant (CMA) certification is another certification that financiers may choose. As finance majors, most people are well exposed to accounting methods, such as time value of money or double-entry bookkeeping. The CMA certification stresses a higher level of business administration, which emphasizes accountancy methods with different aspects of business such as financial planning, operations management, and professional ethics in addition to proficiency in accounting methods.
Chartered Financial Analyst: The CFA is a certification for finance and investment professionals. The certification assures that its holders are adept in concepts of portfolio management and financial analysis, along with general training in economics and business ethics. With high standards for passing, this certification is coveted by many employers for upper-level positions in the field of finance.
Careers in Finance
Finance careers attract many people, due to the challenging, lucrative nature of the work. There are many different roles in business and finance that might interest finance graduates, depending on their skill set and preferred work environment. Administration, money management, employee management, and investment management are just a few of the major career areas within this field.
Most entry-level business and finance positions, such as HR generalist, administrative manager, and financial manager, require a bachelor's degree. Depending on the particular business and finance career you hope to pursue, a major in business administration, finance, economics, mathematics, or information technology could be good preparation. Getting practical training through an internship, co-op work experience, or externship is highly recommended during a business bachelor's program.
Some higher-level positions, such as investment broker, financial analyst, and management executive roles, require a master's degree. The Master of Business Administration, which includes two to three years of practical business training, is great preparation and highly valued in the business world.
Administrative Roles
Administrative Services Manager: These managers coordinate the different services and actions necessary to keep a business running on a day-to-day basis. In a small business, these managers may perform many different tasks, from hiring employees, to buying supplies, to keeping financial records. In larger businesses, administrators specialize in a particular management area.
Facility Manager: Facility managers take care of the buildings and grounds associated with a business. They make sure that utilities are working properly, that the building is secure, and that building standards are up to code.
Human Resources Manager: HR managers act as liaisons between a business's management and its employees. They recruit, hire, and train new employees, and they administer employees compensation and benefits packages. In larger organizations, HR managers typically specialize in a particular HR sub-area.
Information Technology Manager: IT managers oversee information systems and IT workers in an organization. They install and maintain computers and networks, manage IT projects, and train employees in the organization's information systems.
Medical and Health Services Manager: Healthcare managers work in hospitals, skilled nursing facilities, clinics, and other medical settings. They hire and coordinate clinical care workers, manage records, and oversee the maintenance of the facility.
Purchasing Manager: These managers buy products for a variety of businesses for a variety of purposes. They may purchase goods for wholesale or retail sale, or for repurposing. Purchasing managers compare products and negotiate with vendors in order to obtain the best price possible for their organization.
Finance Roles
Budget Analyst: Budget analysts act as consultants to help businesses, non-profits, and government agencies appropriately use their funds. They help organizations decide which projects deserve funding, and how funding should match up with an organization's goals.
Financial Analyst: Financial analysts help businesses and individuals decide which investments to make. They work with an organization to determine its time frame, investment goals, and risk tolerance to pick stocks and bonds that will generate appropriate returns.
Financial Manager: Financial managers make sure that the funds in an organization are managed appropriately. They create financial reports, direct funds to different projects, oversee the flow of cash, and purchase appropriate insurance.
Personal Financial Advisors: Personal financial advisors work with individuals and families to help them plan for their financial goals. They help their clients budget enough money for retirement and college expenses and help them choose investments or other financial instruments.
This website offers school details to prospective students as an informational resource. The appearance of a school listing on this website should not be interpreted as an endorsement of the school by this site.