2023 Best Online Bachelor's Degrees in Environmental Science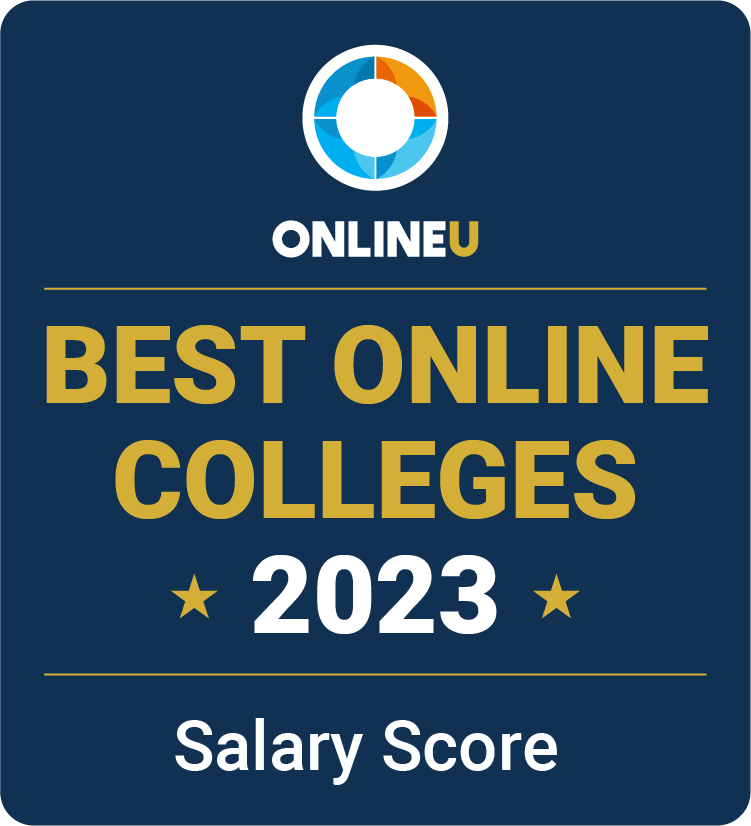 The list below highlights the best online bachelor's degree programs in environmental science based on alumni annual salary. Our ranking methodology helps students weigh their potential return on investment for each individual program.
An online bachelor's curriculum in environmental science equips students with the knowledge and expertise needed in the natural sciences to help advance their professional goals of protecting the environment. According to the Bureau of Labor Statistics (BLS), the median annual salary of environmental scientists and specialists in the US is $76,530.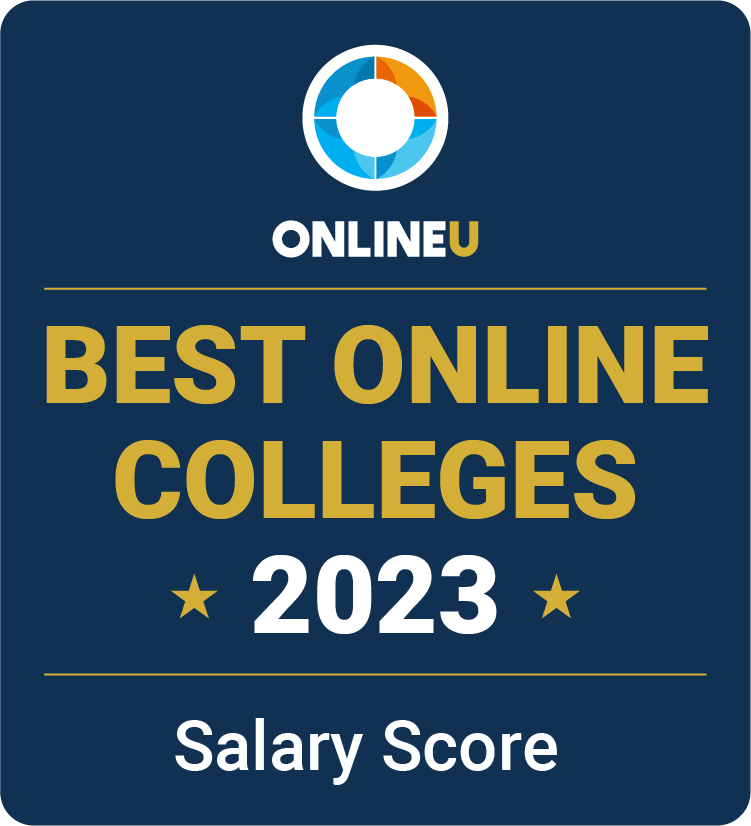 ADVERTISEMENT
Online Environmental Science Bachelor's Degrees You May Be Interested In

Southern New Hampshire University Online

Annual Tuition: $11,700
1 Programs (view all)

Western Governors University
---
2023 Best Online Bachelor's Degrees in Environmental Science
| Rank | School | Salary Score | Median Starting Salary |
| --- | --- | --- | --- |
| # 1 | Purdue Global | | $69,832 |
| # 2 | Pennsylvania State University - World Campus | 97 | $62,018 |
| # 3 | Columbia Southern University | 96 | $60,105 |
| # 4 | University of Maryland Global Campus | 89 | $48,910 |
| # 5 | American Public University System | 85 | $45,245 |
| # 6 | University of Phoenix | 81 | $40,885 |
| # 7 | Southern New Hampshire University Online | 80 | $39,593 |
| # 8 | SUNY College of Environmental Science and Forestry | 74 | $35,332 |
| # 9 | University of Arizona | 68 | $31,709 |
| # 10 | Oregon State University | 67 | $31,447 |
#1
Purdue Global
Salary Score:
Median Starting Salary:
Locations:
Accreditation:
Purdue Global offers an online Bachelor of Environmental Science Policy and Management. The 180-credit-hour, quarter-based curriculum covers research methods, environmental policy and law, environmental management, social responsibility, and environmental issues. Coursework prepares graduates for careers as environmental compliance inspectors, specialists, and scientists. Core courses include Politics of Managing the Environment, Socially Responsible Leadership, Economics of Environmental Management, and Constitutional Law.
#2
Pennsylvania State University - World Campus
Salary Score:
Median Starting Salary:
Locations:
Accreditation:
Pennsylvania State University (PSU) - World Campus is a public, four-year institution offering an online Bachelor of Arts in Energy and Sustainability Policy and a Bachelor of Science in Energy and Sustainability Policy. Both programs require 120 credit hours, with students studying policies surrounding the use and sustainability of energy.
All these programs have the same general education requirements and prescribed coursework. In the Bachelor of Science program, students select additional coursework in areas closely related to the major. With the Bachelor of Arts, the focus is expanded to allow students to select a foreign language and take supporting course work in global culture and humanities.
Additionally, PSU offers virtual internships, certifications, and licensure preparation courses that can be beneficial when online students begin to apply for jobs after graduation.
#3
Columbia Southern University
Salary Score:
Median Starting Salary:
Locations:
Accreditation:
Columbia Southern University (CSU), a private institution, offers an online Bachelor of Science in Environmental Management. The 120-credit-hour curriculum covers environmental hazard mitigation and remediation while teaching students how to apply technology and theory to environmental issues and develop a strong environmentally-focused team. By gaining a in-depth knowledge in environmental theory and technology, CSU students graduate ready for professional-level jobs in the environmental sciences industry.
Among the services available to online students are the Success Center (providing assistance with writing and math), academic advising, remote proctoring, and digital library access.
#4
University of Maryland Global Campus
Salary Score:
Median Starting Salary:
Locations:
Accreditation:
The University of Maryland Global Campus (UMGC) — a large, public, four-year institution — offers a Bachelor of Science in Environmental Management with a concentration in sustainability or toxicology and hazard control. Students learn how to develop environmental management plans that comply with regulations in order to address air, water, and solid waste pollution. The 120 credit-hour curriculum includes courses in geographic information systems, environment and ecosystems, and human health.
The UMGC curriculum — designed with input from employers, industry experts, and scholars — combines theories with real-world applications, preparing graduates for career opportunities as environmental analysts, specialists, and program specialists. Students have access to tech support, academic tutoring, career advising, and networking.
#5
American Public University System
Salary Score:
Median Starting Salary:
Locations:
Accreditation:
American Public University System (APUS) is a private institution offering an online Bachelor of Science in Environmental Science, with concentrations in sustainability, fish and wildlife management, environmental technology and management, and regional and community environmental planning. This 120-credit-hour program instructs students in general biology, general chemistry, soil science, water science, environmental policy, and more through a blend of science, policy, and management. Coursework covers both the natural and social sciences. Additionally, students must complete a senior capstone course.
Active duty military members qualify for the Freedom Grant, an award created by APUS for active duty service members, National Guard members, and Reservists who are using tuition assistance to pay for their education.
#6
University of Phoenix
Salary Score:
Median Starting Salary:
Locations:
Accreditation:
The University of Phoenix (UP) is a private, for-profit online institution offering a Bachelor of Science in Environmental Science, which focuses on contemporary environmental problems. Students will analyze issues, propose solutions, and manage resource sustainability. The 120-credit program can be completed in four years with students typically taking one course at a time that can last up to seven weeks. Core courses include Environmental Sustainability; Environmental Issues and Ethics; and People, Science, and the Environment. To graduate, students must complete all program requirements, including 18 core courses, 12 general education courses, 15 credit hours of focused study, and 12 credit hours of electives. Graduates will find career opportunities as environmental analysts, specialists, and program specialists.
Through UP's Career Services for Life program, online students have lifelong access to career coaching, resume building, and interview preparation at no additional cost.
#7
Southern New Hampshire University Online
Salary Score:
Median Starting Salary:
Locations:
Accreditation:
Southern New Hampshire University (SNHU) is a private, nonprofit that offers a Bachelor of Science in Environmental Science and a Bachelor of Science in Geosciences. The programs are each 121 credit hours, preparing students for careers as environmental scientists and climate change advocates. SNHU's environmental science program combines the natural and physical sciences, like biology, chemistry, and physics, with real-world scientific lab work. Alternatively, the geosciences program teaches a strong foundation in the physical sciences through a focus on geography, geology, earth systems science, physics, chemistry, and spatial awareness.
At SNHU, there are no set classroom times, meaning that you can set your own study schedule. Additionally, online learners have access to undergraduate research and learning opportunities through the SNHU Arboretum — a 25-acre forested wetland.
#8
SUNY College of Environmental Science and Forestry
Salary Score:
Median Starting Salary:
Locations:
Accreditation:
SUNY College of Environmental Science and Forestry offers an online Bachelor of Science in Sustainability Management that emphasizes practical solutions to key environmental dimensions of sustainability interdependent with socially and economically viable policies and practices. Students take courses in sustainable development, data analysis, sustainable energy policies, environmental justice, and managerial economics and must complete a sustainability management capstone course prior to graduating.
At SUNY, courses are 100% online. Through participating in group projects and online discussions, distance learning alumni are prepared for careers as environmental consultants, researchers and specialists, and forest rangers, among others.
#9
University of Arizona
Salary Score:
Median Starting Salary:
Locations:
Accreditation:
The University of Arizona (UA) — a public, four-year institution — offers a 120-credit hour online Bachelor of Science in Environmental Sciences in which students concentrate in either (1) soil, land, and water or (2) leadership, sustainability, and communication. The curriculum emphasizes a range of issues facing the environment, with major classes covering the fundamentals of sustainability, data analysis in environmental science, and assessment of contaminated sites. Students are required to complete an internship, teaching workshop, or independent study prior to graduating. Alumni often work in sustainable management or environmental restoration.
Distance learners at UA have access to an enrollment counselor, academic advisor, tutoring services, and a network of alumni mentors.
#10
Oregon State University
Salary Score:
Median Starting Salary:
Locations:
Accreditation:
Oregon State University (OSU) offers a variety of online environmental science bachelor's degrees that require 180 quarter credits to complete, equaling 120 semester credits. Students can pursue: (1) a Bachelor of Science in Environmental Sciences, which has seven possible concentrations; (2) a Bachelor of Arts or Science in Sociology, with a concentration in environmental and natural resources; or (3) a Bachelor of Science in Rangeland Science, with specializations in habitat management, pastoral systems of the world, sustainable livestock ranching, or sustainable rangeland ecosystem stewardship. OSU also offers a Bachelor of Science in Fisheries and Wildlife Sciences or Natural Resources.
Some additional options include science degrees in Geography and Geospatial Science, Horticulture, Rangeland Science, and Sustainability. Some of these have multiple concentrations to help students customize their studies to align with their desired professional niche in environmental studies.
What Is a Bachelor's in Environmental Science Degree?
While environmental science has been a formal discipline for hundreds of years, U.S. colleges didn't start offering degrees for environmental scientists until the 1960s. However, as environmental issues have become increasingly critical over the last several decades, these programs have become more prominent and diversified.
Today, environmental science degrees are available at the associate, bachelor's, master's, doctorate, and certificate levels in both traditional and distance learning settings. The extent of higher education you'll need will largely depend on the career you plan to pursue after graduating.
At the bachelor's level, some schools offer a Bachelor of Science (BS) in Environmental Science, while others offer a Bachelor of Arts (BA) in Environmental Science. Both are interdisciplinary programs, but a BS program will be slanted more toward the sciences, such as ecology, Earth science, biology, geology, and other natural sciences. These programs explore the science of the Earth from many different angles and often include coursework in pollution, water resources, ecosystems, and methods of protection, management, and restoration of environments. BA programs typically feature many of these same courses, but they may include a few more social science courses that explore public policy and environmental law, as environmental scientists are often involved in crafting regulations surrounding environmental impact.
Degree Requirements
A bachelor's degree in environmental science typically requires the completion of 120-124 credit hours. Full-time students usually need four to five years to complete degree requirements, and part-time students may need longer. As with most bachelor's degree programs, about half of the required courses will be general education subjects, such as literature, algebra, and political science, and several electives chosen by the student. The rest of the courses focus on environmental science topics.
The environmental science curriculum often includes lab courses that require students to conduct experiments and research either virtually or in person. Some programs also require other types of fieldwork, as well as a capstone project.
Many bachelor's degree programs also require an internship to gain real-world experience in the field of environmental science. Students may want to consider the type of work they'd like to do after graduating before applying for internships so that their work experience is relevant to their career goals. For instance, students who are leaning toward careers in science or research may want to work for a government agency that specializes in environmental science, while those who are drawn to public policy work may want to intern with a nonprofit organization or a law firm that specializes in environmental law.
Courses
Environmental science majors take a range of courses that explore scientific techniques and processes. Undergraduate courses often emphasize practical applications as opposed to theory and conceptual approaches. Coursework is also designed to help students develop essential skills, such as problem-solving and critical thinking. Some of the more common courses in an environmental science program include the following:
Chemistry or Geochemistry
As classes that go beyond basic chemistry courses, environmental science chemistry courses focus more narrowly on chemical sources, reactions, and effects within the soil, water, and air. Some courses may also cover geochemistry, which is the chemical composition of the earth's rocks and minerals.
This is one of the most fundamental classes for a degree program in environmental science. Coursework presents evidence of climate change and explores scientific projections for the future. Topics include weather patterns, the rhythm of the tides, and dendroclimatology, as well as the human impact on the environment.
Energy and Sustainability
This class explores the ways in which environmental science works in conjunction with ecology, engineering, and even economics. Learners look at rapidly depleting natural resources and various solutions to the problems that must be addressed to sustain life on this planet. Thermodynamics and the search for a renewable fuel source are both important topics in the course.
Environmental Measurement
This may be one of the more technical classes in a typical environmental science program. Measuring rainfall, air pressure, and wind requires delicate instruments that must be handled properly, and coursework is designed to give students hands-on experience with these important tools. Some students may also gain experience in utilizing and reading satellite images that help track major environmental changes over time.
Admission Requirements
Admissions timelines vary depending on the type of school and admissions format. However, for many of the more competitive schools, prospective environmental science students need to submit their applications as early as November of the year preceding the fall semester when they plan to start attending college. Other schools set a deadline of January 1, and most schools notify students regarding acceptance on March 1.
The steps involved in applying to college also vary depending on the school, but many four-year colleges require applicants to provide the following items along with an online application:
Official high school or GED transcripts, usually with a minimum GPA of 2.5-3.0
Satisfactory scores on college entrance exams, such as the SAT or ACT
A personal statement or essay
Letters of recommendation from teachers, coaches, supervisors, or other mentors
A resume or list of extracurricular activities, jobs, and volunteer activities, including any awards or honors
What Can You Do With a Bachelor's in Environmental Science Degree?
Most jobs in environmental agencies or green companies require at least a bachelor's degree. Those with a bachelor's degree in environmental science can qualify for entry-level positions as environmental scientists and specialists. While a bachelor's degree is sufficient preparation for many government career opportunities, a master's degree is often necessary for employment in the private sector or for further career advancement.
Environmental Science Specializations
Environmental science is a diverse and complex subject encompassing many specialized areas of study. The five major fields within environmental science are atmospheric sciences, ecology, environmental chemistry, geosciences, and social sciences. However, many online environmental science degree programs encourage students to narrow their focus even further by selecting one of the following concentrations:
Overall, the courses in this concentration address the causes, effects, and possible solutions to global climate change. Students develop their skills in scientific research and environmental analysis while also discovering the legal, social, and economic influences on the environment. Some of the possible topics include biodiversity, overpopulation, deforestation, and water scarcity.
With this concentration, students learn to use scientific approaches to protecting and restoring biodiversity. Coursework covers topics such as climate change, overpopulation, habitat loss, pollution, and overharvesting. The curriculum is designed to prepare students to develop viable solutions and overcome common obstacles, including social, economic, and biological challenges.
Students interested in public policy and regulations governing the environment may want to consider this concentration. Coursework typically includes the study of biodiversity, climate change, and corporate sustainability. Through case studies, students gain an understanding of environmental health, law, politics, and ethics.
Fish and Wildlife Management
This narrowly focused concentration is intended to provide students with the knowledge and skills they need to conserve and enhance biological diversity among fish and wildlife. Online learners study the biology and ecology of wildlife. They also learn possible methods for restoring fish and wildlife populations and their habitats, addressing common diseases among these populations, and resolving conflicts between wildlife and humans.
Forests have been identified as one of our most important resources because of their ability to combat climate change, contribute to clean water, foster biodiversity, and provide valuable products for humans. This concentration trains students in forest ecology, sustainable forest management, land protection, and the policy and economics of natural resources.
In combining environmental science with computers, geospatial technologies have evolved to include a range of tools that allow scientists to collect and analyze data regarding land, water, air, and human and wildlife populations. Some of the most common technologies covered in this concentration include remote satellites and cameras, geographic information systems (GIS) for mapping all types of geographically related data, and internet mapping software programs for sharing data.
Further Education
While there are many occupations and career options open to bachelor's degree holders, environmental science professionals may want to pursue further education or credentials, so they can advance their careers. This is particularly important to those who want to work in consulting firms or in academia.
Most master's degree students who study environmental science already have some sort of specialized interest that led them to pursue an advanced degree in the first place. Those who do not will likely go on to select one after exploring their interests through one or more master's-level introductory classes. The specialization they choose will affect the courses they take, their thesis and research options, any internships or volunteer opportunities they participate in, and the kinds of jobs available to them upon graduation. Regardless of specialization, most master's programs require the completion of about 30 credit hours.
Doctorate in Environmental Science
Those who want to conduct research or teach college students in environmental science will need to earn a Doctor of Philosophy (PhD) in this field. Applicants may enter PhD programs with or without a master's degree. However, those who have not earned a master's will need to complete about 70 credit hours, while those who have earned a master's will only need to complete about 40 credit hours. PhD candidates are expected to conduct original research and write a dissertation on their area of expertise.
Potential Careers
Careers in environmental science focus on protecting the earth's resources by identifying harmful influences and working to reverse environmental degradation. To help realize these goals, environmental scientists work in both public agencies and private firms in a variety of specializations.
Some work for the government, testing and analyzing environmental resources and suggesting policies and regulations. Others work as consultants, helping businesses comply with government regulations and develop sound environmental practices. Some of the many possible job titles include environmental scientist, agricultural engineer, conservation scientist, environmental analyst, wildlife biologist, and environmental advocate.
Job opportunities for students of environmental science are growing both in the public and private sectors. Many government agencies and nongovernmental organizations rely on the research and work of environmental scientists to publish reports, lobby governments, and ensure their practices meet state and federal guidelines. Even energy companies hire many environmental science graduates to analyze aspects of their businesses.
Financing Your Bachelor's Degree in Environmental Science
Before enrolling in any program, you may want to calculate approximately how much an environmental science degree could cost at various schools, as well as how much you can afford to pay for your education. This information may help you narrow down the schools you'd like to attend.
It's also worthwhile to consider the return on investment (ROI) of a bachelor's degree in environmental science. ROI of a college degree means the cost of earning the degree as compared to your potential lifetime earnings. Here again, you may have to work with estimated numbers, but it may be useful to know that the Bureau of Labor Statistics lists the current median annual income for environmental scientists as $76,530.
Cost
Tuition fees vary widely among the offerings on our list of the best online bachelor's degrees in environmental science. According to the College Board's 2022 report, however, average annual tuition fees range from $10,940 for four-year public schools to $39,400 for four-year private schools. The College Board estimates an additional $1,240 annually for books and other supplies. Environmental science degree programs also typically include several lab courses, which may require fees and materials ranging from $100-$250 per course.
Financial Aid
Many on-campus and online students are eligible for some form of financial aid. Although aid money typically goes to the students with the greatest financial need, all students should submit a Free Application for Federal Student Aid (FAFSA) to see if they qualify for financial assistance.
Several months after submitting the FAFSA form, you'll be notified by letter if you qualify for aid from one of the many sources of funding, which include the federal or state government or the school itself. Government- and school-sponsored grants and scholarships are preferred because they typically don't need to be repaid, unlike student loans that do need to be paid back with interest. Some organizations also sponsor private scholarships based on need or merit, but you'll need to submit separate applications for these opportunities.
Student loans also come from two main sources. Federal student loans offered through the government tend to have lower interest rates and better repayment terms than private student loans offered by banks and lending institutions, but both may be beneficial in helping you earn your degree.
What Else Should You Consider?
Perhaps the most important consideration when selecting a degree program is whether it will equip you for the career you have in mind. Environmental science could be the ideal major for you, or you may want to consider other STEM degrees and careers. Be sure to choose a program that offers the specialization that most interests you, and if you plan to go on to graduate school, make sure the program prepares you for advanced study.
It's also important to choose a school that is accredited. Accreditation is a process in which recognized agencies evaluate and confirm that a college or university — including all of its programs, faculty members, facilities, and services — meets national standards of academic rigor and quality. Enrollment in an accredited program is generally required for you to receive federal financial aid and transfer credits, and it may influence your acceptance into a graduate program. The U.S. Department of Education and the Council on Higher Education Accreditation each offer a current list of accredited schools.
One other essential decision is whether to pursue an environmental science degree online. Online degree programs usually offer more flexible schedules than traditional programs, making them well suited for busy students. However, some programs feature synchronous classes that require you to log on at specific times, as opposed to asynchronous classes that you can engage in anytime. Online education may not be the ideal learning format for everyone. It often favors independent students with strong time management skills.
FAQs About Bachelor's in Environmental Science Programs
What Can You Do With an Environmental Science Degree?
---
Because environmental science is such a broad, interdisciplinary field, graduates with an environmental science degree can follow diverse career paths based on their interests and preferences. Environmental science jobs can be found in both the public and private sectors, in small nonprofit organizations and larger corporations, and in urban and rural settings. For example, some graduates may want to become scientists, working in the field or in research laboratories, while others may prefer to become lawyers and policymakers focused on the environment.
What Is the Difference Between Environmental Science and Ecology?
---
Ecology is one of several fields closely related to environmental science, along with environmental studies and environmental engineering. Ecology is the study of living organisms and how they interact with their environment. Environmental science encompasses ecology but is also concerned with identifying problems in the environment, such as climate change and pollution, and developing solutions.
What Is Environmental Science?
---
Environmental science is the study of the environment and its systems, as well as the analysis and solution of environmental problems. Environmental science is an interdisciplinary field that uses concepts and information from biology, physics, chemistry, plant science, zoology, atmospheric science, oceanography, and other disciplines to help understand and explain environmental systems. Environmental scientists also incorporate concepts from the social sciences in an effort to understand human behavior, its effect on the environment, and appropriate policies for addressing environmental issues.
Why Is Environmental Science Important?
---
Environmental science is becoming increasingly important as the world's population expands and natural resources diminish. These evolving factors have created critical problems, including climate change, insufficient sources of clean water, and the extinction of plants and animals that are essential to ecosystems around the globe. Environmental scientists are needed to propose solutions for sustainability and establish policies designed to protect the planet and all of its inhabitants.
Bottom Line
For those who are concerned about the future of our planet and want to make a difference, an online environmental science degree may be an ideal starting place for a rewarding career. However, because this field is so diverse with such a broad range of potential career options, it may be best to conduct some research and possibly pursue externships, narrow down potential occupations, and determine if you'll need an advanced degree in environmental science before choosing the best bachelor's program and specialization to support your professional goals.
Why Trust Us?
60,000 Degrees Researched Annually
20,000 Hours Spent on Research Annually
Launching Rankings Since 2009
Meet our team
Related Articles
2023 Best Online Biology Degrees
Find the best online biology degrees in 2023 by exploring our list of colleges ranked by popularity.
2023 Best Online Master's Degrees in Environmental Science
If you want to pursue an environmental science degree online, check out our list that features online schools ranked by the highest alumni salary.