2020 Best Online Environmental Science Degrees
We offer ranking lists of the best online bachelor's degrees and the best online master's programs in environmental science. These lists were created based on the schools' tuition rates and alumni salaries, which are provided by PayScale. Environmental science students will study the social, economic, political, and biological effects of people on local and global environments. They will also learn how to collect and apply data and to examine the sources and dangers of air, water, land, and nuclear pollution. Interested students will find information about careers and degree accreditation here as well.
2020 Best Online Colleges Offering Bachelor's in Environmental Science Degrees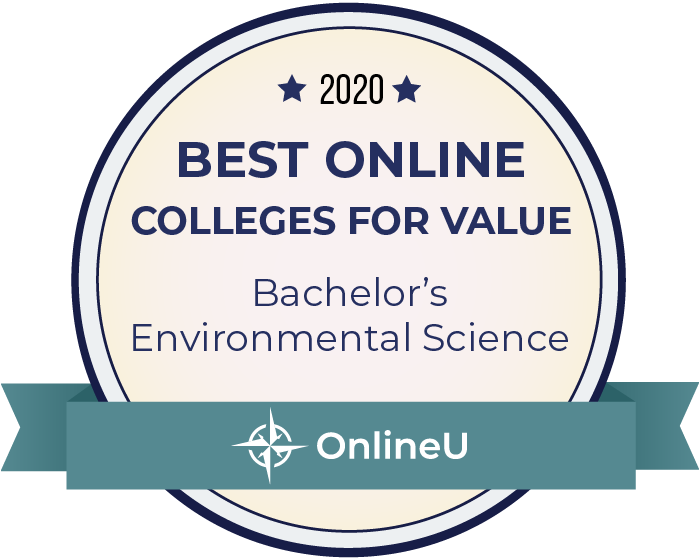 The seven best value online bachelor's degrees in environmental science can be found at these colleges and universities. A degree from the University of Illinois Urbana - Champaign has an impressive return on investment, with an annual tuition of $12,270 and alumni reporting a mid-career salary of $115,500. The University of Arizona ranks #2, with a median salary of $97,800 and an annual tuition rate of $15,750.
Alumni salaries were provided by PayScale. View our methodology for more details or learn more about OnlineU.
Salary data provided by

2020 Online Colleges Offering Environmental Science Degrees - Ranking Details
Online Environmental Science Degree Overview & Career Information
Environmental science degrees are available at the associate, bachelor's, master's, doctorate, and certificate level in both traditional and distance learning settings. The education level you'll need in environmental science will largely depend on the career you plan to pursue after graduating. Associate degree programs in environmental science concentrate on basic forestry, resources, and energy conservation. They take approximately two years to earn and are primarily used as a prerequisite for a bachelor's degree.
An accredited bachelor's degree program will require a four-year commitment and will include classes in political science, communications, business, basic math and science, the national park system, global warming, conservation efforts, and wildlife threats. The master's degree in environmental science is an interdisciplinary graduate program, focusing on the natural environment and environmental problems. Students in these programs learn about environmental threats in different regions, the natural science principles behind environmental problems, and policy issues surrounding environmental protection.
Online Associate Degrees in Environmental Science
Graduates of online environmental science associate degree programs are equipped with a foundation in topics such as environmental organisms, management of natural resources, and the effects of human dealings on the environment. These types of programs often blend classroom instruction with laboratory work, so if you're researching distance education options, make sure to look into whether or not there are in-person classroom hours required. Examples of core classes may include life cycles, biology, botany, pollution, reproduction, microorganisms, energy resources, climate patterns, erosion, food webs, and cell structures. Several programs also feature internship opportunities that enable individuals to gain real-world experience in the field. The National Association of Environmental Professionals also offers several career development opportunities for student members, such as continued education and scholarships.
Associate degrees have minimal admission requirements. Some students who have earned their associate degrees in environmental science may be hired as environmental technicians in laboratories, local or federal government facilities, engineering firms, or consulting services corporations. However, many graduates choose to go to pursue bachelor's degrees in hopes of entering advanced positions in the field.
Online Bachelor's Degrees in Environmental Science
The online Bachelor of Arts in environmental science provides an interdisciplinary look at ecology, earth science, biology, geology, and other natural and social sciences. Students begin the degree with introductory courses in environmental science, which discuss basic scientific principles and major issues in environmental science today. These four-year programs explore the science of the earth from many different angles and often include coursework in pollution, water resources, ecosystems, and methods of protection, management, and restoration of environments. Other courses include public policy, climate change, and environmental law, as environmental scientists are often involved in crafting regulations surrounding environmental use.
Online bachelor's degrees also include an array of general education courses in topics like math, statistics, humanities, and other liberal arts areas. Communications courses, including English, history, and composition are important for environmental science students. Some schools allow students to earn credits by participating in internships with local environmental agencies and organizations.
Most entry-level jobs in environmental or green companies require at least a bachelor's degree. Those with a bachelor's degree in environmental science can qualify for entry-level positions as environmental scientists and specialists. For those interested in environmental regulatory fields such as government agencies or consulting firms, it is imperative that geology courses are also part of the curriculum. While a bachelor's degree is sufficient preparation for most entry-level government positions, a master's degree is often necessary for employment in the private sector or for further career advancement.
Online Master's Degrees in Environmental Science
Earning an online master's degree in environmental science usually requires at least two years of full-time study. In some cases, students can complete the degree in one year or one-and-a-half years, while in other cases, students may need to dedicate more than two years of full-time study to earn their degree—especially if they choose to participate in a demanding research program. There are a few part-time master's degree programs available to students, especially via distance learning. To learn more about online master's programs in environmental science, see our master's overview which includes a list of the best programs.
Online Doctoral Degrees in Environmental Science
Applicants to an online doctoral, or PhD, program in environmental science must have completed a master's degree in a similar area of study. While it is not required to have professional experience in the field, many prospective students have worked in this area before deciding to continue their studies at this level. The college or university will request official transcripts from the applicant's undergraduate and master's degree programs, as well as a resume and letters of recommendation as part of the application process. Some schools also request a personal statement and a written academic plan from each applicant. A 69-credit doctorate program can be completed in four to six years.
Students enrolled in this program will take courses in ecological thought, comparative ecological analysis, global environmental change, political economy, sustainability, and environmental history. Doctoral candidates must also conduct research and write a dissertation. The topic is approved in advance, and the candidate must defend his or her work before a committee before he or she can graduate. Graduates from a PhD in environmental science program can become university instructors and researchers. They may also become consultants or work for government departments or agencies.
Online Certificates in Environmental Science
An online environmental science certificate trains students in the interdisciplinary natural science and public policy topics related to environmental sustainability. These programs are available as stand-alone certificates or as part of an undergraduate degree program. Students complete 6 to 10 courses over the span of the certificate. Applicants need a high school diploma or the equivalent.
The environmental science certificate curriculum provides an introduction to the man-made and natural issues impacting ecological viability. Most programs include courses from a few different disciplines, such as geosciences, biology, ecology, urban planning, and public policy. A basic certificate might include classes such as environmental geology, ecological sustainability, and earth systems. Depending on the certificate, students may be required to take a set array of courses, or they may be able to choose electives that fit their goals from within a range of options. For example, prospective landscape designers could take courses in soils and the environment or basic botany.
As the certificate provides a basic introduction to environmental science, most students use the program to support work in a related field. Possible career areas that could benefit from an understanding of environmental science include engineering, manufacturing, natural science, urban planning, agriculture, and political science.
The Importance of Accreditation
Accreditation is a process by which colleges, universities, and degree programs receive a comprehensive evaluation by an authoritative, independent agency. Legitimate accrediting agencies are recognized by the US Department of Education and will be found in the USDE database. While it isn't mandatory to attend an accredited school, doing so can provide you with a level of confidence that your degree program meets high academic standards and that it will be acceptable to graduate schools (should you decide to pursue a master's or doctoral degree), future employers, and licensing boards.
Accreditation is also important for students who wish to apply for scholarships or financial aid, as most organizations and lenders will only grant aid to students who attend an accredited school. Many professional licenses, such as a professional engineer license or a license to practice law, also require applicants to have a degree from accredited institutions. Visit the US Department of Education or the Council for Higher Education Accreditation for a list of accredited schools.
What Students Will Learn in an Online Environmental Science Program
Students who study environmental science will focus on current environmental issues, as well as the legal and financial restraints that govern the way environmental protection is approached politically. They will take a range of courses that explore scientific techniques and processes. A typical course may include the politics of energy, conservation biology, international economics, or the science of global warming. Undergraduate courses in environmental science often focus on practicality as opposed to theoretical approaches. Many schools offer internships as part of their degree, varying from field research to political internships. With more widespread acknowledgment of the impact of climate change, these opportunities are increasingly more present.
Most master's degree students who study environmental science already have some sort of specialized interest that led them to pursue a degree in the first place. Those who do not will likely go on to select one after exploring their interests through a variety of classes. The specialization they choose will affect the courses they take, their thesis and research options, any internships or volunteer opportunities they participate in, and the kinds of jobs available to them upon graduation.
The following list provides an example of some of the courses that students may take in an accredited undergraduate or graduate environmental science degree program:
Chemistry or Geochemistry: All environmental science students will study chemistry. Most chemistry courses at the graduate level will focus specifically on geochemistry, or the major chemical processes that govern the way the environment functions. This class may also include an exploration of nuclear waste and the ways in which is it disposed.
Climate Change: This is one of the most fundamental classes to a degree program in environmental science. Topics include weather patterns, the rhythm of the tides, and dendroclimatology.
Energy and Sustainability: This class explores the ways in which environmental science work in conjunction with ecology, engineering, and even economics. Thermodynamics and the search for a sustainable fuel source are both important topics in the course.
Environmental Measurement: Measuring rainfall, air pressure, and wind requires delicate instruments that must be handled properly; however, the main focus of an environmental measurement class for environmental science graduate students will be utilizing and reading satellite images that help track major environmental changes over time. This may be one of the more technical classes in the program.
Geohydrology and Water Preservation: There are millions of people in the world who do not have access to clean drinking water, and because water is becoming increasingly polluted and scarce, many students who are studying environmental science will find that they have the option of taking a course in geohydrology or in water preservation.
Nonfiction Environmental Writing: In order to express independent, original thoughts and research in this discipline, students need to understand the precise writing style expected of them. Place narration and proposal writing will be included.
Population Geography: This class focuses on how the patterns of movement and settlement exert an influence on the environment and the lay of the land. A specialty under the heading of human geography, students will encounter issues like immigration and mortality rates.
Career Specializations for Environmental Science Graduates
Careers in environmental science focus on protecting the earth's resources by identifying things that are harming it and working to reverse environmental degradation. In order to help realize these goals, environmental scientists work in both public agencies and private firms in a variety of specializations. Some work for the government, testing and analyzing environmental resources and suggesting policy items and regulations. Others work as consultants, helping businesses comply with government regulations and develop sound environmental practices. Academic environmental scientists may work on more theoretical research and may apply a variety of disciplines to the study of the environment, such as math and chemistry.
Job opportunities for students of environmental science are growing both in the public and private sectors. Recent congressional stimulus and budget packages have allocated hundreds of millions of dollars to clean energy and environmental research, which creates many grants and programs for professionals. Many NGOs (non-governmental organizations) rely on the research and work of students of environmental science to publish reports, lobby governments and to help ensure their practices meet state and federal guidelines. Even energy companies hire many environmental science graduates to analyze aspects of their businesses. In the public sector, many environmental science majors go into teaching.
Entry-level environmental science positions in government and some private firms typically require an undergraduate degree in environmental science, earth science, or a related area. Master's degrees are required by some consulting firms and are often necessary for advancing to higher positions. Environmental scientists at colleges and universities will usually need a doctoral degree in an environmental science area. Mastering the technology used in environmental science and earning the available professional certifications can also help an aspiring environmental scientist land a job.
Environmental science is an interdisciplinary field that provides many opportunities for specialization. During their undergraduate or graduate degree program, students can tailor their studies to focus on political, scientific, natural, or social issues. Determining which specialty is right for you may require some research. Here is a list of some possibilities:
Conservation Scientist: Conservation scientists often work as foresters who preserve and protect natural lands. They also manage habitats for various wildlife and protected lands. Licensing is required in some states in order to practice forestry.
Environmental Advocate: Environmental advocates navigate the political process and work for non-profit or lobbying firms to help erect, amend, obstruct, or pass laws regarding the environment.
Environmental Analyst: Analysts tend to work with a team helping to ensure that companies or organizations meet environmental regulations. In this case, it is beneficial to have certification in environmental risk management.
Environmental Business Consultant: Corporations and businesses all over the world hire professionals who are dedicated entirely to improving a company's environmental record. They are hired as consultants to point out areas where corporations can decrease their carbon footprint and increase their positive impact on the environment.
Environmental Scientist: The number of environmental science jobs increases each year. Many such scientists have PhDs, but earning a master's degree in environmental science is often the first step. Successful environmental scientists are problem solvers; they will be charged with finding solutions to pollution and other scientific problems, and they may spend many years working on one particular issue. Patience and the ability to work well with large groups is of the utmost importance for environmental scientists.
Green Architect: Green architects assist other professionals in the architecture field by researching, assessing, and planning greener ways to build homes and structures using renewable energy and energy efficient strategies.
Lawyer: Lawyers must have a Juris Doctorate degree, which take three years to earn, but combining a law degree with an environmental science master's degree will lead to a whole new array of opportunities. Students will have a unique mastery of environmental law that will enable them to work in top positions and make effective, positive changes.
Political Advocate: A political advocate can work for a government organization but will more often work for a third-party lobbyist organization. Most advocates are dedicated to a specific issue, and they seek to garner more public interest that will aid them in meeting their end goals. They also work with government agencies to encourage new legislation or better enforcement of laws. A number of political environmental groups employ graduates of master's in environmental science programs.
Renewable Energy Consultant: These consultants help companies and other groups find ways to cut their carbon footprint and assess their levels of waste.
Surveyor, Cartographer, and Mapping Technician: These professionals measure and map the earth's surface on land and water. They are trained to write descriptions for legal, construction, and scientific purposes.
Frequently Asked Questions About Environmental Science Degrees
How much can I make with an online degree in environmental science?
Data from the Bureau of Labor Statistics shows environmental scientists and specialists earned an average annual salary of $71,360 in 2019. However, there is a wide range of salaries for environmental science professionals depending on sector and experience. For example, the highest-paying industry for environmental scientists and specialists is the federal government with an average annual salary of $102,910.
Do I need a degree to work in environmental science?
Students' long-term career goals will influence which level of education they wish to pursue. Entry-level environmental science positions at the government level, as well as at some private firms, typically require a bachelor's degree in environmental science, earth science, or a related area. Master's degrees are often necessary for advancement to higher positions, especially in consulting firms. To teach and/or conduct research at colleges and universities, an environmental scientist will need a doctoral degree in an environmental science area.
What is the demand for positions within the environmental science field?
A number of emerging issues, such as the evolving effects of climate change and the dangers of hydraulic fracturing (fracking), are expected to drive above-average growth (8%) in demand for environmental scientists and specialists over the next eight years. Professionals with the right combination of education and experience will thus be eligible for many employment opportunities across a range of disciplines in the field of environmental science.
This website offers school details to prospective students as an informational resource. The appearance of a school listing on this website should not be interpreted as an endorsement by the school of this site.