2020 Best Online Colleges for English Degrees
An online English degree can open up doors to many different careers. The ability to read and interpret complicated texts and to parse complicated ideas in writing is an integral skill in many professions. Career paths for those passionate about English include becoming an author, editor, copy writer, technical writer, or other type of writer. They work for publishing companies, advertising and PR firms, colleges and universities, and other information service companies. Those looking for top programs can browse our lists of the best online bachelor's in English programs and best online master's in English programs, ranked based on schools' tuition rates and the salaries of alumni reported by PayScale.
2020 Best Online Colleges Offering Bachelor's in English Degrees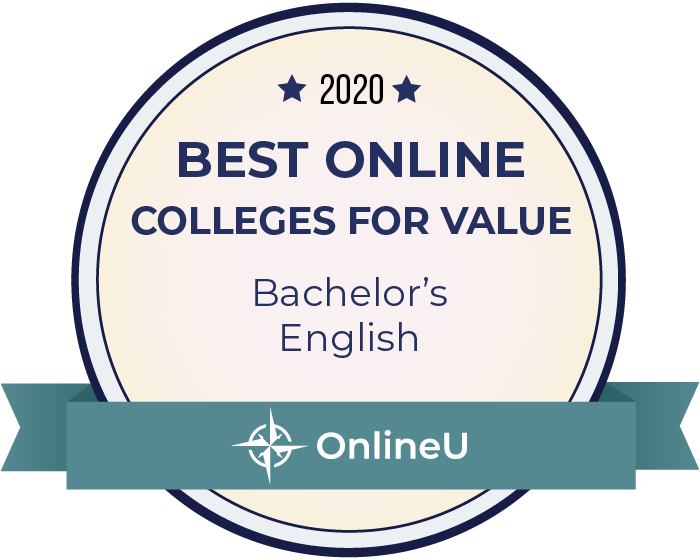 With low tuition rates and high average alumni salaries, the following 18 schools offer the best online bachelor's in English degrees. Assumption College is ranked #1, offering a Bachelor of Arts in Humanities - English/Literature for $12,720 per year. Graduates of the school reported a median salary of $122,000. At #2, Texas Tech University has the least expensive tuition on the list, charging only $9,090 per year. Students can choose from either a Bachelor of Arts in English - Creative Writing or a Bachelor of Arts in English - Literature and Language.
Alumni salaries were provided by PayScale. View our methodology for more details or learn more about OnlineU.
Salary data provided by

2020 Online Colleges Offering English Degrees - Ranking Details
Online English Degree Overview & Career Information
A bachelor's degree is the minimum educational requirement for most careers in English. This degree may be in communications, English, comparative literature, or another liberal studies field in which students are required to complete large amounts of reading and writing. Writing experience garnered through extracurricular activities or internships with school newspapers, magazines, or yearbooks can prove helpful in landing a job after graduation. Professionals interested in one particular type of writing, such as science writing, can benefit by taking college-level coursework in that subject area.
Those looking to specialize in one type of writing, get a more extensive English background, or transfer to English from another profession can pursue a master's or doctoral degree. Two-year master's programs in communications, English, journalism, and related fields require intensive amounts of reading and writing, and usually the completion of a lengthy thesis paper. Doctoral degrees take five years or longer to complete. These programs are often pursued by individuals interested in a career in academia.
There are no mandatory professional certifications or extra credentials writers, authors, or copy editors need to find employment. However, skills in desktop publishing, graphic design, and digital media can give job seekers an edge, as most writing today is done on a computer and published online. Individuals interested in editing positions will benefit from also possessing business skills, since many editors also manage business aspects of written publications.
Online Associate Degrees in English
Online associate degrees in English give students the opportunity to develop improved English language communication skills. Programs teach students how to write grammatically correct sentences, build vocabularies, and read efficiently. Students also build competencies for improved academic writing. Prerequisites may include reading and writing. Programs require completion of 60 credits, which generally takes two years of full-time study.
The associate degree curriculum emphasizes analytical skills, critical thinking, literary criticism, reading ability, and writing efficiency. Areas covered by the curriculum may include courses on American literature, British literature, business technical communications, college vocabulary development, composition, creative writing, developmental English, English for speakers of other languages, grammatical analysis of modern English, history of English language, literary forms and criticism, modern fiction, poetry, science fiction and fantasy, short story writing techniques, world literature, and writing journals and memoirs.
Graduates acquire a wide range of skills for effective communication in their academic, personal, and professional lives. Associate degrees in English are good preparation for upper-division studies in literature and other studies within the humanities. Students also acquire a strong foundation for careers in business, journalism, law, and teaching, which all require critical thinking, persuasive writing, and professional communication skills.
Online Bachelor's Degrees in English
The online Bachelor of Arts in English degree provides training in written and oral communication, literature, research, and critical thinking skills. These four-year programs also contain a significant array of courses in the general arts and sciences; students complete about 120 credit hours of coursework. Applicants need a high school diploma or GED in order to apply.
Most bachelor's degree programs in English are offered at colleges and universities. All bachelor's degree programs have a liberal arts component in which students take core classes that may not directly relate to their majors. Most students take liberal arts classes their first two years and take classes related to their majors during their final two years. Bachelor's degrees complete a student's undergraduate education and are required to continue schooling in graduate settings, such as in law school or in programs that offer a master's degree.
Writing is one of the two principal subjects that students learn in their coursework for a bachelor's degree in English. Students learn a number of different techniques related to writing, the majority of which are related to formal academic writing. Students will learn techniques for composing different types of essays, such as compare-and-contrast essays, literary analysis essays, and expository essays. Students will also learn writing skills that pertain to several forms of academic writing, such as research papers or thesis-length works. In addition to formal academic writing, students also learn about different types of writing, such as fiction, drama, and poetry.
The other half of the coursework that most bachelor's degree programs in English focus on is reading. Students will be taught how to read a variety of different texts for different purposes. Students will learn and exercise literary analysis skills and will likely be expected to examine texts for a variety of literary devices including hyperbole, characterization, synecdoche and more.
Graduates with a bachelor's degree in English are qualified to teach in a number of different settings, -- including in elementary, middle, and high schools -- although further requirements must be fulfilled to do so in public schools. English majors are also qualified to accept a number of career positions related to writing.
Online Master's Degrees in English
There are two types of online master's degrees in English: terminal degrees and progressive degrees. Terminal master's degrees usually take two years to earn (at some schools, especially in Europe, master's degrees can be completed in one year). These degrees require that students take classes in literary criticism and theory, learn to produce scholarly papers (usually by writing a master's thesis on a topic of the student's choice), and take classes in the major schools of English and American literature, from Elizabethan to Victorian to modern literature. To learn more about online master's programs in English, see our master's overview which includes a list of the best programs.
Online Doctoral Degrees in English
An online doctoral degree in English is a challenging and extensive degree. The length of each program varies, but depending on your prior education credentials, earning a doctorate in English often requires a full-time commitment of two to six years. Students must take advanced courses in literary theory and practice researching, writing, and rewriting publishable academic papers. A doctoral program can be enhanced by participating in research or by writing a dissertation. The dissertation alone can take several months, or even several years, to complete.
Online English doctoral degree programs engage students in advanced studies and research of English language and literary studies. In most cases, applicants are required to hold a master's degree in English. Prerequisites may include a history of the English language, American literature, and British literature. Programs require completion of 39 to 45 credits, which takes two years.
Specialization areas for doctoral students include American literature, comparative literature, creative writing, and linguistics. Many programs require students to study old English or master at least one foreign language. Students are also required to take a qualifying exam before they proceed to work on the dissertation, which must be defended in public.
Online Certificates in English
There are a variety of different types of online certificate programs in English available to those who are interested. A common type of certificate program offered online is the Teaching English as a Foreign Language (TEFL) certificate, which allows educators to get the training they need to teach students whose native language isn't English. There are also online certificate programs available in technical and professional writing. Online certificate programs can be found at colleges and universities, and are available at the graduate and undergraduate level.
The specific online classes that a student will take will vary depending on the particular concentration of their online program. Students enrolled in an online teaching-related program will take classes in linguistics and teaching techniques. Those who are in an online professional and technical writing program will take such courses as grant writing, editing, and technical writing, classes that are designed to help professionals enhance their written communication skills.
Admission to an online graduate-level program will require that applicants have a bachelor's degree, while online undergraduate-level certificates will likely only require a high school diploma. There may be additional requirements depending on the nature of the online program; for example, some teaching endorsement programs will require students to be a licensed teacher. Usually, online certificate programs are designed to be completed in a year or less. Tuition will also vary based on the school attended and can be anywhere from under $10,000 to close to $20,000 or more.
The Importance of an Accredited Online English Degree
Because English departments and curricula may vary a lot in terms of the topics covered, methodologies, and the delivery of instruction, accreditation provides a dependable baseline; it lets students and their future employers know that they have received an education that meets or exceeds an established level of quality set forth by the US Department of Education (USDE).
Accredited institutions and programs go through an extensive evaluation process to ensure that they meet the highest academic standards. Attending an accredited English degree program means that you will be learning via a high-quality curriculum taught by qualified faculty members. It also means that you will more likely be able to transfer credits from one school to the next, should you decide to pursue an advanced degree. Federal financial aid is also limited to students who attend accredited institutions.
The USDE recognizes a number of private accreditation agencies as having established high academic standards for colleges, universities, and programs in the United States. These accreditation agencies evaluate the quality of academic programs and, if approved, indicate that they are capable of providing a quality education to their students. The Council for Higher Education Accreditation is recognized by the USDE as the premier association of accrediting organizations and accredited institutions, and they maintain a database of accredited programs and schools.
This website offers school details to prospective students as an informational resource. The appearance of a school listing on this website should not be interpreted as an endorsement by the school of this site.