Best Master's in Engineering Management Online Programs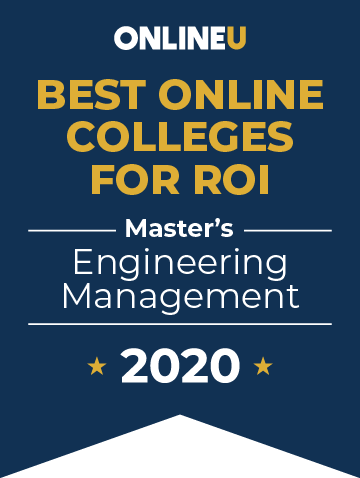 Students seeking online master's programs in engineering management will find that these 25 colleges offer the best value based on affordability and alumni salaries. Lehigh University is ranked #1, offering a Master of Engineering in Management Science and Engineering for $22,500 per year. Graduates of the school reported a median salary of $127,000. Stevens Institute of Technology offers distance learners a Master of Engineering in Engineering Management for $24,780 per year. Alumni reported a mid-career salary of $126,600.
Alumni salaries were provided by PayScale. View our methodology for more details or learn more about OnlineU.
Rank
School

Annual Tuition

Mid-Career Salary

#

1

Lehigh University

$22,500

$127,000
#

2

Stevens Institute of Technology

$24,780

$126,600
#

3

Northeastern University

$25,856

$125,900
#

4

University of Massachusetts - Amherst

$9,000

$116,500
#

5

California State University-Long Beach

$15,000

$118,600
#

6

Illinois Institute of Technology

$23,625

$121,800
#

7

University of Colorado Boulder

$28,440

$120,900
#

8

Arizona State University

$8,512

$112,000
#

9

The University of Texas at Austin

$16,811

$114,400
#

10

Purdue University - Main Campus

$22,916

$116,800
#

11

University of California - Los Angeles

$16,000

$112,880
#

12

Texas Tech University

$5,670

$107,900
#

13

Iowa State University

$10,425

$109,100
#

14

Colorado State University-Fort Collins

$16,275

$111,200
#

15

Oregon State University

$14,145

$109,700
#

16

South Dakota School of Mines and Technology

$10,943

$107,700
#

17

Ohio State University-Main Campus

$16,704

$109,700
#

18

University of Maryland - College Park

$19,080

$109,900
#

19

New Jersey Institute of Technology

$19,605

$108,000
#

20

Drexel University

$29,969

$112,100
#

21

University of Wisconsin - Madison

$16,000

$105,200
#

22

Missouri University of Science and Technology

$18,000

$105,700
#

23

Oklahoma State University-Main Campus

$13,146

$102,300
#

24

University of Louisville

$11,460

$100,700
#

25

University of Southern California

$31,125

$105,000
Salary data provided by

2020 Online Colleges Offering Engineering Management Degrees - Ranking Details
Online Master's in Engineering Management Overview
Students enrolled in masters-level programs learn the management skills that they will need to supervise teams of engineers and non-engineers alike. Typical graduate-level courses may include financial management, enterprise information systems, statistics, and ethics.
A master's program in engineering management may be an appropriate option for someone who has an engineering background but is interested in moving into management-level positions. To be admitted to an engineering management master's program, applicants must have a bachelor's degree in engineering or a science-related field from a school accredited by the Accreditation Board for Engineering and Technology. A 3.0 grade point average or higher typically is required, as is field-related work experience. Students may spend as little as a year completing their coursework, although two years is the average time of completion.
The Importance of Accreditation
Accreditation status should be an important factor when choosing an online degree program. The first type of accreditation that students should be on the lookout for is regional accreditation. Regional accreditation applies to the college or university as a whole and is given when an independent, regionally-based organization determines that a school meets certain educational standards. Regional accreditation is important because only regionally accredited schools can take part in federal financial aid programs. Additionally, credit transfers are generally easier between accredited institutions, and students who wish to earn graduate degrees will need to have completed an undergraduate degree from accredited institutions.
The second type of accreditation is programmatic accreditation. This type of accreditation is granted when an organization in charge of accrediting specific types of programs, such as engineering programs, evaluates a particular school's program and determines that it meets a certain standard of academic rigor. ABET (Accreditation Board for Engineering and Technology) is the body that accredits engineering programs at the undergraduate and graduate level, in addition to programs in technology and applied science. Graduate engineering programs prefer applicants to have undergraduate degrees from ABET-accredited programs, and employers may also look more favorably on individuals who attended programs with this type of accreditation.
This website offers school details to prospective students as an informational resource. The appearance of a school listing on this website should not be interpreted as an endorsement of the school by this site.