2020 Best Online Elementary Education Degrees
Prospective online elementray education students will find a comprehensive guide on this page with degree options at the associate, bachelor's, master's, doctoral, and certificate levels. We also provide a list of the best online schools offering elementary education degrees and the best master's programs. These schools were identified and ranked based on tuition costs and alumni salaries provided by PayScale. Elementary education degree programs focus on the skills needed to teach kindergarten through eighth grade, including lesson planning and classroom management.
In addition to regional accreditation, aspiring elementary school teachers should check their degree programs have been accredited by the CAEP to ensure they will be getting the quality education necessary to become a licensed teacher. Requirements to be a certified teacher vary by state, so aspiring teachers should also consider where they decide to receive their training depending on the state they wish to work in.
2020 Best Online Colleges Offering Bachelor's in Elementary Education Degrees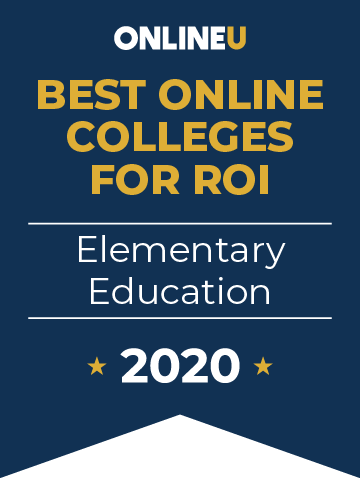 This list highlights the 22 best value colleges offering online bachelor's degrees in elementary education. Graduates of the #1 school, Kansas State University, report earning a median salary of $81,100. Oregon State University, ranked #2 on the list, costs $13,905 annually for an online Bachelor of Science in Elementary Education, with alumni reportedly earning median salaries of $64,600.
Alumni salaries were provided by PayScale. View our methodology for more details or learn more about OnlineU.
Salary data provided by

2020 Online Colleges Offering Elementary Education Degrees - Ranking Details
Online Elementary Education Degree Overview & Career Information
While an online associate degree is not enough to work as a teacher, there are associate degree programs designed specifically to ease the transition to a four-year bachelor's program in elementary education.
Bachelor's programs in elementary education can be found online, and this is the minimum level of education that must be completed in order to work as an elementary school teacher.
There are also master's programs online, and there are programs available for those who don't have a teaching background and who want to switch careers, or those who work in education but want to earn an advanced degree.
An online doctoral program may be an appropriate choice for someone who is interested in working at the university level as a professor or in research, or in top leadership or administration positions within the field of education.
Lastly, there are various online certificates available for current teachers and aspiring teachers alike. Certificates can be earned by those who have a bachelor's in a subject not related to education or teaching, but who want to go into teaching without committing to a master's program. Licensed educators may earn additional endorsement certificates online in order to add to their skill sets. For example, a licensed elementary school teacher may choose to earn a certificate in teaching math at the elementary school level.
Online Associate Degrees in Elementary Education
Online associate degree programs in elementary education are typically offered by community colleges and are designed to provide students with the requirements they need to transfer to a bachelor's program.
Program Requirements
Admissions to one of these degree programs will require a high school diploma or GED. Tuition will vary depending on the school but will likely be around $10,000 a year.
Curriculum
Courses that students might take include Introduction to Education, Educational Psychology, Child Development, and Children's Literature. Standard general education courses in English, math, science, and the humanities will also be required. Students will complete 60 to 64 credit hours of work over the course of two years.
Upon graduating, they will be able to transfer to a bachelor's program in elementary education so that they may earn teaching licensure. Associate degree holders cannot become professional teachers but may find work as teacher or library assistants, classroom aides, or childcare workers.
Online Bachelor's Degrees in Elementary Education
Those seeking a flexible way to earn their bachelor's in elementary education may be interested in pursuing their degree online.
Program Requirements
This type of program can be found at colleges and universities and typically takes four years and 120 credits to complete. Some programs may have an option to complete a fifth year in order to also earn a Master's in Teaching and licensure. Admission to one of these programs will require a high school diploma or GED, and may also require such application materials as an admissions essay or statement of purpose and SAT or ACT test scores. The cost of tuition will depend on the program attended, but will likely be at least $12,000 a year.
Curriculum
Students will learn about teaching methods, lesson planning, and classroom management, as well as how to cater to a variety of students who may have unique needs, such as ESL students or students with a disability. Student teaching will also likely be required. Some programs might have teaching certification preparation built into the program, while others will not.
Upon graduating with a bachelor's in elementary education individuals will be qualified to find work in public schools at the elementary level—if their program included a licensure component—or to seek out the necessary additional requirements for licensure based on their state. They can also sometimes find work in private schools without certification. Graduates will also be prepared to move on to master's-level programs in the field of education.
Online Master's Degrees in Elementary Education
An online master's program in elementary education may be appropriate for those who have a bachelor's degree in something other than education but who wish to make the transition to teaching, or those who have a teaching-related bachelor's degree and who want to earn a master's for personal or professional reasons. To learn more about online master's programs in elementary education, see our master's overview which includes a list of the best programs.
Online Doctoral Degrees in Elementary Education
Online doctoral degrees in elementary education are available for those who want to take their education as far as possible. There are PhD and Doctor of Education programs with elementary education specializations, as well as doctoral programs in subjects that may also be of interest to elementary school educators, such as early childhood education, K-12 studies, or reading literacy. A Doctorate of Education is for career-wise professionals looking to gain research and foundational knowledge to solve real-world organizational, administrative, or policy issues. A PhD in Education would be for students looking to move forward in an academic environment as researchers or professors in the field of higher education.
Program Requirements
In order to be admitted to this level, an applicant must have a master's degree, generally in the same or a related field as the PhD one is applying for, a resume showing experience in the field, letters of recommendation, GRE or other graduate exam test scores, and a writing sample. The length of time it takes to complete a program can vary based on how much prerequisite coursework a student has completed and how long it takes them to finish a dissertation, and could take as many as seven years. Specific requirements will of course vary depending on the program an individual is applying to. Costs will depend on the program and how many classes a student takes each year, but it is not uncommon for tuition to fall between $10,000 and $20,000 a year. Funding and scholarship opportunities may be available.
Curriculum
Courses that a student might take part in during their doctoral studies include Curriculum Theory, Advanced Educational Statistics, Educational Philosophy and Change, Leading Diverse Schools, and Leading the Future of Education. Specific coursework will depend on the program and a student's particular interests. Doctoral students will also complete research and a dissertation and may also be required to take part in some student teaching.
After earning their doctorate graduates will be qualified for leadership positions, such as that of principal or superintendent, as well as teaching at the university level and research positions.
Online Certificates in Elementary Education
Depending on an individual's personal career goals, an online certificate may be a good option. Online certificates in the field of elementary education range from programs intended to provide the education necessary to obtain licensure to endorsements that licensed teachers can get in order to add to their skill set and better serve their students. Certificate programs usually require at least a bachelor's degree. Classes that a student will take will depend on the specific focus of their certificate program. For instance, those enrolled in a program designed for individuals who have a bachelor's degree but no teaching experience may take classes such as Assessment of Young Learners, Early Literacy, Elementary Science Teaching Methods, and Multi-Media Instructional Design. Student teaching will also be required. Currently licensed teachers who want to add a specific endorsement to their skill set, like teaching math to elementary students, will take subject-specific classes like Math Technology for Educators or Geometry for Elementary Teachers. Certificate programs can often be completed in about a year. Admission to one of these programs will require at least a bachelor's degree and, in some cases, a teaching license. Tuition varies, but will likely fall around $10,000 a year.
Accreditation
When choosing a degree program, an important thing to keep in mind is accreditation. There are three main types of accreditation: national, regional, and programmatic. National and regional accreditation have to do with accrediting the school as a whole and making sure that the school meets certain standards of quality. National accreditation focuses mostly on vocational or trade schools while regional accreditation deals with degree-granting schools. Accreditation is important for many reasons, including ease of transferring credits, access to federal financial aid, and an assurance that future employers will see the degree as valid.
Programmatic accreditation is when an organization that specializes in a certain subject area accredits programs within that subject. For instance, the Council for the Accreditation of Educator Preparation (CAEP) is the current main accrediting body for education programs. CAEP was formed when The National Council for Accreditation of Teacher Education (NCATE) merged with the Teacher Education Accreditation Council (TEAC). Students looking to get a degree in teaching or education should make sure that they are enrolling in a program that has received programmatic accreditation. Either way students enrolled in a program accredited by one of these agencies can be sure that they are receiving a quality education that will prepare them well for their future career.
Teaching Certification
In order to work as an elementary school teacher within the public school system, an individual will need to become certified. The requirements to earn a teaching certificate will differ from state to state, so aspiring teachers should check on the requirements for the state that they want to teach in. Some typical requirements include earning a bachelor's degree, completing student teaching, and passing a certification examination. Continuing education may be required to keep certification up-to-date, and some states want teachers to earn a master's degree after they have earned their certification. There are also programs in every state that allow those who have a bachelor's degree in a non-teaching related subject to go through extra training in order to become a certified teacher. This type of certification is known as an "alternative route."
This website offers school details to prospective students as an informational resource. The appearance of a school listing on this website should not be interpreted as an endorsement of the school by this site.