2020 Best Online Education Degrees
From instructing elementary school children in a broad range of fundamentals to educating middle school and high school students on a specific subject, many people find teaching to be one of the most intellectually stimulating and rewarding career choices. Annual salaries for public and private school teachers, as well as special education teachers, are fairly consistent, with most salaries falling between $45,000 and $50,000. Amounts can vary widely, however, depending on location, years of experience, and degree level. The following is a rankings list of schools offering online degrees in education. Continue on for more details about licensing and certification and answers to frequently asked questions about online education degrees. Additional guidance on degrees in education administration and instructional technology is also available below.
2020 Best Online Colleges Offering Bachelor's in Education Degrees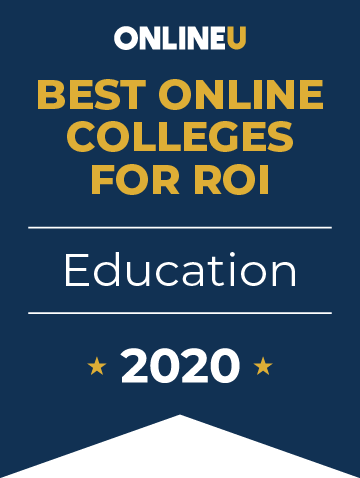 Ranked based on affordability and earning potential, these 24 schools offer the best online bachelor's degrees in education. At #1, Kansas State University charges $13,092 per year for their Bachelor of Science in Educational Studies. Southern Illinois University - Carbondale ranks #2, with a median salary of $74,700 and an annual tuition rate of $9,637.
Alumni salaries were provided by PayScale. View our methodology for more details or learn more about OnlineU.
Salary data provided by

2020 Online Colleges Offering Education Degrees - Ranking Details
Online Education Degree Overview & Career Information
Online certificates and associate degrees in education can provide an introduction to the field and preparation for later college-level work. These degrees cover general liberal arts topics, as well as courses in curriculum design, child development, and instructional methods. Stand-alone undergraduate certificates are usually available in early childhood education areas, while certificates that are part of bachelor's degrees cover a wider range of topics, such as education policy or adult education.
Bachelor's degrees in education are the minimum requirement to teach in public elementary and secondary schools. Online degrees are available in elementary education, early childhood education, secondary education, and special education. In general, half of the credits in bachelor's degrees in education are in the education major core, while half are in liberal arts topics like natural science, social science, communications, and math.
Online graduate certificates and master's degrees in education are often used to earn a teaching credential and state teaching license. Current teachers can use these programs to advance their understanding of teaching skills. Master's programs and certificates are available in specializations such as education technology, elementary teacher education, special education, literacy, teacher leadership, administration, and adult education.
Online doctoral degrees in education are usually aimed at students who want to work in higher-level education policy or administration roles. These degree programs require students to perform research into a particular area of education, such as learning sciences and technology or race and language in education.
Online Associate Degrees in Education
Individuals who are interested in starting careers in education may choose to start out with an associate degree. Associate degree holders in education are generally qualified to become teaching assistants. Those who wish to advance in their field may need to pursue a bachelor's or master's degree.
Program Requirements
Most two-year degree programs in this area are offered at community or junior colleges and require the completion of at least 60 credit hours. Applicants should possess a high school diploma or GED to qualify for enrollment.
Curriculum
Students in associate degree programs in education can chose from many different areas of specialization. The most common concentrations are early childhood education, elementary education, secondary education, and special education. Some students may also choose to specialize in a particular subject, such as math or biology. Regardless of the area of interest, students will learn about classroom management, curriculum development, and best practices for working with school staff and parents. Coursework typically includes topics such as education fundamentals, education technology, education psychology, and child development and growth. In addition to classroom learning, students in these programs may be required to complete internships or externships in order to graduate.
Online Bachelor's Degrees in Education
Depending on the state and grade level the student intends to instruct, the bachelor's degree may be sufficient to launch a teaching career. In some states, secondary school teachers are required to complete graduate training. Private schools set their own standards for teachers, and a bachelor's degree may be sufficient for employment in certain schools. Prospective teachers should investigate their state's teaching licensure procedures to understand the rules that apply to them.
Program Requirements
Students in an online education bachelor's program study a broad array of curriculum and instructional techniques. Education bachelor's students specialize in a particular grade level or subject area. These programs require about four years of full-time study and include 120 credit hours of coursework. Applicants need a high school diploma or the equivalent.
Curriculum
Core classes in the education program explore the structure of public education, major topics and issues in public education, cultural effects on student achievement, education around the world, and the political state of education. Other classes explore curriculum development, evaluation techniques, and teaching techniques. To earn a four-year degree in education, students also take a number of general courses in math,biology, the arts, and the humanities.
The upper-division coursework in the bachelor's program is centered around the student's particular focus area in education. Possible specializations include elementary education, special education, middle school, or secondary education. Students specializing in secondary education also take coursework in a particular teaching subject area, such as math, science, or English. Teaching-oriented bachelor's degrees require that students complete teaching labs or practicums, as well as an internship.
Online Master's Degrees in Education
An online master's degree in education includes study in teaching theories and instructional techniques. Individuals with no teaching experience can use the master's to earn a state teaching credential; current teachers can use the program to broaden their skills or become education leaders.
Program Requirements
Applicants need an accredited bachelor's degree. Online master's degrees in education usually have a core of five to eight required classes, along with electives the student can choose. Students can expect to complete an average of 30 credits in two years to earn the degree.
Curriculum
The courses in the master's program depend on the type of training the student is seeking. Some programs are entry-level degrees, aimed at individuals with no previous teaching experience. These programs cover the theory of education and instructional techniques for a particular grade level or subject. These degrees also include teaching practicums and internships that help students master hands-on teaching skills. Other master's degrees are aimed at current teachers who want to deepen their understanding of a particular subject area or gain leadership skills. These programs may focus in areas like special education, technology in education, reading and literature, or curriculum and instruction.
With a master's degree in education, a graduate can continue or launch a career in educational leadership, teaching, or education lobbying and development. Administrators typically need experience in teaching or the education system in addition to a master's degree.
2020 Best Online Colleges for a Master's in Education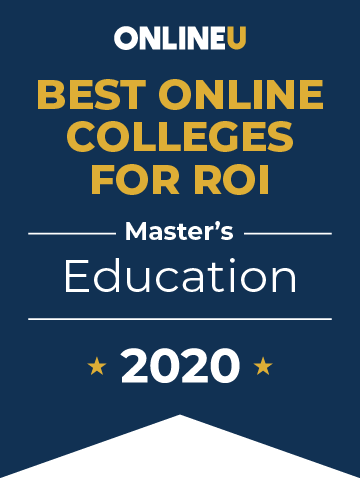 The following 24 schools offer the best online master's in education programs, based on their low tuition rates and high mid-career salary potentials. Southern Illinois University - Carbondale is the #1 school, with an average alumni salary of $96,800 and charging only $7,512 for their Master of Science in Education in Workforce Education and Development. The University of Massachusetts - Amherst, ranked #2 on the list, costs $7,650 annually for an online Master of Education in Science Education, with alumni reportedly earning median salaries of $92,200.
Alumni salaries were provided by PayScale. View our methodology for more details or learn more about OnlineU.
2020 Online Colleges Offering Education Master's Degrees - Ranking Details
Online Doctoral Degrees in Education
Students in online education PhD programs usually conduct original research in a particular area of education theory or practice to help prepare them to lead transformative change in the field of education.
Program Requirements
These programs require completion of 70-90 credit hours and take four to five years to complete. Applicants to these programs typically need a bachelor's and master's degree, along with a strong education-based resume.
Curriculum
The curriculum varies between programs, but courses generally provide reading, discussion, and writing forums for students on topics like education finance, the achievement gap, and education reform. Students also choose an emphasis area, such as elementary education, mathematics education, science education, special education, school administration, or educational technology, and take courses focusing on topics in that field. One of the most important components of a doctorate in education program is the dissertation. Students choose an original topic and an advising professor, then read extensively about their topic, and conduct their own research.
Graduates of these programs often become professors in universities and colleges, teaching classes in general education, teaching, education policy, education administration, and educational psychology and counseling. Professors of education also participate in research studies, often with the goal of publishing their findings in academic journals; they may also advise graduate students as they write their theses and dissertations. Some graduates will work in education policy and reform, while those who studied education administration can become principals, headmasters, deans, superintendents, or employees for state and national departments of education.
Online Certificates in Education
Online certificates in education are available in a variety of focuses, from teacher certification to school leadership or educational policy. These programs typically take a year or less to complete and are comprised of 6 to 10 courses. Applicants need an accredited bachelor's or master's degree, depending on the focus and level of the certificate. Some programs also require previous experience working with children or teaching, as well as a clear criminal background check.
The coursework in the education certificate will vary, depending on the program's goals. Many programs are designed to certify teachers in a particular subject area, such as elementary or secondary education. These programs discuss instructional abilities and teaching theory. Some programs are aimed at experienced educators and discuss education administration and leadership topics, such as human resources issues and professional communication techniques. Other certificates are useful for seasoned teachers who want more knowledge in a particular teaching area, such as teaching students with disabilities or using educational technology.
The career opportunities available after completing an education certificate will depend on the graduate's previous education and experience. Many use the certificate to take a state licensing exam, either to become a kindergarten-through-12th-grade teacher or a school principal. Education certificates can also be useful for teachers interested in moving into policy or research roles in local, state, and federal governments. Other programs are used by practicing teachers to deepen their curriculum and cement their role in their current school.
Accreditation
Attending an accredited school is one of the best decisions that a student can make. Accreditation is a designation awarded to a school for complying with a set of academic and personal support standards. Students who need financial aid, hope to earn certification or licensure as a teacher, and who may want to attend graduate school or transfer credits must attend an online school that is accredited. All individuals seeking a teaching credential must attend an education program that is recognized by their state's board of education.
To ensure the best possible outcomes for your education program, the online degree program you choose should be accredited by either one of the six primary regional accrediting boards, the Distance Education Accrediting Commission, or an accrediting board that specializes in education programs. Examples of these programmatic accrediting agencies include the Commission on English Language Program Accreditation (CEA), Middle States Association of Colleges and Schools Commission on Elementary and Secondary Schools (MSA-CESS), and the Council for the Accreditation of Educator Preparation (CAEP).
Any school's accreditation status can be checked through the US Department of Education or the Council for Higher Education Accreditation. For more information about accreditation, please visit our comprehensive accreditation hub.
Licensing and Certification Requirements
Education graduates who plan to become a teacher or an administrator (e.g., principal or superintendent) in a public school district will need to follow the proper procedure to become licensed before they can begin working. Each US state has its own set of licensing or certification requirements, so it's best to check with your particular state before embarking on a path to become an educator or administrator. In general though, educators and administrators must earn an accredited degree, have professional experience, and pass at least one competency exam.
Specific details about licensing and certification requirements for public school teachers can be found in our guide to teaching degrees. The licensing process for public school principals is more rigorous than the process for obtaining a teaching certificate, as administrators are expected to have advanced leadership skills and knowledge about operating a school or school district. To become a principal, most states require candidates to have a master's degree from a regionally accredited school, a teaching certificate, and at least three years of teaching experience.
Principals must also complete a principal preparation program or internship to develop their leadership skills and their knowledge of how to improve students' educational experiences. Other requirements often include passing an exam to demonstrate basic reading, writing, and math skills; passing a state-based educator standards exam; and submitting to a criminal background check. Some states have different levels of principal certification, starting with an initial "residency certificate" and advancing to a "professional certificate" after two years of experience as an employed administrator. Some states break down their certifications even further for elementary vs. secondary school principals, while other states have the same requirements for both academic levels.
To become the superintendent of a school district, some states require that applicants have a current principal or teaching license and a certain number of years of experience in each professional role. Superintendents may also be required to complete a superintendent preparation program as well as an accredited master's degree program with a superintendent focus before they can take a licensing exam. After passing the exam, they may be eligible for an initial superintendent certificate for a certain number of years before they must renew their certification.
Online Education Administration Degrees
Educational administrators are the leaders of schools, colleges, and other types of educational organizations. They are the leaders and guides in the educational field, either working intimately with students or with the larger community. School administrators work at state and federal levels and help develop state policies that affect education. Administrators can also be school superintendents, principals, or principal support staff.
Students who are seeking entry-level administrative positions in a school district office or at state or federal levels may wish to start with an associate or bachelor's degree in education administration, while those with more professional experience and who hope to work as a superintendent or hold a position as an education administrator at the state or federal level should consider a graduate degree or certificate in education administration.
One-year education administration or education leadership graduate certificate programs are available for students who are currently earning or have already earned a master's degree. They are typically designed for education professionals who would like to advance into a career as a school leader or school district leader. Associate and bachelor's degrees in educational administration give a broader and more in-depth liberal arts experience. An undergraduate degree program in early childhood education administration provides students with an understanding of the education industry, helps them gain advanced organizational management skills and trains them in the theories of child development.
Graduate degree programs provide highly advanced education in education administration. A master's degree program in educational leadership offers aspiring principals, deans, and other administrators an opportunity to further develop their professional skills and prepares them to effectively manage the way a school operates. Educational leadership doctorates introduce current educators to advanced theories in educational psychology, educational leadership and public relations, school law, and leadership ethics.
Online Instructional Technology Degrees
Technology is playing an ever-increasing role in today's classrooms. Everyone from kindergarten through graduate school is enjoying the benefits of computers, presentational technology, and new programs in the classroom. Some of the best teachers in today's classes are skilled at incorporating new forms of technology to enhance student learning, whether it be computer programs, tablets, or podcasts. Technology has become so important in today's classrooms that there are entire degree programs dedicated to creating new ways of including technology in one's teaching style. Both current and aspiring teachers can benefit from learning about instructional technology in a formalized degree setting.
Instructional technology degrees are usually earned as graduate degrees. Most people who become interested in this field are already educators or educational leaders, such as vice principals or curriculum developers. Students who are choosing instructional technology paths are interested in becoming better at their jobs, learning to take their techniques and skills in new directions. This makes the masters degree or the masters of education degree very popular. Students study computer programming, the teaching of computer programming, introducing students to technology, using technology paired with written literature and traditional teaching methods, and training other teachers to use technology in their classrooms.
Associate degrees and bachelor's degrees that feature an instructional technology option are more likely to be degrees in education or teaching with an instructional technology specialization option. Students will study teaching techniques, curriculum development, evaluation techniques, and classroom management, all while learning about how they can use technology to enhance their teaching skills. Some schools require that students who are applying for master's in instructional technology already have official teaching experience. Doctoral programs may even require curriculum development or teacher leadership experience.
Traditional degree programs in instructional technology revolve around group discussion, helping students build ideas off of one another. This is not easily done through online programs, so instructional technology students will be asked to complete a lot of reading and writing assignments. Many online programs (as well as some traditional programs) require that all students be full-time, licensed teachers.
Frequently Asked Questions About Education Degrees
Besides teaching in schools, what can I do with an online degree in education?
An online degree in education can be leveraged into other career paths, especially when coupled with several years of experience. The skills that professionals gain in elementary and secondary education prepare them for other careers as well. These include corporate training or postsecondary teaching, as well as fields that involve interacting with people, such as sales, life coaching, and counseling. Some of these options may require additional education.
What kind of degree do I need for a job in education administration?
A bachelor's degree in education can be the stepping stone to a career as a school principal or other high-level administrative positions. In some cases, certified and experienced teachers go on to earn master's degrees in educational leadership or education administration in order to become school administrators.
How much can I expect to earn as a teacher?
Annual salaries for public school teachers and special education teachers at all levels—primary or elementary school, middle school, and high school—are fairly consistent. Salaries typically range from $33,000 to $75,000, and the averages for all of these positions fall between $45,000 and $50,000, according to PayScale. There is a similar range for private schools, where salaries are dependent on the individual school's funding. The National Council on Teacher Quality reports that teachers with master's degrees may earn up to $7,350 more per year.
Do I have to have a degree in education to become a teacher?
Students who have earned bachelor's degrees in subjects other than education can still become elementary and secondary teachers without returning to school to pursue a second bachelor's or a master's degree. The solution is an alternative certification program that quickly gives students the essential skills to pass the certification exam and succeed at teaching in a classroom setting. Many professionals who are seeking a career change into teaching will find they can complete an alternative certification program online.
This website offers school details to prospective students as an informational resource. The appearance of a school listing on this website should not be interpreted as an endorsement of the school by this site.