Best Online Bachelor's in Dental Hygienist Schools & Programs
Dental hygienists work alongside dentists to provide oral health care. They interact closely with patients, performing routine dental cleanings, taking x-rays, and documenting dental records and treatment plans. Most commonly, dental hygienists work in dental offices, but they may also find jobs in hospitals, nursing homes, community organizations, and research facilities.
Dental hygienists need to be licensed in order to work. After earning an associate degree and receiving licensure, some dental hygienists may choose to pursue a bachelor's or master's degree in dental hygiene in order to qualify for higher-level specializations, leadership positions, or teaching opportunities that increase their earning potential.
2020 Best Online Colleges Offering Bachelor's in Dental Hygiene Degrees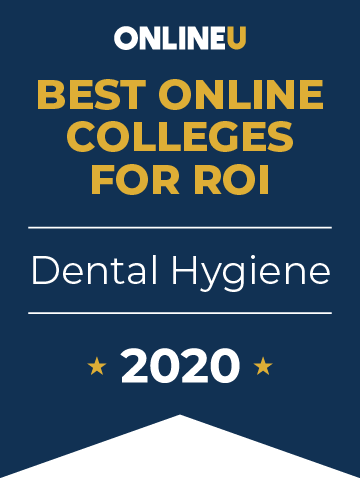 The 22 online colleges on this list are the best value options for online bachelor's degrees in dental hygiene, based on their tuition and alumni-reported salaries. Oregon Institute of Technology is ranked #1, offering a Bachelor of Science in Dental Hygiene (Degree Completion) for $12,593 per year. Graduates of the school reported a median salary of $98,562. In the #2 spot, Ohio State University-Main Campus offers a Bachelor of Science in Dental Hygiene for only $9,168 per year, making it an affordable choice for distance learners who are looking for a high quality and affordable education.
Alumni salaries were provided by PayScale. View our methodology for more details or learn more about OnlineU.
| Rank | School | Annual Tuition | Mid-Career Salary |
| --- | --- | --- | --- |
| # 1 | Oregon Institute of Technology | $12,593 | $98,562 |
| # 2 | Ohio State University-Main Campus | $9,168 | $80,985 |
| # 3 | Minnesota State University at Mankato | $8,481 | $79,609 |
| # 4 | Southern Illinois University - Carbondale | $9,637 | $76,311 |
| # 5 | The University of Texas Health Science Center at San Antonio | $8,000 | $75,300 |
| # 6 | University of New Mexico | $11,515 | $76,548 |
| # 7 | Utah Valley University | $15,872 | $77,358 |
| # 8 | Vermont Technical College | $17,880 | $75,500 |
| # 9 | University of Michigan - Ann Arbor | $40,710 | $84,145 |
| # 10 | University of Bridgeport | $16,650 | $74,466 |
| # 11 | Wichita State University | $7,155 | $69,913 |
| # 12 | Clayton State University | $5,490 | $68,229 |
| # 13 | Augusta University | $9,270 | $69,107 |
| # 14 | Old Dominion University | $12,210 | $69,915 |
| # 15 | Farmingdale State College | $16,980 | $71,321 |
| # 17 | Ferris State University | $13,361 | $67,981 |
| # 18 | Missouri Southern State University | $9,172 | $64,612 |
| # 19 | Eastern Washington University | $24,073 | $69,028 |
| # 20 | University of Louisiana-Monroe | $12,000 | $63,624 |
| # 21 | St. Petersburg College | $12,773 | $62,412 |
| # 22 | Pennsylvania College of Technology | $15,159 | $59,954 |
Salary data provided by

2020 Online Colleges Offering Dental Hygiene Degrees - Ranking Details
Overview of Online Dental Hygiene
Online Bachelor of Science in Dental Hygiene (BSDH) programs are degree completion programs, meaning that applicants must have already earned an associate degree in dental hygiene before enrolling. Like most bachelor's degrees, a dental hygiene degree generally requires the completion of 120-126 credit hours. However, because incoming students have already accumulated 60 or more credit hours of dental hygiene and general education courses while earning their associate degrees, most students enrolled in these online programs only need two years of full-time study to complete the remaining required courses in dental health.
Admission requirements for online bachelor's degree programs in dental hygiene vary by school. All dental schools require applicants to have completed an associate degree in dental hygiene, usually with a GPA of 2.0 or higher, at a community college, technical school, or vocational school. Some schools require applicants to have passed the national board exam for dental hygienists, and some require applicants to be fully licensed, practicing dental hygienists. Depending on the dental hygiene courses taken in the associate degree program, some students may also need to complete one or more prerequisites before enrolling in a bachelor's program.
Curriculum
The core curriculum of an online dental hygiene education program is designed to provide students with advanced knowledge in both patient care and applied science. Clinical care-based courses may include preventative measures, radiology, periodontology, and technology used for oral health. Science-based coursework may include advanced dental anatomy, oral pathology, microbiology, and pharmacology. Some programs may also require one term of on-site clinical practice, which can be completed at dental care clinics near students' homes. Students who are interested in related career opportunities may want to select a program that prepares them to become dental office managers by incorporating basic business management courses.
---
Accreditation for Dental Hygiene Degrees
Accreditation is one of the most important factors to consider when choosing an online dental hygiene program. For an entire college or technical school to earn accreditation, all of its programs, faculty, and facilities must be evaluated and approved by an independent agency authorized by the Council for Higher Education Accreditation or the U.S. Department of Education. Schools sometimes seek additional accreditation from professional organizations for individual programs, and the Commission on Dental Accreditation (CODA) is the authorized agency for accrediting online dental hygiene programs.
Students who select an accredited dental hygiene program will enjoy several valuable benefits. First, it will allow them to qualify for financial aid and to transfer credits to another school. Depending on a student's chosen career path, accreditation may be required for licensure or for application to graduate school. Perhaps most important, enrollment in an accredited school ensures students are getting a quality education from a credible online program in dental hygiene.
---
Dental Hygiene Careers
Prospective students who are interested in clinical work in a dental office may want to consider becoming dental hygienists, although there are other dental health career paths to choose from as well. According to the Bureau of Labor Statistics' Occupational Outlook Handbook, each of these occupations have different job responsibilities, educational requirements, and earning potential:
Dental Hygienist
Dental hygienists perform the cleaning, polishing, stain removal, and fluoride application in dental cleanings, and they are generally responsible for taking and developing x-rays. Hygienists also contribute to documenting and maintaining each patient's records, and they are typically responsible for educating patients about proper oral care. According to the American Dental Association, dental hygienists must earn an associate degree or a bachelor's degree in dental hygiene at an accredited institution of higher education, and must also obtain licensure to qualify for a position as a hygienist. Dental hygienist professionals earn a median annual salary of $77,090, and the need for dental hygienists is expected to grow at a rate of 11% through 2030.
Dental Assistant
Dental assistants are usually tasked with preparing patients for treatment by reviewing their medical history, taking their blood pressure and pulse, and talking to patients about oral care. During a procedure, they help dentists by passing instruments and holding equipment. Other responsibilities may include preparing the treatment room, making sure that instruments and equipment are sterile, and handling billing. Dental assistants typically need to earn a dental assistant diploma or certificate to practice. Students who choose this career path can expect to earn a median annual salary of $41,180. The BLS projects that this occupation will grow by 7% over the next decade.
Dental Laboratory Technician
Dental laboratory technicians generally work directly with dentists, but not necessarily with patients. Working from impressions or molds of a patient's teeth, they use small hand tools to construct dental appliances, such as crowns, bridges, and dentures. Although individuals qualify for entry-level positions with only a high school diploma or the equivalent, aspiring technicians may want to consider enrolling at a community college, technical school, or vocational school to earn an associate degree or certificate in dental laboratory technology. Technicians with some college-level coursework may qualify for more advanced, better-paying jobs. The median annual wage for dental technicians is $42,110, and the projected growth through 2029 is 9%.
Graduates who have earned Bachelor of Science in Dental Hygiene degrees may also qualify for non-clinical positions in the oral care industry, such as dental office manager, dental supply or pharmaceutical sales representative, or dental insurance officer. Some may advance their dental hygiene education by pursuing a Master of Science degree in the field, which can lead to a number of other career opportunities, particularly in education and research.
---
How Can I Further My Career as a Dental Hygienist?
To maintain their state licenses, dental hygienists must take continuing education courses, which are post-graduate, non-credit classes that keep oral care professionals up to date on their skills and knowledge of the field. Hygienists may want to consider joining one of these organizations that offer continuing education courses. Membership may also enhance their professional status.
With more than 185,000 members, the American Dental Hygienists' Association supports dental hygienists in their careers and provides the latest training and information. Members receive current industry news and research through two publications, Access Magazine and the Journal of Dental Hygiene. The ADHA also offers continuing education courses and professional events, and members who want to advance their skills may be eligible for scholarships and grants.
The National Dental Hygienists Association is the largest and oldest organization of minority dental hygienists in the world. NDHA members enjoy access to professional development assistance and mentoring, gain exposure to an international network of fellow professionals, and are invited to participate in annual events and informative programs. Scholarships are available to those members who want to pursue additional educational opportunities.
---
Licensure for Dental Hygienists
For all healthcare professionals, including dental hygienists, state licensure is the strongest form of regulation and is required to legally practice as a professional. Licensure requirements vary by state, but aspiring dental hygienists must first earn their degrees through an accredited dental hygiene program. Graduates then need to pass the National Board Dental Hygiene Examination and their state's specific board examination. Other potential requirements may include CPR certification, letters of recommendation, and a background check. Once licensed, professionals are known as registered dental hygienists (RDH).
For dental hygienists, state licensure is the strongest form of regulation and is required to legally practice as a professional.
The NBDHE is administered at testing centers across the country, and students are advised to schedule their examinations 60-90 days in advance. The discipline-based component of the exam covers general knowledge of dentistry, dental services, and community health and research principles. The other case-based component presents students with questions related to actual clinical cases. Students must earn a score of 75 or higher on a scale of 49-99 to pass the exam. The NBDHE costs $400, and students may want to take one of several variations of the practice test for fees ranging from $20 to $100.
Dental Hygienist Specializations
Under the broad umbrella of dental hygiene occupations, there are a number of opportunities to work with specific groups of people or with dental specialists. Professionals with advanced training may be able to earn higher salaries, and the BLS reports that the top-earning registered dental hygienists earn a median salary of $104,420. Some of the specialty areas include:
Pediatric Dental Hygienists

Like all dental hygienists, pediatric dental hygienists must have the same skills in performing routine dental cleanings, taking x-rays, and documenting patient care records and treatment plans. They are also responsible for teaching children about preventative oral hygiene techniques and good healthcare habits. Pediatric dental hygienists must have a special sensitivity to children, and must understand the importance of patience in dealing with young patients, who can be challenging to work with and may be fearful of dental treatment.
Geriatric Dental Hygienists

Dental hygienists who specialize in working with elderly patients may work in dental practices or may find themselves working in nursing homes and other healthcare facilities for seniors. Geriatric dental hygienists will be asked to perform the same types of cleaning treatments and other routine procedures as all dental hygienists, but are more likely to encounter more serious dental health issues in their patients, such as untreated cavities and gum disease. According to the BLS, there is a growing need for dental hygienists who specialize in working with this age group.
Periodontal Dental Hygienists

Periodontology is a specialization within dentistry. Periodontists treat diseases in the gum tissue and supporting bone, and their work may involve surgery. Dental hygienists who want to work in periodontics require additional coursework in the diagnosis and treatment of gum disease, as well as surgical procedures and patient education.
Orthodontic Dental Hygienists

Another specialty area within dentistry, orthodontics refers to the diagnosis and correction of misaligned or poorly positioned teeth and jaws. The most common form of treatment is braces, but orthodontists use many other methods as well. Orthodontic dental hygienists require special training in all of these treatment methods, and are often tasked with teaching patients about at-home oral care.
Dental Therapists

Some states allow dental hygienists to perform some of the more advanced procedures ordinarily performed by dentists, in which case they are called dental therapists. After extensive training, dental therapists are legally allowed to perform such procedures as fitting a bridge or crown, but are not allowed to perform more involved procedures that would entail cutting into tissue. In states where dental therapists are legally recognized, their actions are strictly governed by guidelines, and they always work under the supervision of a dentist. The median salary range for dental therapists is similar to the median annual wage for dental hygienists.
---
What Certifications are Available for Dental Hygienists?
Dental hygienists must earn either an associate degree from a two-year program or a bachelor's degree from a four-year program and obtain state licensure to practice. However, students who are eager to enter the dental field more quickly can earn a dental assistant certificate or diploma in less than one year or a dental laboratory technician certificate or associate degree in two years.
To enhance their professional status, some assistants, technicians, and hygienists may want to seek certification in addition to earning a degree, certificate, or diploma from a dental program. To earn certification, program graduates must pass a certification exam, which allows them to demonstrate a high level of skill and knowledge. The following are examples of certifications available to dental care professionals:
A certified dental technician often works in a dental laboratory, producing such dental specialty items as crowns, bridges, implants, and dentures. The examination is administered by the National Board for Certification in Dental Laboratory Technology.
Many states require dental assistants or dental hygienists to complete the Radiation Health and Safety examination prior to operating x-ray technology and performing radiology procedures.
Certified orthodontic assistants are dental hygienists who work with orthodontists to diagnose and treat teeth and jaw issues, such as overcrowded teeth, crossbites, and overbites. This certification exam is administered by the Dental Assisting National Board.
---
Is an Online Dental Hygiene Degree Worth It?
Determining the value of a bachelor's degree in dental hygiene depends on a number of factors. Students can enter this growing field and earn good salaries with only an associate degree, but the ADA states that a baccalaureate degree in dental hygiene opens doors to additional career opportunities. A four-year degree may be required to practice in school or public health programs, and is definitely a requirement to enter a master's program in preparation for a career in research or academia.
Prospective students also need to weigh the pros and cons of earning a dental hygiene degree online. Distance learning allows students to enroll in the best online dental hygiene program to suit their academic interests and financial needs without having to move to a new location to attend school. Online degrees are sometimes less expensive, and the format enables students to fit their class time and coursework around employment and family commitments. Also, because online programs are dental hygiene degree completion programs, they do not require any clinical practice, so students do not have to find appropriate facilities for hands-on training. However, some students find it challenging to connect with peers and faculty in online discussion forums, which can cause feelings of isolation.
Online dental hygiene degree completion programs do not require any clinical practice, so students do not have to find appropriate facilities for hands-on training.
In the end, students must decide for themselves whether the time, money, and effort they will invest is worth the benefits they expect to get from earning an online degree. The decision must be made in the context of personal circumstances, preferences, and goals.
This website offers school details to prospective students as an informational resource. The appearance of a school listing on this website should not be interpreted as an endorsement of the school by this site.
Related Articles
2022 Best Online Colleges in the U.S.
Earning an online bachelor's degree can vastly expand your career options and earning power. We've ranked the best colleges by alumni salaries.
Dental Hygienist Education Requirements
There are many paths to becoming a dental hygienist, including an associate degree, clinical training, and/or a bachelor's or master's in a related discipline.