2020 Best Online Bachelor's in Dental Hygienist Schools & Programs
Dental hygienists work alongside dentists to provide oral health care. They interact closely with patients, performing routine dental cleanings, taking x-rays, and documenting dental records and treatment plans. Most commonly, dental hygienists work in dental offices, but they may also find jobs in hospitals, nursing homes, community organizations, and research facilities.
Dental hygienists need to be licensed in order to work. After earning an associate degree and receiving licensure, some dental hygienists may choose to pursue a bachelor's or master's degree in dental hygiene in order to qualify for higher-level specializations, leadership positions, or teaching opportunities that increase their earning potential.
2020 Best Online Colleges Offering Bachelor's in Dental Hygiene Degrees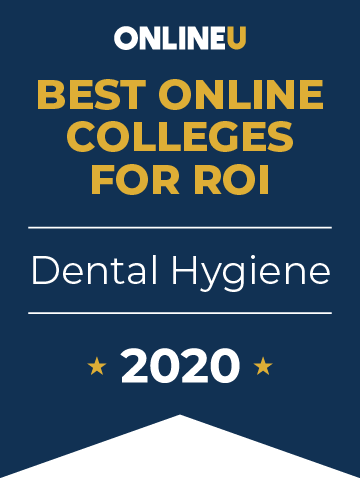 The 23 online colleges on this list are the best value options for online bachelor's degrees in dental hygiene, based on their tuition and alumni-reported salaries. Oregon Institute of Technology is ranked #1, offering a Bachelor of Science in Dental Hygiene (Degree Completion) for $12,593 per year. Graduates of the school reported a median salary of $98,562. In the #2 spot, Ohio State University-Main Campus offers a Bachelor of Science in Dental Hygiene for only $9,168 per year, making it an affordable choice for distance learners who are looking for a high quality and affordable education.
Alumni salaries were provided by PayScale. View our methodology for more details or learn more about OnlineU.
| Rank | School | Annual Tuition | Mid-Career Salary |
| --- | --- | --- | --- |
| # 1 | Oregon Institute of Technology | $12,593 | $98,562 |
| # 2 | Ohio State University-Main Campus | $9,168 | $80,985 |
| # 3 | Minnesota State University at Mankato | $8,481 | $79,609 |
| # 4 | Southern Illinois University - Carbondale | $9,637 | $76,311 |
| # 5 | The University of Texas Health Science Center at San Antonio | $8,000 | $75,300 |
| # 6 | University of New Mexico | $11,515 | $76,548 |
| # 7 | Utah Valley University | $15,872 | $77,358 |
| # 8 | University of South Dakota | $10,537 | $74,305 |
| # 9 | Vermont Technical College | $17,880 | $75,500 |
| # 10 | University of Michigan - Ann Arbor | $40,710 | $84,145 |
| # 11 | University of Bridgeport | $16,650 | $74,466 |
| # 12 | Wichita State University | $7,155 | $69,913 |
| # 13 | Clayton State University | $5,490 | $68,229 |
| # 14 | Augusta University | $9,270 | $69,107 |
| # 15 | Old Dominion University | $12,210 | $69,915 |
| # 16 | Farmingdale State College | $16,980 | $71,321 |
| # 17 | Western Kentucky University | $16,740 | $70,353 |
| # 18 | Ferris State University | $13,361 | $67,981 |
| # 19 | Missouri Southern State University | $9,172 | $64,612 |
| # 20 | Eastern Washington University | $24,073 | $69,028 |
| # 21 | University of Louisiana-Monroe | $12,000 | $63,624 |
| # 22 | St. Petersburg College | $12,773 | $62,412 |
| # 23 | Pennsylvania College of Technology | $15,159 | $59,954 |
Salary data provided by

2020 Online Colleges Offering Dental Hygiene Degrees - Ranking Details
What can you do with a dental hygiene degree?
Dental hygienists in a clinical role are responsible for assessing, diagnosing, implementing, and evaluating documented treatment plans for their patients. Although most dental hygienists work in private dental practices, they may also find positions available in community clinics, hospitals, schools, and prisons. Some dental hygienists choose to cater to the needs of those who normally can't afford dental care, perhaps through community clinics or social service programs. Although there are full-time positions available, many dental hygienists work part time. Because some dentists hire hygienists to work only a few days a week, some hygienists work for more than one dentist.
In some states, dental hygienists are allowed to advance to the position of dental therapist, in which they are allowed to perform some of the more advanced procedures ordinarily performed by dentists, such as fitting a bridge or crown. Work as a dental therapist requires additional training, is subject to strict state limitations, and is typically performed under the supervision of a dentist.
A number of other career paths are open to graduates with degrees in dental hygiene. For example, companies that support the oral health industry often hire experienced dental hygienists to work as corporate sales representatives, product researchers, corporate educators, or corporate administrators. Dental hygiene professionals with an interest in industry trends and developments may pursue careers in research conducted through colleges and universities, corporations, governmental agencies, and nonprofit organizations. Research may be either qualitative or quantitative. And finally, advanced dental hygienists may opt for careers as educators, which are in high demand in the U.S.
For more detailed information regarding salary and related careers, jump to our frequently asked questions section.
What is the importance of an accreditated online dental hygiene degree?
One thing that students should keep in mind when choosing any program, but particularly a degree program in dental hygiene, is whether the school is accredited. There are regional, national, and programmatic accreditations. Regional accreditation is given to nonprofit, degree-granting schools by an independent, regionally-based agency that has evaluated the school to make sure it meets certain educational standards. Regional accreditation is important for a variety of reasons, including the ease of transferring credits between institutions, the ability to use federal financial aid, and the assurance that future employers will recognize the diploma as valid. National accreditation is typically granted to non degree granting institutions such as technical schools. Programmatic accreditation is when an organization that specializes in a certain field accredits programs within that field.
For those students interested in pursuing further education and licensure in dental hygiene, a degree from an accredited program is frequently required. The Commission on Dental Accreditation (CODA) serves to regulate and promote quality standards among dental education programs, so CODA accreditation ensures that students receive an education that aligns with dental industry standards.
Online Dental Hygiene Degree Overview & Career Information
Online dental hygienist programs are available in the form of bachelor's degrees and master's degrees. Bachelor's degrees are typically aimed at those who have earned an associate degree in dental hygiene and who want to gain more skills to advance their career. Master's degrees are available for those who already work in the field and who want to go into education or other leadership roles. There are also master's programs in dental hygiene for those who have a bachelor's in another healthcare discipline or related field but who have no dental hygiene training and who want to start their dental hygiene career.
Online Bachelor's Degrees in Dental Hygiene
Online bachelor's degrees in dental hygiene are typically available to those who have already completed an associate degree in dental hygiene and who want to gain more experience and possibly move up into more advanced positions within the field, such as management roles.
Program Requirements
A dental hygiene bachelor's program can be found at colleges and universities and typically takes two years to complete, as students begin the program with an associate degree already completed. Admission to a dental hygiene bachelor's program will require an associate degree in dental hygiene and a dental hygienist's license. Tuition will run anywhere from under $11,000 a year to over $22,000 a year.
Curriculum
Classes that students enrolled in one of these programs will take include Contemporary Issues in Dental Hygiene, Community Health and Epidemiology, Dental Hygiene Educational Concepts, Pain Management, Community and Rural Dental Health, and Geriatric Dental Hygiene. Upon completing one of these programs, graduates will be able to work in a variety of locations like hospitals, nursing homes, and dental clinics, as well as in dental hygiene education, and they will be prepared to take on additional responsibilities in their jobs.
Is licensure required to become a dental hygienist?
While requirements vary, all dental hygienists need to be licensed in order to work. The first requirement that all states share is that aspiring dental hygienists must earn their training through an accredited dental hygiene program. Dental hygienists also need to pass the National Board Dental Hygiene Examination and their state's specific board examination. Other potential requirements may include CPR certification, letters of recommendation, and a background check. Licensure is the strongest form of regulation, guiding the work of all healthcare professionals, including dentists, nurses, and dietitians, as well as dental hygienists.
What certifications are available for dental hygienists?
Students earning degrees in dental hygiene may benefit from achieving certification in specific professional areas. These certifications can lead to career advancement as they indicate proficiency in particular skill sets, which make the recipients more desirable candidates for certain positions. The following are examples of certifications available to dental hygienists:
Certified Dental Laboratory Technician: A certified dental technician often works in a dental laboratory, producing such dental specialty items as orthodontics, ceramics, crowns, bridges, implants, and dentures. The ability to produce these unique items requires specialized training, and certification demonstrates competency and knowledge in these skills.
Certified Dental Radiologist: Students who receive a certificate in dental radiology are uniquely prepared to operate x-ray equipment and radiology procedures. Most states require dental assistants or dental hygienists to complete this certification prior to operating x-ray technology.
Certified Orthodontic Assistant: Certified orthodontic assistants are dental hygienists who work with orthodontists to diagnose and treat teeth and jaw issues, such as overcrowded teeth, crossbites, and overbites. Certification generally requires special training in orthodontic procedures and infection control.
What can dental hygienists specialize in?
Pediatric dental hygienists: Like all dental hygienists, pediatric dental hygienists must have the same skills in performing routine dental cleanings, taking x-rays, and documenting dental records and treatment plans. They are also responsible for teaching children about effective oral hygiene techniques and good healthcare habits. Pediatric dental hygienists must have a special sensitivity to children, and must understand the importance of patience in dealing with young patients, who can be challenging to work with and may be fearful of dental treatment.
Geriatric dental hygienists: Dental hygienists who specialize in working with elderly patients may work in dental practices or may find themselves working in nursing homes and other healthcare facilities for seniors. Geriatric dental hygienists will be asked to perform the same types of cleaning treatments and other routine procedures as all dental hygienists, but are more likely to encounter more serious oral health issues in their patients, such as untreated cavities and gum disease. Unlike earlier generations who were more likely to opt for dentures, today's seniors are trying to retain their natural teeth as much as possible, which means there is a growing need for dental hygienists who specialize in working with this age group.
Dental therapists: Some states allow dental hygienists to perform some of the more advanced procedures ordinarily performed by dentists, in which case they are called dental therapists. After extensive training, dental therapists are legally allowed to perform such procedures as fitting a bridge or crown, but are never allowed to perform more involved procedures that would entail cutting into tissue. In states where dental therapists are legal, their actions are strictly governed by guidelines and limitations, and they always work under the direct or indirect supervision of a dentist.
Frequently Asked Questions
How long does it take to become a dental hygienist online?
Online dental hygienist degrees take an average of 2-6 years to complete depending on which degree the student is pursuing. Many of the online bachelor's and master's degrees in dental hygiene require that a student is already a licensed dental hygienist. This means they've likely completed an associate degree in the field, or completed an accredited dental hygiene program.
What is the difference between a dental assistant and a dental hygienist?
Although there is some overlap in the job duties of dental hygienists and dental assistants within a dentist's office, the requirements and salaries are quite different.
Like dental hygienists, dental assistants spend much of their day working closely with patients and dentists. Dental assistants are often charged with preparing patients for treatment by reviewing their medical history, taking their blood pressure and pulse, and talking to patients about oral care. During a procedure, they help dentists by passing instruments and holding equipment. Other tasks may include preparing the treatment room, making sure that instruments and equipment are sterile, maintaining patient records, scheduling appointments, and handling billing. Dental assistants do not need formal training, so they are frequently trained on the job. However, some states require dental assistants to complete a formal training program and receive a diploma or certificate.
By contrast, dental hygienists perform the cleaning, polishing, stain removal, and fluoride application in dental cleanings, and they are generally responsible for taking and developing x-rays. Like dental assistants, dental hygienists also contribute to documenting and maintaining each patient's records. Dental hygienists must be prepared with an associate degree and must also obtain licensure in order to be offered a position as a hygienist.
How much do dental assistants and dental hygienists make?
Due in part to the differences in education, skill sets, and specialized knowledge required, dental assistants typically make less money than dental hygienists. According to the BLS, the salary range for dental assistants is approximately $27,980 to $56,930, while the salary range for dental hygienists is approximately $53,130 to $103,340 as of May 2019.
Is it harder to become an RN or a dental hygienist? Is working as an RN or dental hygienist more difficult?
Deciding which career to pursue is a personal preference. An RN and dental hygienist both have degree level options. Both can enter the field after earning an associate degree, and both benefit from a higher level of education. Neither field is more difficult. For some, a fast-paced work environment may be more appealing, while others may enjoy a slower setting. The key is to research what interests you and fits your lifestyle, and what programs are available and accessible to you.
How can I further my career as a dental hygienist?
Professionals in the field of dental hygiene may want to continue their education and enhance their career paths by joining one of these organizations:
The American Dental Hygienists' Association (ADHA) is the largest national organization representing the professional interests of more than 185,000 registered dental hygienists (RDHs) across the country. The ADHA is dedicated to supporting dental hygienists in their careers and providing the latest training and information. Members receive current industry news and research through two publications, Access Magazine and the Journal of Dental Hygiene. The ADHA also offers hundreds of continuing education courses and professional events, and members who wish to continue their education are eligible for dozens of scholarships and grants.
The National Dental Hygienists Association (NDHA) is the largest and oldest organization of minority dental hygienists in the world. NDHA members enjoy access to professional development assistance and mentoring, gain exposure to an international network of fellow professionals, and are invited to participate in annual events and informative programs. Scholarships are available to those members who want to pursue additional educational opportunities.
This website offers school details to prospective students as an informational resource. The appearance of a school listing on this website should not be interpreted as an endorsement of the school by this site.