2020 Best Online Bachelor's in Cybersecurity Degrees & Courses
Learn about career options in cybersecurity, or peruse the 25 best schools, ranked based on tuition costs and salaries of alumni reported by PayScale. Students interested in pursuing cybersecurity degrees should ensure their degrees are accredited.
2020 Best Online Colleges Offering Bachelor's in Cybersecurity Degrees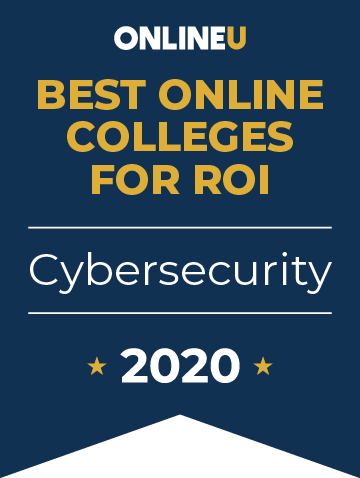 With low tuition rates and high average alumni salaries, the following 25 schools offer the best online bachelor's in cybersecurity degrees. Graduates of the #1 school, George Mason University, report earning a median salary of $103,200. Ranked #2, Thomas Edison State University offers distance learners a Bachelor of Science in Cybersecurity for $9,856 per year. Alumni reported a mid-career salary of $88,000.
Alumni salaries were provided by PayScale. View our methodology for more details or learn more about OnlineU.
Rank
School

Annual Tuition

Mid-Career Salary

#

1

George Mason University

$12,375

$103,200
#

2

Thomas Edison State University

$9,856

$88,000
#

3

Mercy College

$18,934

$90,400
#

4

Southern Illinois University - Carbondale

$9,637

$84,000
#

5

Excelsior College

$11,400

$84,300
#

6

Norwich University

$11,250

$80,700
#

7

University of North Dakota

$11,970

$77,800
#

8

Utica College

$14,250

$77,800
#

9

University of Maryland Global Campus

$14,970

$77,200
#

10

Central Washington University

$21,673

$76,600
#

11

Northeastern University

$16,230

$69,300
#

12

The Sage Colleges

$17,700

$69,800
#

13

Saint Leo University Online

$11,100

$65,600
#

14

National University

$17,020

$66,500
#

15

Wayland Baptist University

$12,834

$64,800
#

16

Saint Louis University-Main Campus

$19,500

$67,200
#

17

Campbell University

$13,950

$63,800
#

18

Kennesaw State University

$6,386

$58,900
#

19

Liberty University

$12,090

$59,000
#

20

Old Dominion University

$12,210

$54,500
#

21

University of Nebraska at Omaha

$15,600

$55,200
#

22

Bellevue University

$12,750

$54,000
#

23

University of Cincinnati

$10,942

$51,900
#

24

The University of Texas at San Antonio

$13,500

$51,500
#

25

Indiana State University

$11,656

$48,800
Salary data provided by

2020 Online Colleges Offering Cybersecurity Degrees - Ranking Details
Online Cybersecurity Degree Overview & Career Information
Online cybersecurity degrees may open the doors to a plethora of career options for those interested in the field. A two-year associate degree in cybersecurity will prepare graduates for entry-level positions such as security specialist and applications security specialist. Holding an associate degree is also a base for pursuing industry certifications.
Those who wish to continue in their cybersecurity studies have many options above an associate degree, including bachelor's, master's, and doctoral options. Bachelor's degrees typically require four years and 120-credits to complete. Students will gain skills in computer forensics, vulnerability assessment, software assurance, and security compliance. These skills are necessary to obtain a career working as a security software engineer, computer forensics analyst, information security analyst, or an information systems security administrator.
A master's degree will allow graduates to apply for senior-level positions such as security application programmers, penetration testers, security architects, and vulnerability analysts. Studies take two years on average and include a focus on biometrics, cryptology, and digital forensics. Completing a three-year doctoral program will advance graduates' knowledge in reverse engineering, data collection, malicious code analysis, and wireless security. This type of degree will prepare industry professionals for roles in the military, government agencies, intelligence, and law enforcement.
Lastly, undergraduate and graduate certificate programs are available and take between two and three years to complete. These programs are specifically designed for working industry professionals who would like to further their education on a part-time basis in order to receive promotions or higher pay.
Online Bachelor's Degrees in Cybersecurity
Students enrolled in cybersecurity bachelor's degree programs will gain industry relevant knowledge and skills in computer forensics, security compliance, software assurance, and vulnerability assessment. Graduates may go on to jobs as security software engineers, information security analysts, information systems security administrators, and security policy analysts.
Bachelor's programs take four years to complete and are comprised of 120 credit hours. Core courses include Introduction to Computer Security, Computer Forensics I & II, Security Compliance, Security Risk Management, Security Capstone, Software Assurance, and Scripting with Perl. Within the program, students also have the option to learn about specific topics such as ethical hacking, cryptology, and artificial intelligence. Students will also prepare to sit for CompTIA and Network+ certification exams.
The Importance of Accreditation
Accreditation is the process used to evaluate higher education institutions on their quality, standards, and efforts towards continuous improvement. These evaluations are conducted by private, non-profit organizations centered on conducting external quality reviews. There are six different regional accrediting organizations operating in the U.S. where they evaluate two-year and four-year schools within their regions. Accreditation comes into play when students are interested in transferring their credits to another institution or apply for graduate programs later on. It is also important to keep in mind that federal financial aid programs are only available to institutions that have been accredited by federally recognized agencies.
The National Security Agency (NSA) and the Department of Homeland Security (DHS) jointly sponsor the National Centers of Academic Excellence (CA) program. By promoting higher education in cyber defense and producing professional experts in cyber defense, the program aims to reduce vulnerability in the US national information infrastructure. CA is the major accrediting source for cybersecurity programs and centers on demonstration of outreach and collaboration, student development, cyber defense faculty, and cyber defense multidisciplinary efforts. Accreditation is important within the cybersecurity industry because, for many employers, having a degree from an accredited school can be a hiring criterion.
Careers in Cybersecurity
For aspiring industry professionals, a cybersecurity degree will present opportunities for a variety of careers. Two key job titles include cybersecurity specialist and cybersecurity architect. Cybersecurity specialists work with both public and private organizations to build and maintain a high level of security for their computer information systems. They identify complex issues that may arise with sensitive data and work to keep business running as usual. They will build firewalls, monitor data files, and regulate access to safeguard information to mitigate the risk of cyber crime.
Cybersecurity architects build and oversee the implementation of network security for an organization. Responsibilities include designing and maintaining corporate security procedures, performing vulnerability testing and security assessments, preparing cost estimates, and upgrading system security as needed. Security architects will also be in charge of a programing team and will oversee their work and progression. Employers of cybersecurity architects tend to look for applicants with advanced certifications gained from accredited programs. Some key certifications include CISSP: Certified Information Systems Security Professional, CISM: Certified Information Security Manager, CEH: Certified Ethical Hacker, and CSSA: Certified SCADA Security Architect.
This website offers school details to prospective students as an informational resource. The appearance of a school listing on this website should not be interpreted as an endorsement of the school by this site.