Best Online Bachelor's in Criminology Degrees
Online criminology degrees are available at a variety of degree levels. Students can pursue online associate, bachelor's, master's, doctoral, or certificate degrees in criminology. We provide a list of the best online colleges for criminology degrees based on affordability and alumni salaries provided by PayScale.
Accreditation is an important factor to take into account when selecting an online criminology degree. There is no predominant accrediting agency for criminology programs. Therefore, students should prioritize regional accreditation when pursuing online degrees. This will help to ensure the quality of the education as well as the students' eligibility for federal financial aid.
2020 Best Online Colleges Offering Bachelor's in Criminology Degrees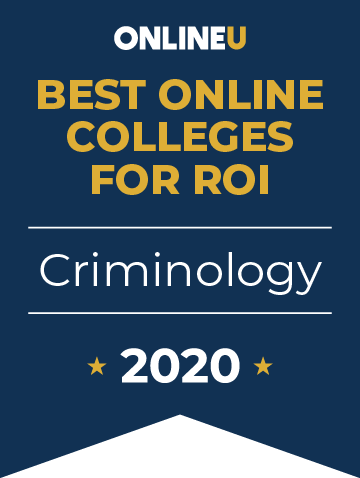 The following 22 schools offer the best online bachelor's in criminology degrees, based on their low tuition rates and high mid-career salary potentials. Missouri State University is ranked #1, offering a Bachelor of Science in Criminology and Criminal Justice for $8,850 per year. Graduates of the school reported a median salary of $126,200. Washington State University, ranked #2, offers an annual tuition of only $11,550 and has a reported alumni salary of $95,000.
Alumni salaries were provided by PayScale. View our methodology for more details or learn more about OnlineU.
| Rank | School | Annual Tuition | Mid-Career Salary |
| --- | --- | --- | --- |
| # 1 | Missouri State University | $8,850 | $126,200 |
| # 2 | Washington State University | $11,550 | $95,000 |
| # 3 | Chaminade University of Honolulu | $16,500 | $96,000 |
| # 4 | University of Florida | $15,000 | $80,300 |
| # 5 | Florida State University | $20,581 | $77,400 |
| # 6 | University of Colorado Denver | $15,270 | $75,000 |
| # 7 | University of Alabama | $11,250 | $68,100 |
| # 8 | University of Missouri at Saint Louis | $31,164 | $71,900 |
| # 9 | University of North Carolina at Wilmington | $18,758 | $66,700 |
| # 10 | Indiana State University | $11,656 | $62,800 |
| # 11 | Portland State University | $13,524 | $63,300 |
| # 12 | Ball State University | $15,034 | $60,600 |
| # 13 | Loyola University New Orleans | $13,500 | $57,900 |
| # 14 | The University of Texas at Arlington | $23,703 | $61,600 |
| # 15 | University of South Florida Online | $13,547 | $56,500 |
| # 16 | University of Nebraska at Omaha | $15,600 | $55,200 |
| # 17 | University of Mount Olive | $14,560 | $54,200 |
| # 18 | Southern Illinois University - Carbondale | $9,637 | $52,100 |
| # 19 | Columbia College | $11,250 | $51,900 |
| # 20 | University of Memphis | $15,390 | $53,100 |
| # 21 | University of West Georgia | $5,463 | $41,300 |
| # 22 | Tiffin University | $14,260 | $40,300 |
Salary data provided by

2020 Online Colleges Offering Criminology Degrees - Ranking Details
Overview of Online Criminology
Online criminology degrees are available at the associate, bachelor's, master's, doctoral, and certificate levels. Earning an online associate degree will take students approximately two years to complete, after which they can then apply for some entry-level positions or move on to further their education by seeking a bachelor's degree. A bachelor's degree is usually the minimum amount of education required by most employers. This level of degree can be completed in four years of study. Graduate degrees are also available in the field of criminology. Individuals can graduate with their master's degree in just two years. Upon graduation they will be prepared to hold senior positions. Seeking a doctorate degree is the best route for professionals who wish to teach criminology at the college level, and will typically take students five to seven years to complete. Lastly, there are also certificate programs for those who don't want or need to commit to earning a full degree. This will open the doors for entry-level positions in criminology. It is also a way for already working professionals to seek further knowledge in the industry. Certificate degrees can be earned in a year or less.
Online Bachelor's Degrees in Criminology
Individuals who seek an online bachelor's degree in criminology may find work in a variety of careers, including as a detective, police officer, caseworker, crime intelligence analyst, and corrections officer. An online bachelor's degree can be completed in four years and typically consists of 120 credit hours. Courses that students will take include criminal law, abnormal psychology, introduction to corrections, sociology of crime and violence, research methods for criminal justice, legal traditions, and data analysis in criminal justice. Some programs also offer internship opportunities for interested students. Applicants who are applying for a bachelor's program as a first time student will need to present their high school transcripts or GED certificates. Individuals interested in pursuing their bachelor's degrees online can find programs at various universities and colleges around the country.
The Importance of an Accredited Online Criminology Degree
Accreditation is an important aspect of postsecondary education, and students should take the accreditation status of the school they wish to attend into consideration. If a school is regionally accredited, it means that an independent, outside organization has evaluated the school and determined that it meets certain quality standards in the areas of academics, teacher quality, and more. Attending an accredited institution gives students the confidence that they are receiving an education that is going to adequately prepare them for their future career upon graduation. Accreditation also plays a role in the hiring process, as many employers prefer to hire candidates who have accredited educational backgrounds. Also, most colleges and universities will only accept transfer credits from other accredited schools. Thus, students who may transfer their credits or attend graduate school in the future will need to consider this. Lastly, students who are in need of federal financial assistance will not have the option of attending a non-accredited program because only accredited institutions have access to federal aid.
Careers in Criminology
There are several different career options within the field of criminology. One career choice for individuals with online criminology degrees is to work as a criminologist. Criminologists research crimes, study criminals, and try to figure out reasons why people commit crimes and how to prevent them in the future. They also work on trying to come up with ways to rehabilitate criminals back into society. On a daily basis a criminologist will conduct research and draw up reports that will aid in analyzing research. Individuals who are interested in this career path should pursue a bachelor's degree in order to adequately prepare themselves for the position. A master's degree can help them advance in their career.
There are other career options available to those with an online degree in criminology as well. They may also find jobs in social work, as correctional officers, in teaching, or in research. Individuals who wish to teach at the university level or conduct independent research may need to earn a master's or doctoral degree. Jobs can also be found as a police officer, medical examiner, FBI agent, or other law enforcement official. Another area prospective criminologists might find interesting is forensic criminology, which involves using scientific methods and principles and applying them to the study of crimes, criminals, and the criminal justice system as a whole.
This website offers school details to prospective students as an informational resource. The appearance of a school listing on this website should not be interpreted as an endorsement of the school by this site.
Related Articles
2022 Best Online Criminal Justice Degree Programs
Discover top online criminal justice degrees ranked by alumni salaries to find the best program to kickstart your career.
Online Forensic Science Degrees
Online forensic science degrees are offered at a variety of popular schools across the country. Learn more about careers, classes, and degree specializations.