2020 Best Online Criminal Justice Degrees
Earning a degree in criminal justice can open a multitude of doors. While many criminal justice majors find rewarding careers in law enforcement and corrections, others pursue opportunities working with people who have previously been incarcerated, or pursuing careers in politics and advocacy. Police and sheriff patrol officers earn an average of $63,000 a year, while probation officers and correctional treatment specialists earn $54,000 per year. Those passionate about criminal justice reform may find a career in policy advocacy or the nonprofit sector rewarding. Below is our ranked list of the best schools offering online bachelor's degrees in criminal justice. Continue reading for more information about popular degrees and accreditation in criminal justice.
2020 Best Online Colleges Offering Bachelor's in Criminal Justice Degrees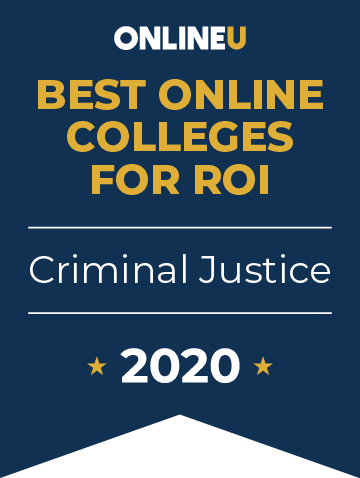 The 25 best value online bachelor's degrees in criminal justice degrees can be found at these colleges and universities. Missouri State University is the #1 school, with an average alumni salary of $126,200 and charging only $8,850 for their Bachelor of Science in Criminology and Criminal Justice. At #15, University of Alaska Fairbanks has the least expensive tuition on the list, charging only $8,070 per year for its Bachelor of Arts in Justice.
Alumni salaries were provided by PayScale. View our methodology for more details or learn more about OnlineU.
Salary data provided by

2020 Online Colleges Offering Criminal Justice Degrees - Ranking Details
Online Criminal Justice Degree Overview & Career Information
Undergraduate students enrolled in an online criminal justice degree are introduced to the three arms of criminal justice in the United States: the courts, the correctional system, and law enforcement. Students in criminal justice certificate, associate, and bachelor's degree programs also commonly learn about police procedures and the techniques for collecting evidence at a crime scene. Classes in criminology and human behavior provide a background in the psychology of crime. Students in the online bachelor's degree typically take a greater number of general education topics in areas like communication, humanities, English, and math.
Criminal justice graduate certificates and master's degrees can provide a brief overview of general justice topics or a survey of a specialized justice area. Some possible specializations include law enforcement, administration, and corrections. These programs can be useful for current criminal justice professionals who would like to enter administrative or supervisory roles. Some master's programs require a thesis or a capstone project in the student's criminal justice area.
Online doctoral degrees in criminal justice require an in-depth research project into a particular aspect of criminal justice and the completion of a dissertation. Students take a core of classes in quantitative and qualitative analysis, research skills, and criminal justice topics. These intense programs are suited to individuals that are interested in teaching criminal justice at the postsecondary level, doing advanced research, or holding high-level criminal justice positions in settings such as federal agencies.
Online Associate Degrees in Criminal Justice
If you have an investigative mind and enjoy helping people, an associate degree in criminal justice might be a good option for you. The two-year degree program is offered at various online institutions, as well as community colleges, junior colleges, and vocational-technical schools. Most programs require students to fulfill about 60 credit hours. The standard educational requirements vary, but most schools deem it mandatory for applicants to have a high school diploma or equivalent.
The associate degree program in criminal justice helps students build problem-solving skills and address a variety of societal issues. Students are given basic information about police laws, investigative policies, and a number of research techniques that will benefit them in their potential careers. Common courses include juvenile delinquency, corrections, constitutional law, criminal investigations, criminology, and police systems and practices.
Career choices are abundant among associate degree holders in criminal justice. Graduates are often qualified to become correctional officers, criminal investigators, law clerks, police officers, security personnel, detectives, or probation officers. Those who eventually want to be promoted in their careers or who want to join the FBI are encouraged to seek a bachelor's, master's or doctoral degree in the field.
Online Bachelor's Degrees in Criminal Justice
Criminal justice degrees often lead people toward careers in law and order. Applicants to a bachelor's degree program in criminal justice must possess a high school diploma or its equivalent and meet other college entrance requirements. Students typically take four years to complete the 128-180 credits required to earn a bachelor's degree.
The bachelor's-level criminal justice curriculum will feature both broad and focused topics in the field. Students may take various specific course paths depending on the career they are pursuing. Specializations include white collar crime, family law, crime scene investigation, and more. Students typically take general courses in ethics, research methods, legal studies, crime and diversity, administration of justice, sociology, and government and politics. More focused courses may also be available, such as psychology of policing, comparative criminal justice systems, terrorism, criminal profiling, philosophy of law, intercultural communications, gender and nation, and history of law and economics.
There are many types of jobs available in the field of criminal justice. Graduates often become probation officers or correctional treatment specialists for detention facilities. Some become police officers, but these jobs require special criminal justice schooling in addition to a college degree. Others continue their education and earn master's degrees in criminal justice to become qualified to work as detectives or seek employment with the FBI or CIA.
Online Master's Degrees in Criminal Justice
Online criminal justice master's degrees prepare students to act as effective agents of change in the criminal justice system. Students gain the expertise essential for middle- to top-level positions in the criminal justice system. Applicants should hold a bachelor's degree in criminology or a related field in the social sciences. Master's programs require completion of 36-40 credits, which takes two years. To learn more about online master's programs in criminal justice, see our master's overview which includes a list of the best programs.
Online Doctoral Degrees in Criminal Justice
The online doctoral degree program in criminal justice is a research and theory based degree, designed to provide students with an advanced understanding of a specific justice area and the skills of independent inquiry. These intensive degree programs typically take three to five years to complete. Students are expected to take between six and 10 advanced courses and spend several years pursuing the dissertation project. Applicants need a bachelor's degree or master's degree with a high GPA and demonstrated interest in criminal justice.
The coursework in the criminal justice doctorate explores the structure and function of the courts, law enforcement, and corrections systems. Students take advanced classes and graduate seminars during the first one to two years of the program, which look at criminology, drug abuse, justice administration, race and ethnicity in criminal justice, and more. Other pertinent courses discuss research methods and statistics used in criminal justice research. Students then embark on a research project with the intent to develop new knowledge on justice theory or practices. This project becomes the basis of the dissertation. Some programs require a comprehensive examination either after the initial year of courses or prior to graduation.
The doctorate in criminal justice can be good preparation for an academic career at a college or university, or for a role in justice administration or policy. Most faculty positions require a doctoral degree, putting graduates in the best possible position to land a coveted assistant professor job. Students with previous professional experience in law enforcement or criminal justice could seek out administrative roles such as police chief, director of social services, or emergency response administrator. Others go on to work in state or federal government agencies as experts on criminal behavior or policy.
Online Certificates in Criminal Justice
The online certificate in criminal justice can provide an overview of the three branches of criminal justice in the United States or a specialized understanding of a particular aspect of the justice system. These certificates are more commonly offered at the graduate level and can be appropriate for those with a bachelor's degree looking to enter the justice system or for seasoned professionals. Criminal justice certificates are available through a variety of colleges and universities and require three to 10 courses. Most can be completed in a year or less.
The curriculum in the criminal justice certificate depends largely on the program's focus. Broad programs aimed at those new to the field are more likely to provide a survey of various topics. Students take courses in the history of the criminal justice system, law enforcement procedures, corrections, criminology, and justice processes. Other certificates focus on a particular justice area such as homeland security, administration, intelligence, or information assurance. Some programs offer for-credit certificates, making the program a good introduction to graduate-level study for individuals considering the master's degree.
The certificate in criminal justice can be used to seek out entry-level roles in criminal justice or to cement one's specialization in a particular justice area. Those new to the field could use the certificate to enter careers in probation, corrections, non-licensed social work, or administration. Current administrators can use the certificate to support advancement to supervisory positions in various criminal justice branches, such as law enforcement or intelligence.
Accreditation for Online Criminal Justice Degrees
Accreditation is an important characteristic of any online criminal justice degree program. It is granted to schools and degree programs that meet high academic standards, and it can help ensure that students are provided a valuable education. Because schools must renew their accreditation every few years, the schools and programs are periodically re-evaluated, ensuring that schools stay on top of all curricular and service requirements.
Institutional accreditation is bestowed by national and regional accrediting bodies and applies to all the academic programs within a school. Programmatic accreditation is granted by trade-oriented accrediting agencies and applies to a specific degree program within a larger institution. Both types of accrediting agencies should be recognized by the US Department of Education or the Council for Higher Education Accreditation. Legitimate institutional accreditation is important for students that want to apply federal financial aid funds to their tuition or transfer their earned credits to other accredited schools; it is also desirable to most employers.
While there is not currently a USDE- or CHEA-recognized programmatic accrediting agency for criminal justice programs, the Academy of Criminal Justice Sciences does provide what it considers 'certification' for degree programs that it considers worthy. The ACJS bases its certification standards on several of the same standards as recognized accrediting agencies, such as curricula, faculty, student services, and program quality.
Online Criminal Justice Classes
The courses required during your criminal justice degree program will depend on your educational path, career goals, and the school you choose to attend. However, there are some foundational topics that are typically part of every program. Here are some examples of the general criminal justice courses you may encounter:
Alternatives to Incarceration: Not every crime is punished through time in jail. Some crimes require probation, civil service, therapy or many other forms of punishment. Many people believe that incarcerating people isn't the most effective way to ensure they don't commit their crime again, but rather, they need to be educated or helped psychologically. This class will give an overview of these types of methods and give you an idea of how the justice system works outside of correctional facilities.
Correctional Facilities: You can expect to take a class in correctional facilities that will explore the ways in which jails and prisons work and what to expect when you're in them. You'll learn how prisoners are brought in, what the rules are, what options are available to prisoners, the differences between security levels, and much more. These classes are also aimed at teaching you the inner workings of these facilities, including staff schedules and the risks involved in working here.
Criminal Justice Systems: Be prepared to take a number of courses in criminal justice systems. Depending on where you plan on working, you'll likely take a course that describes your state's justice system as well as one that describes the US federal system. You'll learn about mandatory steps, trials, rights, and much more.
Juvenile Corrections: Because all criminal justice systems treat juvenile-age children (under 18 years old) differently than they do adults in the way of crimes and punishment, you will learn about these differences as well as ways in which these criminals must be treated. You'll also learn about juvenile correction facilities and the rights, rules, and regulations involved.
Legal Rights: As a criminal justice professional, you'll need to understand the rights that each offender has when they are being accused of committing a crime. This will be one of the most important courses you are required to take, and it should be one you use on a daily basis once you are in the workforce.
Psychology: To be successful in a criminal justice profession, you need to be able to examine why people do the things they do. Of course, these psychology courses can't prepare you for all of the crimes you will run into, but it will give you some insight into why people break rules and how to deal with them in the most effective way possible. Psychology courses will also help you to work better with colleagues and hopefully give you a sense of understanding of people in this field as well.
Safety: Almost every job in the criminal justice field involves an element of danger. These courses will teach you the best and most effective ways to protect yourself and your coworkers, as well as teach you how to respond to emergency situations. Depending on the job you take, you'll get training specific to your role in the way of safety.
Technology: Technology plays a large role in the criminal justice field, as suspects are often found through computer software and other technological means. There are also computer crimes which are emerging every day that must be treated and punished appropriately. In these courses, you'll learn about the ways in which technology is used in the criminal justice system as well as ways in which you'll use technology on the job.
Types of Crime: Although these will likely be divided into more specific categories such as white-collar crime, computer crime, terrorism, etc., you can be sure that you'll learn about the types of crime that are out there. This course can also help you decide which area of criminal justice you are most interested in pursuing as a career. These courses will help you to understand what constitutes each crime and how common or rare they are in different areas of the nation.
Popular Degrees in Criminal Justice
There are a variety of degree topics within the criminal justice category. Popular degrees include cyber security and forensic science. Other possible degrees include the following:
Online emergency/security management degrees educate students on communication strategies, security breach management, mitigation tactics and allocation of resources in case of natural or man-made disasters. The curriculum in an emergency/security management program typically involves organizational theory, emergency planning, psychology of disaster, bioterrorism, hazard risk assessment, and crisis communication.
Online homeland security programs prepare students to safeguard communities and fill positions in corporate, military and national environments throughout the country. To become a professional involved in border security, students must hold a degree in law, criminal justice or public administration, and the curriculum involves classes in national law, immigration law, statutory authority, criminal law, police training and Spanish language.
Computer Forensics
Online computer or digital forensic degrees train students to search computer data for legal evidence to help ongoing investigations. They recover encrypted and deleted data, emails and passwords. The information is then analyzed and presented in court as necessary. Presently, licensure is not mandated by any state but a certification of completion is highly regarded during the hiring process. The topics include current issues in cyber law, network security, mobile forensic security, computer ethics, database design, information systems and computer forensics.
Corrections
Online corrections degrees prepare students to work in retaining institutions enforcing the rules and regulations for people who have been arrested and are awaiting a trial or people who have been sentenced to prison. Correction officer duties also include preventing assaults, escapes, and disturbances as well as regular jail cell inspections for drugs or weapons. Correctional officers are required to have a high school diploma, as well as complete the training academy and on-the-job practice. For careers in county jails or state prisons, some college credits are required. The curriculum usually includes English and math, investigative report writing, emergency planning, personal and physical security, and psychology.
Crime Scene Investigation
Individuals with a crime scene investigations degree are prepared to pursue justice and safety in their communities and are involved in numerous crime scenarios that require evidence collection and the use of spectrometry, genetics, and chemistry. The most frequent path to become a crime scene investigator is to obtain a two-year associate degree or four-year bachelor's degree in criminal justice. The studies should be centered on crime scene investigations. A large part of the education curriculum is focused on the practice and hands-on training. Curriculum also includes upper-level math (statistics and calculus), chemistry, biology, anatomy, legal instruction and crime lab practice.
Online criminology degrees teach students about compiling data, analyzing all aspects of crime and finding methods of prevention. A criminologist works with law enforcement agencies, and their work is research driven with a focus on statistics and crime pattern identification. Typical curriculum is composed of classes on culture and crime, theories of social order, victimology, drugs and crime, psychology of criminal behavior, crime analysis, constitutional law, police and society and economics of crime, among others. In order to become a criminologist, either a bachelor's or a master's degree is required along with proper licensing in some states. All programs require completing hands-on training under the supervision of an experienced criminologist and a submission of a research thesis.
An online degree in law enforcement opens many doors for graduates who are considering a career as a police officer, a sheriff, a park ranger or a correction officer. Upon completion of a law enforcement degree, students are prepared to enter the police academy or a boot camp as mandated by the rules and regulations specific to each state. Although possible to obtain a position in the law enforcement specialty with a high school diploma in some states, individuals with a bachelor's degree are given preference and higher paying positions. Some states, such as New York, Pennsylvania and Illinois, require as many as 60 college credits before attending a police academy. A minimum of an associate degree is mandated, in addition to age and minimum fitness specifications. The curriculum encompasses courses in the introduction to criminal justice, corrections and psychology, sociology, investigative principles, criminology, modern policing, victimology, and criminal law.
Safety Studies
Online safety studies degrees cover the entire system of criminal justice, legal policies, public contexts and administration of justice. The typical curriculum includes public safety administration, public safety training and leadership, multicultural diversity, fiscal management, and organizational behavior.
Frequently Asked Questions About Criminal Justice Degrees
What is the difference between criminal justice and law enforcement?
Criminal justice refers to the broad field of crime prevention, detection, punishment, and reparations for crimes. It includes law enforcement, the court system, and jails and prisons. Law enforcement is a specific branch within the field of criminal justice and refers to officials and agencies who enforce laws, solve crimes, and detect and arrest people who violate laws and policies.
Which is better—a Bachelor of Arts or a Bachelor of Science in criminal justice?
Both degrees provide a well-rounded education and prepare students for a career in the field. Most programs offer a Bachelor of Science (BS), but some offer a Bachelor of Arts (BA) and some offer both. A BS provides extensive study in criminal justice, and may focus on topics such as criminal procedure and evidence, family law, and forensic pathology. Graduation requirements may be more heavily focused on math and science. A Bachelor of Arts includes a broader look at the topic, with classes on juvenile justice, policing communities, and victims of crimes.
What kind of jobs do criminal justice majors get?
Criminal justice majors often find employment as correctional officers, police or sheriff's patrol officers, probation officers, and security guards, among others. They may pursue a career in a specialized area, such as crime or crime scene investigation, or may look into a position as a paralegal or legal assistant, although these may require additional training. Careers in the nonprofit sector may be appealing for those who want to advocate for people who have committed crimes and for criminal justice reform. With additional education and training, criminal justice majors can also go on to become lawyers, detectives,and federal agents.
This website offers school details to prospective students as an informational resource. The appearance of a school listing on this website should not be interpreted as an endorsement of the school by this site.