Best Online Bachelor's in Communications Degrees
Online communications degrees are available at the associate, bachelor's, master's, doctoral, and certificate levels. Communications is an interdisciplinary field that draws from sociology, psychology, and politics to examine the ways in which people communicate. The online communications degrees of the highest caliber are featured in our lists of the 2020 best online communications bachelor's and master's programs. Rankings are based on alumni salary data provided by PayScale.
Students pursuing degrees in communications should verify that their school has been regionally accredited and their specific degree program is accredited by the Accrediting Council on Education in Journalism and Mass Communications (ACEJMC), which helps to ensure that it meets rigorous national standards.
2020 Best Online Colleges Offering Bachelor's in Communications Degrees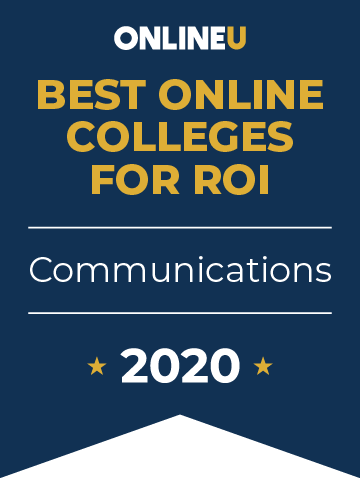 This list highlights the 23 best value colleges offering online bachelor's degrees in communications. Graduates of the #1-ranked school, Webster University, earn a median salary of $111,400 after earning their BA in Media Communications. Tuition at Webster University is also very affordable at just $23,200 per year.
Alumni salaries were provided by PayScale. View our methodology for more details or learn more about OnlineU.
| Rank | School | Annual Tuition | Mid-Career Salary |
| --- | --- | --- | --- |
| # 1 | Webster University | $23,200 | $111,400 |
| # 2 | Park University | $12,865 | $107,100 |
| # 3 | University of Missouri | $11,622 | $104,600 |
| # 4 | Lynn University | $9,000 | $102,100 |
| # 5 | Maryville University | $16,000 | $103,500 |
| # 6 | Saint Xavier University | $33,300 | $109,600 |
| # 7 | California State University-Bakersfield | $9,600 | $100,100 |
| # 8 | West Virginia University | $10,380 | $98,300 |
| # 9 | University of Arkansas at Little Rock | $8,400 | $96,300 |
| # 10 | Stevenson University | $13,500 | $98,000 |
| # 11 | SUNY Empire State College | $10,943 | $95,400 |
| # 12 | SUNY College at Oswego | $8,480 | $93,500 |
| # 13 | University of Idaho | $8,304 | $93,200 |
| # 14 | Florida Southern College | $10,106 | $92,400 |
| # 15 | University of Kansas | $11,916 | $91,000 |
| # 16 | Ohio University - Main Campus | $7,290 | $89,000 |
| # 17 | Washington State University | $11,550 | $90,043 |
| # 18 | Florida International University | $10,376 | $88,500 |
| # 19 | University of Arkansas | $7,568 | $87,200 |
| # 20 | Mercer University | $14,250 | $88,300 |
| # 21 | University of Missouri at Saint Louis | $31,164 | $95,000 |
| # 22 | University of Arizona | $15,000 | $88,400 |
| # 23 | University of Denver | $30,060 | $94,200 |
Salary data provided by

2020 Online Colleges Offering Communications Degrees - Ranking Details
Overview of Online Communications
An associate degree in communications is typically the minimum education requirement for this field. Getting a communications associate degree online helps students develop techniques that are essential to their prospective careers, such as problem solving, critical thinking, and interpersonal skills. Students may take courses in introduction to mass communications, English composition, media writing, and digital media editing.
Many associate degree holders continue their education by obtaining a bachelor's degree in communications. This program focuses on teaching students how to interpret different kinds of human dialogue. Students also learn how to improve their speech to effectively persuade audiences. Core classes include topics such as behavioral science; debate and argumentation; theories of communications; and voice, dictation, and articulation.
Master's degrees further examine the ways that people synthesize information and the techniques that can be used to successfully persuade audiences. Students focus on analyzing a variety of issues and finding original ways to relay messages. They may take courses with topics in strategy, leadership, ethics, business, marketing, global connection, speech writing, intercultural communications, social influence, rhetoric, human conflict, and citizenship.
The highest form of education for this field is a doctorate in communications. Students normally select an area of concentration and conduct a considerable amount of independent research before completing an original dissertation to present to an advisory board at the culmination of the program.
Online Bachelor's Degrees in Communications
The writing, speaking, and critical thinking skills of an online communications bachelor's degree prepare students for a variety of roles. Graduates can become news reporters, staff or freelance journalists, editors, technical writers, or public relations and marketing specialists. Others can work in advertising or human resources. Students are advised to gain practical experience in communications while in school; for example, work on a school newspaper or blog is often valued by employers who want employees with demonstrated experience. Graduates with professional experience in a different work area such as healthcare, finance, or engineering can also apply this work to a communications career. For example, clinical healthcare professionals with a communications degree could pen sales or marketing copy for a medical device company.
Program Requirements
A bachelor's degree in communications teaches students rhetorical strategies for a variety of mediums of communication. This four-year program requires about 120 credit hours or four years of full-time study. Qualified applicants need a high school diploma or GED. Depending on the program, communications students may choose to focus in a particular communications area. Examples of possible specializations include conflict mediation and negotiation, public relations, or journalism.
Curriculum
A communications major includes coursework in both spoken and written communication. Core classes commonly include journalism, mass media, intercultural communication, organizational behavior and group communication, and digital communication. Students study the art of argumentation and persuasive speech in different mediums, such as marketing campaigns, press releases, or scientific articles.
The Importance of an Accredited Online Communications Degree
Accreditation is a process by which schools and academic programs volunteer to be evaluated by outside agencies to ensure that they meet established standards. The evaluation procedure involves a careful review of each school or program's curricula, facilities, student resources, and faculty. Legitimate institutional or programmatic accrediting agencies should be recognized by either the US Department of Education or the Council for Higher Education Accreditation (CHEA).
Prospective communications students should look for institutional accreditation by an agency such as the Middle States Commission on Higher Education, or programmatic accreditation through the Accrediting Council on Education in Journalism and Mass Communications. ACEJMC is recognized by CHEA for accrediting undergraduate and graduate journalism and communications programs. The organization ensures that programs adhere to particular curriculum requirements and that graduates leave their program with a recognizable set of skills.
When students choose a program or institution that is accredited, they can feel confident that they are receiving a high-quality education. Attending an accredited program also helps students meet the eligibility requirements to apply for federal financial aid, and it enables them to transfer their earned credits to other accredited institutions.
Communications Specialities
Health Communication
Students of health communication study how health-related information is produced and disseminated in order to educate individuals, community groups, institutions, and public policy. For instance, a graduate of a health communications program might be hired to design a health communications strategy for a vulnerable population, create a guide pamphlet on medications for patients, communicate hospital news and field questions for the media, or prepare health policy briefs for legislators. Students who wish to enter this industry often begin by completing a bachelor's degree program in public relations, communications, public health, or advertising. The health communication specialization is then pursued as either a master of science or as a concentration through a public health degree. Coursework in this focus area typically includes health communication technology, biostatistics, professional health writing, and public healthcare policies.
Journalism & Media
Journalists produce media content to inform the public about current news and events happening on a local, national, or global scale. Journalists may work for newspapers, magazines, websites, blogs, television, radio, or social media. They work as reporters, correspondents, broadcast news analysts, television and radio announcers, editors, photographers, and more. A bachelor's or master's degree in journalism or communications is generally preferred by employers, and on-the-ground internship or work experience with a media outlet makes for a more competitive candidate. Typical journalism coursework includes journalism ethics, feature writing, copywriting, news reporting, photojournalism, video journalism, business journalism, digital media, and beat journalism.
Public Relations
Public relations (PR) specialists produce media releases to build and sustain a desired public image for the organization or entity they represent. Their clients vary widely and may include large corporations, politician, nonprofits, artists, and more. Public relations responsibilities often include acting as company spokesperson before the media, preparing clients for press conferences and interviews, writing speeches, and managing social media. PR specialists generally hold a bachelor's degree in public relations, journalism, communications, English, marketing, or business. Master's degrees in public relations are also available for professionals who wish to continue their education or further specialize within a field. Important coursework for potential PR specialists includes advertising, speech writing, political campaign strategy, image management, public relations writing, marketing and promotion, and other writing-focused courses.
Speech & Rhetorical Studies
Speech and rhetorical studies programs are available online at the bachelor's and master's degree levels and train students to employ persuasive strategies towards advocacy, law, social justice, and political professions. Bachelor's degree students often choose to minor in rhetorical studies or to pursue this specialty as a dual major alongside a related topic such as political science or pre-law. Anyone interested in studying a combination of rhetoric and political science should consider Regent University Online's bachelor's and master's level online degrees specializing in political communication. Typical coursework for speech and rhetoric programs includes public advocacy, writing seminars, theories of rhetoric, language and meaning, rhetoric and social change, speechwriting, and body language. Graduates can go on to become teachers, administrators, corporate educators, lawyers, advertisers, political campaigners, social advocates, consultants, media promoters, and grant-writers.
Strategic & Organizational Communications
Degrees in strategic and organizational communications train students to develop and implement communications strategies that promote an organization's goals, identity, and mission. Some schools offer the specialization in online format at the bachelor's degree level, while graduate programs are available online at the master's level. Specialized coursework typically involves organizational strategy and leadership, strategic storytelling, setting strategic direction, small group communication methods, gender roles in communication, and other courses specific to organization type. Graduates may pursue one of a variety of career paths, including managing corporate inter-departmental communications, devising ways of disseminating information to the public, or volunteering for non-profit organizations. Some representative job titles for graduates of strategic and organizational communications degrees are Community Involvement Director, Corporate Mediator, and Special Events Director. You'll find a wide range of online degree specializations in this area, particularly at Montana State University-Billings and Liberty University.
Technical Communication
Technical communicators, or technical writers, design communications materials about technical information or products. For example, technical communicators might create instruction manuals, how-to guidebooks, or journal articles, to be used in a range of fields including software development, manufacturing, government, and biomedical technology. Work in this field generally requires a bachelor's degree, preferably in communications or a technology-related area, and technical experience in computer design, web design, digital media, or engineering can be beneficial. Some schools, such as Southern New Hampshire University Online, offer an online bachelor of science or bachelor of arts in professional writing or technical writing and communication. Coursework for these degree programs typically includes standard communications curriculum as well as a shared set of pre-requisites in math, statistics, and computer programming. Some programs give students the chance to work on real projects for actual clients to keep up with the rapid developments in software and technology.
This website offers school details to prospective students as an informational resource. The appearance of a school listing on this website should not be interpreted as an endorsement of the school by this site.
Related Articles
2022 Best Online Speech Pathology Degrees
Discover speech pathology degrees available online, and answer some of your questions: What is speech pathology? What is a speech pathologist's salary?
2022 Best Online Bachelor's in Journalism Degrees
Find the best journalism degree for you on our list based on alumni salary. Then read on to discover what you can do with a journalism degree.