2023 Best Online Communications Degrees
By Jordan Beliles | Updated 12/21/2022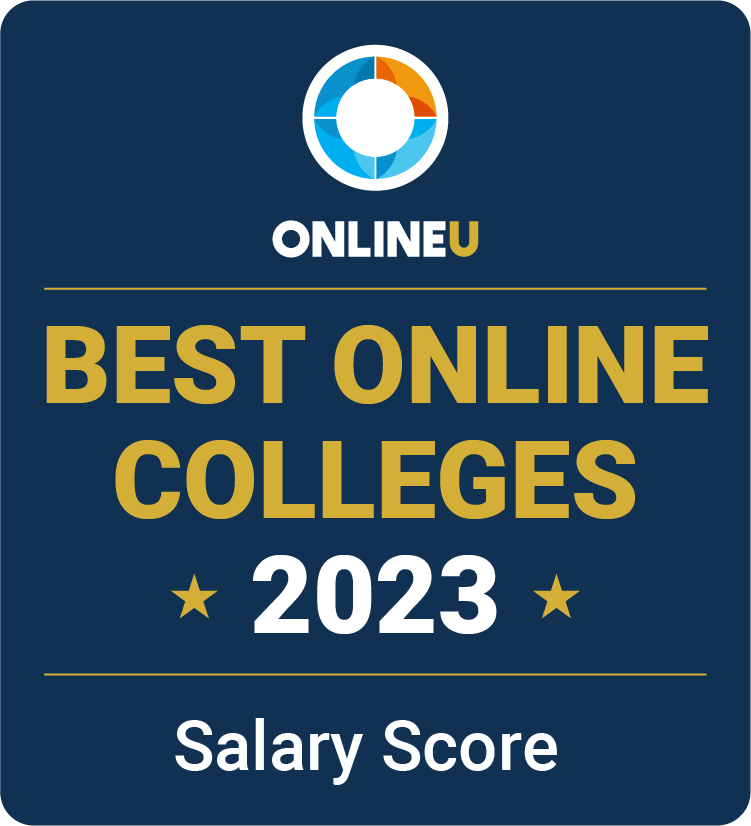 Communications is an interdisciplinary field that draws from sociology, psychology, and politics to examine how people communicate. An online bachelor's degree in communications can help you increase your knowledge in these areas and acquire the skills employers eagerly seek. If you're already looking ahead to graduate school, an online master's degree in communication can help elevate your skills even further and increase your job potential as your career grows.
We base our rankings on alumni salary data to help you find a program that meets your personal and professional goals. View our methodology for more details about our list, or learn more about OnlineU.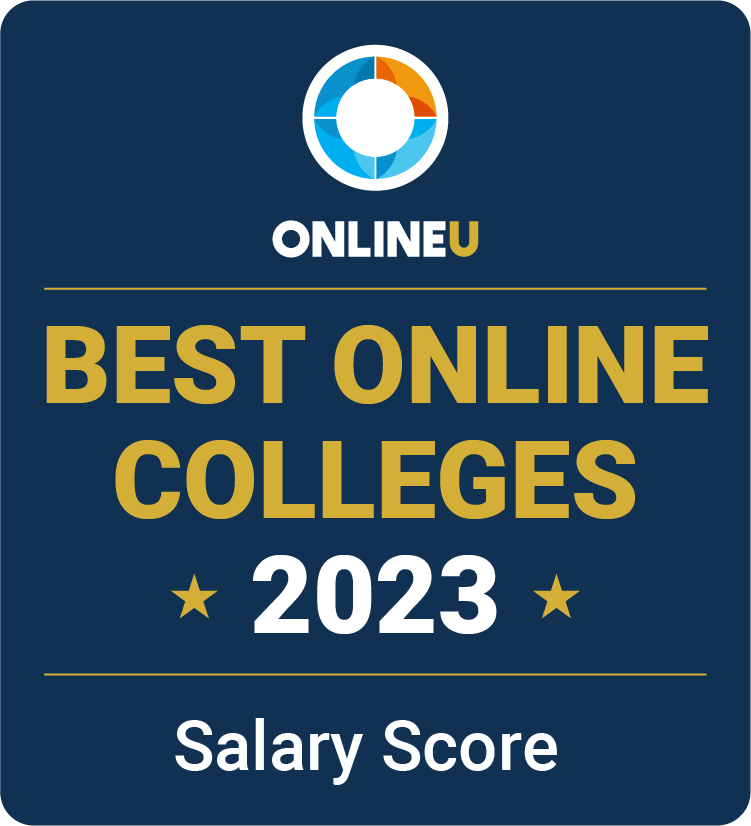 ADVERTISEMENT
Online Communications Bachelor's Degrees You May Be Interested In

Southern New Hampshire University Online

Annual Tuition: $17,800
4 Programs (view all)

Annual Tuition: $11,700
6 Programs (view all)
---
2023 Best Online Communications Degrees
| Rank | School | Salary Score | Median Starting Salary |
| --- | --- | --- | --- |
| # 1 | National University | | $54,414 |
| # 2 | University of Pennsylvania | 100 | $50,120 |
| # 3 | Northeastern University Global Network | 100 | $48,567 |
| # 4 | University of Maryland Global Campus | 100 | $47,841 |
| # 5 | Drexel University | 97 | $43,747 |
| # 6 | University of Phoenix | 95 | $41,894 |
| # 7 | University of Arizona | 93 | $41,289 |
| # 8 | Arizona State University | 90 | $39,971 |
| # 9 | University of Minnesota Online | 86 | $38,810 |
| # 10 | The University of Texas Permian Basin | 85 | $38,389 |
#1
National University
Salary Score:
Median Starting Salary:
Locations:
Accreditation:
National University (NU) is a private, nonprofit institution offering an online Bachelor of Arts in Integrated Marketing Communications. Students must complete 180 quarter credit hours, which may take two years if attending full time. Courses are accelerated and last for four weeks, enabling enrollment at any time during the year. Similarly, NU offers an online Bachelor of Arts in Strategic Communications. NU accepts 89% of applicants, and 34% of students graduate with degrees.
NU delivers online course content and instruction via Brightspace. Distance learners in the online integrated marketing communications program take classes such as Communication Technologies, Intercultural Communications, Digital Marketing, and Communication Campaigns. Additionally, students must complete a capstone project to graduate. The program's curriculum is designed to help students develop the skills to create and implement effective marketing and communication plans once they enter the job market.
#2
University of Pennsylvania
Salary Score:
Median Starting Salary:
Locations:
Accreditation:
The University of Pennsylvania (Penn) is a private, nonprofit institution offering an online Bachelor of Applied Arts and Sciences - Leadership and Communication. Students may complete this 120-semester-credit program in four years if attending full time. They can also complete a Certificate in Leadership and Communication or a Certificate in Applied Positive Psychology in tandem with a degree. Penn is very competitive, with a 9% acceptance rate; however, the graduation rate is incredibly high at 97%.
Penn uses the Canvas learning management system (LMS) for online curriculum delivery. Students in the online leadership and communication program enroll in courses such as Leadership and Public Administration, Positive Psychology at Work, Leadership Lessons from the Social Sciences, and Global Leadership and Problem-Solving. Students must also create and submit a portfolio to graduate. Then they may pursue roles as managers and directors or become entrepreneurs.
#3
Northeastern University Global Network
Salary Score:
Median Starting Salary:
Locations:
Accreditation:
Northeastern University is a private, nonprofit institution offering an online Bachelor of Science in Digital Communications and Media through its Global Network. Graduation requires completing 120 semester credit hours, which may take full-time students at least four years. Northeastern accepts 20% of applicants, and 88% of students end up earning degrees.
Northeastern's distance learners access online coursework and instruction via Canvas. The online Digital Communications and Media program classes include Web and Mobile Development, Consumer Behavior, Organizational Communication, and Managing Communication Projects. Students must complete a senior capstone project to graduate while also designing, implementing, and managing a major communication campaign as participants in a virtual public relations firm. These activities can help prepare graduates for digital communication and media professional jobs.
#4
University of Maryland Global Campus
Salary Score:
Median Starting Salary:
Locations:
Accreditation:
The University of Maryland Global Campus (UMGC) is a public institution offering an online Bachelor of Arts in Communication Studies. Students must complete 120 semester credit hours of coursework to graduate, which can take four years of full-time attendance. Some students opt for UMGC's online Bachelor of Arts in Graphic Communication, which offers more opportunities for creativity. UMGC has a 100% acceptance and a 28% graduation rate.
UMGC provides the Learning Experience Online (LEO) platform so students can access the online program curriculum. Online communication students enroll in courses such as Public Relations Theory, Mass Media Law, Effective Listening, and Introduction to News Writing. In addition to core classes, they must also complete a senior seminar. Fields of interest after graduation include journalism, public relations, business, and digital communication.
#5
Drexel University
Salary Score:
Median Starting Salary:
Locations:
Accreditation:
Drexel University is a private, nonprofit institution offering an online Bachelor of Arts in Communication with a Public Relations concentration. This program is organized into four 10-week quarters per year, enabling students to take more classes in a shorter time. Students complete 180 quarter credit hours to graduate, which may take less than four years if attending full time. Drexel accepts 77% of applicants, and 68% of undergraduate students earn degrees.
Drexel delivers online coursework and instruction via the Blackboard LMS. Courses within the online communication curriculum include Introduction to Linguistics, Language and Society, Ethics and the Media, and Technical Communication. This degree program can help prepare students for leadership roles in the field as their careers progress.
What Can You Expect from an Online Communications Degree?
Communications degrees are one of the most popular degrees in the country. This is primarily because the subject matter is broad and the skills can be applied to nearly any industry. During an online communications degree, you'll study various ways of effective communication through writing, digital media, marketing, and public speaking. These degree programs generally require 120 credits and take four years to complete on a full-time schedule. At minimum, applicants will need a high school diploma or GED certificate to apply for a communication degree online.
During an online communications degree, you'll study various ways of effective communication through writing, digital media, marketing, and public speaking.
Once accepted into a program, you'll explore both written and spoken communication and various forms of speech — including persuasive, informative, and demonstrative. Some students use a bachelors as a stepping stone to a master's in communications.
Are Online Degrees Valid?
There are a lot of things to consider before applying for college, such as ways to save money by applying for scholarships, financial aid, or student loans. Among the most important considerations is your school's accreditation status. This refers to the process of evaluation performed by accrediting organizations to determine whether a school meets the appropriate standards.
Online schools are accredited the same as traditional universities, making them just as
respected
as their on-campus counterparts.
The best communications schools are approved by the Accrediting Council on Education in Journalism and Mass Communications: the premier organization responsible for ensuring quality programmatic education in the field of communication.
Courses for a Communications Degree Online
Online communication degrees offer a broad set of courses that are designed to develop skills for employment in journalism, public relations, and digital media. If your degree is designated as a Bachelor of Science, it will also include STEM courses. Overall, classes cover the foundational principles of communication through public speaking and social media as well as organizational leadership skills and communications systems on an international scale.
Below is a list of some of the common courses found in a bachelor's degree in communications:
Critical Approaches to Communication
This class helps to form your understanding of the foundation of communication through a historical and theoretical lens. It also focuses on the philosophical understanding of communication and the guiding principles used to develop the discipline.
Introduction to New and Social Media
An online degree in communications wouldn't be complete without an exploration of the new media landscape. This course looks at social media and how it's transforming societal, organizational, and individual communication styles. It also covers the concept of creating meaningful communication through new media, such as journalism, public relations, and advertising.
Presentation and Interview Anxiety Reduction Techniques
This course looks at the various ways of reducing stress and anxiety while communicating in a public forum. It covers the necessary skills and tools needed to perform during high intensity speeches, presentations, and interviews.
Speech Communication in Business
Speech communication in business explores the methods and principles for communicating in a professional environment or workplace setting. This includes informative and persuasive methods of speaking as well as one-to-many presentation practices.
Interpersonal Communication
This introductory course looks at the research, concepts, and theories for communicating with one or more people. The subject matter includes an in-depth teaching of non-verbal forms of communicating, such as facial expressions, hand gestures, body language, and eye contact.
Should You Choose a Concentration?
The best online schools for communications feature several concentration options. Concentrations allow you to narrow the scope of your studies and build your skills for the career you want to achieve. They are specific to certain industries or communication methods, all the way from health care to journalism.
Health Communication
Students of health communication study how health-related information is produced and disseminated in order to educate individuals, community groups, institutions, and public policy. For instance, a graduate of a health communications program might be hired to design a health communications strategy for a vulnerable population, create a guide pamphlet on medications for patients, communicate hospital news and field questions for the media, or prepare health policy briefs for legislators. Coursework in this focus area typically includes health communication technology, biostatistics, professional health writing, and public healthcare policies.
Journalism & Media
Journalists produce media content to inform the public about current news and events happening on a local, national, or global scale. Journalists may work for newspapers, magazines, websites, blogs, television, radio, or social media. They work as reporters, correspondents, broadcast news analysts, television and radio announcers, editors, photographers, and more. Typical journalism coursework includes journalism ethics, feature writing, copywriting, news reporting, photojournalism, video journalism, business journalism, digital media, and beat journalism.
Public Relations
Public relations (PR) specialists produce media releases to build and sustain a desired public image for the organization or entity they represent. Their clients vary widely and may include large corporations, politicians, nonprofits, artists, and more. Public relations responsibilities often include acting as company spokesperson before the media, preparing clients for press conferences and interviews, writing speeches, and managing social media. Important coursework for potential PR specialists includes advertising, speech writing, political campaign strategy, image management, public relations writing, marketing and promotion, and other writing-focused courses.
Speech & Rhetorical Studies
A concentration in speech and rhetorical studies helps to train students to employ persuasive strategies toward advocacy, law, social justice, and political professions. Typical coursework for speech and rhetoric programs includes public advocacy, writing seminars, theories of rhetoric, language and meaning, rhetoric and social change, speechwriting, and body language. Graduates with this specialization can go on to become teachers, administrators, corporate educators, lawyers, advertisers, political campaigners, social advocates, consultants, media promoters, and grant-writers.
Strategic & Organizational Communications
Degrees focused on strategic and organizational communications train students to develop and implement communications strategies that promote an organization's goals, identity, and mission. Specialized coursework typically involves organizational strategy and leadership, strategic storytelling, setting strategic direction, small group communication methods, gender roles in communication, and other courses specific to organization type. Graduates may pursue one of a variety of career paths, including managing corporate inter-departmental communications, devising ways of disseminating information to the public, or volunteering for nonprofit organizations.
Technical Communication
Technical communicators, or technical writers, design communications materials about technical information or products. For example, technical communicators might create instruction manuals, how-to guidebooks, or journal articles to be used in a range of fields: software development, manufacturing, government, and biomedical technology. Coursework for these degree programs typically includes standard communications curriculum as well as a shared set of prerequisites in math, statistics, and computer programming. Some programs give students the chance to work on real projects for actual clients to keep up with the rapid developments in software and technology.
Jobs in Communications
Pursuing a career in communications involves a variety of interpersonal and professional communication skills. Your career options upon graduation are just as varied as the required skills.
Public relations specialist is a popular choice for graduates because your communication skills can be applied to many different industries. They make a median annual salary of $62,800 per year, and experience above-average job growth at 11%, according to the Bureau of Labor Statistics (BLS).
There's also the option of becoming a journalist, which would require a fair amount of specific training and expertise. There are even options for technical writers that develop how-to guides and support documents. This particular role earns a median salary of $78,060 — much higher than that of a news analyst/journalist, which each sits at $48,370.
So, are communications degrees in demand? Each career has their own job outlook depending on the growth of the industry. Technical writers and public relations specialists are expected to see a higher job growth than average (11-12%), while a journalist or editor's job outlooks range from only 5-6%. Two of the fastest growing roles in communications are interpreters and translators, which are expected to grow by 24% in the next decade.
Is a Bachelor's Degree in Communications Degree Worth It?
Online degrees in communications provide a useful set of skills in critical thinking, writing, and problem-solving. The number of students taking on these particular programs have been steadily increasing for decades, and the job outlook is positive for several roles that require these skills. But, is it really worth it?
To answer this question, let's look at the pros and cons of obtaining a degree in communications:
Potential Benefits
There's a broad range of career opportunities in various areas. Public relations majors, for example, can enter a wide variety of industries — from entertainment to healthcare and technology to marketing.
Conquer your fear of public speaking. Communications degrees require you to challenge yourself, especially with speaking in a public forum, giving presentations, and participating in interviews.
The median salary for communications careers is higher than average. The BLS states that the median yearly earnings for roles in communications was $62,340, as of May 2021, while the average salary of all occupations sits at $45,760.
Potential Drawbacks
Communications degrees may not set you apart in a competitive job market. According to the National Center for Education Statistics, communications degrees are in the top ten most common degrees in the country.
Roles in the media are often looked at as untrustworthy. A 2021 Gallup poll reported that only 36% of Americans trust the news to report accurate stories.
Social media is constantly evolving. As both a student and professional, you'll be required to frequently update your skills as they relate social media trends and how to effectively communicate within their ecosystems.
Bottom Line
Communications degrees provide ample opportunity for a stable, professional career. Although the wages vary, depending on the industry and the role, many fields boast a positive job outlook, and overall, you can expect a higher-than-average salary.
You'll explore subjects such as journalism, writing, and ESL while developing useful skills surrounding business practices and interpersonal relationship building.
Why Trust Us?
60,000 Degrees Researched Annually
20,000 Hours Spent on Research Annually
Launching Rankings Since 2009
Meet our team
Related Articles
2023 Best Online Master's Degrees
A master's program can expand your employment options and earning power. Explore our list of the best online master's programs based on alumni salaries.
2023 Best Online Speech Pathology Degrees
Learn about the best speech pathology degrees that are 100% online, and choose your program. Our 2023 list is ranked by popularity.