2020 Best Online Colleges for Child Development Degrees
Online child development degrees are available at the bachelor's, master's, and doctoral, and certificate levels. Child development is a particular branch of developmental psychology that analyzes the psychological, emotional, and perceptional changes within children. Our list of the best online bachelor's degrees highlights 25 excellent options, based on tuition rates and alumni salaries from PayScale.
Students should make sure that the schools they attend are regionally accredited, and doctoral students should look for accreditation by the American Psychological Association. Graduates of child development programs often find employment in schools, churches and other organizations that care for and educate children.
2020 Best Online Colleges Offering Bachelor's in Child Development Degrees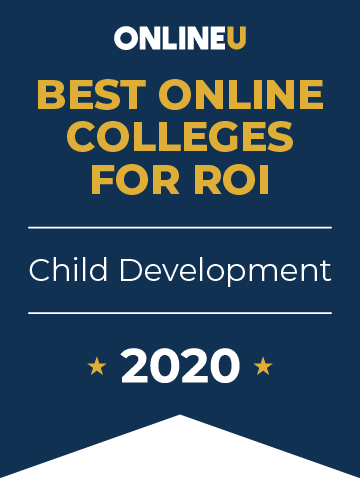 This list highlights the 25 best value colleges offering online bachelor's degrees in child development. A degree from University of Massachusetts - Amherst has an impressive return on investment, with an annual tuition of $11,700 and alumni reporting a mid-career salary of $88,100. At #2, Jacksonville State University has the second-highest salary on the list and charges only $12,064 per year for its program.
Alumni salaries were provided by PayScale. View our methodology for more details or learn more about OnlineU.
Salary data provided by

2020 Online Colleges Offering Child Development Degrees - Ranking Details
Online Child Development Degree Overview & Career Information
Online child development training can take anywhere from one to eight years, depending on the level of education desired. Degree programs in child development are available at the bachelor's, master's, doctoral, and certificate level. Common courses in these degree programs include brain and behavior, cognitive psychology, human memory, childhood and adolescent development, and human sexuality. Graduates at the bachelor's level and higher can go on to become child advocates, social workers, teachers, and social services managers.
Prospective educators will learn a variety of hands-on techniques that will help them monitor, teach, and design positive learning environments for children. Most programs require at least one internship in a related field. In addition, educators must gain certification in the state in which they teach. They must also complete additional units each year. While graduates fresh out of high school can find positions in after school programs, those who choose to earn an advanced degree will have many more opportunities to choose from in the child development field.
Online Associate Degrees in Child Development
An online associate degree in child development will help provide the foundations necessary to understand, interact with, and teach young learners.
Program Requirements
Typically requiring about two years of schooling, an online child development associate degree is a good way to begin a career in the education field. In addition to completing the required background checks and tuberculosis test that are almost always necessary when working with children, a prospective early childhood educator must also have a high school diploma or GED.
Curriculum
Some of the coursework that will be taught at this level includes infant and toddler development, family dynamics, nutrition, and safety of young children. Some important traits which are beneficial for child development students to have are patience, creativity, physical stamina, and organizational skills.
An associate degree in child development is a solid stepping stone for more advanced degrees in the field and for careers as childcare professionals in licensed centers, assistant teachers, and even lead teachers in some preschool programs.
Online Bachelor's Degrees in Child Development
An online Bachelor of Arts (BA) in child development provides students with an understanding of the mental and behavioral development of children; it is often used as a stepping stone in the process of earning a master's degree.
Program Requirements
Applicants to online child development bachelor's programs must have a high school education or GED. They will need to provide transcripts from high school and from any college courses they have already taken. Some schools may require SAT or ACT scores and/or personal statements. Online bachelor's degrees generally take four years to complete.
Curriculum
The undergraduate child psychology curriculum contains a broad overview of the major facets of child development. Students study the developmental, behavioral, and learning disorders that can affect children at various stages in their lives, and they learn how a child's social or cultural environment affects his or her development. In addition to a foundation in psychology, bachelor's degree students also take courses in English, history, math, science, foreign languages, and other humanities areas before narrowing their focus during the last two years of the program. Many child psychology programs require students to complete an internship in a setting where they can observe child behavior, such as in a school or day-care setting.
An online child development bachelor's degree is quite flexible and will prepare students for many different career paths. Graduates may find themselves working in fields such as teaching, social work, child psychology, family counseling, and administrative positions within educational institutions. Other graduates work as social and human services assistants or go on to earn master's degrees in counseling.
Online Master's Degrees in Child Development
A master's program in child development will help prepare students for careers as social workers, case managers, and child advocates as well as school administrators and counselors. Although educators can enter the field as certified teachers with a bachelor's degree, many educational institutions do require teachers to obtain a master's degree within five years of their employment.
Program Requirements
An online master's degree in child development usually takes between two and three years to complete. Students must obtain a bachelor's degree prior to enrolling in a master's program and will need to submit transcripts as part of the application process. In addition to transcripts, students can expect to submit some combination of a personal statement, letters of recommendation, and standardized test scores. Some schools also have minimum GPA requirements.
Curriculum
Child development coursework often includes learning how to assess behavioral, emotional, and learning difficulties in children as well as identifying which tools can help them improve. Students will also take classes on language development, adolescence, infancy development, care giving techniques, poverty issues, and family dynamics before taking a final comprehensive exam.
Online Doctoral Degrees in Child Development
The Doctor of Philosophy (PhD) and Doctor of Psychology (PsyD) programs in child development are intensive, research-based degrees that prepare graduates for a career as a licensed child psychologist or professor. The PhD includes training in psychology research as well as professional practice, while the PsyD focuses more on professional psychology practice.
Program Requirements
Many doctoral programs require that applicants have a master's degree along with previous foundational coursework in psychology and statistics. Transcripts from all previous college coursework may be required as part of the application. Other application requirements may include interviews with faculty members, personal statements, letters of recommendation, resumes or CVs, writing samples, and/or written work history/prior experience in the field. Students may spend between three and six years completing their degree, with the latter years of the degree focused on conducting a research project and writing a dissertation. Students will defend their thesis conclusion before a panel of professors and/or professionals.
Curriculum
The curriculum of a doctoral program in child psychology and development explores high-level theory, as students are expected to already have a broad knowledge base. The curriculum will introduce students to various approaches used to deal with children in psychology. Many accredited colleges have developed online psychology doctorate degrees so students can study psychological theories and research via online courses. These programs may require short, intensive residencies, in which students come to campus to do clinical practicums and work on research projects. Online students still have to complete a clinical internship, which lasts at least one year; the school helps students set up an appropriate supervised internship in their local community.
The most important thing to keep in mind when completing an online doctorate is whether the program is recognized by your state's psychology board. Attending an accredited program is necessary for earning a state psychology license.
Online Certificates in Child Development
Child psychology certificates provide clinical practitioners with a deeper understanding of child development and behavior. Most online certificates require four to eight courses. Many programs require that applicants possess a bachelor's or master's degree in counseling or a related area, as well as a counseling license. Other programs are open to social workers, teachers, or noncertified child care professionals. Child psychology certificates geared toward licensed counselors focus on treatment strategies for working with children, adolescents, and their families. These classes focus on topics like family treatment, interviewing skills, and other applied techniques. Other courses explore topics like abnormal child psychology and developmental psychology.
Other certificates focus on child psychology and interventions that are appropriate for professionals without a clinical counseling background. These certificates might touch on topics like child and adolescent trauma, research in child psychology, and support services for young populations. Graduates typically use these certificates to support current careers in counseling or the helping professions. Current counselors and clinical social workers can use the program to shift the focus of their practice to better serve children and adolescents. Professionals in non-profit organizations, public service, child care, or similar settings can use the certificate to deepen their understanding of the motivation and behavior of children in order to better serve them.
The Importance of an Accredited Online Child Development Degree
While it is important to ensure that a school has earned institutional accreditation from a respected regional or national agency, those interested in a career in psychology should also verify that their degree programs of choice have been accredited by the American Psychological Association (APA). The Council for Higher Education Accreditation recognizes the APA as the accrediting authority for schools offering training in psychology. The American Psychological Association (APA) Commission on Accreditation (CoA) endorses programs in professional psychology, clinical psychology, counseling psychology, school psychology, and combined professional-scientific psychology. In the same way that institutional accreditation reflects the quality of the school, programmatic accreditation from the APA helps to ensure that postsecondary psychology degree programs conform to national educational standards.
Child Development Credentials and Licensure
The Council for Professional Recognition administers the Child Development Associate (CDA), a credentialing program for those interesting in working with children as educators. Some states require CDA credentials to work as early childhood educators. Regardless of whether a state requires it, earning a CDA credential is good preparation for a career in early childhood education.
There are four key components to gaining CDA certification.
To begin, students must earn their high school diploma or GED and be at least 18 years old.
A considerable amount of experience is also necessary, including 120 hours of approved childcare preparation, with specific focus on child development and learning, professionalism, creating safe learning environments, effective family relationship techniques, and how to observe child behavior.
Students also need at least 480 hours of practice in either an educational or childcare-related field. Both the directed instruction and the prior experience must have been within the last five years.
Once eligible, potential candidates can order the CDA packet that is precise to their specific area of study.
The CDA credential needs to be renewed every three years.
The National Association for the Education of Young Children (NAEYC) accreditation is another credential available to those working with children. It is designed for those working with kids from birth through eight years old, and it is a highly respected and thorough accreditation process. The NAEYC focuses on improving educator resources and early childcare centers across America.
Child Development Careers
There are a variety of careers paths open to graduates of online child development programs. Work environments include public and private schools, day care centers, preschools, and churches. While positions vary, people who work in this field are often on their feet all day, bending and lifting, as well as observing, reading to, and playing with small children. Those with advanced degrees may go on to work as psychologists or conduct research among other options.
This website offers school details to prospective students as an informational resource. The appearance of a school listing on this website should not be interpreted as an endorsement of the school by this site.