Best Online Colleges for Paralegal Associate Degrees
Paralegals are responsible for supporting lawyers by drafting legal documents, conducting research, completing administrative tasks, and preparing cases for trial. They have a deep understanding of the law, computer and database management, and administrative procedures. Paralegals are typically employed by corporate law firms or governmental law offices and have at least an associate's degree or certificate in the field.
For graduates who become employed within their field as paralegals and legal assistants, the Bureau of Labor Statistics notes that the current median salary is $52,920 and employment is expected to grow faster than average. Paralegals are not required to be certified in any state; however, employer requirements may vary. Individuals can pursue an optional paralegal certification through the National Association of Legal Assistants (NALA) or the National Federation of Paralegal Associations (NFPA).
2020 Most Affordable Online Paralegal Associate Degrees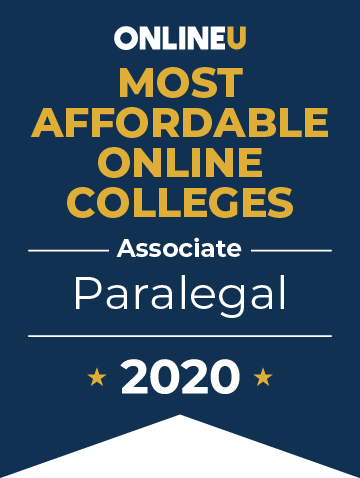 These 24 colleges offer the most affordable online paralegal associate degrees with tuitions under $11,000 per year. View our methodology for more details.
Eligibility for Paralegal Certification Exams:
NALA Certified Paralegal Exam: you are eligible if you have an associate degree in paralegal studies.
NFPA Paralegal Core Competency Exam: you are eligible if you have an associate degree in paralegal studies.
| Rank | School | Annual Tuition |
| --- | --- | --- |
| # 1 | Clovis Community College - NM | $2,664 |
| # 2 | Albany State University | $3,255 |
| # 3 | Hutchinson Community College | $4,640 |
| # 4 | Fox Valley Technical College | $5,104 |
| # 5 | Holmes Community College | $5,180 |
| # 6 | Northwest Mississippi Community College | $5,400 |
| # 7 | Lake Superior College | $5,653 |
| # 8 | Minnesota State Community and Technical College | $5,968 |
| # 10 | Hinds Community College | $6,250 |
| # 11 | Alexandria Technical and Community College | $6,368 |
| # 12 | Rio Salado College | $6,880 |
| # 13 | University of Alaska Fairbanks | $6,913 |
| # 14 | Georgia Military College | $7,110 |
| # 15 | Kirkwood Community College | $7,328 |
| # 16 | Abraham Lincoln University | $7,500 |
| # 17 | American Public University System | $8,100 |
| # 18 | Cerro Coso Community College | $8,250 |
| # 19 | Western Piedmont Community College | $8,576 |
| # 21 | University of Arkansas Grantham | $8,850 |
| # 22 | Prince George's Community College | $9,120 |
| # 23 | Drury University | $9,920 |
| # 24 | Tompkins Cortland Community College | $10,500 |
2020 Online Colleges Offering Paralegal Associate Degrees - Ranking Details
Online Associate Degrees in Paralegal Overview
Online associate degrees in paralegal studies are great options for students looking to develop writing, research, and critical thinking skills which they can utilize in support roles at law firms and legal departments.
Program Requirements
Paralegal associate degrees offered by online schools usually take two years to complete and require 20 to 30 courses. Applicants need a high school diploma or GED and may need to provide high school transcripts for admission.
Curriculum
The paralegal studies curriculum at the associate level covers particular skills of the legal assistant, as well as the ins and outs of different applications of the law. Courses in legal terminology and legal research and writing teach students how to investigate pertinent laws and regulations; students also learn how to write legal correspondence and other documents. Litigation classes focus on the process of going to court and the paralegal's role in preparing a case for the courtroom. Other common courses in the online paralegal associate degree cover particular areas of law, such as commercial law and real estate law. Business communication and legal office administration are other typical electives in these programs.
Many online associate programs will also include at least one course in English composition due to the writing-intensive nature of the paralegal profession. These classes focus on teaching students how to write clearly and effectively with correct grammar. Prospective students can also expect to take a class that is dedicated to legal research. Much of a paralegal's job will revolve around conducting research for attorneys, and associate degree courses in research will focus on navigating Internet resources and other legal databases.
Additionally, paralegal students are usually required to take a class in civil law, as this is one of the most common legal areas addressed in large law firms and corporations. Civil law courses include study of consumer rights and contracts, and knowledge of criminal law is also often beneficial to the work of legal assistants.
Beyond the traditional classes, some programs will offer students the opportunity to participate in an internship to gain practical experience in the legal field.
What Kind of Degree Do You Need to Become a Paralegal?
The minimum requirement for an entry-level paralegal job is typically a two-year associate degree. This is a great option for students ready to launch into the legal workforce. An associate degree gives students a basic foundation of paralegal skills including legal practices and research.
However, some law firms require a bachelor's degree for upper-level paralegal positions. A four-year bachelor's degree builds upon foundational knowledge with an emphasis on complex courtroom procedures and litigation and more opportunities to explore specializations and niche aspects of the field. A bachelor's degree can allow more time for students to recognize their specific legal interests.
Those who already have an undergraduate degree might decide to earn a certificate instead of an additional bachelor's degree. Certificates are specialized training that take anywhere from 6 months to a year to complete. While not required for employment, students who earn a certificate might be more appealing to prospective employers. Certificates can be obtained at any level of the educational process, whether students are pursuing graduate study or are starting out in the legal field. While not as common, there are also master's degrees offered for those who want to further advance their career. These degrees serve those working in highly targeted legal fields or for those who ultimately desire to teach paralegal studies.
Related Articles
2023 Best Online Associate Degrees
Learn about the best online associate degrees available in 2023 from our list of accredited online schools.
2023 Best Online Community Colleges
Explore the best community colleges in the country that offer online degrees in 2023 and learn more about whether community college might be right for you.