2020 Best Online Bachelor's in Art Degrees
Online fine art and design schools offer certificate, associate, bachelor's, and master's degree programs in the fine arts and design, which generally include painting, illustration, sculpture, photography, and graphic design. Prospective online art students can browse our list of the best online bachelor's in art programs and our list of the best online MFA programs, ranked according to tuition rates and alumni salary data from PayScale. We also provide information about online art degrees and accreditation.
2020 Best Online Colleges Offering Bachelor's in Art & Design Degrees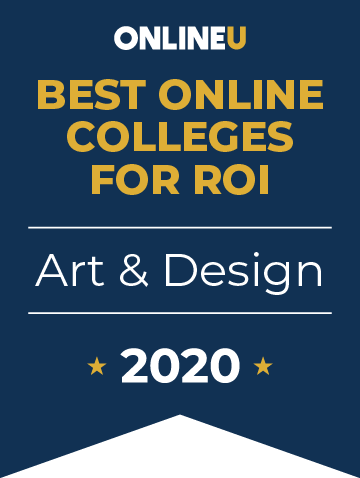 The following 9 schools offer the best online bachelor's degrees in art and design, based on their low tuition rates and high mid-career salary potentials. A degree from The University of Montana has an impressive return on investment, with an annual tuition of $21,600 and alumni reporting a mid-career salary of $80,300. Second-ranked University of Iowa offers a Bachelor of Liberal Studies in Expression in Writing and Arts for $8,073 per year. Graduates of the school's program earn a median salary of $61,914.
Alumni salaries were provided by PayScale. View our methodology for more details or learn more about OnlineU.
Salary data provided by

2020 Online Colleges Offering Art & Design Degrees - Ranking Details
What can you do with a fine arts degree?
An online degree in fine art gives students exposure to a wide variety of materials and techniques used for creating original works of art. Part of the educational process involves students determining which medium, style, and subject matter they find most appealing and starting to develop mastery in their techniques and creative processes.
All artists create works of art that are a visual form of communication, generally designed to convey ideas and emotions, whether they are uplifting, thought provoking, or even shocking. In the case of craft artists, these works of art may also serve a functional purpose.
Fine artists typically create aesthetically pleasing or intriguing works of art with the intention of displaying them in art galleries, museums, corporate collections, and private homes. Artists may sell their work directly to collectors through the Internet or other venues, such as art fairs and exhibits, or they may sell their work through art galleries. When working with art galleries or dealers, artists must share the proceeds of each sale with the dealer or gallery. Some artists work on commission, meaning they create custom works of art at the request of a collector.
Like fine artists, craft artists typically specialize in using one primary material, such as ceramics, glass, textiles, paper, metal, or wood. Although the works they create can be appreciated for their beauty or symbolic meaning, they might also be used as clothing, jewelry, dishware, or furniture. Craft artists also sell their work directly to the public or through galleries or dealers.
For the most part, craft and fine artists are self-employed, thus they are responsible for the business, accounting, and marketing aspects of their art careers, as well as creating artwork.
Visit the degree page for graphic design for more detailed information on careers in the graphic design field.
The Importance of an Accredited Online Art & Design School
Accreditation can be an important factor in choosing a college, university, or other degree or certificate program. Accreditation means that the educational institution has been carefully evaluated by independent agencies to ensure it meets high educational standards. Institutions are reviewed based on their curricula, faculty, and student resources. Although it is not a requirement to attend an institution that has been accredited, accreditation will allow students to transfer credits among other accredited institutions, obtain federal student loan or grant assistance, and may become a stepping stone to more advanced degrees.
Prospective students seeking an online degree in art and design should consider choosing an online school that has received accreditation from the National Association of Schools of Art and Design (NASAD) or another legitimate accrediting agency recognized by either the US Department of Education or the Council for Higher Education Accreditation. Please visit OnlineU's comprehensive accreditation hub for more information.
Online Art & Design Degree Overview & Career Information
Online certificates in art usually focus on one aspect of applied art, while associate and bachelor's degrees are available in fine arts and additional applied fields. Those with a technical bent can study basic graphic design, photography, or web design in an online certificate or associate degree program. Those seeking an online bachelor's degree will find more art and design areas to choose from, such as architecture, graphic design, or fine arts.
The Master of Fine Arts (MFA) traditionally covers the techniques of a particular art discipline at an advanced level. MFAs are available in graphic design, illustration, photography, and a variety of other disciplines. Master's programs are also available in art education or administration.
Online Bachelor's Degrees in Art & Design
If you are interested in pursuing a career in art and design, an online bachelor's degree can be a viable path. Online bachelor's degrees in art and design can be found in the college of the arts or in the department of fine arts.
Program Requirements
An online bachelor's degree in art and design can typically take four years to complete, although some students compress that time by taking additional credits each term, or extend it to five or even six years by studying only part-time or in order to complete multiple majors or accommodate work or family commitments.
Online undergraduate arts programs usually have the standard admissions requirements of a high school diploma or GED, SAT/ACT scores, letters of recommendation, and personal statements. Competitive programs may require that students submit a portfolio of artwork.
Curriculum
In addition to a general art and design program, many schools offer majors such as marketing and commercial art, architecture, computer animation, fashion design, graphic design, interior design, visual communication, and web design. Students in art and design bachelor's programs often have some flexibility in developing a course plan that may be necessary for their intended careers. These classes could include visual marketing, consumer psychology, or even a hands-on landscaping intensive. Art and design students can also expect to take the following courses: introduction to design, drawing, shape and color/visual elements, art history (either general or pertaining to a specific era), and design technology.
The academic requirement for many art and design positions is usually a bachelor's degree, but candidates must also demonstrate talent and experience. Most students who complete a bachelor's degree program will graduate with a polished portfolio, which can also be useful for finding a job. Advanced art and design professions, such as art direction or administration, will usually require applicants to have a master's degree or professional certification beyond an undergraduate degree.
What kinds of Art & Design specializations are available?
Art and design is an exciting and interdisciplinary field that students can take in a number of directions. Graduates of an online degree program in art can focus on traditional media, animation, or multimedia design. Here are just a few potential areas of specialization:
Two-dimensional Art: Paintings, prints, photographs—any flat art object, typically those that hang on walls, are considered two-dimensional art. The array of choices available to two-dimensional artists, however, is vast. They can choose to work in a huge range of traditional media, such as oils, acrylics, pastels, and watercolors, or to work digitally or to combine media. They can depict all kinds of subjects or pull ideas from their imagination. And the possibilities for artistic style are as diverse as the artists themselves. Most artists start out exploring many of these options, but typically settle on an approach for which they become known.
Three-dimensional art: Three-dimensional artists use all of the same principles as two-dimensional artists—shape, color, line, texture, and so on—to create works of art that have height, width, and depth. These works often take the form of sculptures, but they can also be wall hangings and even temporary installations. Three-dimensional artists often create their works by molding and joining materials, such as clay, fiber, plastic, and metal, or by cutting and carving forms from a block of plaster, wood, or stone. Some artists combine various materials, and may even incorporate light, sound, and motion into their work. Three-dimensional artists are often commissioned to create works of art for public spaces that commemorate specific people and events.
Fine craft: Perhaps the most important criteria that distinguishes three-dimensional art from fine craft is purpose. Craftspeople often use many of the same materials—clay, glass, metal, wood, fiber, etc.—but generally with the intention of creating objects that are aesthetically interesting as well as functional. Handmade pottery, jewelry, clothing, furniture, home décor items, and other accessories all fall into the category of fine craft. Many craftspeople preserve their cultural heritage by practicing craft traditions that have been handed down through generations.
Illustration: Unlike fine artists who create what they want to create, illustrators use their artistic skills to create works of art according to their clients' directives and needs. Their illustrations are frequently used as pictures in books, magazines, and other publications and for commercial products, such as textiles, wrapping paper, stationery, greeting cards, and calendars. While many illustrators use traditional media, such as paint, pen-and-ink, or collage, they are also likely to use computers to complete or perhaps to entirely create their illustrations. Some illustrators work full time for one particular employer, while others freelance, creating works of art for a broad range of clients.
Cartooning and Animation: The world of animation offers many opportunities to artists who have a humorous or satirical mind with a flair for the dramatic, since the creation of cartoon images usually involves a strong element of storytelling. Cartoonists and animators generally create simplified or exaggerated drawings to visually convey political, advertising, comic, or sports concepts. These drawings may be static images used in publications, or they may be dynamic and continuous, such as a media program or movie. Cartoonists and animators work in a broad range of styles, and most combine their drawing skills with technical expertise in the use of specialized computer software programs.
Computer Animation: Computer animation is the process of making motion images using logarithms and templates. Computer animators use technology to create animated images for a variety of purposes. Both 2-D animation and 3-D animation are used within this industry. Computer-generated imagery, or CGI, is also a term widely used to refer to this type of animation.
Computer animation can be used in artistic design, story development, video game development, web design, film, and project management. Computer animators are in especially high demand within media professions. Creative people who love art, storytelling, and technology can find a successful career in this field. Computer animation is also highly competitive, so finding the appropriate degree from a good school is necessary.
Film and TV Production: Film and TV producers help write, cast, design, create, and edit films and TV shows. To help prepare for these careers, students can choose to earn associate, bachelor's, and master's degrees. Producers work all over the world, but are often concentrated in high productivity centers like Hollywood, London, New York, India, and Paris.
Medical and Scientific Illustration: Everyone has seen those anatomical drawings hanging on the walls of a doctor's or dentist's office. They are just one of many forms of illustrations created by scientific illustrators. Medical illustrators typically use drawing materials and/or computers to create animations of human anatomy and surgical procedures, and some specialize in creating three-dimensional models.
A unique specialization for medical illustrators is forensic art, the use of artistic skills and anatomy to help solve crimes. Scientific illustrators draw animal and plant life, atomic and molecular structures, and geologic and planetary formations. These illustrations are used in medical and scientific publications and in audiovisual presentations for teaching purposes, so these illustrators must have a high degree of knowledge in science and anatomy.
Multimedia Design: If you enjoy creative projects, you should consider a career in multimedia design. From short films and websites to video games and virtual reality products, this field encompasses a wide range of content forms that are extremely useful to various audiences. It combines traditional art forms with technology to produce animation, text, audio, film, and still images.
Multimedia design can be applied to education, commercial services, fine arts, and several other industries. This broad profession enables individuals from various backgrounds and art forms to gain work experience, cultivate talent, and enjoy a comfortable lifestyle while pursuing their dreams.
Frequently Asked Questions About Art & Design Degrees
How much can you make with a fine art degree?
As of May 2019, the median annual wages for fine artists (such as painters, sculptors, and illustrators) was $50,550, and the median annual wages for craft artists was $34,710. Overall employment of craft and fine artists is projected to remain steady from 2018 to 2028. Employment growth for artists depends largely on the overall state of the economy. In the specialty areas of multimedia art and animation, however, job growth for the same period is a projected 4%, and the median pay is $75,270.
What are the benefits of going to art school?
The main benefit of attending art school is the advantages that come with earning a degree. Pursuing and obtaining a degree opens career doors, equips you to work in a specialized field, and provides professional networking opportunities. Going to art school will increase your chances of having a creative or art-related career. Potential career paths could include becoming an illustrator, graphic designer, art gallery manager, or fine artist.
What is the average cost of art school?
The average cost at the nine online schools listed above is $18,200 per year. While that may seem expensive, the more important question is what salary potential can an art degree yield? Mid-career salaries at the schools above range from $49,900 to $80,300, but earnings can vary depending on the degree you earn and the specialized skills that accompany it. Regardless of the field you study, having a degree will open more opportunities for higher-paying jobs. That means the costs associated with art school may be worth it for many students when looking at their future.
What's the difference between a BFA and a BS in Art & Design?
A BFA is a Bachelor of Fine Arts and a BS is a Bachelor of Science in Art & Design. The major difference in the degrees is the coursework the students will be required to complete to earn them. The student's career goals will be the major deciding factor in which degree to pursue.
What kind of design degrees are there?
The most common design disciplines include graphics/visual communications, product/industrial, fashion and textiles, architecture, interior design, exhibition and display, and engineering. Degrees can be found for all these disciplines. For example, you can find online programs to earn a BAA in Fashion Merchandising and Design, a BA in Graphic Design and Media Arts, or a BA in Game Design.
Are there professional organizations for artists?
There are many professional organizations available to fine artists, often organized around the primary medium used by the group's members. For example, in the U.S., some of the many national organizations include the Oil Painters of America, the Pastel Society of America, the American Watercolor Society, the National Oil and Acrylic Painters of America, and the National Sculpture Society. Many groups operate at the state or local level as well, usually organized around a common medium, type of art, or location.
Membership in these organizations enhances an artist's credentials, creates exhibition and educational opportunities, and facilitates networking with other artists. In most cases, a basic level of membership is open to all individuals for a minimal fee. Some members can achieve a higher level of recognition within the organization by participating in exhibitions, winning awards, and otherwise demonstrating their professional abilities.
The AIGA is the predominant professional organization for graphic designers. In addition to becoming part of a national network of designers, members are entitled to discounts on products and services and gain access to job opportunities.
This website offers school details to prospective students as an informational resource. The appearance of a school listing on this website should not be interpreted as an endorsement of the school by this site.