Best Online Bachelor's in Anthropology Degrees
Accredited colleges and universities offer online anthropology programs at the certificate, bachelor's, and master's levels. Anthropology students study the development of human cultures and societies through coursework in disciplines like ethnography, paleoanthropology, and fieldwork. We also highlight the best schools for prospective online anthropology students, ranked based on tuition rates and alumni salary data provided by PayScale.
When deciding which online anthropology degree program to attend, students should select a school that is regionally accredited to ensure that they receive an education that meets national standards. Only students who enroll in accredited institutions are eligible for federal financial aid.
Online Anthropology Bachelor's Degrees You May Be Interested In
Advertisement
Southern New Hampshire University Online

2020 Best Online Colleges Offering Bachelor's in Anthropology Degrees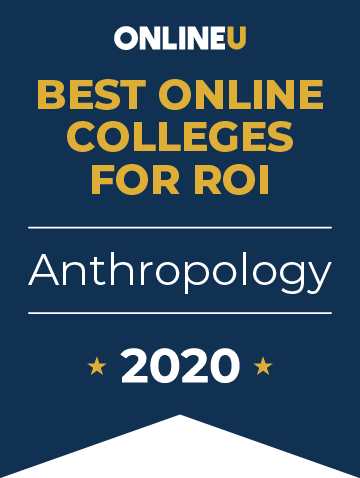 Students seeking online bachelor's degrees in anthropology will find that these 6 colleges offer the best value based on affordability and alumni salaries. Arizona State University is the #1 school, with an average alumni salary of $75,000 and charging only $15,900 for their BA in Anthropology. The University of Central Florida offers distance learners a BA in Anthropology for $11,515 per year. Alumni reported a mid-career salary of $65,900.
Alumni salaries were provided by PayScale. View our methodology for more details or learn more about OnlineU.
| Rank | School | Annual Tuition | Mid-Career Salary |
| --- | --- | --- | --- |
| # 1 | Arizona State University | $15,900 | $75,000 |
| # 2 | University of Central Florida | $11,515 | $65,900 |
| # 3 | Washington State University | $11,550 | $59,600 |
| # 4 | Colorado State University - Fort Collins | $14,280 | $56,000 |
| # 5 | University of Florida | $15,000 | $56,200 |
| # 6 | University of Memphis | $15,390 | $45,900 |
Salary data provided by

2020 Online Colleges Offering Anthropology Degrees - Ranking Details
Overview of Online Anthropology
Anthropology students normally obtain at least a bachelor's degree from a four-year program. Two-year associate programs in anthropology are also available for those who do not wish to undertake four years of study. About 20% of anthropology undergraduates go on to pursue graduate degrees in anthropology or a complementary field, such as sociology, teaching, criminology, journalism, or marketing. Those who do not wish to pursue graduate degrees often double major in another desired field to broaden their job possibilities. Upon graduation, they can apply their communication, research, and data skills to a wide range of professions, such as business, public health, education, or the arts.
Anthropology students who wish to obtain positions in teaching, research, or higher management go on to pursue graduate degrees in anthropology. Beyond offering a wider job pool, a graduate degree in anthropology allows for greater specialization and independent research in the student's topic of choice. Museum curators, non-profit managers, archeologists, and forensic anthropologists all typically require applicants to have a graduate degree. Those who wish to become a university professor must first obtain a doctorate degree by completing a dissertation alongside departmental faculty.
Online Bachelor's Degrees in Anthropology
Online bachelor's degrees in anthropology establish skills in communications, fieldwork, research methodologies, and data development in the humanistic and scientific study of human culture. Because anthropology draws on a large educational foundation and diverse skill set, recipients of a bachelor's degree in anthropology might work in market research conducting focus groups or surveys. They may also oversee public interest research for government, community, or international organizations. Additionally, anthropology majors may go on to work as assistants in academic research, museum curating, or archeological fieldwork. Higher-level positions require graduate degrees at the master's or doctorate level.
Program Requirements
To apply, students must have completed a high school education. Bachelor's degrees usually take about four years to complete, but students who already have some course credits may be eligible to graduate on a faster track. Students must complete the necessary general education requirements as well as the additional required credits in anthropology. Depending on the school and program, a bachelor's degree requires about 120 semester credits, 30 of which must be anthropology coursework, equaling about 40 classes in total.
Curriculum
During their undergraduate anthropology degree programs, students take basic anthropological courses on cultures, archeology, history, and civilizations. They can also choose electives in specialized anthropology topics such as forensic, linguistic, or biological anthropology. Students can choose to major or minor in anthropology depending on the number of anthropology credits they complete. Undergraduates who wish to enter the job market directly after completing their bachelor's degree often choose to double major in another desirable field in order to widen their potential career paths. Common second majors for anthropology students include business, communications, international relations, public health, and social work.
Accreditation for Online Anthropology Degrees
Schools offering anthropology degrees must have received either national or regional accreditation from a recognized agency. The U.S. Department of Education provides a database of accrediting agencies on the national, regional, and programmatic level. The Council for Higher Education Accreditation (CHEA) also has an online list of their recognized regional accreditation agencies. Regional accreditation is the highest form of academic recognition.
While there is no specific programmatic accreditation for anthropology programs, the American Anthropological Association (AAA) publishes the annual AnthroGuide, compiling hundreds of academic member programs into a comprehensive directory. The AAA also provides extensive information about careers, internships, and fieldwork opportunities in anthropology. The Consortium of Practicing and Applied Anthropology (COPAA) provides further information about higher education institutions and programs in anthropology across the nation.
Common Online Classes for Anthropology Students
In addition to general education requirements in the sciences and humanities, online anthropology students must take courses specific to their field. Available classes include but are not limited to the following:
Introduction, Method, and Theory of Archeology
Anthropology of Activism
Culture Through Film
Creating Museums
Researching Environment and Culture
Ethnology of Immigrant Life
Applied Urban Ethnography
Reading Ethnographies: Ethnographic Theory and Practice
Anthropological Fieldwork Abroad
Paleoanthropology
Communicating Anthropology
Cultural Heritage
Biocultural Approaches to Food
Forensic Bioarcheology
Certification Process
Forensic anthropologists must undergo a rigorous examination process covering theory, ethics, and practice in order to obtain certification from the American Board of Forensic Anthropology (ABFA). Personal, academic, and professional records are taken into consideration. Certified forensic anthropologists are publicly identified by the ABFA for the consultation of medical examiners, coroners, law enforcement officials, and attorneys.
Careers in Anthropology
Anthropology covers a wide range of educational topics from the biological sciences to cultural psychology and history. Anthropology students learn to conduct group fieldwork, formulate and test hypotheses, work with data, and employ diverse research methodologies. While potential professions often don't include the term "anthropology' in the title, an anthropology degree prepares future graduates for careers in business, marketing, consulting, journalism, nonprofit work, public health, social work, international relations, criminal justice, government, and academics. The number of anthropology students who become professional anthropologists or archeologists is small in comparison to those who go on to apply their anthropology degree in other areas.
Anthropologists or Archeologists: These scientists research the origin, behavior, and evolution of humans through the study of cultures, languages, and archeological remains. They work for research organizations, government, or consulting firms, sometimes traveling on-site for long periods of fieldwork. Professional anthropologists must hold a master's or doctorate degree in anthropology or archeology.
Archivists, Curators, and Conservators: Museum archivists, curators, and conservators work on exhibitions, events, educational materials, community projects, independent research, permanent records, and collections. Specialized museum workers must have a master's degree or higher.
Biological Anthropologists: Biological anthropologists study physiology, nutrition, and pathology at health ministries, international health organizations, and medical schools. They may conduct research on the evolutionary origins, lifestyle, or dietary changes behind modern health issues. They can also work as specialized forensic anthropologists assessing skeletal remains to provide medical and legal consulting in criminal justice cases.
Corporate Anthropologists: Corporate anthropologists apply their background in social and cultural anthropology to analyze workplace efficiency, product design, or intercultural marketing.
Development Anthropologists: Development and international aid workers use their anthropological background to plan social projects, work as cultural mediators, and assess the success of organizational work. Development anthropologists study aid work and must have an extensive knowledge of the local community.
Professors: University professors teach classes and publish original research. Professors must have PhDs.
Public Sector Careers: Government jobs for anthropologists may include policy-making and planning, lobbying, grass-roots advocacy, and social service agencies.
Secondary Teachers: Teachers with a background in anthropology go on to teach pre-university subjects such as history, religious education, sociology, geography, or biology.
Visual Anthropologists: Visual anthropologists work in film, television, multimedia, marketing, museums, and political campaigns.
Related Articles
2023 Best Online Social Science Degrees
Learn about the best online social science degrees in 2023 and the colleges that offer them. Our list only includes accredited online schools.
2023 Best Online Bachelor's Degrees in the U.S.
Earning an online bachelor's degree can vastly expand your career options and earning power. We've ranked the best colleges by alumni salaries.