Guide to Trade School Careers
Many Americans are questioning the value of a college degree compared to the debt it could leave them with. Completing a trade school program can be a way to start your career sooner and with less student loan debt, but what careers can you qualify for with a trade education?
The good news is that you can find job training programs for a variety of occupations at a trade or vocational school. These include jobs in industries such as construction, beauty, culinary arts, automotive repair, and health care. A certificate from a trade school may give you an advantage with some employers, even in trades that don't require postsecondary education.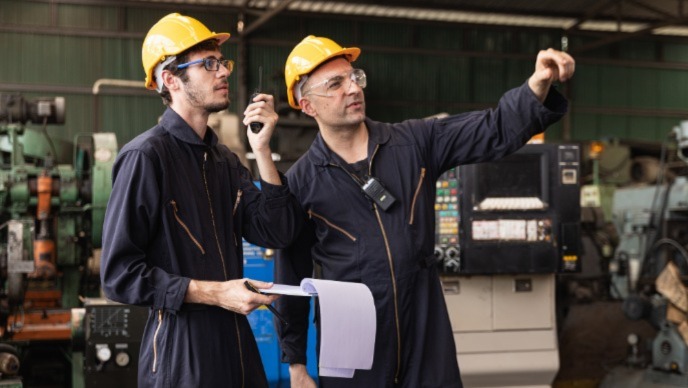 What Are Trades?
For our purposes, a trade most closely fits Merriam-Webster's third definition: "an occupation requiring manual or mechanical skill." These jobs are sometimes called "skilled trades" in recognition of the specialized knowledge they require; each occupation requires an extended period of training to practice safely and effectively.
This broad definition means that a wide range of jobs are considered trades. They each have different education and training requirements, and some call for certification or licensure, but we can give a few general principles about what's required.
How to Get Into a Trade
As with any career, you may need to pursue certain education, certification, or licensure credentials to practice a specific trade. These requirements differ from field to field, but we offer some general principles to keep in mind below.
Education Requirements
Trade careers are all similar in one way: The maximum education required is a certificate from a trade school or community college. You can often earn this credential in six months to a year, but some programs may take as little as four months or as much as two years.
Once you're working in your field, you can potentially earn another certificate in a specialized area of practice. For example, you may work as a small engine automotive technician but decide to pursue a credential in diesel truck engine service.
Certification and Licensure Requirements
Certification is a professional credential that you earn by passing a test of knowledge and skills. In many professions, certification isn't necessary but can be a boost in the job market, because employers may prefer candidates with particular certifications. Some trades have multiple certifications available from different organizations, such as heating, air conditioning, and ventilation (HVAC) service.
A license is a state-issued credential that's necessary to legally practice certain professions. For example, electricians in nearly every U.S. territory must earn licenses because state governments want to ensure that they're properly trained in electrical system safety. But not every trade occupation needs a license, so be sure to research your chosen field for details about your state's requirements.
Trade School Careers
You can earn a trade school certificate in dozens of subjects to start down your career path. Though there are too many possibilities to cover here, we provide a list of some of the popular fields — based on categories from the Bureau of Labor Statistics (BLS) — and some common job choices within those fields.
The BLS lists "high school diploma or equivalent" as the education requirement for many of these occupations. In these cases, you might secure work without a trade school credential. However, earning a certificate may make you more marketable to employers.
These workers build and repair our houses, businesses, and transportation infrastructure. Some of the most common jobs in this category are electrician and plumber, pipefitter, and steamfitter, which have hundreds of thousands of positions distributed across the U.S. Construction equipment operators are also well represented, though their median yearly wages of $48,290 are lower than those of plumbers ($59,880).
Aspiring chefs often attend special vocational institutions known as culinary schools. There they can study the skills needed to become cooks, possibly progressing to chef or head cook with experience. Culinary schools also offer narrower programs for prospective specialists such as bakers.
The BLS mentions that this job category pays the least out of all the categories it tracks. However, the bureau includes food servers in its calculations, which is a large group of employees who don't hold trade or technical school certificates for this work.
You may associate health care with highly educated doctors and nurses, but a growing base of support workers help doctors' and dentists' offices, clinics, and hospitals to function. The relatively fast-growing dental assistant and medical assistant roles serve similar functions: Both jobs involve a mix of clinical and administrative duties, just in different medical contexts.
Another popular career is medical records and health information specialist, the professionals who ensure that care teams, patients, and insurance companies have access to accurate medical records.
Employees who do beauty and grooming work often require certificates to get hired. These professionals include barbers, hairstylists, and cosmetologists for hair, manicurists and pedicurists for nails, and skincare specialists for skin. Of these three occupations, skincare specialists are by far the least numerous but the highest paid at a median $37,300 per year.
What Is the Job Outlook for Trade School Careers?
The job market will likely be uneven in the near future, with many trade jobs growing at or above the average rate but others lagging behind. Here, we examine the outlook for the same BLS categories that we used above.
Construction and Extraction
Overall, the BLS expects 6% growth in new jobs for these industries through 2030, which is slower than the 8% average rate for U.S. occupations. Several occupations will actually lose jobs in that period. One notable exception is the solar photovoltaic installer field, which is adding jobs at a blazing-fast 52% rate.
Food Preparation and Serving
The BLS calculates a likely 20% growth in new jobs in the 2020-2030 period. This number is skewed by COVID-19: The restaurant industry is still adding jobs that were previously cut when the pandemic brought in-person food service to a standstill.
Health care employees were also massively affected by the pandemic, with about one in five leaving the field in 2020-2021. So the 16% growth rate is partly to replace professionals who quit, but also to fill new positions. This is because long-term aging trends are likely to increase the need for health care among the older U.S. population.
Installation, maintenance, and repair
As a whole, the BLS projects this career group to grow at 7%, slightly below the average rate, through the end of the decade. Most automotive specialties can expect relatively flat growth through 2030, but the heavy vehicle technicians and aircraft mechanic fields should both grow at faster-than-average rates. And this group can claim the fastest growing trade job of all: Wind turbine technician positions will likely expand 68% through 2030.
Personal Care and Service
This is the fastest growing group among the skilled trades, with overall category growth of 22% in the 2020-2030 period. The three personal-appearance fields are growing between 19% and 33%, all far above the 8% average rate. Naturally, bounceback from COVID-19 is responsible for much of this growth, because these trades weren't designed for social distancing and took a major hit during the pandemic.
How to Advance Your Trade Career
As discussed, many trade careers require certifications at the entry level. But for those that don't, earning a certification can be a first step toward boosting your credentials in the job market. And many fields have multiple certifications that allow you to specialize.
Earning a certification can be a first step toward boosting your credentials in the job market.
Certifications require you to pass a subject matter exam. It's always a good idea to study and make sure you're comfortable in your knowledge before taking the test. Some certifying organizations offer free study guides, and there are paid guides for most of them. You can either buy a study guide or secure one through a local library if it's available.
You might also pursue further education in your field. This isn't available for all occupations, but you can research degree programs in your focus area. The next logical step after a trade program is to earn an associate degree from a community college. But it's important to make sure that an associate degree program doesn't just repeat familiar coursework from your trade school certificate program and add a few liberal arts courses on top. It might be helpful to talk to an admissions officer or academic counselor about the curriculum so you can make an informed decision.
Is a Trade Career Worth It?
Nobody can answer this question for another person; your circumstances, preferences, and goals differ from everyone else's, and they're reflected in your career choices. But a trade career could be worth your investment if it's one of the faster growing, higher paying fields, and especially if you enjoy the work.
Below, we present a few data-driven considerations for and against a career in the trades. It may help you to think through these factors when planning your future.
Possible Pros
To start, many trade careers are well distributed nationwide and aren't going to disappear anytime soon. People in all states need their plumbing and electrical wiring fixed, their hair cut, and their modes of transportation repaired and made safe — even if that means a public bus or train rather than a personal vehicle. This wide availability of trade jobs means that you can potentially start to earn a steady income soon after high school, whether you dive right into full-time work or earn a 6-12-month certificate first.
What's more, many tradespeople have some degree of flexibility over their hours. If you're a contractor or subcontractor, you may be able to choose how often you make yourself available for work. This can lead to a favorable work-life balance. Note that this favorable balance is less common for women, because entrenched gender roles mean that they tend to shoulder a larger share of childcare burdens.
Possible Cons
Trade jobs tend to pay less than jobs requiring a four-year college education or advanced degree. The highest paid tradespeople earn well above the median U.S. salary, but many bachelor's-level employees with bachelor's degrees still outearn them in business and technology.
What's more, even relatively recession-proof trades are not necessarily immune to unexpected economic events. COVID-19 provided a live case study of this phenomenon, as many hairstylists, cooks, and mechanics were laid off and forced to accept government assistance. Employees who were able to go remote were better able to weather the pandemic, strengthening the finding that workers with more education tend to experience less unemployment.
FAQS About Trade School Careers
Resources for Exploring Trade School Careers
Below, we've collected a list of resources of interest to anyone considering a trade career. Given the great variety of trades, this list doesn't cover every career, but it may still give you ideas for your own research into career options.
| Type of Resource | Description and Links |
| --- | --- |
| Certification information | These pages detail the certification requirements for a variety of careers. |
| Licensure information | Review these resources to learn different states' requirements for practicing certain professions. |
| Professional organizations | These associations consist of practitioners in their fields. They represent their profession in state and federal legislatures, offering continuing education programs, and host networking events and job boards. |
Related Articles
Online Trade and Vocational Schools
Trade schools offer vocational training to prepare students for specific jobs. Discover online trade schools that offer certificate and associate programs.
What Are the Best Certifications to Get a Job?
Professional certifications can increase your marketability and job prospects. Discover the best certifications and which in-demand careers require them.