How Much Do College Professors Make?
Becoming a college professor is one of several teaching jobs to consider when deciding how to apply your field expertise and education to a career teaching students. Postsecondary teaching requires a blend of real-world experience in your field of study and classroom management and curriculum delivery skills that you may acquire through a teaching degree. As a result, full-time college professors tend to be some of the highest-paid teachers, with many tenured-track professors earning an annual salary over $100,000.
ADVERTISEMENT
Online Teaching Degrees You May Be Interested In

Annual Tuition: $17,800
8 Programs (view all)

Annual Tuition: $11,700
35 Programs (view all)

Annual Tuition: $18,620
26 Programs (view all)
---
What Is the Average Salary of a College Professor?
The median annual salary of a college or university professor is $79,640 , according to the U.S. Bureau of Labor Statistics (BLS). However, a college professor's salary will vary by geographical location, institution, the field of degree, degree level, and academic rank. For example, a law professor who must hold a Juris Doctor (JD) degree to teach graduate-level students can earn significantly more per year than a music teacher teaching at the undergraduate level. If the law professor lives in Massachusetts, they may make more than a colleague working in Arizona.
A college professor's salary will vary by geographical location, institution, the field of degree, degree level, and academic rank.
Professors holding a master's degree may be able to instruct at community colleges. However, most four-year institutions require a PhD or other doctoral degree. These professors may also make more money than those with only a master's degree.
Academic ranks include early-career assistant professors, mid-career associate professors, and senior-level professors on a tenure track. The BLS provides data to the National Center for Education Statistics (NCES), which has determined the following average salaries by rank at public and private universities as of the 2020-21 academic year: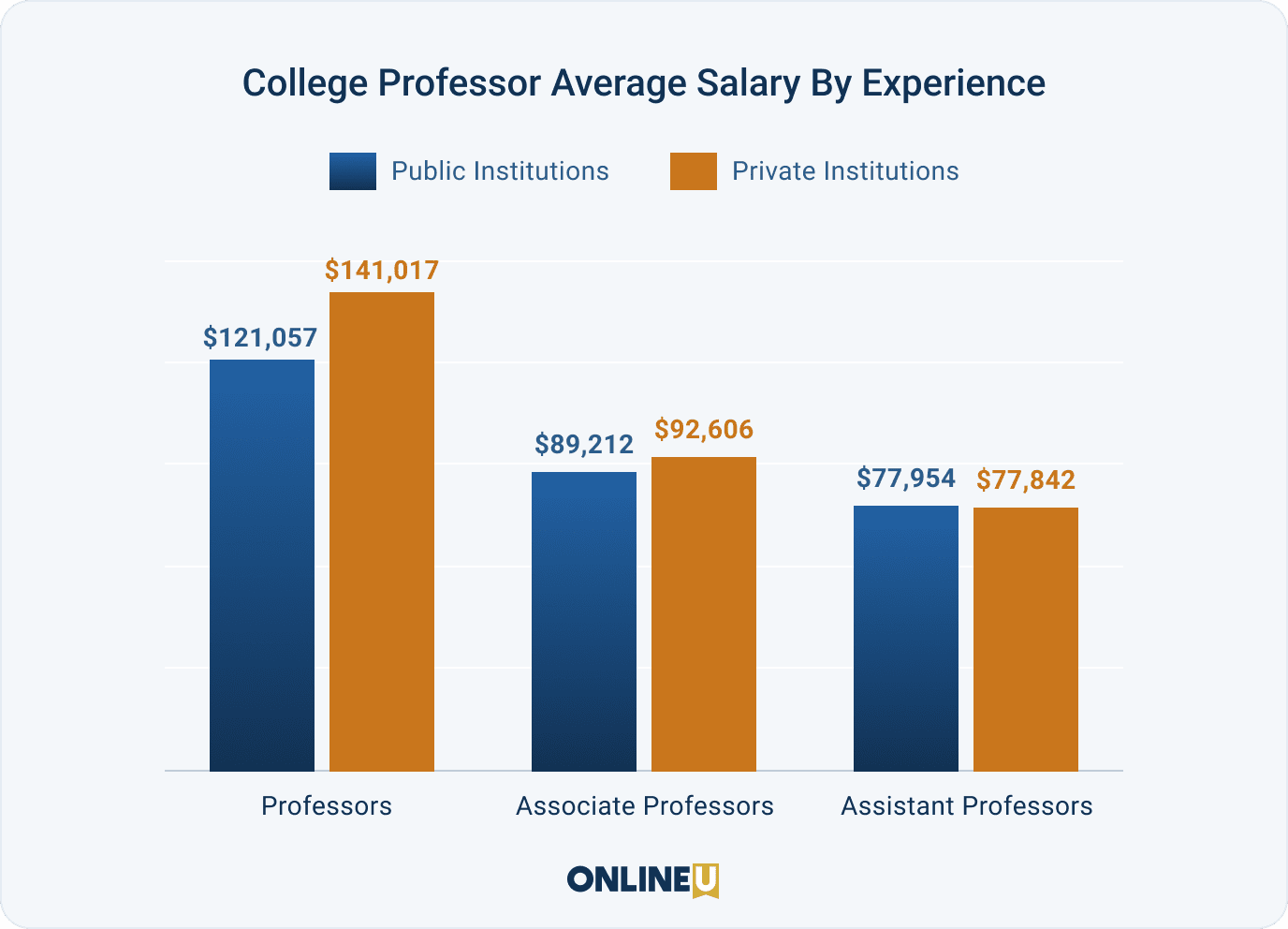 It's important to recognize that part-time professors — commonly referred to as adjunct professors — make significantly less than faculty instructors. They get paid by the course and often work at more than one school to make ends meet. An adjunct professor is also not eligible for the healthcare benefits and retirement packages a full-time, tenured professor may receive.
Average Professor Salary by Type of Institution
The type of school where professors teach can also influence the wages they earn. For example, the NCES found that those teaching at private, nonprofit schools often make more than their public institution counterparts. On the other hand, those working at two-year and community colleges tend to earn the least of all professors.
There does not seem to be a distinction between the pay online professors receive versus those teaching on-campus. Professors have adapted to delivering instruction by both methods, with the COVID-19 pandemic requiring schools to transition to 100% online learning. However, salaries may vary from school to school.
Additionally, professors teaching at a higher degree level earn more than others: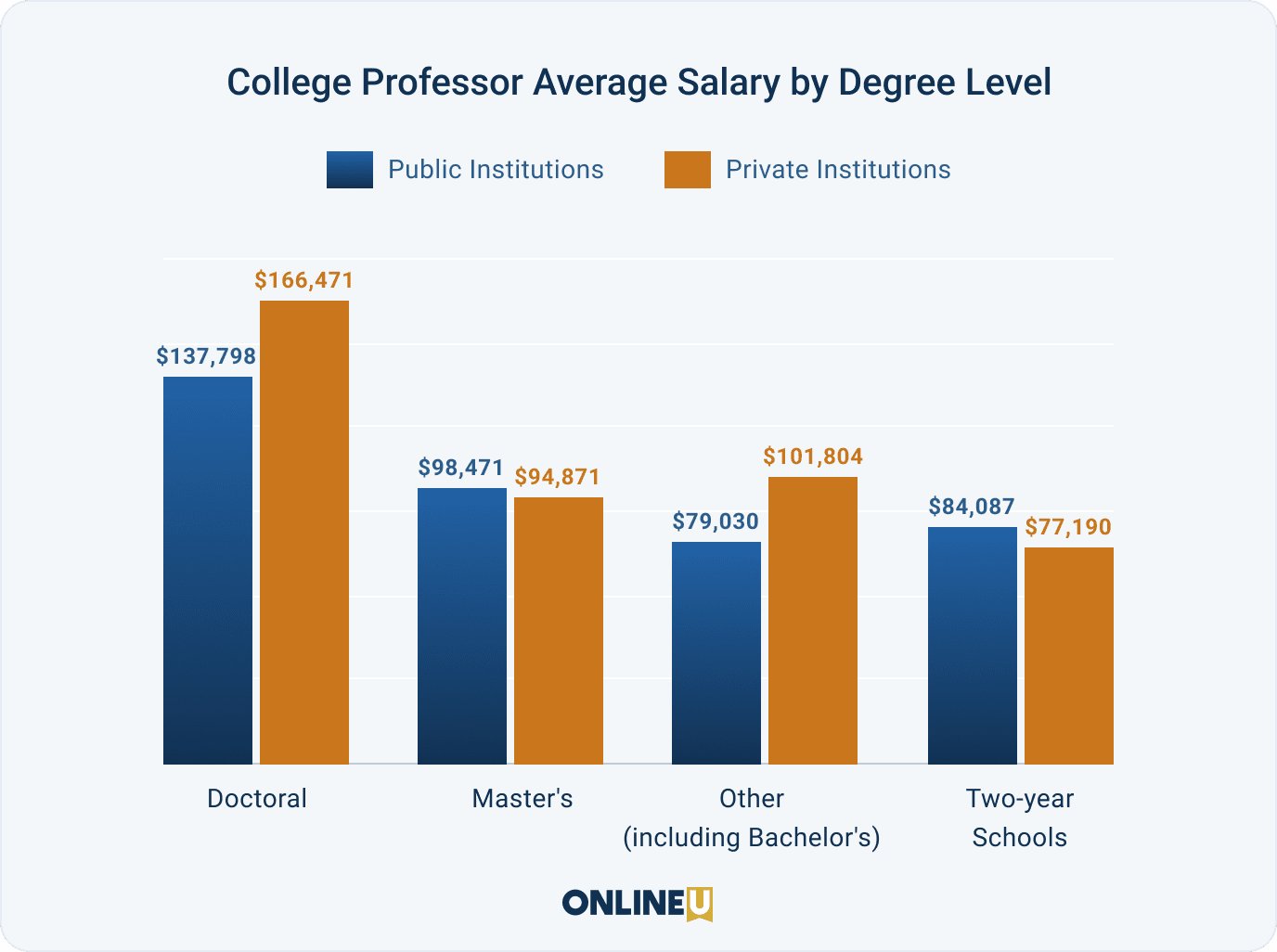 Average Professor Salary by Subject
Professor wages vary based on the subject they teach. In general, the average pay is between roughly $64,000 and $123,000 per year. Education professors are at the low end of the salary range, typically earning less than $65,000 a year. The highest-paid are those who teach law; their expertise can net an annual salary of over $120,000.
Salaries for Common Subject Areas
Art and Music
$75,940
Biology
$81,440
Chemistry
$79,410
Education
$63,910
English and Literature
$75,930
Foreign Language
$77,030
History
$78,130
Math Sciences
$77,580
Nursing
$77,440
Sociology
$77,980
Highest Paying Subject Areas
Agricultural Sciences
$95,910
Anthropology and Archeology
$97,340
Architecture
$95,160
Atmospheric, Earth, Marine, and Space Sciences
$98,070
Business
$94,360
Economics
$104,940
Engineering
$104,940
Health Specialties
$102,720
Law Teachers
$123,470
Physics
$93,070
Highest Paying States for College Professors
Several states across the U.S. pay their postsecondary faculty higher than other states. According to the latest data from the NCES, college professors in the District of Columbia make the most at an average of $115,372 across all subject areas and institution levels. Doctoral-level professors at public universities in Washington D.C. earn even more at $143,504.
College professors in the District of Columbia make the most at an average of $115,372 across all subject areas and institution levels.
The next top-earning states for college professors across all subjects and institution levels include:
| | |
| --- | --- |
| Massachusetts | $112,141 |
| California | $109,371 |
| New Jersey | $109,290 |
| Connecticut | $107,248 |
| Delaware | $105,103 |
Job Outlook for College Professors
In general, the job growth for college professors is faster than average at 12% through 2030. The job outlook is the lowest for agricultural science professors who teach about agriculture, food, and natural resources. The highest job growth can be found in teaching health specialties, including dentistry, pharmacy, public health, therapy, and veterinary medicine.
Job Growth for Common Subject Areas
Art and Music
10%
Biology
13%
Chemistry
8%
Education
8%
English and Literature
6%
Foreign Language
9%
History
8%
Math Sciences
6%
Nursing
22%
Sociology
8%
Job Growth In High Paying Subject Areas
Agricultural Sciences
5%
Anthropology and Archeology
8%
Architecture
8%
Atmospheric, Earth, Marine, and Space Sciences
6%
Business
6%
Economics
9%
Engineering
13%
Health Specialties
24%
Law Teachers
11%
Physics
8%
Highest Paying Alternative Careers for College Professors
There are education careers outside of day-to-day teaching that may be of interest to you. If you're still eager to work in academia, you may choose to work in educational leadership to serve as a department head or lead other academic services. Or, you may use your teaching skills in private industry developing and training staff. If you do choose to teach, there may be a day when you're ready to retire, but want to apply your years of experience to a new career. We've compiled a list of jobs for former teachers that pay well and where the skills and experience gained through teaching can continue to benefit others.
| Occupation | Annual Median Salary | Description |
| --- | --- | --- |
| Instructional Coordinator | $63,740 | Instructional coordinators oversee school curriculums and teaching standards. |
| Postsecondary Education Administrator | $96,910 | Education administrators oversee student services, faculty research, and academics, depending on the department they serve. |
| Training and Development Manager | $120,130 | Training and development managers work in non-academic environments planning, directing, and coordinating an organization's staff training programs. |
| Writer and Author | $69,510 | Writers and authors may work on textbooks and other educational materials. |
FAQS About College Professor Salaries
How Long Does It Typically Take To Become a Professor?
---
It can take up to eight years to become a full-time faculty professor, including the time it takes to complete higher education through a PhD or other doctoral degree program.
Do You Need a PhD to Be a Professor?
---
Professors at four-year universities and those who teach specific subjects like law or medicine are typically required to hold a PhD or other doctoral degree in their field. However, professors at the community college level may only be required to have a master's degree.
Do College Professors Make a Lot of Money?
---
While some faculty salaries top $170,000, many professors make under $100,000 a year. A 2021 American Association of University Professors survey also found that wages for full-time faculty members increased by only 2.0% in 2021, which is one of the smallest increases in the last fifty years.
What Kind of Professors Get Paid the Most?
---
According to the BLS, law professors earn a $123,470 annual median salary which is much higher than professors who teach other subjects. Economics, engineering, and health specialties professors also make significantly more than those who teach more traditional subjects like math and English.
Related Articles
College Degree Levels Guide
This article defines all the degree levels in college, including the types of degrees that are available to students and what order they come in.
College Vs. University: What Is the Difference?
How are colleges different from universities? Learn all about these institutions and find out how they differ and which is a better fit for you.