How To Become a Substance Abuse Counselor
Choosing a career in substance abuse counseling can fulfill a growing need for counselors and potentially help save lives. Substance abuse counselors are highly-sought behavioral health professionals vital to tackling alarming rises in substance use disorders, particularly during the COVID-19 pandemic. In fact, The Kaiser Family Foundation (KFF) estimates that the number of overdose deaths in the U.S. significantly increased from 16.6 deaths per 100,000 in 2015 to 28.3 in 2020.
If you think a career in substance abuse counseling is right for you, you'll need a bachelor's degree at a minimum. Private practice requires the completion of a master's degree and between 1,500 and 3,000 hours of work experience for licensing. Read on to learn more about what it takes to enter this in-demand field.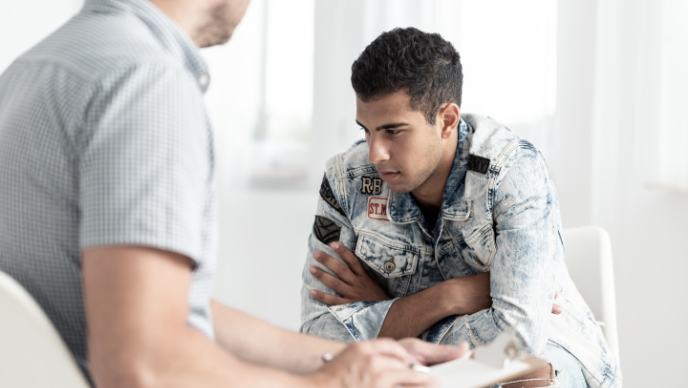 What is a Substance Abuse Counselor?
A substance abuse counselor is a mental health professional who helps others recognize how the misuse of alcohol, drugs, and other harmful substances can negatively impact their lives and the lives of their family members. They help clients modify behaviors to encourage healthier habits and prevent addiction.
To change how we talk about substance use and addiction, substance abuse counselors are now commonly referred to as "substance use disorder counselors." This change is a more inclusive title that covers the spectrum of substance use, from misuse to addiction, to eliminate stigma and generalizations and generate compassion.
However, various government agencies and schools still use "substance abuse," so we will use both terminologies interchangeably on this page.
A substance use disorder counselor differs from an addiction counselor because not all who use substances become addicted.
A substance use disorder counselor differs from an addiction counselor because not all who use substances become addicted. Those who become addicted have varying needs to help eliminate chemical dependency in their lives. They may require addiction counseling with a different skill set and the integration of different modes of care provided through a drug treatment program.
In general, substance use disorder counselors perform the following tasks:
Evaluate a client's mental and physical health and unhealthy behaviors

Work with a client and their loved ones to create a viable treatment plan

Educate families about substance use and misuse to develop coping strategies

Review progress and recommend modifications to treatment plans as necessary

Provide outsourcing services to connect clients with other resources such as job placement, support groups, or housing
Steps to Become a Substance Abuse Counselor
Substance Abuse Counselor Education Requirements
In order to become a substance abuse counselor, employers typically require a bachelor's degree, though some may require a high school diploma and a certificate or an associate degree only. If you want to enter private practice, you'll need to complete a master's program.
It's essential to attend a school that is institutionally accredited to apply for licensing or transfer college credits. The Council for Accreditation of Counseling and Related Educational Programs (CACREP) also provides programmatic accreditation for over 900 graduate-level programs offered by over 400 institutions across the U.S. However, neither the Department of Education nor the Council for Higher Education Accreditation (CHEA) recognizes CACREP as an official accrediting body.
Supervised Substance Abuse Counseling Experience
In addition to earning a degree, employers may also require completing approximately 255 hours of supervised clinical experience through a six-month practicum. A practicum allows you to apply your skills in a real-world setting under the direction of qualified professionals so you can benefit from their experience.
Substance Abuse Counselor Licensure/Certification
You'll need a master's degree and hours of work experience to be eligible for licensure.This process can take an additional two to three years after graduation. Depending on your state's requirements, you'll need to renew your license every two to three years.
If you're not interested in private practice, you may want to consider substance abuse counseling certification. While certification is typically not required by employers, it may increase your job opportunities and competitiveness. The Association for Addiction Professionals (NAADAC) offers several certification opportunities through the National Certification Commission for Addiction Professionals (NCCDAC) that may appeal to prospective employers. The International Certification & Reciprocity Consortium (IC&RC) also offers six credentialing programs to become certified.
Continuing Education for Substance Abuse Counselors
License renewal occurs approximately every two years and includes completing roughly 40 continuing education units (CEUs) to help keep your skills relevant and current. Requirements vary by state and can be determined by contacting your state's licensing board. Each CEU is worth 10 hours of participation. Several places may offer CEUs, including professional associations and colleges and universities. Always ensure the International Association for Continuing Education and Training (IACET) approves the courses because it sets the standards for continuing education and training throughout the U.S. Only IACET-approved courses are eligible for CEUs.
Important Qualities for Substance Abuse Counselors
There are several qualities substance abuse counselors must have to treat clients effectively. O*NET has identified that substance abuse counselors are typically social, artistic, and investigative by nature which may draw them to the counseling field. These individuals may also value building relationships, independence, and achievement.
In addition to these intrinsic qualities, the Hazelden Betty Ford Foundation has also determined that substance use disorder counselors should possess the following:
Empathy to understand and share their clients' feelings. Substance abuse counselors should be patient and compassionate with a willingness and eagerness to help others in distress and treat them kindly.
Active listening skills to hear and understand their clients to glean information and build rapport and trust. Actively listening shows you are engaged in the relationship and that you have the best of intentions.
Cultural competency to be able to work with diverse populations with humility. This can enable you to be respectful and accepting of different perspectives, values, and experiences.
Emotional resilience to remain composed and practice self-control in the heat of conflict. Being emotionally resilient can help you adapt quickly and remain nimble as situations may change quickly and unexpectedly.
Strong ethical code to understand right from wrong and behave in a professional manner without compromising the counselor-client relationship. This includes setting boundaries and providing a safe environment that's respectful of patient confidentiality.
Career Opportunities for Substance Abuse Counselors
With a 23% job outlook for substance abuse counselors through 2030, as predicted by the U.S. Bureau of Labor Statistics (BLS), numerous counseling career opportunities are available for substance use disorder counselors. You can use your skills acquired through a substance abuse counseling degree program to help the general public grapple with substance misuse, or you can apply your skills to work with specific populations who can also benefit from your empathy and expertise.
Depending on your career path, you can choose to work and provide care in one of the following settings:
Outpatient clinics including mental health and substance abuse centers and detox clinics
Inpatient clinics including residential facilities, half-way houses, and detox centers
Community based organizations and nonprofits that rely on public and private funding and grants to deliver services, advocate, and educate through social work
Government and public service such as the Veterans Administration, juvenile detention centers, and the adult corrections system
Employee assistance programs that contract with employers to provide mental health services and other related resources to employees
Independent practice where you set your own schedule and can be your own boss
Within these environments, you may support other healthcare professionals such as nurses, doctors, psychologists, and licensed social workers to develop treatment plans and coordinate care delivery.
Substance abuse counselors earn a $48,520 annual median salary, with the highest 10% making upwards of $77,000 and the lowest a little over $30,000. Those working in the government or high-end residential care facilities earn the most, while those working in substance abuse centers earn the least.

Challenges and Rewards of Being a Substance Abuse Counselor
Jenna Jarrold, LAC, is a Licensed Mental Health Therapist for Drug Helpline. When asked about the challenges of being a substance abuse counselor, she finds the biggest challenge is "working harder than the client."
"Some clients lack the motivation to change their relationship to drugs and/or alcohol," Jenna says. "Some clients are seeking treatment because they feel they 'should' for someone else (i.e., spouse), and thus, do not really want to change. Whatever the reason, substance abuse counselors will encounter clients who are not putting in the 'work,' and this can often lead to a therapist working harder than the client."
However, Jarrold acknowledges that being a substance abuse counselor has its rewards, one being opportunities for "personal growth and ongoing learning." "As a substance abuse counselor," she explains, "there is the potential for encountering various challenges that may push you out of your comfort zone and propel you to learn new techniques, educate yourself on new topics, and get creative with new interventions. This can be an extremely rewarding experience that leads to personal growth."
"Substance abuse counselors have the opportunity to see their clients make changes as they work toward sobriety,"
Another reward Jarrold experiences is witnessing change. "Substance abuse counselors have the opportunity to see their clients make changes as they work toward sobriety," she notes, "and being able to witness some clients achieve sobriety and, thus, achieve a healthier lifestyle and an overall wellbeing is very satisfying."
Jarrold concludes that she also appreciates the variety being a substance abuse counselor offers. "Working as a substance abuse counselor offers a great deal of variety," she says."There are many different types of counseling approaches and techniques, and counselors can work with different types of clients in various settings (e.g., inpatient, outpatient, private practice). This variety can help to keep counselors engaged in their work and prevent burnout."
FAQs About Becoming a Substance Abuse Counselor
What Is the Difference Between a Substance Abuse Counselor and an Addiction Counselor?
---
A substance abuse counselor works with clients to help them stop their unhealthy use of alcohol, drugs, and other chemicals. However, their clients may not be addicted to these substances. An addiction counselor works with clients who have a true addiction and need to adopt behavior changes to overcome a chemical dependency through a specific addiction treatment plan.
What Are the Greatest Ethical Challenges a Substance Abuse Counselor Faces?
---
Some of the most significant ethical challenges anyone providing mental health counseling faces include maintaining strictly professional relationships and setting boundaries, accepting differences in opinion and values, having a sense of duty to warn and protect and call the authorities if needed, and avoiding self-disclosure unless relevant to a client's treatment.
How Much Does a Substance Abuse Counselor Make an Hour?
---
According to the BLS, substance abuse counselors earn a $48,520 annual median salary. However, counselors working for the government make significantly higher at $60,450. Utah, Alaska, and the District of Columbia pay the highest salaries.
Which States Have the Highest Demand for Substance Abuse Counselors?
---
Data analytics company Lightcast (formerly Emsi Burning Glass) has determined that California, Texas, Florida, Ohio, and the District of Columbia have the highest demand for substance abuse counselors.
Bottom Line
You can help improve access to behavioral health care by earning a bachelor's degree to become a substance abuse counselor. To keep your skills current and potentially increase job growth opportunities, you can obtain various substance abuse counseling certifications throughout your career. As you gain work experience, you may even consider entering private practice and earning a master's degree to be eligible for state licensure. There are numerous opportunities to help improve the lives of others in this highly-sought field.
Related Articles
How To Become a Counselor
If you are curious about the requirements to become a counselor, check out our article that covers everything from counseling careers to common questions.
Substance Abuse Counseling Career Guide
Learn everything you need to know about substance abuse careers, including job responsibilities, salaries, career outlook, and how to advance in the field.