Software Engineer Salary Overview
If you're considering a software engineering career, you may wonder how much money you can expect to earn. Everyone's career path is different, but we can offer some insight about the pay for this occupation as a whole. On this page, we parse the available data to give a comprehensive picture of salaries in this discipline, including wage trends in the industry, the geographical areas where software engineers earn the most money, and how you might be able to negotiate a pay raise.
ADVERTISEMENT
Online Software Engineering Degrees You May Be Interested In

Annual Tuition: $19,398 - $29,428
2 Programs (view all)

Southern New Hampshire University Online

Annual Tuition: $16,639 - $17,479
1 Programs (view all)
---
Software Engineer Salary Overview
The Bureau of Labor Statistics (BLS) classifies software engineers as a subgroup of software developers, who earn median annual salaries of $110,140. This doesn't account for any bonuses, which can add a significant amount to compensation. The technology industry is competitive, so companies often dole out signing bonuses to new hires once they pass a probationary period. In addition, many employers provide performance-based bonuses to individuals and to all employees if the company does well.
Do Software Engineers Get Paid Well?
The news is good. Software engineers earn high wages when compared to all other jobs in the U.S., for which the median yearly salary is $45,760. However, it's important to understand that many software engineering jobs are in areas with a high cost of living. Even an exceptional salary won't go as far in the Silicon Valley, Seattle, and Washington D.C. — three top regions for software engineers — as it would in a more affordable area.
Software engineers earn high wages when compared to all other jobs in the U.S.
Software Engineer Salaries by Years of Experience
As in all fields, software engineers tend to earn higher salaries the longer they work. Employers who want to hire or retain experienced engineers are often willing to pay for the opportunity, because they can usually count on these employees to handle more complex responsibilities. Although the BLS only provides a median annual salary, we parsed data from Emsi Burning Glass, an analytics company that compiles many sources of labor market information.
What Is the Salary Range for a Software Engineer Based on Seniority?
According to Emsi Burning Glass, software engineers with 3-5 years of experience earn average salaries that are about $16,000 higher than those with 0-2 years of experience. After 6-8 years, that average climbs another $7,000. Finally, software engineers with nine or more years of experience make average pay that's about $28,000 higher than at the entry level.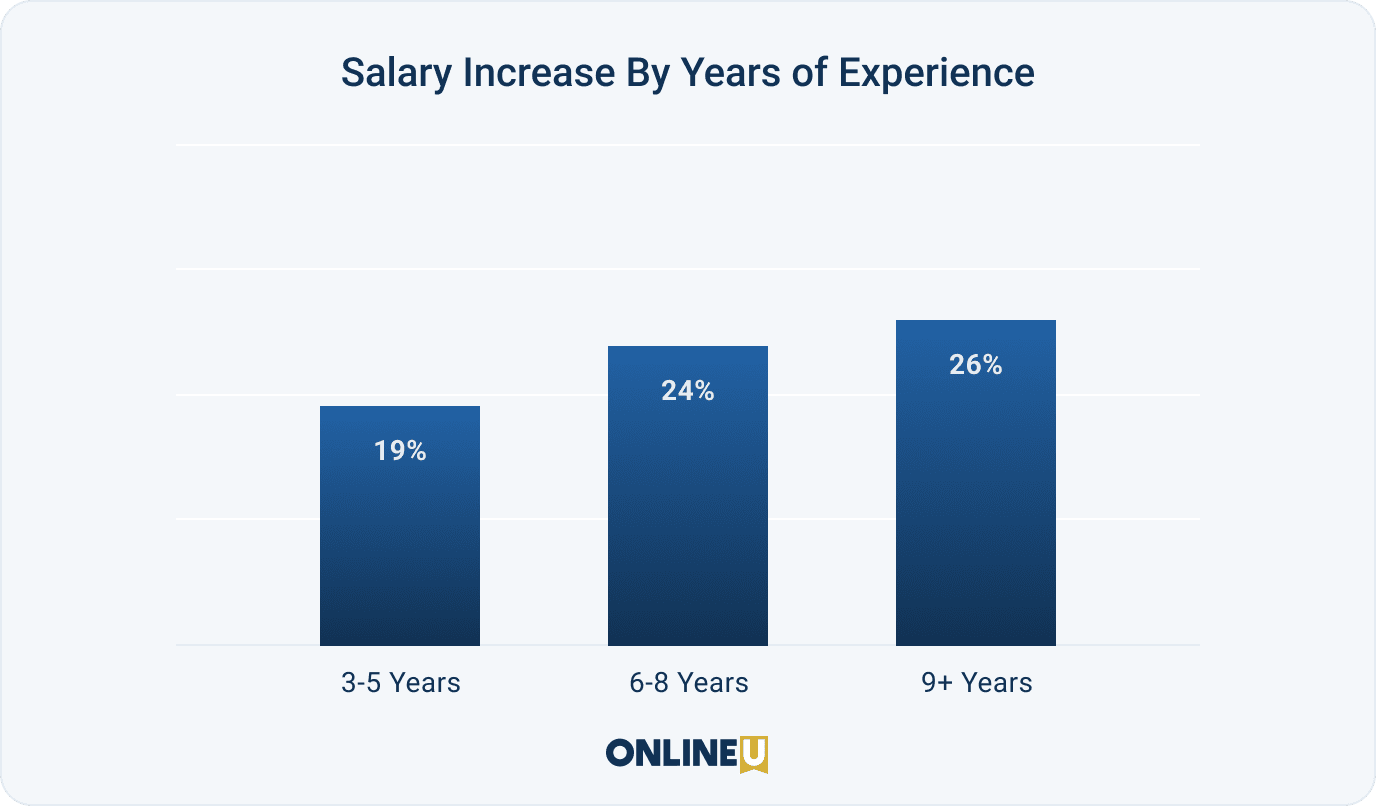 Software Engineer Salary Outlook
Software engineers make excellent wages currently, but different analysts make varying predictions about the future. It's unlikely that software engineers' wages will decrease in absolute terms anytime soon: Demand for these workers remains high, and employers are willing to pay what it takes to secure their services.
Pay equity is worth noting in any discussion of software engineering. Most studies don't account for race or gender in their design, but the tech recruiter Dice has surveyed the perceptions of tech employees from underrepresented backgrounds. Dice found that white employees and men reported higher levels of satisfaction with their pay than people from other backgrounds, along with less belief that they're underpaid.
Will Software Engineer Salaries Go Down?
There's no satisfying way to answer this question with a high degree of confidence. The pessimism around software engineer salaries is driven by a feeling that demand for new software will crater because the market is too crammed with products. But a comprehensive workforce survey by tech recruiter Hired offers a rosy salary picture for software engineers, especially those who want to work in cybersecurity and have the up-to-date skills to do so.
Which Companies Pay the Highest Salaries for Software Engineers?
It's impossible to get perfect information about pay at different companies, because these numbers aren't public. Still, crowdsourced information can help reveal which employers are pushing the upper end of median salaries for software engineers.
According to data from Levels.fyi, software engineers at different levels earn the most money at the employers listed below. These numbers include base salary, bonuses, and stock options.
Two Sigma (hedge fund): $250,000
Box (cloud-storage firm): $236,000
Roblox (game developer): $233,000
Roblox: $335,000
Cruise (self-driving car company): $333,000
Instacart (grocery delivery service): $308,000
Netflix (streaming entertainment provider): $504,000
Stripe (financial tech firm): $452,000
Pinterest (social media company): $443,000
You might wonder about wages at some of the most recognizable names in U.S. technology. See the table below to learn the median annual compensation for software engineers at these famous firms.
| | |
| --- | --- |
| Amazon | $166,000 |
| Apple | $163,000 |
| Facebook | $184,000 |
| Google | $191,000 |
| Microsoft | $158,000 |
Highest-Paying States for Software Engineers
The BLS lists California, Washington, Maryland, New York, and Rhode Island as the most lucrative states for software developers. The bureau doesn't disaggregate software engineers from other types of developers in this data, but it stands to reason that these are high-paying states for software engineers regardless.
As noted, the areas with the best salaries are also the most expensive places to live, including the San Francisco Bay Area, Seattle, and Manhattan in New York City. However, an uptick in remote software work means that it's increasingly possible to live wherever you prefer while earning a relatively high wage.
How Can a Software Engineer Earn More?
As you gain software engineering experience, you'll typically earn regular salary increases and performance-based bonuses both for your individual work and the company as a whole. However, you can use several methods to increase your chances of getting a bigger raise. Read on to learn a few tactics for negotiating a higher compensation package as a software engineer.
Understand What You Want
Whether you're a new hire or undergoing an annual review, you should prepare for a compensation talk by deciding on both your ideal compensation and minimally acceptable compensation. It's best not to improvise numbers when your livelihood is on the line. This goes for all parts of a pay package — including salary, bonuses, and stock or equity in the company — but also individual benefits, some of which will matter to you more than others.
Make a Counteroffer
Kimberly Silva, a software engineer and founder of FindPeopleFirst, says, "Companies are expecting you to negotiate. There is almost always money (or some other benefit) left on the table that you would leave behind if you did not negotiate." Therefore, an employer's opening offer is seldom final and inflexible.
Companies are expecting you to negotiate. There is almost always money (or some other benefit) left on the table that you would leave behind if you did not negotiate.
Be Confident But Not Arrogant
It's usually helpful to be firm about your minimum requirements and to be ready to walk away if the employer doesn't meet them. But making unreasonable demands can be off-putting to managers. Kimberly Silva advises to "avoid words about worth, e.g., 'I am worth more than that.'" Instead, point to your accomplishments for your current or most recent employer, using metrics to describe how you helped them, how much money you saved or made them, and so on.
How Much Do Similar Professions Make?
Software engineers earn higher pay than most other computer or information technology professionals, although computer scientists and computer network architects top them by about $21,000 and $10,000 per year, respectively. This list of occupations proves that technology skills and education usually pay off: Even the bottom-earning web developers and digital designers make $77,200 per year, much more than the $45,760 median annual salary for all occupations.
Software engineers even earn more than most other types of engineers, though they all tend to command impressive wages. Computer hardware engineers are perhaps the most similar to software engineers in terms of skills required, and they earn about $17,000 more on the median. But computer engineers are experiencing very slow 2% job growth compared to 22% for software engineers, so the latter appears to be a more stable career field.
With a strong foundation in mathematics, technology, and analytical thinking, software engineers are prepared for a variety of careers in science, technology, engineering, and math (STEM). To learn more about STEM jobs and the demand for these occupations, explore our STEM Career Guide.
FAQS About Software Engineering Salaries
Is Software Engineering Hard?
---
This depends on your skills and aptitudes. Becoming a software engineer requires technical skills in programming languages and DevOps, along with soft skills in communication, problem-solving, and collaboration. If you struggle with any of these things, then you might find software engineering difficult.
How Much Money Can I Make as a Software Engineer?
---
The median yearly salary is $110,140 for the profession as a whole, but many tech companies include bonuses and stock or company equity as part of their pay packages. Most software engineers also receive benefits that may include health insurance and paid time off.
What Is the Highest Salary for a Software Engineer?
---
The Hired survey of software engineers found that Roblox pays its principal engineers median annual salaries of $1.2 million. But this is a very small slice of one company's workforce with many years of seniority, so you shouldn't take this number as representative of the whole company or industry.
The Bottom Line
Software engineers earn median annual base salaries that are much more than twice the median pay for all U.S. occupations combined, but this doesn't even account for bonuses or stock that many technology companies provide as extra incentives. Some market analysts think that software engineer pay is due for a downturn, but others expect the fierce demand for these professionals to keep salaries high for some time.
Related Articles
Software Developer Versus Software Engineer: How Are They Different?
Discover the difference between a software developer and a software engineer and see how they apply their skills to find out which career is right for you.
How to Become a Software Engineer
Learn how to become a software engineer and start a career in the field. This guide also covers career pros and cons, job outlook, and salaries.