What Can You Do With a Psychology Degree?
The study of psychology attracts people who are fascinated by the human mind and how it influences human behavior. The curriculum for most psychology programs takes a deep dive into various aspects of psychology, such as developmental stages across the human lifespan, abnormal psychology, human sexuality, and family and marriage relationships. Courses also explain how our minds, emotions, and personalities are influenced by physical and social factors, such as cognitive function, culture, and ethnicity. Because the field is so broad and diverse, many psychology students choose to specialize in one area, such as clinical, forensic, sports, industrial organizational, or school psychology.
To support students and graduates, we used data from the U.S. Census Bureau and the Bureau of Labor Statistics to report on the highest earning, fastest-growing, and most popular occupations psychology degree holders. Learn more about the data and how we used it to create this resource here.
Learn more about the best jobs for this degree
---
Highest Earning Jobs for Graduates with a Psychology Degree
Many human resources managers start their careers by earning a bachelor's degree in psychology. Understanding human behavior provides a strong foundation for effectively managing and motivating others in the workplace, and human resources managers can expect an average annual salary of $96,364. Another high-paying career choice for those with psychology degrees is medical and health service management. People in this field earn average annual salaries of $80,563. The better-paying jobs in counseling and therapy typically go to those who've earned advanced degrees in psychology. Clinical and counseling psychologists, for example, earn annual average salaries near $70,000.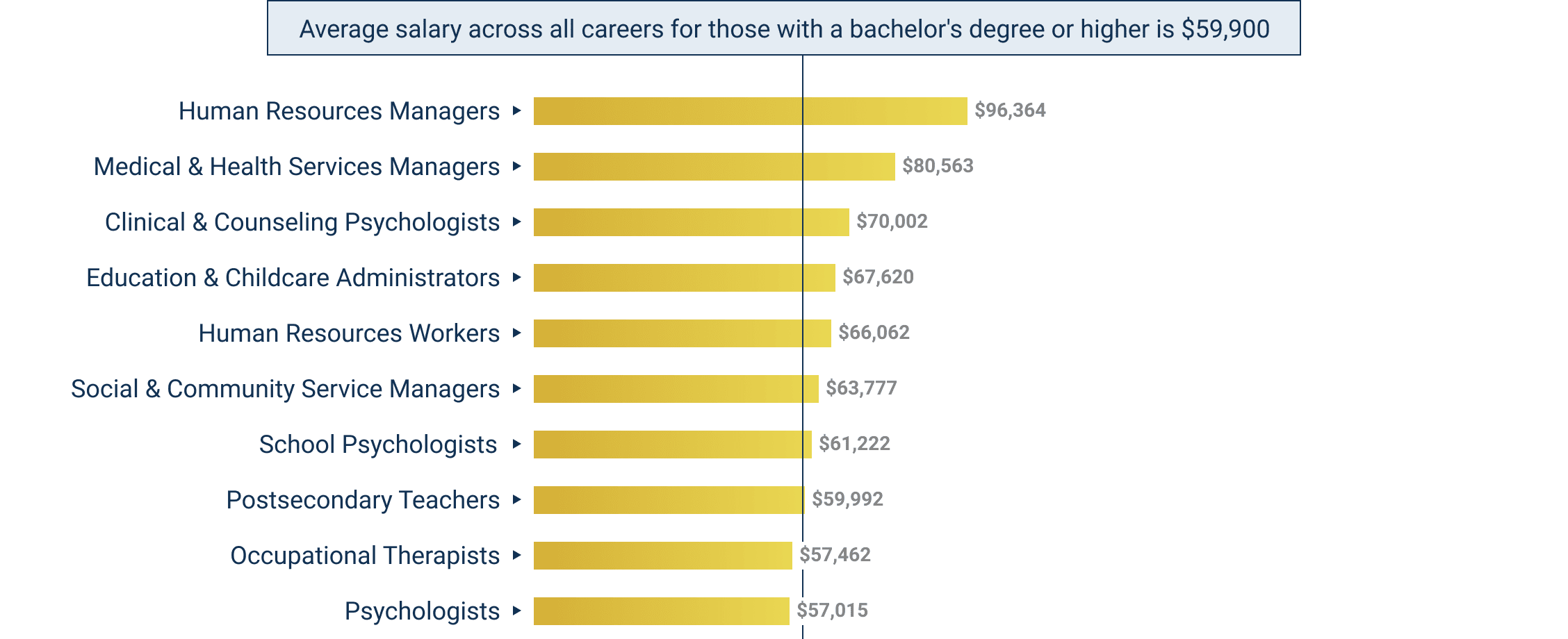 ---
Fastest Growing Jobs for Graduates with a Psychology Degree
The need for mental health practitioners is on the rise, and the projected growth rate for particular occupations in this field far exceeds the average 3.7% projected growth rate for all occupations over the next 10 years. For example, the need for personal care aides is expected to increase by 33.7% and for medical and health services managers by 31.5%. The projected growth rate for a variety of different types of counselors ranges from 22.4% to 24.7%. Many of these career opportunities will require a master's degree as well as a bachelor's, but some may only require a bachelor's degree.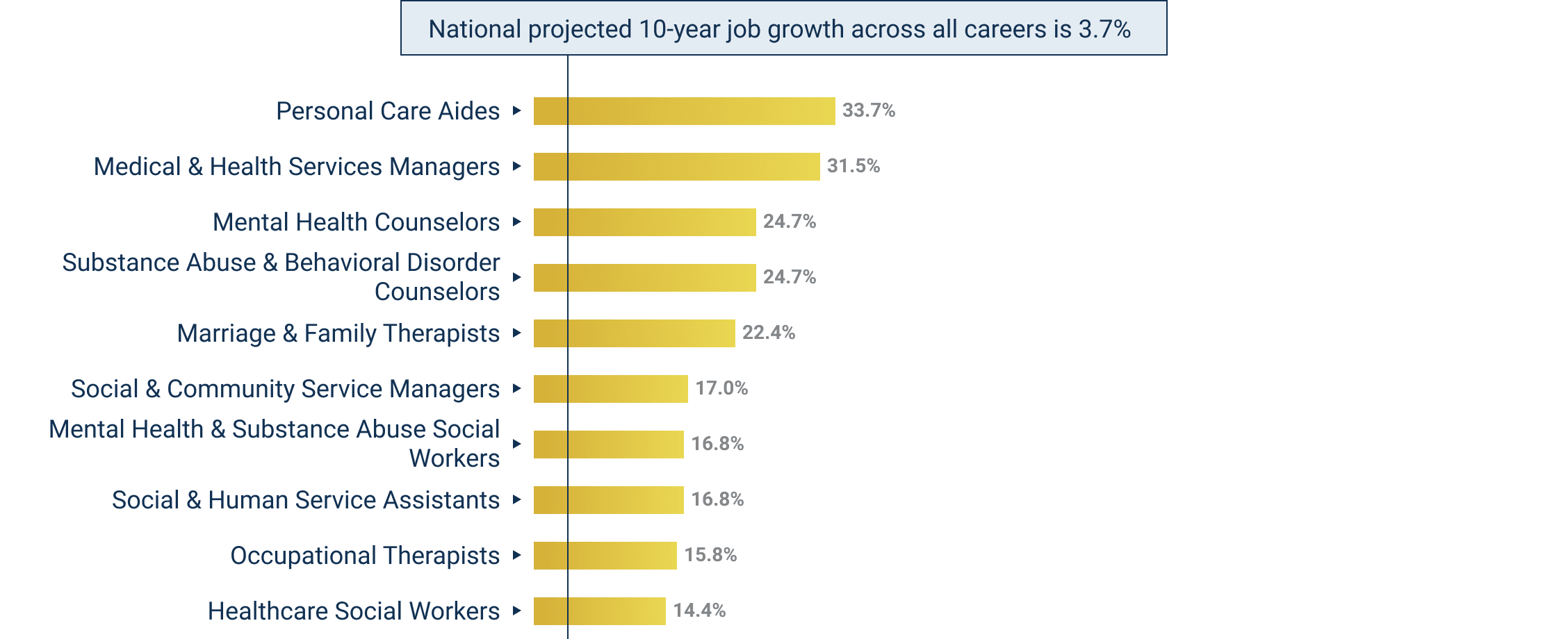 ---
Psychology Degree Career Tracks
Because of their interest in human behavior and social interaction, graduates with psychology degrees often choose careers that involve helping others. One choice is a career as a one-on-one mental health practitioner, such as a psychologist, counselor, or therapist. However, a psychology degree is also a natural stepping stone to other careers in social services or medicine. Two other common career tracks for people who've studied psychology are education and business, specifically in human resource management.
| Field | Jobs for Psychology Majors |
| --- | --- |
| Mental Health Care | Counselors, therapists, psychologists |
| Other Health and Human Services | Physicians, surgeons, social workers, community and social service specialists, registered nurses, medical and health services managers |
| Education | Elementary and middle school teachers, special education teachers, education administrators |
| Business | Human resources specialists, human resources managers |
Top Skills For Psychology Graduates
In the process of earning a psychology degree, students develop a number of valuable skills, including:
Analysis
Analysis involves the ability to closely examine various pieces or elements and then draw conclusions about the relationships or structure among those elements. Psychology students are frequently presented with sets of information that they must study, analyze, and summarize.
Problem-solving
These are relevant to virtually every career but particularly to work that involves helping others. Mental health professionals are routinely challenged to recognize and clarify problems, identify and weigh the benefits of all potential solutions, and then select and implement the best solution for any given problem.
Listening
At the core of a psychologist's work is the ability to actively listen to others. Psychology students are trained to give a speaker their full attention, notice subtle cues in body language and voice, and ask for clarification without judgement so that the speaker feels comfortable and understood.
Communication
The companion to strong listening skills is the ability to effectively convey information, both orally and in writing. Psychology students learn to explain their thoughts and ideas in a clear and logical way through practice, which will definitely take the form of written papers but may also involve oral presentations and clinical practice.
Most Popular Jobs for Graduates with a Psychology Degree
Of the many jobs available to graduates with bachelor's degrees in psychology, a career in social work and human services is the most popular. There is a growing need for social workers, who are usually employed in government agencies where they assist families, especially children, by providing for their basic needs for food and shelter and by solving common problems. Social workers typically earn an average annual salary of $45,863. Counseling is also a popular career choice for psychology degree holders. Psychologists with advanced degrees and licensure earn an average annual salary of $57,015. Many graduates specialize in certain types of therapy, such as substance abuse, mental health, or career guidance counseling. Average salaries for counselors range anywhere from $32,247 to $50,235.
| Career Type | Average Annual Salary | Projected Job Growth 2019-2029 |
| --- | --- | --- |
| Social workers | $45,863 | 12.7% |
| Psychologists | $57,015 | 1.9% |
| Educational, guidance, and career counselors and advisors | $50,235 | 8.0% |
| Therapists | $38,443 | 13.4% |
| Mental health counselors | $40,573 | 24.7% |
| Counselors | $32,247 | 13.1% |
| Substance abuse and behavioral disorder counselors | $39,706 | 24.7% |
| Human resources workers | $66,062 | 5.6% |
| School psychologists | $61,222 | 3.1% |
| Social and community service managers | $63,777 | 17.0% |
---
Most Lucrative Entry-Level Psychology Degree Jobs
A bachelor's degree in psychology provides graduates with an understanding of human behavior that can be applied to a broad range of employment opportunities. The following are three of the most lucrative entry-level careers for individuals who've gained valuable insights into the way we think, behave, and function.
Medical and health services manager
Within the health care industry, medical and health services managers are needed to manage the day-to-day operations of hospitals, individual hospital departments, large physicians' practices, health clinics, nursing homes, and other types of health care facilities. This profession requires a broad knowledge base of general business, health care policies and law, and health care delivery, as well as essential leadership, organizational, and problem-solving skills. Health services managers are responsible for ensuring that the health care facility runs efficiently while providing excellent care.
---
Human resources specialist
Usually employed by larger businesses and organizations, human resources specialists handle many responsibilities related to an organization's workforce. Among the most important is defining the roles needing to be filled within an organization, and then recruiting, interviewing, and placing the best possible employees in those roles. Human resources specialists also determine the appropriate compensation for each role, and they may perform various duties related to payroll, insurance benefits, and other forms of compensation.
---
Social worker
Social workers can be found in many work settings, such as government-sponsored human services agencies, community organizations, schools, and health care facilities. They often work one-on-one with clients in need of help by providing them with shelter, food, health care, childcare, and other types of assistance. Some clinical social workers are trained and licensed to provide therapeutic counseling for individuals and families.
---
Frequently Asked Questions for Psychology Degree Graduates
What can I do with a bachelor's degree in psychology?
A B.A. or B.S. in psychology provides graduates with skills and insights that can be applied in many careers. An understanding of human behavior is useful for people who are going into social work, law enforcement, health care, marketing, teaching, human resources, sales, business management, and more. A bachelor's degree in psychology is also a natural first step on the career path for those students who would like to pursue higher-level degrees in psychology, counseling, and mental health in order to become practicing therapists or researchers.
Is a psychology degree worth it?
The short answer is yes. Earning a degree in psychology gives students profound insights into the human mind. Graduates come away with a deeper understanding of how people think, what motivates and drives behavior, and how elements like culture, age, and health affect our personalities and relationships. This knowledge is a valuable asset that can be applied to a broad range of occupations far beyond behavioral counseling or clinical therapy. Psychology degree holders have utilized their education in diverse roles, from management and human resources to technical sales to health care services. Psychology programs also help graduates build versatile, practical skills in critical thinking, analysis, and communication.
Looked at more broadly, statistics published by the Association of Public & Land-Grant Universities show that overall, individuals who've graduated with bachelor's degrees typically earn about $32,000 more annually than individuals with only a high school diploma. Additionally, degree holders are more likely to land jobs with benefits, such as health insurance and paid vacations. Ultimately, a bachelor's in psychology is a versatile degree that can provide a foundation for many career opportunities.
Is psychology a hard major?
The study of psychology is both mentally challenging and rewarding, especially in the later years when students take upper-division courses. Students who opt for a Bachelor of Arts in Psychology degree will take many courses that involve a great deal of reading, analysis, and writing on subjects such as child development and abnormal psychology. Those who opt for a Bachelor of Science in Psychology will take more science-oriented courses, which may involve lab work, and research-oriented courses that will require a knowledge of higher-level math and statistics.
Professional Associations
Related Articles
How Long Does It Take To Earn a Psychology Degree?
Learn how long it takes to earn a psychology degree at the associate, bachelor's, master's, and doctoral levels, and how long it takes to become a psychologist.
Is a Psychology Degree Worth It?
Learn about the career opportunities available with a psychology degree and alternatives to a psychology program to help you decide if the degree is worth it.