What Can You Do With a Political Science Degree?
Political science is an interdisciplinary field, meaning that political science majors take courses in a broad range of subjects. In addition to core courses in political theory and philosophy, governmental structures, comparative politics, foreign policy, and public policy, poli sci students take courses in economics, history, mass communications, research methods, and statistics. Depending upon their personal interests, some students may opt for a degree with a concentration, such as international political relations, comparative democracy, public policy, or law.
To support students and graduates, we used data from the U.S. Census Bureau and the Bureau of Labor Statistics to report on the highest earning, fastest-growing, and most popular occupations for political science degree holders. Learn more about the data and how we used it to create this resource here.
Learn more about the best jobs for this degree
---
Highest Earning Jobs for Graduates with a Political Science Degree
A bachelor's degree in political science can provide a strong foundation for a high-paying career in many different fields. Political science degree holders have gone on to lucrative careers in business as chief executives or legislators, earning average annual salaries of $198,213, or as services sales representatives earning average annual salaries of $136,566. Within the finance arena, securities, commodities, and financial services sales agents average $174,412 annually and personal financial advisors average $133,461 annually. One of the most popular career choices—lawyers and judges—is also one of the best-paying options at $134,181 for an average annual salary.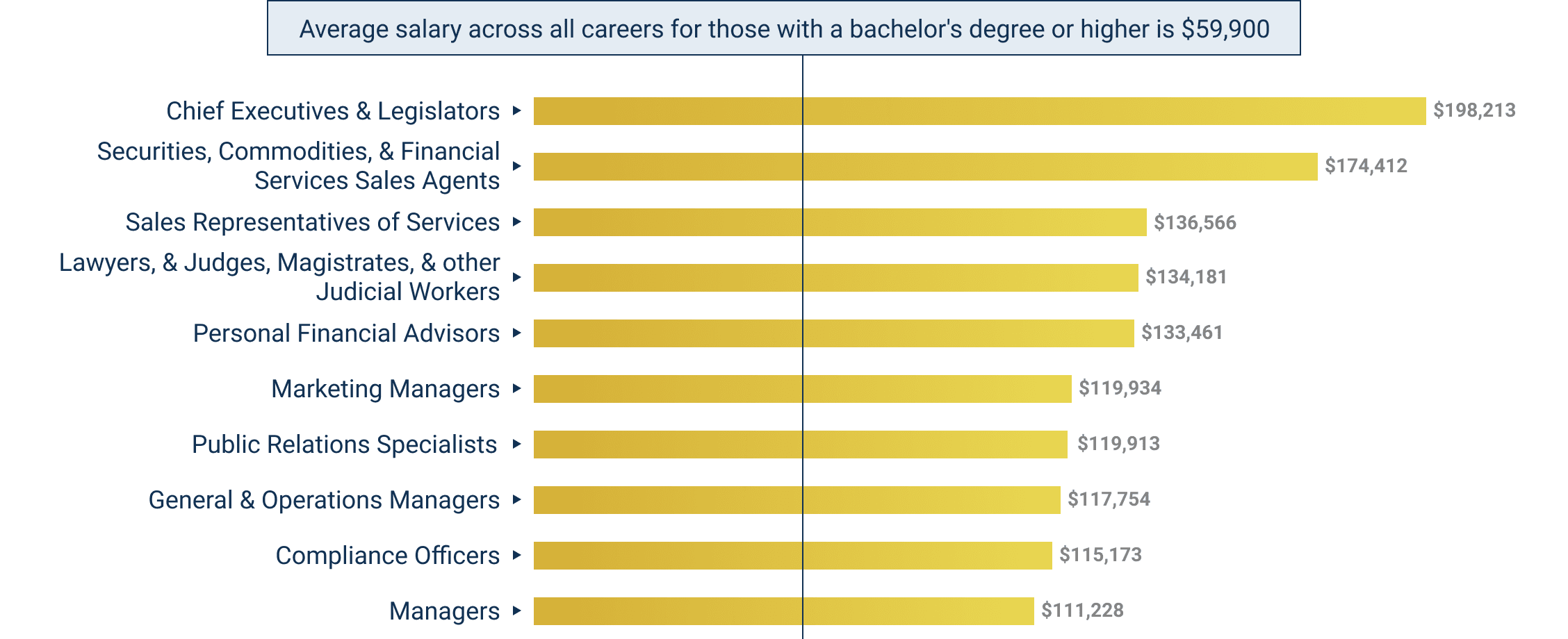 ---
Fastest Growing Jobs for Graduates with a Political Science Degree
So many career options are available to those who've earned a bachelor's degree in political science, and the projected growth rate for a number of these choices exceeds the average 3.7% projected growth rate for all occupations over the next 10 years. The need for operations research analysts, for example, is expected to increase by 24.8%. In the public service arena, the need for social and community service managers is expected to increase by 17%, for fundraisers by 14.3%, and for community and social service specialists by 12.7%.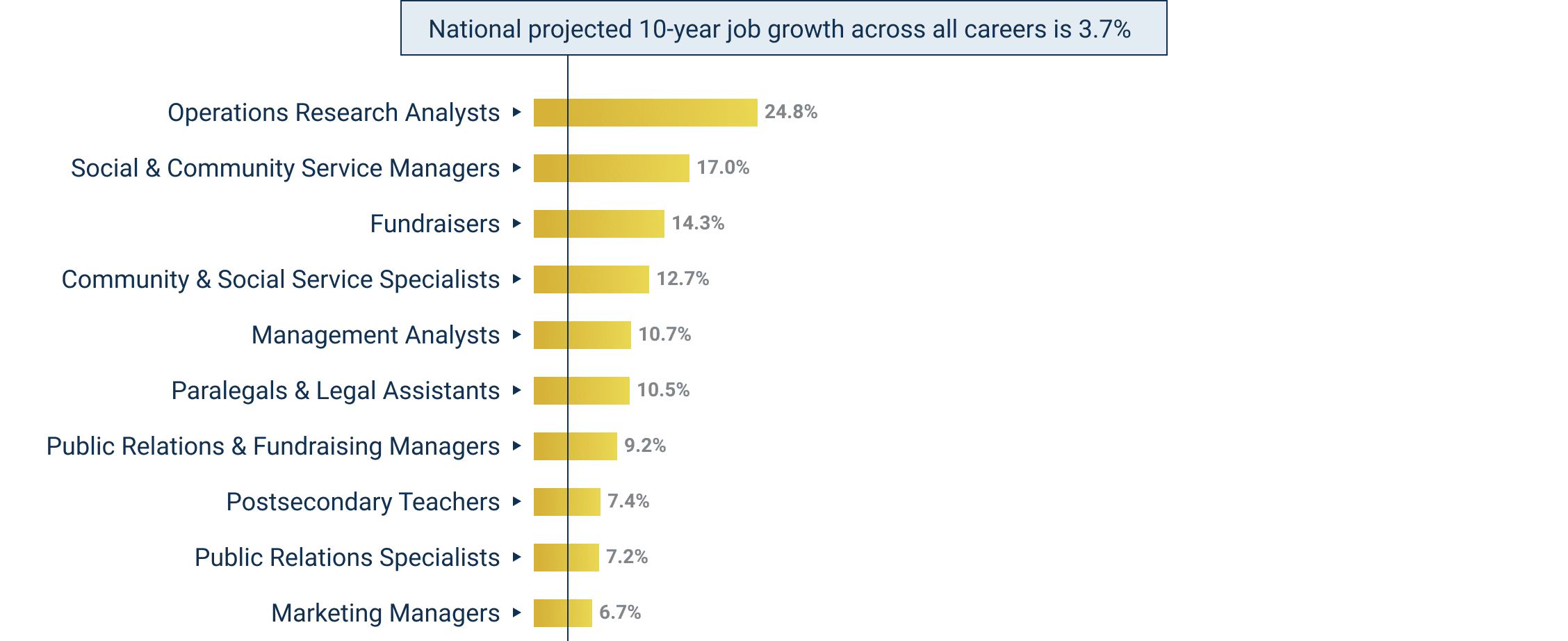 ---
Political Science Degree Career Tracks
The interdisciplinary nature of political science is reflected in the diversity of career paths that political science degree holders follow. Political science's focus on trade and economics often leads students to careers in finance or business management. The emphasis on society and government may drive students toward job opportunities in education, health care, human services, and the law. A degree in political science is also an excellent foundation for a career in the media.
| Field | Jobs for Political Science Majors |
| --- | --- |
| Finance | Financial managers, financial analysts and advisors |
| Business | Marketing and sales managers, accountants and auditors, general and operations managers, management analysts, human resources specialists, human resources managers |
| Education | Elementary and middle school teachers, education administrators |
| Health Care | Counselors, physicians and surgeons |
| Law | Paralegals, legal assistants |
| Media | Writers, editors |
| Human Services | Social workers |
Top Skills For Political Science Graduates
Communications-degree holders are equipped with a broad knowledge base that can be applied to many different career paths. Some of the valuable skills they develop include thinking analytically, communicating effectively verbally and in writing, and working well with a diverse group of people.
Analysis
In the process of studying political theory and government, students read and take in a great deal of information. These practices help students strengthen their ability to collect and analyze data. Course assignments also challenge students to practice deconstructing and interpreting the information they've obtained, which develops inductive reasoning abilities.
Listening
An important skill for anyone who is going to work with the public, whether it's individually or with groups, is the ability to actively listen to others. Political science students have numerous opportunities to practice this skill, which involves giving a speaker their full attention, observing body language and voice for subtle cues about emotion and mindset, and asking for clarification to make sure they've completely understood the speaker's intended message.
Communication
Equally valuable is the ability to effectively convey thoughts, ideas, and information, both orally and in writing. Most likely by writing papers but possibly also by giving oral presentations, poli sci students learn to organize and explain their thoughts, ideas, conclusions, and recommendations in a concise and logical way.
Critical thinking
An important aspect of the field of political science is the ability to evaluate policies, laws, and practices and then determine what changes, if any, might benefit society. Thus, political science students are trained to use comprehension and reasoning to identify and clarify problems, and then to imagine possible solutions, weigh the potential outcomes of all available solutions, and select and implement the most viable solution for any given problem.
Most Popular Jobs for Graduates with a Political Science Degree
Although there are many career options for people who've earned bachelor's degrees in political science, careers related to the law are the most popular. Many continue their education in order to become lawyers and then judges or magistrates with an average annual salary of $134,181. Another popular choice that does not require an advanced degree is to become a paralegal or legal assistant with an average annual salary of $44,026. Other common career tracks take poli sci graduates into the world of business as management analysts, managers, and human resources specialists, typically earning salaries in the $85,000 to $112,000 range.
| Career Type | Average Annual Salary | Projected Job Growth 2019-2029 |
| --- | --- | --- |
| Lawyers, judges, magistrates, and other judicial workers | $134,181 | 3.9% |
| Paralegals and legal assistants | $44,026 | 10.5% |
| Management analysts | $96,481 | 10.7% |
| Managers | $111,228 | -2.1% |
| Public relations specialists | $119,913 | 7.2% |
| Human resources workers | $85,286 | 5.6% |
| Social and community service managers | $68,886 | 17.0% |
| Operations research analysts | $86,743 | 24.8% |
| Fundraisers | $61,203 | 14.3% |
| Compliance officers | $115,173 | 4.6% |
---
Most Lucrative Entry-Level Political Science Degree Jobs
Studying political science is the foundation for a wide range of career options in public service, business, education, the law, and beyond. Here are three of the most lucrative entry-level career options available to those who've earned a bachelor's degree in political science.
Operations research analysts
Operations research analysts are generally consultants hired by large organizations to improve business operations. Research analysts use advanced statistical, analytical, and research skills to assess all aspects of an organization's operations, from production systems to human resources to facilities usage to budgeting and expenses. After identifying problems and inefficiencies, operations research analysts recommend options and solutions intended to make the organization more productive, cost-effective, and competitive.
---
Fundraisers
Many organizations, especially non-profits, rely on donations and financial gifts from individuals and other organizations to operate. Fundraising professionals are responsible for identifying and working with prospective and current donors, appealing to them for donations, and maintaining records of all financial transactions. Fundraisers often organize events to raise awareness and money for their organizations, and they may plan and implement other types of fundraising campaigns as well.
---
Social and community service managers
Social and community service managers can be found in government-sponsored or non-profit agencies that provide human services, such as health clinics, homeless shelters, and child services agencies. These managers oversee all aspects of service-oriented programs, including hiring and training staff to operate a program, monitoring the program's budget, and ensuring the program meets defined goals. Often, they need to work with the public to raise money for their programs.
---
Frequently Asked Questions for Political Science Degree Graduates
What can you do with a bachelor's in political science?
Perhaps somewhat surprisingly, most political science degree holders do not go into a life of public service through politics. Instead, students' understanding of international trade and the role of laws and policies in society often motivate graduates to pursue a number of different career paths. You may decide to go into business, especially management positions, or into finance as an analyst or advisor. You may also opt for a service-oriented role as a teacher, physician, or social worker. Then again, you may become an advocate for change as a public lawyer, political analyst, or journalist.
Is political science a good major?
The curriculum for all political science programs incorporates courses from many different disciplines and fields, providing graduates with a well-rounded education. If you're considering studying political theory and government, you may be asked to take courses in business, international relations, economics, history, communications, and math. In the process, you'll develop versatile skills in reasoning, writing, and speaking, all of which can be applied to many different careers. For these reasons, the study of political science is an excellent choice for any college student, especially if you are still exploring different career paths.
Is getting a degree in political science worth it?
The study of political science goes far beyond an understanding of politics and government — it raises your awareness of societal issues and the impact of business and economics on the public at large. Naturally, a political science degree is an excellent foundation for any number of occupations related to politics and public service, although these roles will probably require a graduate degree, such as a master's in political science or a juris doctor. However, because the curriculum for a bachelor's in poli sci is so diverse, including elements of law, communications, economics, research, and statistical analysis, it is a versatile degree that can be the basis for many other occupations in business, finance, and more. In the process of earning this degree, you'll also develop valuable critical-thinking and communication skills.
Viewed from a broader perspective, earning a degree in any subject is worth the time, effort, and financial investment you make. The Association of Public & Land-Grant Universities recently published statistics demonstrating that individuals who've graduated with bachelor's degrees typically earn an average of $32,000 more annually than individuals with only a high school diploma. The study's findings also point out that degree holders are more likely to obtain jobs offering benefits, such as health insurance and paid vacations, which exponentially increases the lifetime value of a college degree. Ultimately, it's up to you to determine whether a political science degree aligns with your career goals and interests.
Professional Associations
American Political Science Association (APSA) - With more than 11,000 members in over 100 countries, the APSA serves as a forum where academics, practitioners, and students can come together to discuss and analyze politics, democracy, and citizenship across the globe.
International Political Science Association (IPSA) - The IPSA was founded in 1949 under the guidance of the United Nations Educational, Scientific and Cultural Organization (UNESCO) for the purpose of promoting collaboration among members of the international political science community.
Association for Political Theory (APT) - Created primarily for academics in political theory, the APT aims to promote collaboration, education, research, and publishing on political philosophy and related fields.
Related Articles
2023 Best Online Political Science Degrees
Find the most popular online schools offering political science degrees. Learn about accreditation, curriculum, and careers for political science majors.
2023 Best Online Master's Degrees in Political Science
You can earn an online master's degree in political science from any of these schools, ranked according to salary score.