What Can I Do With a Degree in Organizational Behavior?
From families and classrooms full of people to sports teams and workplaces, groups are a common theme throughout our lives. How the individual members interact can have a huge impact on how the group functions. When everyone gets along well, the group is usually successful at whatever it is trying to accomplish. But friction among some members can disrupt teamwork and prevent the group from achieving its goals.
Organizational behavior, a sub-field of business management, studies these interactions, particularly in the workplace, to see how conflicts can be resolved and performance improved.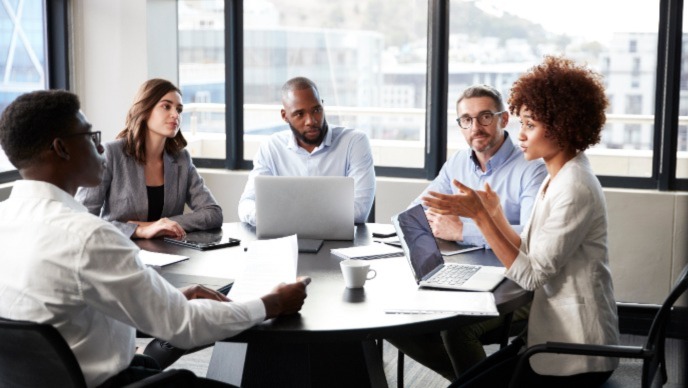 ADVERTISEMENT
Online Organizational Leadership Degrees You May Be Interested In

Annual Tuition: $19,398 - $29,428
8 Programs (view all)

Southern New Hampshire University Online

Annual Tuition: $17,800
16 Programs (view all)
---
What Is Organizational Behavior?
Organizational behavior (OB) is a sub-discipline within the larger field of business management. OB practitioners rely on research, often drawing upon theories and methods from other disciplines, such as psychology, sociology, social psychology, economics, and political science. While industrial-organizational psychology focuses on the scientific study of work and workers, OB is the scientific study of managing and motivating those workers.
Traditionally, OB practitioners have focused on four main elements: people, corporate structure, technology, and the external environment. Organizational behavior research projects have explored broad topics like job performance, job satisfaction, innovation, and leadership, as well as more specific aspects of learning, cognition, decision making, team dynamics, conflict, and negotiation. More recently, the OB field has begun to consider the effects of additional cultural components, such as ethnicity and gender identity, on workplace interactions.
Organizational behavior also examines issues within the context of three distinct levels:
The individual level — individual human behavior, motives, and incentives
The group level — how group members interact and assume various roles within the group
The organization level — how an organization's systems are structured to maximize productivity and make the organization more competitive in the marketplace
Why Is Organizational Behavior Important To Companies?
Students often wonder why it is important to study organizational behavior. OB practitioners can be incredibly helpful to all kinds of organizations, so a degree prepares you to become a valued member of an HR department or executive team in larger organizations — or possibly an independent consultant for a wide variety of businesses in many different industries.
In general, the purpose of OB work is to give an organization a competitive edge, due to motivated employees communicating effectively and working together at a high level of performance. Specifically, some of the objectives of an OB practitioner are:
Clarifying or contributing to the development of the organization's vision.
Assessing organizational structure and recommending initiatives that enhance performance.
Identifying staffing needs and recognizing job candidates that best fit with the organization's culture.
Designing compensation guidelines, benefits packages, and other incentives that will increase job satisfaction, improve work-life balance, and retain the best employees.
Developing training programs that help individuals operate at peak performance levels, as well as programs that enable teams to collaborate more effectively.
Helping managers establish protocols that increase productivity.
Training managers to motivate employees, prevent burnout, and encourage innovation.
Organizing and implementing a structure that creates a positive and adaptive work environment.
What Will I Learn In An Organizational Behavior Degree Program?
Students can study organizational behavior at a bachelor's level or a master's level. A bachelor's degree takes an interdisciplinary approach by pulling in elements of management, human resources, sociology, psychology, and more. Programs engage students in the evidence-based study of individual and team dynamics, theories of motivation, corporate culture, and business structure.
At the master's level, students typically earn a Master of Business Administration with a concentration in organizational behavior or perhaps organizational leadership. While the behavior track focuses on the scientific study of human behavior within organizations, the leadership track focuses more heavily on applying organizational behavior concepts to high-level corporate management. Both MBA programs also provide a thorough background in all business functions, including finance and accounting.
Common Courses
Like most bachelor's degrees, a baccalaureate in organizational behavior requires the completion of approximately 120 credit hours, which typically takes four to five years. Programs are available on campus and online. Depending on the program, students may be encouraged or required to complete an internship, preferably in an HR capacity. The following are some of the courses commonly found in an OB bachelor's program and possibly in an MBA in organizational leadership program.
Introduction to Organizational Behavior: This course begins by explaining how people typically act within groups, most notably within work environments. Topics may include team dynamics, team leadership, power and control, motivation, and job satisfaction. Coursework often includes case studies so students can see how these concepts are applied in real-world situations.
Introduction to HR Management: A broad overview of human resource management touches on a wide range of concepts, including compensation, benefits, and legal and ethical concerns. The primary focus, however, will be on staffing. Some of the key concepts include identifying needs, selecting the best job candidates, motivating employees, conducting performance reviews, developing talent, and ensuring the well-being of all employees.
Psychology of Work: One of the more advanced courses in most programs, this course explores the psychological aspects of human behavior in the workplace more deeply. Topics often include employee motivation, job satisfaction, group dynamics, and conflict resolution. Coursework may focus on how this information can be used to improve employee performance, internal communications, and productivity.
Research Methods: Understanding human behavior in the workplace requires research, so this course introduces students to scientific research methods. Coursework is designed to teach students to develop research projects using both quantitative and qualitative methods and to interpret the data using statistical software. Discussion topics may also include legal and ethical considerations in research.
Systems Analysis: One of the main concepts in organizational behavior is the idea that an organization's structure and systems affect employee behavior and vice versa. This course often uses case studies to provide examples of this concept. Students may be asked to work in groups to assess an organization's function at all levels — individuals, team, and organization — and redesign corporate systems as needed to enhance productivity and efficiency.
Careers in Organizational Behavior
An OB expert can have a transformational effect on many types of organizations — from local to multinational, and both for-profit and nonprofit. Larger organizations may be able to hire full-time employees with this expertise, while smaller organizations may rely on consultants for occasional work in this area. The following are some of the typical qualifications and entry-level employment opportunities for recent graduates with degrees in organizational behavior.
Human Resource Generalist
Annual Median Salary:
$62,290
A human resource generalist handles many aspects of an organization's employment functions, but they're especially responsible for identifying specific staffing needs within the organization and then recruiting, screening, and hiring the appropriate job candidates. An understanding of organizational behavior helps HR generalists determine the company's culture and predict whether a job candidate will be a good fit for the organization.
Training and Development Specialist
Annual Median Salary:
$61,570
Larger organizations often hire several HR staff members with different responsibilities, including training and development specialists. These individuals assess an organization's training needs, develop training programs and materials, and often deliver the instruction personally. Since employee motivation is such a significant part of development programs, a background in organizational behavior is helpful in this role.
Organizational behavior experts who've acquired several years of work experience — and possibly an advanced degree, such as an MBA — may be equipped for some of the following jobs.
Annual Median Salary:
$126,230
Human resource managers oversee the administrative functions of an organization. In particular, they work with other top executives to establish long-term strategic plans, including all staffing needs. Using their knowledge of organizational behavior, HR managers can help create the kind of corporate culture that attracts and retains top talent.
Annual Median Salary:
$93,000
Management analysts may be independent consultants or work directly for larger organizations as full-time employees. Their purpose is to analyze how an organization functions to determine how to increase efficiency and productivity while eliminating waste. Analysts often specialize in certain areas of business. Those with a strong background in organizational behavior may want to become organizational development consultants, who help organizations find the best structures and processes, or possibly change management consultants, who identify needed organizational changes and assist organizations in implementing those adjustments.
Is An Organizational Behavior Degree Worth It?
An OB degree is, admittedly, narrowly focused. The study of organizational behavior is designed to equip graduates to work primarily in human resources and later as part of an executive team. However, earning this specialized, interdisciplinary degree may make you stand out as a job candidate for leadership positions. Employers often recognize that the skills and expertise that come with an OB degree may be invaluable in designing a more effective structure and inspiring employees to excellence.
Related Articles
2023 Best Master's in Organizational Leadership Online Programs
Discover the best online master's organizational leadership degrees for 2023, ranked based on tuition rates and alumni salaries.
What Can You Do With a Psychology Degree?
You may be asking yourself, what do I do with a psychology degree once I have it? Read about psychology degree jobs you can get with a bachelor's.