How To Become a Nutritionist
If you're wondering how to become a nutritionist, you should strive to learn all you can about the educational requirements for this career and the types of nutritionists found in the workforce today.
In general, nutritionists advise their clients on the basics of a healthy diet, but the job description often extends much further into the creation of meal plans and educational materials that help people make better food choices. It's also important to be aware that the job duties of nutritionists largely depend on where they find work, which could be in a variety of settings, from hospitals and nursing homes to government agencie .
ADVERTISEMENT
Online Nutrition Degrees You May Be Interested In

Annual Tuition: $17,800
1 Programs (view all)

Annual Tuition: $11,700
4 Programs (view all)

Annual Tuition: $18,622
1 Programs (view all)
---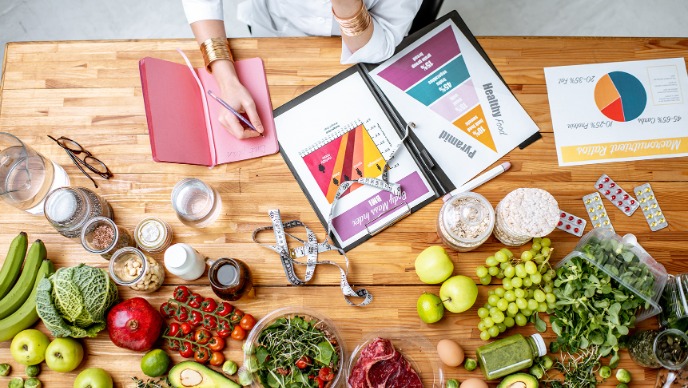 What Does a Nutritionist Do?
Before you become a nutrition professional, it helps to have a fundamental understanding of what they do. While job duties can vary widely depending on the work setting and chosen specialization, nutritionists are typically charged with evaluating the health and wellness of their clients and suggesting positive dietary changes through nutrition programs.
Other duties taken on by nutritionists include the following:
Counseling clients on how to improve their eating habits
Developing meal and nutrition plans
Evaluating and monitoring the effects of improved nutrition on a client's health
Promoting healthy lifestyles and speaking to groups on this topic
Creating educational materials that help promote healthy food choices
Keeping up with or contributing to the latest food science research
Documenting a client's progress and adjusting meal plans as necessary
According to the Bureau of Labor Statistics (BLS), most dieticians and nutritionists (31%) find work in hospitals, with other popular work settings including government jobs (13%), outpatient care centers (10%), and nursing and residential care facilities (9%). Approximately 7% of nutritionists were self-employed as of May 2021.
Types of Licensed Nutritionists
Although certified nutritionists may take on different tasks depending on where they work, there are several distinct specialties within this profession. There are also various types of licensure to pursue, depending on the chosen field of work. Examples include the following:
Certified Clinical Nutritionist (CCN): This designation is awarded through the Clinical Nutrition Certification Board and shows that recipients have achieved the highest level of excellence within the field of clinical nutrition. Requirements include the passage of a certification exam and 40 hours of continuing education every two years.
Certified Nutrition Specialist (CNS): This designation is awarded by the American Nutrition Association. It is considered the most advanced certification for personalized nutrition practitioners. Requirements include an advanced degree in nutrition or a related field (master's degree or doctoral degree), a range of high-level coursework, 1,000 hours of supervised practice experience, and a passing score on a CNS examination. CNS candidates also need 75 hours of continuing education every five years.
Registered Dietitians: The Registered Dietitian (RD) or Registered Dietitian Nutritionist (RDN) credential is administered by the Commission on Dietetic Registration, which is the credentialing arm of the Academy of Nutrition and Dietetics. Requirements include a bachelor's degree and a dietetic internship with supervised work experience. Since 2014, applicants for this specialty must have a master's degree in nutrition to meet eligibility. Continuing education is also required, although the number of hours needed and timeline vary by state.
How To Become a Nutritionist
If "how to become nutritionist" seems to be at the top of your mind these days, you should know that most jobs require a Bachelor of Science in Nutrition or a similar degree. Many states also require that nutritionists are licensed, so make sure to check for additional requirements based on where you live.
You may find it helpful to follow these steps outlining a nutritionist's career path:
Bachelor's Degree in Nutrition
The most common bachelor's degree in this field is the Bachelor of Science in Nutrition, and this degree program can be completed 100% online. Earning a bachelor's in nutrition typically takes four years of full-time study, although students can opt to learn at a part-time pace if they prefer.
Areas of focus within this degree program include the principles and pharmacology of nutrition and how proper eating contributes to a healthy lifestyle. Students also gain an understanding of how digestion and absorption works as well as how nutritional needs change over a person's lifetime.
Some bachelor's degree programs in this field require experiential learning, while others require students to complete a capstone project in order to graduate.
Master's Degree in Nutrition
The BLS reports that many careers in this industry require an advanced degree, and that many nutritionists have one as a result. Popular graduate degrees in nutrition include a Master of Science in Nutritional Science and Master of Science in Human Nutrition.
These programs often require one to two years of full-time study after completing a bachelor's degree. While curricula can vary, common coursework includes the study of geriatric nutrition, chronic inflammation and metabolic syndrome, nutrigenomics, biochemistry, research methods and more.
Work or Internship Experience
Almost all nutritionists require supervised training at some point during their career journey. Typically, this takes place during an internship after graduating from college, although some schools offer their own supervised training programs for students in their programs.
Either way, on-the-job training is a must if you truly want to become a nutritionist. Not only do you get to learn from professionals already working in the field, but you can pick up on some of the more practical aspects of the job. For example, internships give you the opportunity to learn how to communicate effectively with clients who have medical conditions and experience the challenges of nutrition counseling firsthand.
Certification and Licensing as a Nutritionist
The certification and licensing requirements to become a nutritionist can vary widely. For example, some states require that nutritionists are licensed to work in the state, whereas others only require state registration or certification to use certain titles on the job. Government data also shows that some states do not regulate this profession at all.
Some of the most common certifications include Certified Health Coach, Certified Sports Nutritionist, and Certified Holistic Nutritionist.
As we mentioned already, some professional designations and credentials can give you a leg up in your job search. The most common credentials include the CNS designation, the RD/RDN designation, and the CNS designation. These advanced designations may be voluntary in some cases, but they can help job applicants qualify for a broader range of positions and lead to higher pay over time.
Is Becoming a Nutritionist Right For Me?
Now that you know how to become a nutritionist, you need to decide if a career in nutrition makes sense with your lifestyle and goals. If you love healthy eating and want to spend your career in public health spreading the word, it's possible this field of work may be exactly what you're looking for.
As you decide, it's worth noting that jobs for nutritionists are expected to increase 11% in the decade leading up to 2030, which is faster than the expected growth rate for all occupations combined. You should also be aware of the median annual pay for this career, which worked out to $61,650 as of May 2021.
Potential Advantages
You can earn your degree online. If you want to become a nutritionist, you can earn an online nutrition degree from the comfort of your home. Many programs even let you learn at your own pace.
You get to help others improve their health. Teaching others about healthy eating can have a direct impact on their quality of life, allowing you to make a real difference.
Work can be found in multiple settings. Nutritionists can find job openings in a health care setting, government agency, or they start their own private practice.
Potential Drawbacks
Many jobs require an advanced degree. A significant number of jobs in this field require a master's degree, which means a greater time investment studying at school.
Earnings may not be worth the time spent in school. The median annual income for this career is not as high as many other jobs that also require advanced degrees.
Requirements can be steep for specializations and advanced credentials. Gaining specialized credentials can require additional coursework, the passage of exams, and continuing education.
Frequently Asked Questions
How Long Does It Take To Earn a Bachelor's Degree in Nutrition?
---
Earning a bachelor's degree typically requires four years of full-time study. However, students can pursue a degree in this field part time if they need to continue working or take care of family members.
Can You Earn a Nutrition Degree Online?
---
There are many online nutrition degrees to choose from, including options from Eastern Michigan University, Kansas State University, Purdue University, and more.
Can I Be a Nutritionist Without a Degree?
---
Most nutritionist jobs require a degree in nutrition from a traditional college or university. However, you may find nutrition coaching jobs or related openings that don't require a formal education.
Can You Earn a Doctoral Degree in Nutrition?
---
While most jobs in this field require a master's degree at most, there are doctoral programs in this field of study. For example, you can earn a PhD in Nutrition if you want to pursue a career in nutritional research or teach nutrition at the college level.
Related Articles
2023 Best Online Nutrition Degrees
Our 2023 list of online nutrition degrees is based on popularity among students. Read on to learn whether earning a nutrition degree online is right for you.
Is a Nutrition Degree Right for Me?
Is an online nutrition major a good fit for you? Answer this question and explore core courses, nutrition careers, and an overview of a nutrition degree.