How To Become a Nurse
Becoming a nurse can lead to a fulfilling and rewarding career and open the door to a variety of opportunities. However, it takes a lot of work and dedication to become a nurse. The type of education, certification, and experience you will need depends — to a large extent — on the type of nurse you plan to become.
There are certificate, undergraduate, and graduate nursing programs that combine information-based learning and clinical experiences under the supervision of trained, licensed staff. The first step toward achieving your professional goal is to understand everything you'll need to accomplish between now and your first day on the job. We created this guide to help you make a plan that will ensure your success.
ADVERTISEMENT
Online Nursing Degrees You May Be Interested In

Annual Tuition: $17,800
14 Programs (view all)

Annual Tuition: $11,700
13 Programs (view all)

Western Governors University
Annual Tuition: $6,670
10 Programs (view all)
---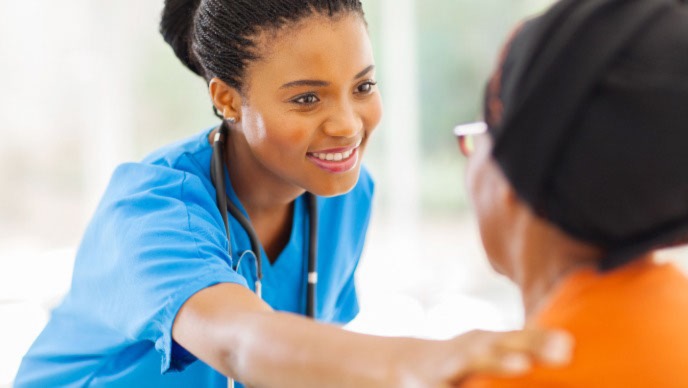 What Are the Levels of Nursing?
The four core levels of nursing certifications and degrees are as follows: (1) Certified Nursing Assistant, (2) Licensed Practical or Vocational Nurse, (3) Registered Nurse, and (4) Advanced Practice Registered Nurse.
Below, we delve into the different types of nursing while answering the question: What education is needed to become a nurse?
Steps To Becoming a Nurse
There are several things you'll need to do in order to become a nurse. First, you'll want to decide on the nursing track that best suits your career goals. Once you've chosen a track, the next step is to enroll in an accredited nursing program and complete all requirements. After that, the only thing standing between you and your first nursing job is licensure.
Step 1: Choose a Nursing Track
Beyond the four basic levels of nursing mentioned earlier — CNA, LPN/LVN, RN, and APRN — there is a myriad of specialty track options to consider.
Nurses can specialize in public health, gerontology, psychiatry, oncology, and nursing administration, among many other career tracks. To learn more about nursing career options, check out our guides:
However, the list doesn't end there. In fact, there are dozens of other specialty tracks from which to choose.
Step 2: Complete an Accredited Program
Upon deciding on a career track, you'll need to find an accredited nursing program that offers a focus that aligns with your professional goals. Accreditation is an important component to verify with your chosen school because it shows potential employers that your school has a respectable standing and has been evaluated to ensure that it meets high academic standards.
When researching your options, you'll find traditional, in-person programs, online schools, and others that blend the two learning styles into a hybrid format. An online nursing program is designed to prepare students to become an integral part of medical teams. Online programs may be more affordable and convenient for students who desire to enter nursing or advance their nursing careers.
Step 3: Get Licensed
As previously noted, after completing an accredited program that offers a focus on your chosen nursing track, your final step will be to earn your nursing license. Each state requires practicing nurses to have a state-issued license. However, each state sets its own education standards for licensure. States may also require specific coursework or training in topics like infection control and child abuse identification and reporting.
Each state requires practicing nurses to have a state-issued license. However, each state sets its own education standards for licensure.
To learn more about the requirements for becoming a nurse in your state, check with your state's board of nursing. You can find accredited online nursing programs in your state in the list below:
You can visit the National Council of State Boards of Nursing (NCSBN) for additional information on each state's requirements. Importantly, you'll need an additional license based on your specific career track.
If you're looking to practice nursing in more than one state, you have two options available:
First, you could earn licensure in each state you plan to practice.
Second, there's a potential option available through what's known as the Nurse Licensure Compact (NLC). This group includes 39 member states, and the NLC permits licensed nurses to practice across compact states without holding multiple state licenses. In order to qualify, your state of residence must be a member state of the NLC. Additionally, you must be a certified RN, LPN, or LVN who has met all state licensure requirements.
Step 4: Take an Exam
Beyond state licensure, most nurses are required to take a national professional exam, which is known as the National Council Licensure Examination (NCLEX). Prospective LPNs and RNs take National Council Licensure Examinations (NCLEX-PN and NCLEX-RN, respectively). Successfully passing the NCLEX demonstrates your competency and knowledge to serve patients in the state.
However, not all states require APRNs to pass an examination for licensure. The National Council of State Boards of Nursing, which administers NCLEX exams, has called on all states to adopt uniform standards for APRN licensure, including requiring APRNs to pass certification exams in general APRN practice and in at least one area of focus.
Step 5: Find a Nursing Job
Once you have a license, you can start applying for nursing jobs. Everything you've accomplished over the past couple of years has led you to this moment. Looking for your first nursing job can be both exciting and stressful, but doing a little homework along the way can help you feel confident when the time comes.
Nursing students spend time in various health care facilities gaining clinical experience. Use those experiences and later work experiences to build a network of professional contacts that you can consult when searching for a job.
Hospitals are a natural setting for nurses, but you may also consider health care settings like outpatient care, rehabilitation, skilled nursing, assisted living, and psychiatric facilities. Even if you don't begin your nursing career working in your ideal environment, it's helpful to gain experience in a variety of settings should help you become a more attractive candidate in the future.
Step 5: Consider Additional Training to Advance Your Nursing Career
As is true in any profession, advanced training can help you qualify for higher-level nursing positions as well as increase your marketability to potential employers. You may decide to pursue more management-level positions to expand your industry knowledge and help diversify your resume for higher-level positions in the future. You could also pursue specialty nursing certifications in niche areas of nursing to help advance your careers.
Along the same lines, a number of nurses continue their education beyond the associate or bachelor's level by enrolling in advanced degree programs, like a master's or doctorate. Nurses interested in careers in academia, research, health care administration, or teaching at the college level, must complete an advanced degree program in a related field.
Job Outlook & the Future of Nursing
The ongoing need for medical care in the country will mean more job opportunities for nurses.
The U.S. Bureau of Labor Statistics (BLS) projects that the demand for RNs and nurse specialists will grow by 45% through 2030. This amounts to approximately 271,900 job openings throughout the decade. The exceptional growth in the field of advanced nursing practice may be attributed to caring for an aging population and increased access to health insurance and health care. Many health care providers are looking to cut costs by employing APRNs — like nurse practitioners— to provide primary care.
the demand for RNs and nurse specialists will grow by 45% through 2030. This amounts to approximately 271,900 job openings throughout the decade.
Nurses who start out as LPNs and RNs have many opportunities for career advancement if they choose to pursue additional education. With a graduate education, RNs can advance into senior and supervisory positions. APRNs are gaining more authority and autonomy when it comes to treating patients, and they are increasingly providing primary care services.
FAQs About How To Become a Nurse
What Are Some Alternative Career Paths for Nurses?
---
With as many career options as there are to consider within the field of nursing, there are also a number of alternate career paths nurses can take, such as becoming a physical therapist, health education specialist, or a pharmaceutical sales representative. You may even decide to pursue a leadership position within the health care sector, such as a medical and health service manager.
Is It Hard to Become a Nurse?
---
Yes, entering the nursing profession may be considered a challenging feat due to the required nursing education and training involved. You may be asking yourself, what is the easiest nurse to become then? There's no simple answer to this, but becoming an LPN or LVN often requires the least amount of training.
How Many Years Does It Take To Become a Nurse?
---
The length of time it takes to become a nurse depends on one's educational choices. Practical nursing certificate programs take three semesters, or roughly nine months, to complete. Associate degree programs take two or three years. Traditional online BSN programs can take full-time students up to four years to complete, while programs that bridge RN programs to BSNs or MSNs may take up to three years. Alternatively, accelerated online BSN programs may take as little as a year.
A master's degree program can take as few as 18 months to complete at a full-time pace, but many nurses who pursue master's degrees do so while working and take more time to complete their degrees.
How Do I Start a Career in Nursing?
---
You can become a nurse by fulfilling the following nursing qualifications: Complete a nursing program with the career track you are interested in, and then register with your state to obtain a nursing license.
How Much Do Nurses Make?
---
According to the BLS, the median annual salary for LPNs and LVNs in the U.S. is $48,070. In comparison, the median pay for RNs is $77,600, while APRNs — such as nurse anesthetists, nurse midwives, and nurse practitioners — earn approximately $123,780. Of all the APRN types listed in the BLS, nurse anesthetists had the highest median wage at $195,610.
Related Articles
Types of Nurses
Discover the five main types of nurses and compare education requirements, specializations, jobs, and salaries, and find out which nurses are in demand.
How to Become an RN
Learn how to become an RN by exploring the training and registered nurse education requirements and find out more about RN careers, wages, and job outlook.