Medical Assistant Career Guide
The health care industry is booming, and medical assistants are part of that wave. These professionals have become integral to helping medical facilities run smoothly, and the Bureau of Labor Statistics (BLS) expects the field to add new jobs at a rapid 18% growth rate through 2030. But what exactly do medical assistants do? How do they differ from other health care workers? What certificate or degree do you need to enter this field? We'll detail the steps you need to take to become a medical assistant, along with what to expect once you secure a job.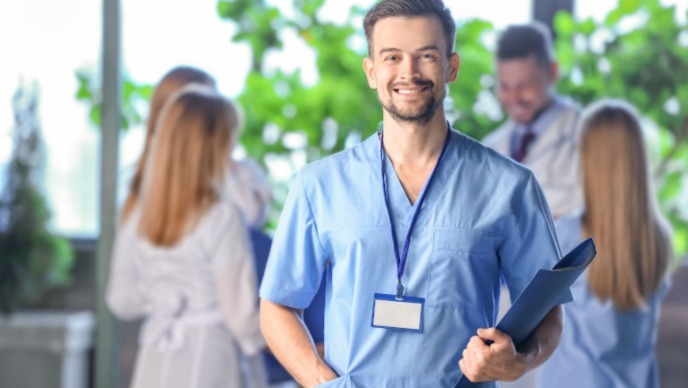 Medical Assistant Overview
Medical assistants perform a variety of administrative and clinical tasks, from running health care offices and billing insurance companies for services to taking patient vital signs during intake. This occupation has its roots in the 1950s, and it's grown increasingly professionalized since the first certification tests in 1963. Today, a growing shortage of doctors means that medical assistants handle both administrative and clinical intake tasks so primary care providers can concentrate on treating patients.
Medical assistants work in every variety of health care setting, including hospitals, private clinics, chiropractors' offices, and long-term care facilities. Their duties vary by location, but they generally handle a combination of office and clinical tasks in smaller facilities. In larger settings, such as hospitals, they might specialize in either administration or patient intake.
Requirements To Become a Medical Assistant
The only non-negotiable requirement to become a medical assistant is educational: You must attend a medical assistant program and earn either a certificate or associate degree in the subject. You'll study most of the same topics regardless of which program you choose, and both typically require you to work as an extern to gain practical workplace experience. But an associate degree also contains general education courses, so they usually last two years rather than the one year that a certificate takes.
You must attend a medical assistant program and earn either a certificate or associate degree in the subject.
According to labor market data from the analytics company, Emsi Burning Glass, employers very rarely require an associate degree for medical assistant jobs. The best reason to pursue one is if you plan to work as a medical assistant while pursuing a bachelor's degree in another major. In this case, earning an associate degree at a community college is a cost-effective way to complete some general education courses.
With your diploma in hand, you can start applying for jobs. However, most medical assistants first seek one of the five industry certifications that attest to their professional competence. You may be able to take a certification exam even before graduating, depending on your school.
Career Options for Medical Assistants
Your career path will vary based on the type of facility you work for. For example, you might almost exclusively work on clinical intake for the general surgery unit of a large hospital. This experience would be very different from working in a two-physician private practice, where you might answer phones, schedule appointments, and order supplies in addition to recording incoming patients' vital signs.
Where Can You Work as a Medical Assistant?
You can theoretically work anywhere that provides patient care, though some offices may be too small to keep a medical assistant on staff. According to the BLS, more than half of all medical assistants, as of 2020, were working in doctors' offices, with just 15% working for hospitals.
However, Emsi Burning Glass data indicates that from 2021-2022, hospitals posted the most open positions by a large margin. This suggests that hospitals are starting to hire comparatively more medical assistants. These facilities are most most likely scrambling to backfill positions left vacant by resignations stemming from the COVID-19 pandemic.
How Can Medical Assistants Advance Their Careers?
Medical assistant education tops out at the associate level, so experience and certifications are the best ways to strengthen your resume. These both take time, but you can start preparing for additional certification exams as soon as you've earned your first certification.
Medical assistant education tops out at the associate level, so experience and certifications are the best ways to strengthen your resume.
If you already hold an industry certification, then it might not help to earn another one. But you can pursue several specialty options to demonstrate your expertise in a focus area. For example, the American Society of Podiatric Medical Assistants offers credentials specific to that discipline, and CertiTrek provides 13 specialty certifications in disciplines such as family medicine, orthopedic surgery, and pediatrics.
Alternative Career Paths for Medical Assistants
As an educated medical assistant, you may be able to find work in a different kind of health care role if it's purely administrative. But you should understand that if you studied medical assisting, then your clinical health care career options are limited until you earn another certificate or degree in a different discipline.
Most patient-care jobs are highly professionalized, which means they require certification or licensure to practice, which in turn requires a particular course of education. For example, you may be qualified to be a medical assistant but not a nursing assistant or physician assistant — these occupations call for different education programs, including a master's degree for the latter.
Similar Professions
You might be interested in a health care job but unsure which occupation to pursue. If you've read through this page and medical assisting doesn't sound quite right, then review the jobs below to see if any of them suits you better.
Occupation
Minimum Education
Description
Median Annual Salary and Job Outlook
Licensed Practical Nurse
One-year certificate
LPNs (called LVNs in some states) assist nurses with basic care, such as dressing wounds and checking vital signs.

$48,070
9% growth through 2030

Medical Records and Health Information Specialist
One-year certificate
These employees maintain patient records using expert knowledge of medical terminology.

$45,240
9% growth through 2030

Nursing Assistant
State-approved training program lasting 4-12 weeks
Assistants help patients with daily activities, such as eating, bathing, or using the bathroom.

$30,290
8% growth through 2030

Pharmacy Technician
High school diploma or one-year certificate
Pharmacy techs perform administrative tasks at pharmacies and help pharmacists measure ingredients and label prescriptions.

$36,740
4% growth through 2030
Medical Assistant Salary and Job Outlook
In the US, medical assistants make median yearly wages of $37,190. This is lower than the median salary for all jobs combined, which is $45,760. It's also less than the $38,792 median rate for US workers whose highest level of education is a high school diploma.
Although the pay is lower than average, the job outlook is good. The occupation is adding new jobs at an 18% rate, compared to the 8% average for all occupations combined. As discussed, there's also a big push to fill vacant positions since the advent of COVID-19.
Top Industries
Unsurprisingly, Emsi Burning Glass lists health care as the industry that hires the most medical assistants at 82%. The next top industry is insurance, although some of this data may be confusing different divisions of conglomerates that own hospitals and an insurance arm, such as UnitedHealth Group and Kaiser Permanente.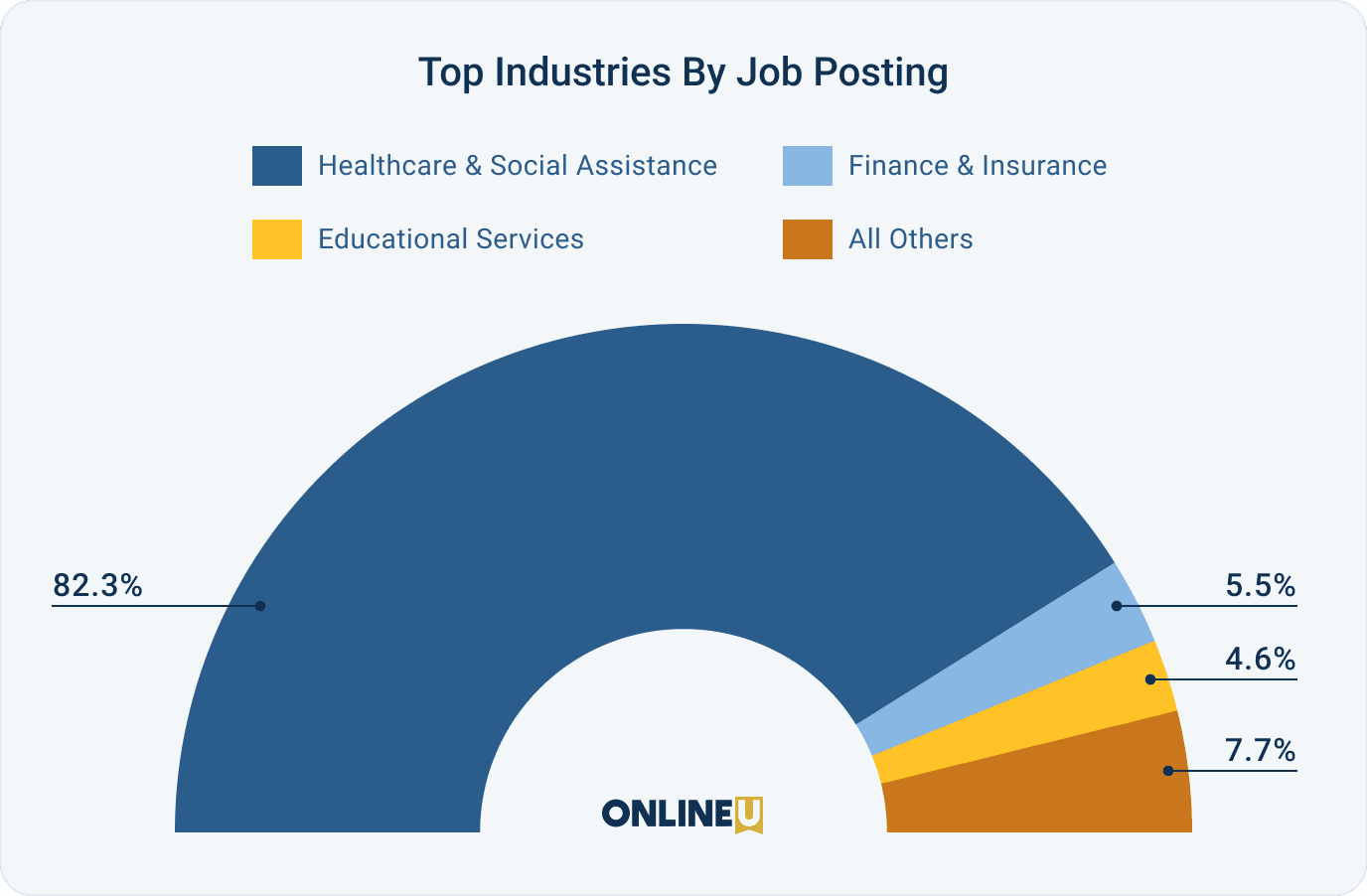 Top Companies
In the 2021-2022 period, the three employers posting the most jobs were UnitedHealth Group, Ascension Health, and the Department of Veterans Affairs. All three entities maintain health care facilities. The first two are private firms and the third is a federal agency serving former service members and their families.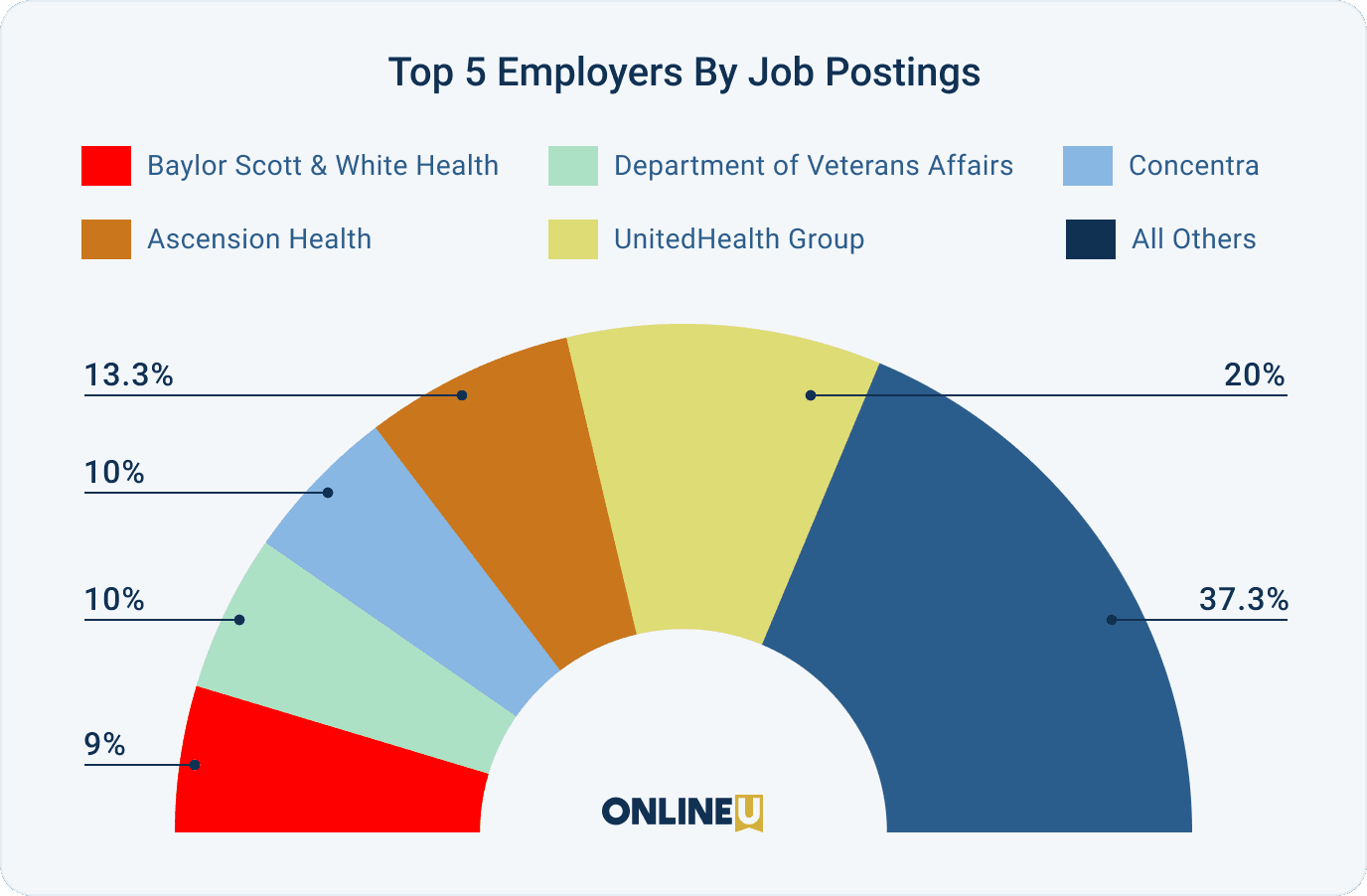 Top States and Cities
Populous areas tend to hire more medical assistants. In fact, the three states with the highest numbers are California, Texas, and Florida, which are also the states with the most residents. These are also the states that posted the most open jobs in 2021-2022, according to Emsi Burning Glass data. In addition, the top cities for medical assistants are New York City and Los Angeles.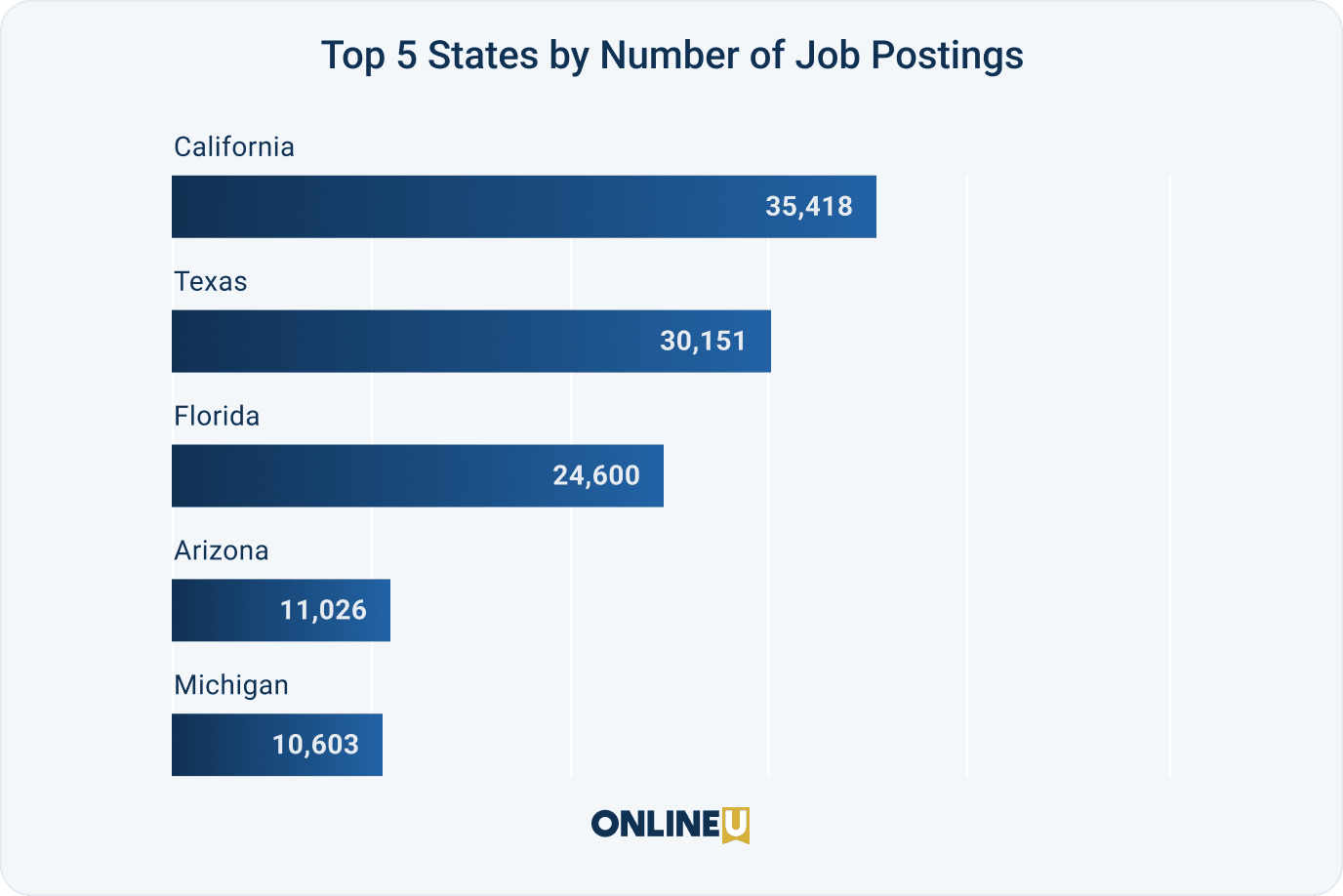 However, one area noticeably bucks these trends: Arizona is the 14th-most-populous state but has the second-highest concentration of medical assistants. It also featured the fourth-highest number of open positions in 2021-2022.
Is Being a Medical Assistant Worth It?
No one can answer this question on your behalf because your criteria for a good career may differ from everyone else's. But you can weigh the pros and cons we list here to help you think through the question:
Potential Benefits
Employers are adding new jobs at a fast pace. This trend is thanks to the aging US population, which will call for more care providers and administrators to support them. The combination of regular turnover and new positions means that the BLS expects 104,400 openings each year through 2030.
Medical assistants tend to have sociable and caring personalities. This job may appeal to you if you like to meet new people and are good at putting them at ease in stressful situations.
This career can grant experience that's useful in future health care roles. Take it from Sean Marchese, a registered nurse who previously worked as a medical assistant in pain management: "In just a couple of years as a medical assistant, I learned valuable skills in managed care that included drug and procedure preparation, which helped me through my nursing career years later."
Potential Drawbacks
The pay is relatively low, even compared to professions requiring the same level of education. Medical assistants usually receive benefits in addition to pay, yet about 28% don't get major medical coverage.
Medical assistants are vulnerable to burnout and overwork during health care crises. Many experienced assistants decided to leave the profession during the COVID-19 pandemic, possibly because the situation had a detrimental effect on many health care workers' mental health.
FAQs About Medical Assistant Careers
Is a Medical Assistant a Nurse?
---
No, medical assistants are not nurses. They're medical administration professionals with a limited scope of clinical duties depending on where they work. Nurses receive different education and are primarily concerned with direct patient care.
Is Becoming a Medical Assistant a Good Career Choice?
---
We can't answer this definitively, but it's worth drawing up a list of pros and cons and assigning weight to each depending on your priorities — see Is Becoming a Medical Assistant Worth It? for some ideas. You can also reach out to professors at medical assisting programs to seek their advice and ask for contacts who are currently working in the field.
What Is the Typical Career Path for a Medical Assistant?
---
There isn't necessarily a typical career path, but most medical assistants earn one or more certifications and the majority also work in physician's offices. Exact numbers are difficult to determine, but many medical assistants leave the profession after a number of years to take related jobs in health care, such as nursing.
What Is the Highest Paying Medical Assistant Job?
---
On the whole, outpatient care centers tend to pay the best wages to medical assistants. However, the $38,270 median salary is only slightly higher than the median hospital salary, which is $37,800. Notably, chiropractic medical assistants earn significantly lower median yearly salaries than all other categories ($30,100).
Resources for Medical Assistants
The medical assisting field features several professional groups that you can join. We've listed these below, along with the benefits they offer members:
The
American Association of Medical Assistants
(AAMA) is the oldest organization representing medical assistants. It features many state and county chapters under the leadership of the national office. Members can receive discounts on AAMA certification and renewal, access to networking events, a newsletter, and continuing education resources.
The
National Healthcare Workers Association
accepts members from a range of health care occupations, including medical assistants. The association offers a certification, continuing education opportunities, and a job board for members.
Related Articles
2023 Best Online Medical Billing & Coding Certificate Programs
Online medical billing and coding certificates prepare students to play a critical role in the management of clinical billing procedures.
What Does a Medical Assistant Do?
Medical assistants support senior clinical staff by performing medical and clerical duties related to patient care. Learn about the role and requirements.