Our Best Job Interview Tips for College Students
Graduation day is looming on the horizon, so you're launching your job search and sparking interest among recruiters and hiring managers. But all those interviews on your calendar can be nerve-wracking. Don't let the stress of job hunting get to you. If you prepare with care and practice our best interviewing tips for college students, you'll go into every interview with confidence and make a great first impression.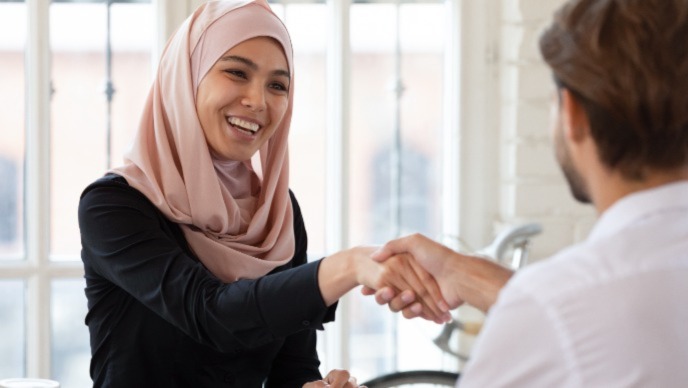 Preparing for a Job Interview
Just as you'd rehearse your lines numerous times before the opening night of your play or practice all of the key moves before the big game, you can prepare for a job interview in advance. If you want to perform well, you should practice. Here are some powerful steps to take well in advance of your interview day.
Research the organization
One thing that will impress interviewers is your knowledge of their organization. It demonstrates that you're genuinely interested in the role and thinking about how you can contribute. You can use the organization's website, press releases, and social media posts, as well as news articles to figure out the organization's mission and goals. In particular, look for information that relates to the position you're applying for. This may provide a way to smoothly interject a little of your knowledge into the conversation.
Get to know your interviewers
If your HR contact at the organization doesn't provide this information in advance, request the names of the people you'll be interviewing with. You can use the organization's website and social media sources like LinkedIn, Twitter, or Instagram to learn more about these people. Not only will it help you feel more comfortable going into the interview, but it may also help you establish a rapport with the interviewers.
Compile a list of probable interview questions
To some extent, interview questions are predictable. You can start with some of the common interview questions, and you can also determine what some of them may be by carefully reviewing the job description. The interviewer is likely to ask questions designed to determine how well your specific skills and experience match the role you're applying for. These questions are some that might be asked:
What sparked your interest in this position?
Why do you want to work for this organization?
In what ways do you see yourself contributing to the organization?
What skills and abilities have you developed through previous experiences that you could apply here?
How would you describe yourself?
Give me an example of a mistake you made and how you learned from it.
What are your career goals?
As you review the interview questions you expect to be asked, look for opportunities to describe your abilities and skills, particularly those that relate to the job. This might include software you can use, critical thinking and problem-solving abilities, and communication skills. Feel free to use specific examples and stories from your prior experiences to illustrate your points. Even if you don't have work experience to draw from, you can pull from situations in your classes, sports teams, volunteer work, and internships. In all of your responses, try to focus on what you can do for the organization, not what the job can do for you.
Practice interviewing and get feedback
Practicing your interview answers out loud and having someone critique your performance is an excellent way to build your confidence. Your school's career development center may offer mock interviews, or you could ask a mentor to help you. At the very least, ask a friend or relative to listen and provide feedback.
Develop a list of questions to ask
Always remember that an interview is a two-way street. Naturally, you're trying to demonstrate why you're a good candidate and your interest in the role, but you also want to make sure the job is what you want. Asking questions is vital in figuring out if you think you'll be a good fit. If the answers to the following questions don't arise through the course of the interview, you could ask them at the end of your interview. Hiring managers typically allow 10-15 minutes for your questions.
Can you describe what a typical day on the job might look like?
What kind of job training will I receive?
How would you describe the ideal candidate for this job?
How will my performance be evaluated?
Does your organization have a dress code?
Are there any challenges that this team or department is facing?
How would you describe the company culture or work environment?
Natalia Ochenkowska, director of people ops at spacelift.io, recommends asking, how can I impress you in the first three months? "The question shows your eagerness to positively impact the company while giving you insight into the company's expectations. The answer will highlight particular job areas you should focus on in the first weeks of employment."
Create a list of references
If you haven't already provided these, you may be asked for references during the interview. Make sure you have at least three names with contact information on hand. References should be adults who can speak to your strengths and abilities, such as former supervisors, teachers, coaches, and co-workers.
Plan what to wear in advance
Plan what to wear in advance. Dressing appropriately is important in an interview, and you don't want to be rushing around at the last minute trying to find the right outfit. Aim for business attire that's clean and pressed. Also, make sure your hair and nails are neatly groomed, but skip any strong colognes or perfumes.
Determine your start date
Interviewers will want to know when you can begin work, so make sure you know when you're graduating and allow for any time off or vacation plans you may have.
Establish your salary expectations
Although you should not bring up the question of salary and benefits in your first interview, you may be asked what your salary expectations are. Be prepared with a reasonable answer — not overreaching and not undercutting yourself — by searching the web for entry-level salaries in your field. Alternatively, you can decline to provide your salary expectations and ask for the salary range for the job.
Check your technical equipment
If you're scheduled for a video interview, make sure you have set up your computer and tested the sound beforehand. Technical difficulties at the start of an interview can shake your confidence, and you definitely want to avoid that.
Acing a Job Interview
Okay, it's your big moment — time to shine as you meet your interviewers face-to-face. These dos and don'ts will see you through the interview from the minute you arrive to the time you say goodbye.
Giving yourself 10-15 minutes before you check in allows you to calm your nerves, review your questions and answers, visit the restroom, and check the mirror one last time to make sure you look presentable. If the office is a fair distance from your home or school, you may want to use a traffic app to map out your route and check for delays.
Make sure you grab several copies of your resume and references, as well as your college transcript, a notepad, and a pen. Even though you submitted your resume with your application, some interviewers may not have received it, so bring along a few extra copies in a neat folder or organizer. You can also tuck in your list of references and college transcript, as well as your tools for taking notes.
Be friendly and respectful with everyone you meet
Assume that everyone you encounter during the interview process — from the security guard to the receptionist — is part of the decision-making team.
Greet the interviewer with enthusiasm
This has become a little tricky because of COVID-19, so follow each person's lead. Some people may not be comfortable shaking hands, but you can still offer a friendly smile. Be sure to bring along an approved mask to wear in case it's required in the workplace.
Try to develop a rapport with the interviewer
Interviewers usually ease into the conversation with a little small talk, so be prepared to answer simple questions about the weather or your drive into the office. Be positive in your answers and avoid bringing the tone down with negativity.
As nervous as you may feel, try to remember to pull your shoulders back, sit up straight, smile, and make eye contact with your interviewer. People can sense how engaged you are by your body language.
Answer questions with care
Remember all that practicing you've been doing? Here's where your interview preparation pays off. If you don't understand a question, ask for clarification. If the interviewer throws you a curve ball by asking an unexpected question, feel free to take a moment to consider your answer before speaking. Here are four additional guidelines for answering interview questions:
Focus on mentioning your particular skills, abilities, and knowledge and how you can see yourself using these assets to contribute to the organization's goals.
Be positive in how you phrase your answers — and your own questions — and avoid criticizing any past employers, co-workers, or your school.
Be truthful about what you've learned and experienced. By the way, if you earned your degree online, don't hide that fact. Interviewers usually respect online degrees.
Be concise and give thorough answers, but avoid getting too far into the weeds or going off on tangents.
Relax, take a moment to think through each answer, speak at a normal pace and tone, and don't interrupt the interviewer.
Leave your earbuds in your bag, silence your cell phone, and don't bring in any food or drink.
Close the interview with gratitude
Even if you've already decided the job isn't for you, be sure to thank the interviewers for their time and consideration. At the end of the interview, ask each person for a business card so you can follow up later. If you are interested in the job, let them know by asking what the next steps will be, but hold off on asking about salary and benefits. Save those questions for follow-up interviews.
Daivat Dholakia, VP of operations at Essenvia, adds another suggestion for closing an interview: "Make it known to the interviewer that you're new to interviewing and you'd be grateful for any constructive feedback they can offer after the interview is over. Framing it like another learning experience will help ease the anxiety of the experience."
Three Bonus Tips From Experts
"Geek out on what you geek out on. When you show passion for the job or industry that you're going into, it makes you stand out and leaves a positive impression." — Todd Ramlin, Manager, Cable Compare
"Come to your interview with ideas. You want the interviewers to see that you will be the best person for the role because you are future-minded and actually care about making a difference in the company. Having specific ideas shows that you don't just want to work for any company in this position — you want to work for this company in particular." — Ben Michael, VP of Operations, Michael & Associates
"Think about it like this: They invited you into an interview. They want you to be the right fit. They want you to be the one. They have a headache because of this opening. You want to convince them you're the Tylenol they need, that if they hire you, you're going to make their lives easier." — Matthew Warzel, CPRW, President, MJW Careers
Why Companies Hire Recent Grads
New college grads sometimes feel like they're at a disadvantage because they may have relatively little work experience to offer. However, some hiring managers see the upside to hiring recent graduates like you. They recognize you bring a vibrant energy into the workplace, along with current thinking and technical skills. Some even see your lack of relevant experience as a positive because it means you're not set in your ways. You might draw some confidence from these words:
"One of the main reasons why I like hiring grads is because they are typically much more excited about entering the workforce and have fresh ideas. They are a great addition to the team, not only because they bring a fresh perspective, but because they can be excellent morale-boosters." — Jeremy Yamaguchi, CEO, Lawn Love
"One big advantage I appreciate about hiring recent graduates is that they're a 'blank slate,' so to speak. They haven't worked for other companies who do things differently, so they're often quick to adapt to and pick up our processes and system, without the need to untrain bad habits they've picked up from past employers." — Matt Erhard, Managing Partner, Summit Search Group
"They [recent college graduates] do not have history or recommendations from previous employers, but they also have bright minds, are ambitious and tech-savvy, and are aware of up-to-date trends that a business can use." — Tyler Garns, CEO, Box Out Marketing
Following Up
You nailed the interview and impressed the hiring managers, but the interview process isn't quite over. These final job interview tips for students will carry you through to the finish line.
Take notes immediately after the interview
Write down the topics you discussed, the names of people you met, your impressions of the experience, and an evaluation of your own performance. Not only will these notes come in handy during future conversations, but you'll also learn more from the experience and be better prepared for the next interview.
Thank each person who interviewed you
Send a personalized thank-you email to everyone you interviewed with, either the same day or the next morning at the latest. Hopefully, you collected a business card from each person you met, but if not, you can always contact the organization's HR department for their email addresses. If you're truly excited about the job, be sure to express your enthusiasm for the role and the organization, as well as your hope that you'll be hearing from them again soon. If possible, work in a reference to something you discussed to help cement each interviewer's impressions of you, but keep the thank-you notes relatively brief overall.
Tap your network for additional support
If you came away from the interview feeling excited and confident that the job is just right for you, try to find someone in your network who works or has worked for the organization who can make a personal recommendation on your behalf. For example, you could search for alumni of your school who have been affiliated with the organization you're interviewing with.
Keep a positive attitude as you wait for a response
It's rare to receive a job offer on the spot. Instead, you'll probably need to wait up to two weeks to hear from the hiring managers at the organization. With luck, you'll be invited back for a second or possibly third interview, and you'll go through this same preparation process again. When the interviewer starts discussing salary, benefits, and other details, it's a sure sign that they're interested in you and moving toward an offer.
Enjoying the Journey
Landing that first job after graduation can be hard work. It's not unusual to require multiple interviews with a range of organizations, making it challenging to stay motivated and upbeat in the face of rejection. The silver lining is that every interview — even if it doesn't end with a job offer — is an opportunity to hone your interviewing skills. Just keep at it, and eventually, you'll find the job that's perfect for you.
Related Articles
Is an Online Degree Respected?
If you are wondering whether an online degree is respected or considered the same as traditional degrees, read our expert advice from an HR representative.
Why College Students Should Network
Explore why networking is important for college students, how to network, and the nuances of virtual and in-person networking in our guide.