What Can You Do with a Graphic Design Degree?
With a college degree in graphic design — especially a bachelor's degree — people who are visually oriented can build a lucrative and creatively fulfilling career. One of the many advantages to pursuing this profession is its flexibility. Earning an online graphic design degree can open the door for self-employment or a position as a graphic designer for an organization where they can work independently or in collaborative teams. They can also work as generalists, providing a range of design services to clients, or they can specialize in just one type of design. The following guide explores the many occupations available to graphic designers and the various paths to success in this field.
ADVERTISEMENT
Online Graphic Design Degrees You May Be Interested In

Southern New Hampshire University Online

Annual Tuition: $19,398 - $29,428
3 Programs (view all)

Annual Tuition: $11,700
7 Programs (view all)
---
How to Prepare for a Graphic Design Career
According to the Bureau of Labor Statistics (BLS), the majority of graphic design jobs require some level of college education. A few jobs need only a two-year associate degree, but most entry-level positions require a four-year bachelor's degree. Graduates who want to pursue managerial positions in the industry may want to consider earning a master's degree in design.
Is Graphic Design a Good Career?
Graphic design can be a great career choice for people who enjoy storytelling through visual media. The BLS notes that as of 2030, there were more than 254,000 graphic design jobs, and that number is projected to increase to about 261,000 by 2030.
A look at current job listings for graphic designers and similar job titles reveals where the most employment opportunities can be found. Concentrated in California, Texas, Florida, and New York, some of the major employers include CDM Smith (engineering and construction), Deloitte (professional services), and CBRE Group (real estate). The following graph gives professionals a better sense of some of the industries currently hiring graphic designers.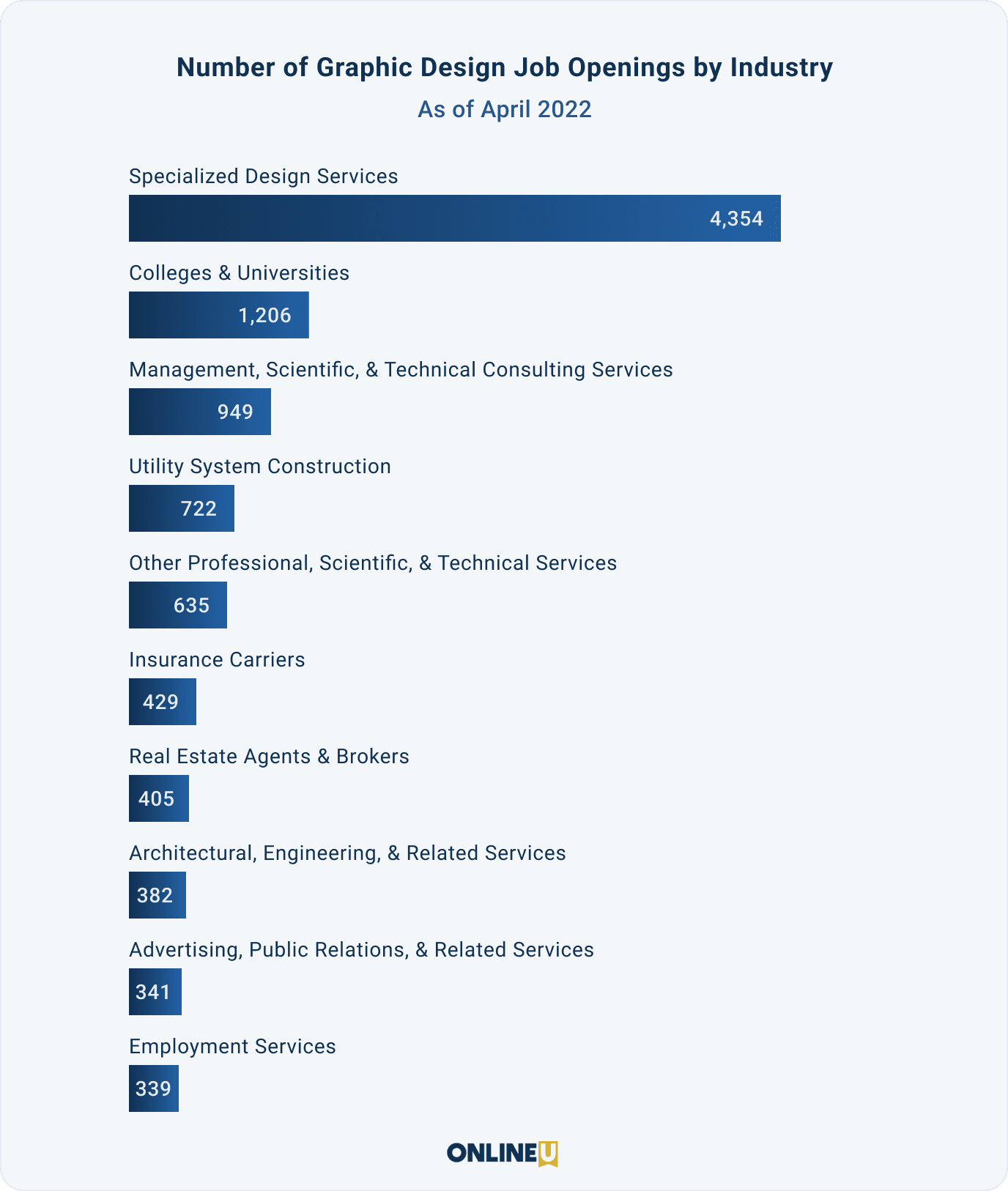 What Do Graphic Designers Do?
Graphic designers develop the visual presentation of both printed items, such as advertisements and magazines, and digital items, such as websites. Their objective is to convey a message or tell a story through their choice of colors, typography, images, and other design elements. Designers often work in teams with other creative professionals, including art directors, writers, and marketing specialists, although some artists work primarily alone. All graphic artists work closely with clients to understand the intended purpose and message of the end product and to ensure they deliver what the client wants.
Important Qualities for Graphic Designers
In addition to having an extensive knowledge of design, production methods, and design-related software, graphic artists benefit from developing the following soft skills.
Collaborative mindset: being open-minded and respectful so that the design team can capitalize on the best of team members' ideas
Communication skills: actively listening to understand others and speaking clearly and persuasively
Problem-solving ability: framing the parameters of a problem, evaluating alternatives, and developing practical yet innovative solutions
Dependability: meeting deadlines and remaining calm and focused when working under pressure
Five Popular Careers for Graphic Designers
Individuals interested in pursuing a career in graphic design may find employment in a variety of different work environments. Some graphic designers work in design firms with other creative professionals, some work for larger for-profit and nonprofit organizations that hire in-house designers, and some are self-employed. Graphic artists can also specialize in certain areas of design. The following are five of the more common career paths.
How Do Graphic Designers Advance Their Careers?
There are several ways graphic designers can advance their careers through education and experience. One possibility is to pursue a master's in graphic design or an MFA in design, both of which feature design courses that develop advanced graphic design skills and specializations Another option is to earn certification in a particular aspect of design. For example, Adobe — the maker of the most popular graphic design software programs, such as InDesign and Photoshop — offers several certification programs. Pursuing work from high-profile clients can also add prestige to a designer's portfolio.
What Else Can I Do With a Graphic Design Degree?
Graduates with bachelor's degrees in graphic design are not limited to working in this field. The following are some related occupations.
Industrial Design
With their expertise in designing three-dimensional objects that also serve a marketing-related purpose, some graphic artists may decide to become product designers, which falls under the occupational category of industrial designer. These specialists typically develop concepts for products themselves as well as for packaging design. Industrial designers earn a median annual salary of $71,640, and demand for these professionals is expected to increase by 6% through 2030.
Fine Art
Some graphic designers, especially those who particularly enjoy drawing and illustration, may opt for careers as fine artists. They can utilize their knowledge of design concepts and their business acumen to successfully establish themselves as artists, creating work in their choice of media. The median annual wage for craft and fine artists is $49,120, and the BLS projects a 14% increase in the need for artists over the next eight years.
Advertising
Designers who focus their careers on promoting products and services may eventually work their way up to jobs as advertising, promotions, and marketing managers. These professionals develop and implement strategies for generating interest in their employers' brands. This often includes overseeing advertising and other promotional campaigns, as well as managing the promotions team. The median annual salary for this type of manager is $141,490, and the BLS projects 10% growth in demand, which is slightly higher than the national average.
Interested in related online degrees? Learn more about industrial engineering, fine art, and marketing.
The Bottom Line
Design professionals can move their careers in any direction they wish, from being self-employed and working for a few select clients to collaborating with large teams for major organizations. All in all, graphic design is a great choice for creative people who want to use their artistry and technical skills for business, education, or entertainment purposes.
FAQs about Graphic Design Careers
Is Graphic Design in High Demand?
Some occupations within the field of graphic design are in high demand. Overall, the BLS predicts only 3% growth through 2030, which is below the 8% average for all occupations. However, demand for designers who specialize in web design, animation, and other applications of design in the digital world is projected to grow by 13%-16%
Do Graphic Designers Make Good Money?
Some graphic designers make very good money. The highest-earning 10% of designers earn a median salary of $93,440, although the median for all designers is $53,380. Designers with well-developed skills in using computer software for web design and 3D animation earn median salaries of approximately $77,000.
Is Graphic Design a Hard Career to Get into?
Graphic design is a highly competitive occupation. However, there are steps beginners can take to improve their odds of landing a job. Earning a bachelor's degree from an accredited design school, developing a strong portfolio, and being willing to take on smaller projects at slightly lower rates initially can help pave the way to a stable career in the design field.
What is the Highest Paid Graphic Design Job?
Not surprisingly, art directors are the highest paid graphic designers due to their creative leadership and managerial responsibilities. As a group, they earn a median annual salary of $97,270, but the top 10% of earners take home a median annual salary close to $200,000.
Related Articles
2023 Best Online Graphic Design Degrees
Find the best online graphic design degrees in 2023 from our list of accredited colleges ranked by popularity.
2023 Best Online Art Design Degrees
Read our list of the best online bachelor's degrees in art and design in 2023. Choose the best online program that fits your needs.