English Degree Career Guide
While some may characterize an English degree as earned by aspiring teachers or writers, this humanities discipline can transcend various occupations and fields. The key to making an English degree work — if you are interested in a career path outside of academia — is to be intentional about planning your program to include courses that may help you target your career goals. Choosing a concentration, minor, or double degree may help give you direction and definition to your career goals. In addition, your intention may help prospective employers see how versatile an English degree can be and how focused you are on the future.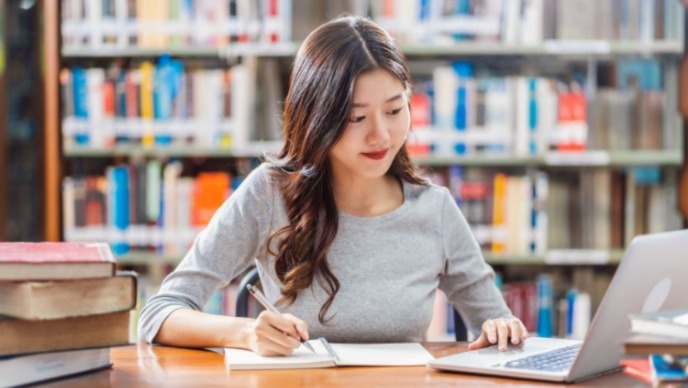 What Is an English Degree?
An English degree program enables you to study literature from around the world that's been written or translated into English. You'll also explore different writing genres, including poetry, prose, short story, narrative, drama, and various literary movements throughout history. It can also help you interpret cultural phenomena in film, music, and social media, which can help organize and make sense of our world and understand others' perspectives through shared experiences.
An undergraduate English degree may be the precursor for advanced degrees in disciplines such as law, the fine arts, or even medicine, where humanistic coursework is valued.
You can earn an English degree at the associate, bachelor's, master's, and doctoral levels. An undergraduate English degree may be the precursor for advanced degrees in disciplines such as law, the fine arts, or even medicine, where humanistic coursework is valued. On the other hand, students who pursue graduate degrees in English are often interested in teaching and working in academia.
What Skills Does an English Degree Give You?
Earning an English degree can help you develop critical thinking and comprehension skills. For example, you can hone your ability to "read between the lines" when analyzing text, as you gain familiarity with various literary genres and an author's motivation for persuading readers. In addition, you can strengthen your command of words and language through assignments and other coursework, broaden your vocabulary, and appreciate syntax and rhythm in storytelling.
Other skills include the following:
The ability to persuade others through argumentative writing
A proficiency with various research methods
Presentation skills and the ability to "read" an audience
Knowledge of literary history
Increased cultural awareness and high-context thinking through exposure to diverse perspectives
Which English Major Skills are Transferable In the Workplace?
English degrees are often undervalued – they are not just about reading the classics and writing poetry. Aside from learning how to construct and deconstruct text, you can also glean skills transferable to several careers and work environments regardless of the occupation and industry.
Transferable Skills Gained Through an English Degree
Acceptance of constructive criticism
Active listening
Argumentation
Attention to detail
Creativity
Critical thinking
Cultural literacy
Editing and proofreading
Empathy
Flexibility and adaptability
Independence and autonomy
Organization and time management
Reading comprehension
Research and analytical thinking
Self-motivation and discipline
Teamwork
What Can You Do With an English Degree?
A typical career path for English majors is teaching. After earning a bachelor's degree, an English major may apply for certification to teach at the kindergarten, elementary, middle, or high school level. Schools are eager to recruit and train future teachers to fill critical shortages throughout the U.S.
Some graduates may opt to become writers and authors, including content writers and copywriters for websites, blogs, social media, and other formats. The U.S. Bureau of Labor Statistics (BLS) anticipates a steady job growth of 9% through 2030, with a $69,510 annual median salary.
Other jobs in various fields and industries expect average to above-average job growth through 2030 that often rely on the skills of English majors.
Other jobs in various fields and industries expect average to above-average job growth through 2030 that often rely on the skills of English majors. However, some may require a concentration, minor, or certificate in a specific job-related subject to gain the necessary technical skills.
Associate Degree Jobs
Annual Median Salary:
$29,360
Becoming a teacher assistant may be a first step to becoming a certified teacher and can be a great way to gain experience. They work with licensed teachers by giving students individual attention and instruction. Teacher assistants may also help teachers with administrative aspects, such as taking attendance and calculating grades.
Bachelor's Degree Jobs
Annual Median Salary:
$60,660
Nonprofits hire fundraisers in order to help raise money to support their programs and services through events and other activities. Fundraisers can also use the skills gained through an English degree program for grant writing and creating promotional materials to increase public awareness of an organization and its mission.
Human Resources Specialist
Annual Median Salary:
$62,290
Human resource specialists often use writing and communication skills to create job descriptions and postings. They may also frequently work with a diverse employee base, where the cultural competency and awareness they developed during their studies can apply to their recruiting, interviewing, and hiring practices.
News Analyst, Reporter, and Journalist
Annual Median Salary:
$48,370
An English major may choose journalism as a career path. Journalists, news analysts, and reporters work to keep the general public abreast of news, current events, and other noteworthy events. Some work for written media, such as websites, magazines, and newspapers, while others work in front of a camera or microphone, reporting the news and interviewing guests.
Public Relations Specialist
Annual Median Salary:
$62,800
A public relations (PR) specialist helps create and maintain an organization's public image. They may act as the spokesperson for media interviews and write press releases. A PR specialist may evaluate an organization's marketing and advertising campaigns to ensure they align with its mission and vision and the image they wish to project to the public.
Annual Median Salary:
$78,060
Technical writers are often considered subject matter experts in the field they write about. For example, a technical writer may be well-versed in a particular software application and may write instruction manuals and user guides in a way that's easy for others to follow who may not have the same level of ability and skill. They may also gather and distribute information through an organization's communication channels.
Master's Degree Jobs
Elementary, Middle, and High School Principal
Annual Median Salary:
$98,420
Librarian and Library Media Specialist
Annual Median Salary:
$61,190
English bachelor's degree holders may decide to continue to graduate school to become librarians or library media specialists. These professionals help others find information and conduct research for academic and personal use. In addition, they often develop library activities and programs as well as curate and maintain media collections.
Postsecondary Education Administrator
Annual Median Salary:
$96,910
Postsecondary education administrators work at colleges and universities to oversee student services, activities, and faculty research. Their responsibilities may vary depending on the department and institution size, including admissions, registration, student affairs, and student athletics.
Doctorate or PhD Jobs
Annual Median Salary:
$127,990
Aspiring lawyers often hold undergraduate degrees in English to gain communication and research skills. Once they graduate from law school and pass the state bar exam, lawyers advise and represent organizations and individuals in legal matters. Strong comprehension skills enable them to interpret laws, court rulings, and regulations to understand how they are applied.
Annual Median Salary:
$79,640
Postsecondary teachers instruct at the collegiate level. They may also conduct research and publish scholarly work that can increase their credibility and that of the institution they represent. Those with degrees in English teach in the humanities department and may work with colleagues to develop curricula.
Annual Median Salary:
$81,040
A psychologist may hold their undergraduate degree in English, which can help them develop the communication and research skills they'll need in a doctorate or PhD program. Psychologists study cognitive, emotional, and social processes, and they may diagnose and treat individuals with behavioral disorders.
Where Can You Work With an English Degree?
According to the most recent information published by the BLS, while 22% of English majors worked in education and library occupations, 88% worked in other fields outside of academia. Environments include health care, high-tech corporations, nonprofits, and publishing companies. We've included some of the companies and industries that data analytics company, Lightcast (formerly Emsi Burning Glass), identifies as employing English majors in the U.S.:
| Organization | Location | Industry |
| --- | --- | --- |
| Bain & Company | Various, including Texas and Massachusetts | Management consulting |
| California State University System | California | Education |
| City Year | Various, including New York, Michigan, and Washington | Education |
| Epic Systems | Wisconsin | Healthcare Technology |
| Goldman Sachs Group, Inc. | Various, including Utah and Texas | Finance |
| Houghton Mifflin Company | Massachusetts | Publishing |
| Huntington Learning Centers | Various, including Florida, Illinois, and Georgia | Education |
| New York Life | Various, including New York, Texas, and Alabama | Insurance |
| Oracle | Various, including California, Colorado, and Viginia | High-tech |
| Oxford University Press | New York | Publishing |
| Penguin Random House | New York | Publishing |
| Teach for America | Various, including Louisiana, Colorado, and Delaware | Education |
| Yelp | Various including New York, Illinois, and Arizona | High-tech |
| YMCA | Various including Indiana, Ohio, and South Carolina | Social services |
| Wells Fargo | Various including Maryland, North Carolina, and Virginia | Finance |
How To Maximize Your Career Potential
You can maximize your career potential as an English major by choosing a concentration, minor, dual degree program, or certificate. An internship can also help you gain work experience – and possibly a foot in the door – for jobs after graduation. English can be broad, so it helps to have an area of expertise and experience that can provide focus while in school, which may appeal to prospective employers. Your program advisor can help you decide which route to take to meet your career goals.
Specializing or choosing a concentration can enable you to hone your strongest skills and interests. For example, if you are interested in writing, you may want most of your electives to be in writing workshops and other skill-building courses, such as creative writing, nonfiction writing, or storytelling.
Choosing a minor in a secondary discipline can provide additional skills that can help define and strengthen your major. For example, selecting a business minor may help build your skills and credibility with employers if you want to work in business. If you wish to work in marketing, a marketing or advertising minor can provide you with industry-specific knowledge. Other options include linguistics, psychology, and journalism.
Dual degree programs or double majors are given as two separate diplomas, allowing you to earn two degrees simultaneously. You may be able to earn two bachelor's degrees or a bachelor's and master's degree at the same time. You can choose from degrees such as theater arts, economics, computer science, or political science.
Is an English Major Worth It?
An English degree may be worth it if you have a passion for language and enjoy immersing yourself in great works of literature. English majors also tend to be more satisfied with their degrees than others. However, it helps to decide how you plan on using your degree toward your career path early, so you are intentional about which classes you take and which area you specialize in. For example, if you enjoy writing, taking courses or a minor in creative writing or journalism may be beneficial to gain specific skills.
It helps to decide how you plan on using your degree toward your career path early, so you are intentional about which classes you take and which area you specialize in.
Your career and financial goals can also influence your decision to major in English as well as other important factors.
Potential Benefits
Coursework allows you to increase your cultural competency and improve your intercultural communication skills. The work you complete throughout your degree program can help you overcome your unconscious or implicit biases as you learn more about others through literature. This may enable you to apply the platinum rule – do unto others as they want to be done to them – which can strengthen your personal and professional relationships.
There will be opportunities to fine-tune your soft skills. While an employer can train in technical skills, soft skills depend on your behavior and values and can be hard to recruit. An employer may value your discipline, work ethic, and organizational skills as much as your computer literacy.
An English degree can help sharpen your critical and analytical thinking skills. As you learn and apply the principles of literary criticism, you'll learn to examine other ideas with a critical eye. Developing critical and analytical thinking skills can be helpful in any work environment, including business, where you may be responsible for making sound and ethical decisions.
Potential Drawbacks
You may have to read genres of literature you don't enjoy. An English degree requires a lot of reading, and there'll undoubtedly be assignments you won't enjoy. This can feel tedious, and you may be easily distracted when you aren't enjoying what you are studying.
You may lack some of the complex technical skills you would gain in other disciplines. The skills you can acquire through an English program may be more challenging for some employers to recognize, and it can be more difficult to quantify soft skills than hard skills. It may take extra effort to prove your abilities to a prospective employer.
English majors tend to make less than graduates with other degrees. The median wage for English majors is $51,000 compared to $60,000 for all others. Finding jobs that meet your salary expectations may not be easy, especially if you don't choose a concentration or minor while in school.
FAQs About an English Degree
What Can a Degree in English Lead To?
---
An English degree can lead to a teaching or writing career and a career in business. In addition, English majors often work in HR, communications, PR, and organizational leadership. Others may use their undergraduate English degree to enroll in a graduate degree program to study law, medicine, or school administration.
What Can I Do With an English Degree Besides Teach?
---
You can use an English degree in almost any occupation that requires articulate oral and written communication, critical thinking, and comprehension skills. Fields include communications and public relations, journalism, advertising and marketing, and law. It can help to choose a concentration or minor while completing your degree, so you focus your skills in one specific field.
Do English Majors Get Paid Well?
---
Are English Majors in Demand?
---
English majors are in demand for careers such as teaching and education administration. In addition, jobs in the media and communications field are also anticipating job growth at 14% job growth through 2030, which is higher than average.
Career Resources for English Majors
We found several associations targeted to careers for English majors that offer job resources and career support. Access to career information may require membership, though some allow you to search job postings and access general career development information for free.
| Organization | Benefits | Membership Dues |
| --- | --- | --- |
| American Copy Editors Society (ACES) | Job board and training opportunities | $40-$75 annually |
| American Society of Journalists and Authors (ASJA) | Professional development webinars and conferences and networking events | $235-$310 annually |
| Association for Women in Communications (AWC) | Career center with job listings, career development resources, webinars, and networking opportunities | $34-$189 annually |
| Editorial Freelancers Association (EFA) | Job listings, career development information, and webinars | Free-$260 annually |
| LinkedIn | Job postings, networking, member groups, and training | Free-$29.99 monthly |
| Modern Language Association (MLA) | Job posting, networking, and publication opportunities | $29-$387 annually depending on income |
| National Association of Colleges and Employers (NACE) | Career readiness and development information, professional development opportunities, and job market information | Many of their research-based resources are free to access |
| National Council of Teachers of English (NCET) | Networking events, professional learning and development tools, and research | $22.50-$50 annually |
| Public Relations Society of America (PRSA) Job Center | Career development tools, job listings, and employer information | Free |
| Society for Technical Communication (STC) | Job bank, certifications, salary database, career development, and transition information | $101.50-$276.50 annually |
Related Articles
2023 Best Online English Degrees
Online bachelor's in English degrees are offered at a variety of colleges. Our rankings for 2023 feature the best, based on return on investment calculated with median alumni salary and debt.
Guide to Online English Degrees
Are you interested in learning about online English degrees? Discover the degree options and learn about the program curriculum and career opportunities.