How Long Does it Take to Become a Dental Hygienist?
Landing a career in dentistry can require clinical training, licensure, and years of education. Given this, you may be wondering how long it takes to become a dental hygienist. In general, it takes less time to become a dental hygienist than it does a licensed practicing dentist. However, this profession still requires spending a few years obtaining a formal education and several additional months meeting state licensure requirements.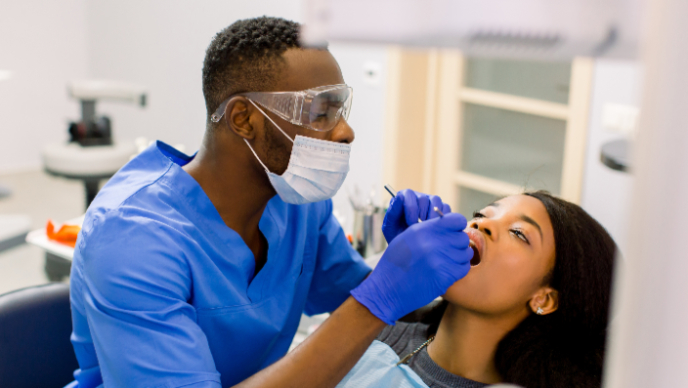 ADVERTISEMENT
Online Dental Hygiene Degrees You May Be Interested In
---
What is a Dental Hygienist?
Dental hygienists are healthcare professionals who help patients maintain their teeth and gums. Trained in the field of oral health, they perform various preventative procedures, such as removing tar, applying fluoride, and polishing teeth with specialized tools. Dental hygienists also provide important information on the relationship between diet and food, and many document the health of their patients by taking X-rays and updating records. One of the most important tasks these professionals carry out is identifying gum diseases, such as periodontitis.
How Long Does it Take to Become a Dental Hygienist?
Becoming a dental hygienist requires meeting certain education and licensing requirements. You should aim to complete the following steps in order to begin your career in this field.
Step 1: Earn a High School Diploma or GED
The first step to becoming a dental hygienist is to earn a high school diploma or GED. During this time, it's important to take classes in areas such as biology, math, and chemistry, as a background in these subjects is typically necessary to gain admission in a dental hygienist undergraduate program.
Step 2: Complete an Accredited Degree in Dental Hygiene
A degree in dental hygiene will equip you with essential technical knowledge and help you foster the hard and soft skills necessary to help patients with their oral health. While both an associate and a bachelor's qualification can provide this training, the former can be completed in two to three years while the latter typically takes four years of full-time study. However, a bachelor's can also prepare you for job opportunities outside clinical practice.
Admission requirements for associate and bachelor's programs in dental hygiene are quite similar. Both require high school coursework in science subjects such as biology and chemistry. You may also have to complete a college-level lab in chemistry, provide letters of recommendation from mentors or teachers, and attend an informational session at your prospective college or university.
Regardless of the type of undergraduate degree you decide to pursue, it's essential that you enroll in a program accredited by the Commission on Dental Accreditation (CODA). A CODA-accredited degree meets national standards for academic excellence in the field of dental hygiene and is required to work in this field.
Step 3: Obtain State Licensure
State licensure is another requirement to become a dental hygienist. Depending on the state, getting your license can involve various steps, such as gaining clinical experience, passing exams, and completing a background check. The entire process can take several additional months after graduating depending on where you intend to practice.
To obtain your license, you need to pass the National Board Dental Hygiene Examination (NBDHE) within five years of graduating or within your first five attempts. While the NBDHE meets the examination requirements for licensure in some states, others require that you take additional board exams as well.
Step 4: Secure a Job
The final step in becoming a dental hygienist is to apply for and secure employment. With a favorable job outlook, you may be able to find a position relatively soon. For instance, the Bureau of Labor Statistics projects that the number of dental hygienist positions will increase by 11% through 2030, which is faster than the U.S. economy average across all occupations. A majority of these may be in states like California, Texas, and Florida, which currently employ the highest number of dental hygienists. If you have a bachelor's degree in dental hygiene, you may qualify for additional opportunities, including positions in the business world.
Advanced Education Options
An advanced degree is not necessary to work in dental hygiene. However, investing in a graduate education can help further your career in important ways. For instance, a master's degree in dental hygiene may give you higher-level critical thinking, writing, and research skills, alongside more specialized knowledge of topics in healthcare management. With this additional training, you will have a better chance of working in areas such as education, research, and public health.
Bottom Line
There are various factors that can affect how long it takes to become a dental hygienist. These can include the degree program you decide to enroll in, the licensing requirements of your state, and the time taken to find employment. In general, it can take four to five years to become a licensed dental hygienist after graduating high school.
Related Articles
2023 Best Online Dental Hygienist Programs
Online dental hygienist schools prepare students for careers in oral health. Our list of the best bachelor's degrees is based on alumni salaries.
Dental Hygienist vs Dental Assistant
Both dental hygienists and assistants provide oral health care services, but they have very different educations and responsibilities.