Dental Hygienist Career Guide
A career as a dental hygienist may be the right choice if you're interested in exploring the field of dentistry. It is also an ideal stepping-stone for those who plan to become licensed dentists. To become a dental hygienist, you need to earn an undergraduate degree and obtain your state license. You may then qualify for employment in environments including clinics, government offices, businesses, and research centers.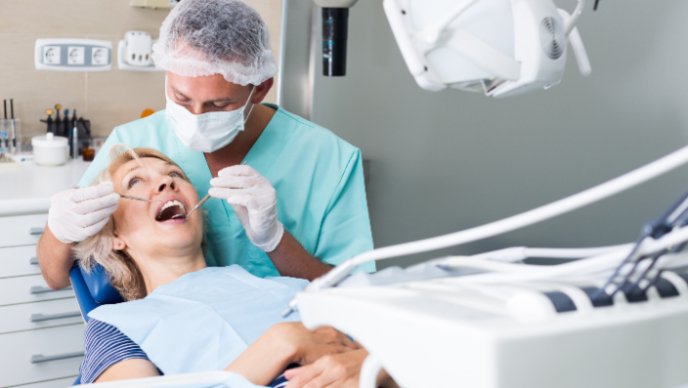 ADVERTISEMENT
Online Dental Hygiene Degrees You May Be Interested In
---
What is a Dental Hygienist?
Dental hygienists help patients manage their oral health. Rather than carrying out medical dental procedures — such as inserting crowns or conducting root canals — these professionals largely provide preventative care, like cleaning and polishing teeth. Depending on their specific job responsibilities, they may also develop X-rays to document a patient's health. A significant part of a dental hygienist's job involves educating individuals about how to keep their gums and teeth healthy. This can entail devising treatment plans for specific conditions, offering advice on which products to use, and explaining how diet can affect oral hygiene.
Meet Our Expert
Whitney Rose DiFoggio is a Registered Dental Hygienist and Founder of TeethTalkGirl.com. She graduated from the University of Illinois Chicago with a Bachelor of Science in Biology. After, she attended Prairie State College for Dental Hygiene. Whitney currently works for two private practices.
Dental Hygienist vs. Dental Assistant
Unlike dental hygienists, who specialize in oral cleanliness, dental assistants carry out tasks related to administration, recordkeeping, and office management. Their responsibilities can involve ordering medical supplies, setting up appointments, and following up with patients after a visit. In some cases, they may also assist dentists with routine procedures. Dental assistants must typically be supervised by licensed dentists.
How Much Do Dental Hygienists Make?
According to the Bureau of Labor Statistics (BLS), dental hygienists make an annual median salary of $77,810, which is nearly double the US economy-wide average of $41,950. The highest 10% of dental hygienists may earn over $100,000, while the lowest 10% may make less than $60,000 in annual wages.
How To Become a Dental Hygienist
Becoming a dental hygienist typically involves earning a post-secondary degree, followed by state licensure and employment in a setting like a dentist's office. In general, you should expect to take the following steps:
Earn a Degree
Earning an undergraduate college degree accredited by the Commission on Dental Accreditation (CODA) is the first step to becoming a dental hygienist. You need to know how to identify oral conditions, such as gum disease, and have an understanding of basic anatomy, medical ethics, and laboratory processes.
An associate degree in dental hygiene or a related field is therefore the minimum education required to enter this field. Many community colleges and technical schools offer this credential, and students interested in pursuing it should take science and math subjects in high school.
"Dental hygiene schooling allows you to receive an associate degree or a bachelor's degree, depending on which college or university you attend," explains Whitney DiFoggio, a registered dental hygienist. According to DiFoggio, there is often no difference in salary between associate and bachelor's degree holders. However, she also notes that a "bachelor's degree is often recommended if a dental hygienist wants to work in a non-traditional setting, such as education, business, and research."
Pass the National Board Dental Hygiene Examination
Aspiring dental hygienists must pass the National Board Dental Hygiene Examination (NBDHE) within five years of graduating or within their first five attempts. The NBDHE is overseen by the Joint Commission on National Dental Examinations (JCNDE) and is meant to test a candidate's knowledge of human anatomy, clinical care, and public health. It may fulfill examination prerequisites for licensure in some states. In others, the NBDHE can fulfill part of the written test requirement. The JCNDE provides several helpful tips and study guides for those preparing to take this exam.
Obtain State Licensure
All 50 states require dental hygienists to be licensed. Specific licensure requirements vary by state, but in general, you must earn a CODA-accredited degree, pass the NBDHE, and clear a state board exam. In many cases, you must also pass a background check. Dental hygienist licenses are valid for a limited period, and you must take continuing education credits every renewal cycle to maintain your credential.
Where Can I Work as a Dental Hygienist?
Contrary to popular belief, dental hygienists do not only work in dental offices. In fact, these professionals have knowledge and skills that are applicable in a variety of settings. In addition to working in health care environments, like clinics, hospitals, and nursing homes, dental hygienists are employed in government organizations, the business world, research institutes, and education institutions. They can take on various clinical, administrative, and even corporate roles in these different industries. For instance, dental hygienists working in the business sector can serve as sales representatives for a particular oral hygiene product. On the other hand, those working in research or government may primarily be involved in exploring public health issues associated with gum or tooth diseases.
Important Skills for a Dental Hygienist
Dental hygienists have extensive training in matters of oral health as well as a unique set of physical skills. "Strong manual dexterity skills are required to work as a dental hygienist – since hygienists specialize in hands-on preventative services such as dental cleanings and periodontal soft tissue therapy," says DiFoggio. "In addition, bedside manners and communication skills are important in providing patient care and comfort."
Indeed, as health care professionals who interact regularly with patients, dental hygienists must also possess the character traits necessary to deliver care effectively. Below are some of the soft skills necessary in this profession:
Dental hygienists need to be able to clearly convey information about oral health. They often also need to explain a patient's condition to a licensed dentist or family members. To do so, they need to have a strong set of communication skills.
Many people get apprehensive about visiting the dentist. Dental hygienists need to have the ability to empathize with and understand a patient's concerns, so they can put their fears to rest.
Dental hygienists interact with many different types of people, including adults, young children, and seniors. They also work closely with other health care professionals, such as dental assistants and dentists. To be effective, they need to know how to interact effectively with others in a face-to-face setting.
Dental hygienists see patients with a range of oral health concerns. Some may have questions about everyday cleanliness, while others may want to know how to manage a chronic condition involving their teeth and gums. Problem-solving skills allow dental hygienists to come up with tailored treatment plans that help individuals meet their oral health goals.
FAQs About Dental Hygienist Careers
How Long Does It Take To Become a Dental Hygienist?
---
It can take 4-5 years to become a dental hygienist. A majority of this time is spent earning either an associate or bachelor's degree in the field, which respectively take three and four years of full-time study to complete. After graduating, you must pass both national and state-level exams, which can take an additional several months of preparation.
How Much Does It Cost To Become a Dental Hygienist?
---
According to the American Dental Hygienists' Association, the total average tuition for an associate degree in dental hygiene is $22,692. Bachelor's degrees can cost significantly more, and fees can also vary depending on your residency status, whether you're enrolled full time, and if you attend a private school or community college. Aside from tuition expenses, you may also have to cover other college expenses, which can include transport, housing, and books, to name a few. Lastly, you will have to pay to take licensure exams. While the cost to take board exams can vary by state, the registration fee for the NBDHE is $265.
Can a Dental Hygienist Become a Dentist?
---
Yes, a dental hygienist can become a dentist by first completing a Doctor of Dental Surgery or Doctor of Dental Medicine degree. Those who hold a bachelor's in the field typically have the necessary knowledge and training to begin dental school and eventually apply for their professional license. However, dental hygienists with an associate degree will first need to earn a four-year credential.
Is Becoming a Dental Hygienist Hard?
---
Some aspects of becoming a dental hygienist can be challenging. First of all, these professionals must earn a college degree, which can take several years of hard work and dedication to complete. Aspiring dental hygienists must also pass national and state-level examinations to earn licensure, which test an individual's knowledge on a variety of topics, including oral hygiene, common diseases, and health care ethics.
Are There Online Dental Hygiene Programs?
---
Online dental hygiene programs are available at the associate, bachelor's, and master's level. These flexible programs allow students to take classes at their convenience, and are thus ideal for those who work full time or have other personal and familial obligations. While they give students the opportunity to complete coursework remotely, some online dental hygiene programs may also expect students to complete in-person clinical hours or an internship as part of their degree requirements.
Should You Pursue a Career as a Dental Hygienist?
As a dental hygienist, you can earn a competitive salary in a steadily growing field. But while the job outlook and compensation is generally favorable, it's equally important to consider whether this career fits your personality and work expectations. Dental hygienists spend a considerable amount of time on their feet, often carrying out repetitive physical tasks. Some may also work odd hours as contractors in different clinics. This can lead to sometimes stressful schedules and physically taxing work environments, explains DiFoggio.
DiFoggio says, "In my opinion, making a difference by improving and maintaining my patients' smiles is worth it!"
On the other hand, the flexibility in work hours can be beneficial for some individuals. Moreover, dental hygienists often play a crucial role in helping people improve and maintain their health. Their day-to-day responsibilities may not only involve treating patients, but also helping them build their confidence and providing them with important health care information. DiFoggio says, "In my opinion, making a difference by improving and maintaining my patients' smiles is worth it!"
Related Articles
2023 Best Online Dental Hygienist Programs
Online dental hygienist schools prepare students for careers in oral health. Our list of the best bachelor's degrees is based on alumni salaries.
Dental Hygienist vs Dental Assistant
Both dental hygienists and assistants provide oral health care services, but they have very different educations and responsibilities.