Dental Hygienist vs Dental Assistant
Both dental hygienists and dental assistants are trained to provide oral health care services. However, while they may work in similar settings, these professionals often have very different educational backgrounds, work responsibilities, and career trajectories. If you're considering a career in dentistry, it's a good idea to familiarize yourself with each of these roles before choosing a particular path.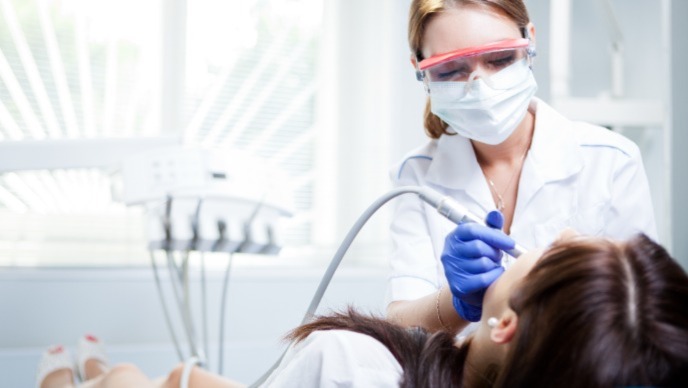 ADVERTISEMENT
Online Dental Hygiene Degrees You May Be Interested In
---
What Is a Dental Assistant?
The primary responsibility of a dental assistant is to help licensed dentists. This may involve tasks like preparing patients for surgery, helping administer anesthesia, cleaning and sterilizing instruments, and taking X-rays. The support dental assistants provide is often crucial to the efficiency, safety, and effectiveness of a given dental procedure.
Depending on the size of the practice, dental assistants also carry out tasks that support daily operations. At the front desk, for instance, they may help patients fill out medical forms, schedule appointments, or pay their bills. They can also be in charge of maintaining dental equipment and ordering office supplies. In short, dental assistants are typically responsible for ensuring a practice runs smoothly.
What Is a Dental Hygienist?
Unlike dental assistants, dental hygienists have specialized training in oral cleanliness. They provide patients with preventative care in the form of cleanings, teeth whitening, and regular check-ups. Dental hygienists may also provide patients with information on how to identify and manage common gum and teeth diseases. These professionals typically work closely with licensed dentists, often to help patients develop plans to improve their oral health.
Differences Between a Dental Hygienist and a Dental Assistant
Education Requirements
Given that they have different skills and areas of expertise, dental hygienists and dental assistants can have very different education requirements. The former need to have a strong grasp of common oral health challenges, medical ethics, and laboratory procedures, so the minimum requirement to become a dental hygienist is an undergraduate credential related to dentistry. While a majority of these professionals have an associate degree, those that work in research or education tend to have a bachelor's.
On the other hand, dental assistants need to have strong time management, organizational, and communication skills. These capabilities can often be developed through on-the-job training, and dental assistants therefore don't always require a formal education. Instead, employers may expect them to have a minimum of a high school diploma or GED and a few years of relevant work experience. It's important to remember that education requirements to become a dental assistant can vary both by employers and states.
Licensure and Certification Requirements
Dental hygienists and dental assistants have different licensing requirements. All 50 states require that the former have a license issued by the jurisdiction they're employed in. To get a dental hygienist license, applicants need to have a degree accredited by the Commission on Dental Accreditation. They also need to pass both parts of the National Board Dental Examination and take state board exams. To maintain their credential, dental hygienists need to take a set number of continuing education credits every renewal period as dictated by their state of residence.
Not all states require that dental assistants have a license. In many cases, it's possible to land an entry-level position if you meet an employer's education and work experience requirements. In other instances, however, these individuals need to pass an exam and become Certified Dental Assistants (CDAs). States where a CDA credential is unnecessary may still require that these professionals have formal training to carry out clinical duties.
While licensure may be required for both dental hygienists and dental assistants in some states, certifications are generally voluntary. There are many certification programs which you can complete to demonstrate your proficiency in specific clinical areas, including tooth cleaning, developing impressions, and gum care, to name a few.
Job and Salary Outlooks
According to the Bureau of Labor Statistics, dental hygienists make a median annual salary of $77,810. The demand for these careers is expected to increase by 11% through 2030, which is faster than the US economy average for all professions. Dental assistants, on the other hand, earn median annual wages of $38,660. Like dental hygienists, the outlook for these roles is generally favorable, with the number of opportunities projected to increase by 11% over the next decade.
Dental Hygienist vs. Dental Assistant: Which Career Should You Choose?
There are several factors to account for when deciding whether to pursue a career as a dental hygienist or dental assistant. One of the first and most important things to consider are your finances. Though dental hygienists earn more, becoming one requires an undergraduate degree, which can be quite expensive. If you're not sure about investing in your higher education but are still interested in a dentistry career, choosing the dental assistant path may be the better option.
Beyond your financial circumstances, you may also want to think about these professionals' different work schedules. While dental assistants typically work 9-5, dental hygienists often have the option to set their own work schedule. This flexibility may suit you if you have personal or family obligations to take care of while working.
Lastly, you should think about your future career goals. While the job outlook is favorable for both dental assistants and dental hygiene professionals, the latter may be a more suitable path to pursue if you hope to become a licensed dentist.
Related Articles
Complete Guide to Online Dental Assistant Programs
Online dental assistant programs prepare students to assist in oral care. View tuition data for online programs to help choose the best program for your needs.
Dental Assistant Education Requirements
Interested in a career as a dental assistant? Learn more about the education required to land the job.