Dental Assistant Education Requirements
If you believe that being a dental assistant may be the right occupation for you, there are several paths you can follow to start your career in dental care. For the most part, your state's dental assistant education requirements should guide your way, but your own preferences and personal circumstances may also influence your decisions. With a little research, you can set yourself up for success as a dental professional.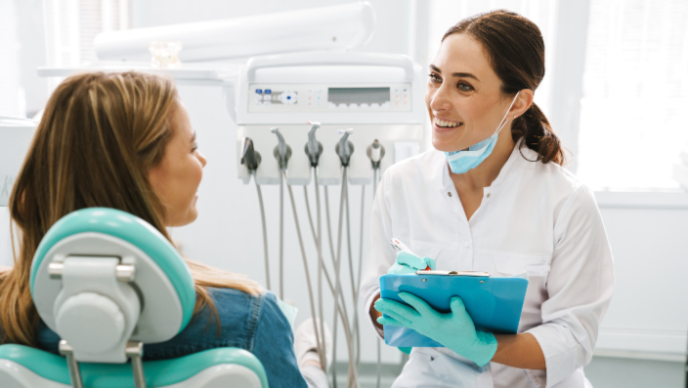 ADVERTISEMENT
Online Dental Assistant Degrees You May Be Interested In

Annual Tuition: Not Provided
1 Programs (view all)

Annual Tuition: Not Provided
1 Programs (view all)
---
What Is a Dental Assistant?
The vast majority of dental assistants work in dental practices, where they perform a wide variety of tasks that help their dental offices run more smoothly. When assisting a dentist with a procedure, the dental assistant often updates a patient's records, takes their vital signs, hands tools and materials to the dentist, takes x-rays, and provides aftercare instructions to the patient. Other job duties may include sterilizing equipment, scheduling appointments, and taking payments for services.
According to the Bureau of Labor Statistics, demand for dental assistants is growing at a rate of 11%, which is higher than average for all occupations. The median annual wage for dental assistants is $38,660.
How To Become a Dental Assistant
In general, there are five important milestones you need to achieve on your way to becoming an experienced dental assistant. However, depending on your state's requirements, you may complete these stages in a different order than shown below, and the exact nature of each stage may vary. It's essential for you to understand the various options on how to become a dental assistant so that you meet your state board of dentistry's criteria to work as a professional.
Earn a High School Diploma or Equivalent
To be admitted into any dental assistant training program, you must have completed your high school education or an equivalent, such as a GED. Many programs also require applicants to be 18 years old, a US citizen, and fluent in English. If you're still in high school, you may want to start preparing in advance by taking relevant classes, such as chemistry or anatomy, if they're available.
Train as a Dental Assistant
Depending on your state's requirements regarding the education needed to be a dental assistant, you may be able to learn the necessary skills through on-the-job training. After landing an entry-level job in a dental practice, your co-workers — the other dental assistants, hygienists, and dentists — will teach you the appropriate dental materials, procedures, and techniques. You'll also learn how to work with patients and how to perform any administrative duties that are required. If needed, you may be eligible to earn certification after completing a specific number of supervised work hours.
However, if your state requires dental assistants to acquire some type of formal education, you'll need to enroll in a dental assistant training program. There are many types of programs available in traditional formats at community colleges, vocational schools, and technical schools, as well as dental assistant online courses. Some programs, especially those offered online, are accelerated, meaning they can be completed in four to seven months, while other programs may take one to two years to finish.
Even if your state does not require formal education, you may still want to enroll in a dental assistant education program. As Arah Ko, an experienced dental assistant at Midas Dental Clinic, said, "Because I'm passionate about dental hygiene, I did a certificate in dental assisting. That made it very easy for me to find my first job, and I was also better prepared for the technical side of the role. You need to have a basic knowledge of dental terminology, materials, procedures, treatments, dental instruments, and other equipment."
As appealing as it may be to choose a shorter program that will get you into the workforce more quickly, make sure that the program you're enrolling in will qualify you for the appropriate certification in your state. Program websites should indicate whether a program is designed to prepare you for the Registered Dental Assistant, Certified Dental Assistant, or National Entry-Level Dental Assistant exam.
Another thing to check on before enrolling is accreditation as, here again, your state may stipulate what type of accreditation is required. The school itself should be accredited by a regional or national agency, including the Distance Education Accrediting Commission if it is an online school. Individual programs may also be accredited by the Commission on Dental Accreditation (CODA), which is the accrediting body formed by the American Dental Association. Programmatic accreditation ensures that your program is designed to teach the skills and procedures you'll need to practice as a professional.
Common Courses
As a dental assistant student, you'll take a number of different types of courses. Many will focus on assisting the dentist with patients. These include an introduction to dental terminology, anatomy, materials and procedures, medications, diagnostics, patient care, infection control, and radiology. More extensive programs may go into advanced topics, such as dental pain management, dental specialties, oral surgery, and cosmetic and restorative dental procedures.
Additional courses may introduce you to the clerical side of a dental assistant's role, including legal and ethical issues. Coursework will explain patient records, billing, and insurance, and you'll use computer programs such as Microsoft Excel and EagleSoft, one of the more popular dental office management software programs.
Program Outcomes
By the time you complete your education, you should be able to perform most of the following tasks:
Identify the major anatomical parts of the head, neck, and mouth, and identify teeth by the standard numbering system
Work as part of a four-handed dentistry team, properly identifying and handling dental instruments
Prepare and sterilize dental instruments and workstations
Use traditional or digital equipment to take x-rays and impressions
Place a rubber dam
Produce a temporary crown
Take a patient's vital signs, such as blood pressure
Access and update patient records
Schedule appointments
Take payments
Answer billing and insurance questions
Acquire Clinical Experience
Although hands-on clinical experience is not a mandatory part of an education for dental assistants — some programs provide only simulated or virtual clinical experiences — you may want to enroll in a program that provides this type of real-world practice. Working in a dental clinic while you are still a student gives you an opportunity to learn from other professionals and practice interacting with different types of patients, which strengthens your skills and builds your confidence. Also, your state may require you to accumulate a specified number of clinical practice hours to become licensed or certified, and your student hours may count toward fulfilling that criteria.
Obtain Licensure and/or Certification
Each state has its own list of dental assistant education requirements and other qualifications to work as a professional, but a quick internet search for your state's board of dentistry should provide you with a list of criteria. Most states require dental assistants to have earned a high school diploma and acquired training either through work experience or some type of accredited certificate or diploma program, and some states require a background check.
Your state may also require you to have accumulated a certain number of supervised practice hours, and it may require you to have passed one of three levels of dental assistant certification exams:
The Registered Dental Assistant (RDA) exam, administered by American Medical Technologists, is generally considered to be the highest-level credential. Applicants need to complete an accredited educational program, such as a full-year diploma program or a two-year associate degree, and acquire three years of full-time work experience to sit for the RDA. Divided into four subject areas — office assisting skills, dental sciences, clinical procedures, and dental imaging — the test contains 210 multiple-choice questions.
The Certified Dental Assistant (CDA) exam is administered by the Dental Assisting National Board (DANB) and is generally considered to be more appropriate for graduates of shorter dental assisting programs or those who have trained on the job. The CDA exam is divided into three sections — General Chairside Assisting, Radiation Health and Safety, and Infection Control — that can be taken individually or all at the same time.
Applicants with minimal experience and training may be allowed to earn licensure with the National Entry-Level Dental Assistant (NELDA) exam, administered by DANB. The NELDA exam is also divided into three sections on anatomy, morphology, and physiology; infection control; and radiation health and safety.
States also usually require certified dental assistants to renew their certification annually. To do this, you'll need to complete some continuing education so that you stay up-to-date on the latest procedures and techniques.
Land a Dental Assistant Job
Again, depending on the licensing requirements of your state, finding a job may be the first step on your career path so that you can acquire on-the-job training, or it may be one of the later steps after you've completed your training program and passed a certification exam. In either case, you can use a variety of online resources to identify entry-level job openings for dental assistants, and you can also visit local dental practices to apply for current or upcoming openings. Be sure to specify on your application and/or resume where you are in your training and licensing process.
Some schools offer career placement services for their students. For example, they may help you develop a strong resume, practice your interviewing skills, and learn to conduct a job search. This may be an important component of your school selection process.
Paying For Your Dental Assistant Program
Since dental assisting programs typically take only six months to two years to complete, earning a diploma, certificate, or associate degree is often more affordable than many other types of degrees. Shorter programs typically cost $5,000-$12,000, although two-year associate degree programs may cost more. Nevertheless, you may still need financial assistance to pay for your training.
If your school has been accredited by an approved accrediting agency, you may be eligible for government-funded financial aid. To determine if you're qualified, simply fill out and submit a Free Application for Federal Student Aid (FAFSA) form. You may be offered a grant or scholarship, both of which you don't have to repay, or a student loan, which you will have to repay with interest.
Some schools also offer financial aid for their dental assistant students. These may include scholarships for eligible students and discounts for military members, veterans, and their spouses. Your school may also offer payment plans that make it easier to pay for your education over time.
Advancing Your Career
As you gain experience as a dental assistant, you may want to enhance your earning potential by improving your credentials. One way to do this is to achieve a higher level of certification or obtain additional certification in specialized areas of dentistry. For example, DANB offers advanced certifications in orthodontics, preventive functions, and restorative functions. You can use a variety of educational resources, such as the DALE Foundation's exam preparation guides, to prepare for these exams.
Another way to advance your career in health care is to seek additional education to become a dental hygienist or a dentist. Unlike a dental assistant, a dental hygienist works independently to clean patients' teeth. Dental hygienists earn a median annual salary of $77,810, while dentists earn a median annual salary of $163,220.
Qualities of Dental Assistants
Before enrolling in a program, you may wonder whether this occupation is a good fit for you. Professionals agree that dental assistants need to work well with both people and technology, and they need to be comfortable doing a variety of tasks within their work days. Some of the more important personal characteristics a dental assistant needs include the following:
Good listener
Able to communicate clearly and logically
Empathetic and patient with those who may be fearful or in pain
Well organized and detail oriented
Flexible and adaptable
Eager to learn new skills and procedures as needed
How To Choose the Best Dental Assistant Program for You
If you're ready to map out your dental assistant education, use this checklist to compare programs and determine which one is best for your needs.
Will the program prepare you to meet your state's certification requirements?
Does the class schedule fit with your current time commitments?
Does the program's format — classroom or online — fit your preferred learning style?
Does the coursework train you to use the latest digital dental technology?
Will the program give you hands-on clinical experience?
Does the program offer any mentorship?
Can you afford the tuition fees, or does the school offer payment plans?
What certification will the program prepare you for?
What is the school's pass rate for certification exams?
Does the school offer job placement and other support services?
What have recent graduates said about their experience in the program?
Related Articles
Complete Guide to Online Dental Assistant Programs
Online dental assistant programs prepare students to assist in oral care. View tuition data for online programs to help choose the best program for your needs.
Dental Hygienist vs Dental Assistant
Both dental hygienists and assistants provide oral health care services, but they have very different educations and responsibilities.