Criminal Justice Career Guide
While many people associate a criminal justice career with policing, this field offers employment opportunities in many different industries. In fact, educators, lawyers, judges, federal agents, and security professionals are all part of the criminal justice system. These professionals work to uphold the law, protect communities and organizations from crime, and ensure that individuals can exercise their rights.
Given the many career paths available in criminal justice, it's important to determine which may suit your particular career goals and personal aspirations.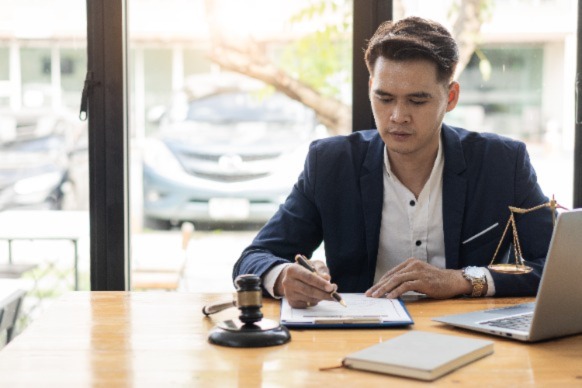 What Is Criminal Justice?
Criminal justice refers to the vast collection of laws, professionals, courts, government agencies, and institutions which collectively make up the legal system. At its core, criminal justice is about holding lawbreakers accountable, protecting victims of criminal acts, and helping offenders reintegrate into society. Those who study this field analyze different facets of the legal system, often in the interest of effectively upholding the rights of both those convicted of a crime and law-abiding citizens in matters of law enforcement, court proceedings, and corrections.
A criminal justice education introduces students to how the legal system works. Curriculum of undergraduate programs cover topics in ethics, investigation methods, sociology, and psychology. These programs may also include how criminal justice has evolved to function in and respond to the needs of modern societies. Graduate degrees go further by giving students the opportunity to specialize in areas such as criminal law, counter-terrorism, or the U.S. Constitution. These advanced programs also encourage students to develop strong research and writing skills.
Criminal Justice Career Paths
There is a multitude of career paths in the field of criminal justice, each with varying educational requirements. From working in law enforcement to teaching at the college or university level, graduates can choose from a range of job opportunities depending on the qualifications they hold.
Careers With a High School Diploma or Associate Degree
Customs and Border Protection Officers
High School Diploma or Higher
In the U.S., customs and border protection officers are primarily responsible for inspecting citizens and non-citizens entering the country. These officials ensure that travelers are carrying the correct documents and following laws associated with transporting items such as food, wildlife, cash, and medicine. Customs and border protection officers can specialize as import officers, parole officers, or immigration specialists. They are typically found working at airports, though many may also find positions in field offices around the country.
Law Enforcement Supervisors
High School Diploma or Higher
Like most government and business organizations, law enforcement agencies are hierarchical in nature, requiring mid-level managers to conduct everyday operations. Law enforcement supervisors oversee the day-to-day responsibilities of police officers, firefighters, detectives, and other similar professionals. They may approve investigations, set patrol schedules, and assign personnel to carry out specific tasks. As administrators, they are also typically involved in setting goals for different departments and drafting policies in accordance with legal regulations. Law enforcement supervisors can work with a range of professionals including elected officials, lawyers, and judges.
Private Detectives and Investigators
High School Diploma or Equivalent
Unlike police officers who are employed by local, state, or federal agencies, private detectives and investigators work for individual clients. These professionals may be hired to find information about a variety of cases, including insurance fraud, missing persons, theft, or stolen identities. While private detectives and investigators don't have law enforcement powers, they carry out many of the same duties as their publicly-employed counterparts, such as conducting interviews, surveilling suspects, and testifying in court. However, like law enforcement officers, they must carry out work on a case in accordance with the law.
Fire inspectors examine buildings and other structures to make sure they are in line with safety codes. This can involve conducting field visits, writing reports, and issuing citations. Some fire inspectors also investigate the cause of fires and explosions. This may require them to utilize law enforcement powers, such as conducting investigations, interviewing witnesses, or charging suspects in cases of arson. Fire inspectors can often be called to testify in court when there are criminal proceedings against a suspected arsonist.
Police Identification and Records Officers
For law enforcement to be effective, it needs dedicated professionals who are trained in curating different types of evidence. Police identification and records officers — also known as crime scene investigators or forensic analysts — document instances of lawbreaking by taking pictures, collecting fingerprints, and organizing potential exhibits. While some of these officers work in the field, others may carry out tasks in a lab, where they conduct tests to find contraband or identify causes of death in cases of murder. Police identification and records officers can also be responsible for providing authorized access to different types of evidence.
Careers With a Bachelor's Degree
In today's data-driven world, intelligence analysts play an important role collecting and analyzing information relevant for law enforcement officers. Their day-to-day duties can include monitoring public forums, using sophisticated software to track suspicious activity online, and gathering evidence for perceived security threats. Most intelligence analysts work for federal law enforcement agencies where they concentrate on analyzing domestic and international terrorism as well as organized crime activities.
Bachelor's Degree or College Coursework
Police officers are primarily responsible for maintaining order and public safety. They work in well-defined jurisdictions, such as counties, precincts, or states, where they monitor potential criminal activity, regulate traffic, and respond to emergencies. These professionals have special law enforcement powers, such as the ability to arrest lawbreakers and issue citations. Some police officers specialize in conducting investigations. Known as detectives, these individuals are plainclothes officers who are primarily responsible for solving criminal cases by gathering evidence to build a case and apprehend suspects. Detectives can also be called upon to testify in court proceedings.
Probation Officers and Correctional Treatment Specialists
Probation officers and correctional treatment specialists work with law offenders in various capacities. Those that work in prisons may regulate prisoners' schedules, determine their eligibility for parole, monitor their rehabilitation progress, and ensure their safety. Others may monitor formerly incarcerated persons to ensure they are abiding by the stipulations of their parole or release. In many cases, this involves helping an individual secure a job, inspecting their living arrangements, and maintaining close contact with their family members and associates. It may also require probation officers and correctional treatment specialists to develop individualized rehabilitation plans that set professional and personal goals for persons with a criminal history.
Security managers are responsible for the correct functioning of an organization's security policies. This usually involves ensuring that personnel and assets are protected from potential criminal or other harmful activities. Security managers may have several responsibilities, including developing protocols, assessing risk, testing equipment, creating budgets, and purchasing new technology. They typically communicate security recommendations to senior managers and make suggestions on how to improve protection measures for an organization. They may also direct the activities of other personnel, such as security guards, and typically work closely with law enforcement officials at the local and state levels.
Social and Community Service Managers
Social and community service managers help develop, implement, and evaluate public programs. Those with a criminal justice background may often work on programs that aim to improve public safety and order. As part of their job, social and community managers work closely with community members to identify their needs. They also work to secure funding and are constantly gathering evidence to determine whether a particular program is effective.
Careers With a Master's Degree or Higher
Criminal Justice and Law Enforcement Teachers
Master's Degree or Higher
Criminal justice and law enforcement educators work at the college or university level, where they teach various courses on law enforcement and the legal system. They work with students at the graduate and undergraduate level, grade assignments, and may sometimes carry out administrative duties for their department. Some also conduct research on criminal justice issues, writing academic papers, presenting their findings at conferences, and giving public lectures.
Doctoral or Professional Degree
Judges are an important part of the criminal justice system. They oversee all aspects of court cases, from determining how trials occur, maintaining order, admitting evidence, and hearing arguments, to approving warrants, delivering decisions, and imposing sentences. Judges may preside over various cases such as traffic violations, civil disagreements, criminal violations, and class-action lawsuits. Their main responsibility is to interpret the law in relation to the facts of a case, as well as ensure that the rights of all parties are upheld during legal proceedings. Judges may work at the local, state, and federal levels.
Doctoral or Professional Degree
Lawyers work for individuals, businesses, and organizations in settings that require legal representation. These may include court proceedings, arbitration talks, contract negotiations, executing wills, and many other circumstances. In many of these cases, lawyers interpret the law, regulations, or previous rulings on a matter to best advise their clients on a course of action. Lawyers can be hired on a case-by-case basis or work as part of an in-house legal team for a business or organization. Many of these professionals work for the government as well, where they prosecute people who have broken the law or defend clients who are unable to afford their own attorney.
How To Land a Job in Criminal Justice
Given the vast number of opportunities in this field, there is no single path to landing a job in criminal justice. Aside from the common prerequisite of a high school diploma or equivalent, different opportunities often have varying education and experience requirements. The best way to get a job in criminal justice is therefore to first understand the unique training and skills necessary for a specific occupation.
Degrees
Most criminal justice professions require an undergraduate degree in the field, such as an associate or bachelor's. Positions that don't require this credential may nevertheless expect that you have some college coursework completed, and employers may even prefer candidates with a formal postsecondary education. Other occupations may require some combination of a graduate degree and real-world experience. For instance, a master's in the field is the minimum education necessary if you hope to become a criminal justice educator at the college or university level. If you aspire to work as a lawyer and someday become a judge, a professional doctorate in law, as well as several years of work experience, are essential.
Regardless of the career path and corresponding education level you choose, it's crucial to enroll in an accredited degree program. Accreditation ensures that a college or university meets nationally recognized standards of academic excellence, and is almost always a requirement to gain employment.
Skills Required
Criminal justice professionals must have extensive knowledge of the legal system, particularly if they work in fields such as education, law, or public service. Additionally, those who work in law enforcement must have specific skills, such as knowing how to operate a firearm, conducting interrogations, and gathering evidence in a scientific manner.
Given that nearly all criminal justice professionals work face-to-face with private citizens in some capacity or the other, they also need to have a set of soft skills to carry out their responsibilities ethically and effectively.
Communication: Criminal justice workers often communicate specialized kinds of information, including on legal proceedings, court cases, and criminal investigations. It's therefore essential that they are able to effectively explain things to a non-expert audience in both written and verbal formats.
Critical Thinking and Decision Making: Police officers, lawyers, and judges often come face-to-face with complex real-world challenges that cannot easily be resolved. Addressing these challenges requires the ability to think critically, approach problems from new perspectives, and confidently make important decisions.
Empathy: Criminal justice professionals tend to work with victims of crime who may be traumatized or fearful. Additionally, they may interact with incarcerated or formerly incarcerated individuals who may themselves face challenging personal circumstances. To remain effective, criminal justice workers need to have a sense of empathy so they can help others work through difficult situations.
Observation: Identifying potential leads, understanding human behavior, and connecting different kinds of evidence to build a case are essential traits for any occupation in criminal justice. Those who work in this field therefore need to have strong observation skills so they can look past the obvious and apply the law, especially in difficult situations.
Public Speaking: Criminal justice professionals are accountable to the public. They must typically address reporters, members of the media, and large audiences — particularly when it comes to providing information on high-profile cases. Having strong public speaking skills allow them to fulfill these additional duties.
Advancing Your Career
One of the best ways to advance your criminal justice career is to pursue a graduate degree. For instance, a master's in this field can give you the opportunity to gain specialized knowledge and foster strong research and writing skills. With this training, you can land high-level positions in sectors such as education and may also be better prepared to embark on a career in the federal government. Furthermore, a professional degree, such as a Juris Doctorate, can equip you with the advanced knowledge necessary to qualify for highly respectable occupations in law, such as lawyers and judges.
Where Can You Work in Criminal Justice?
As an extremely broad field, criminal justice offers the opportunity to work in multiple different sectors including government, business, education, and law. Perhaps unsurprisingly, a majority of professionals are employed by government and law enforcement agencies such as the Department of Homeland Security, the Department of Veteran Affairs, and the U.S. Army. However, graduates with a criminal justice education can also be found employed in the private sector for banks, construction companies, insurance brokers, and large retailers.
Additionally, with government agency field offices spread over multiple states, criminal justice professionals are employed in locations across the country. However, some positions are more heavily concentrated in states with higher populations. For example, the top states employing detectives and criminal investigators are Texas, California, New York, and Florida. These states also employ the highest number of lawyers, judges, and correctional officers.
Bottom Line: Should You Pursue a Career in Criminal Justice?
While a career in criminal justice can be both challenging and rewarding, it may be better suited to individuals who have certain interests and personality characteristics. First, it's important to note that criminal justice work can be quite difficult. Aside from long hours, police officers, lawyers, judges, and private detectives may have to work on potentially distressing cases and routinely deal with individuals who are victims of violent crime. If this sounds stressful to you, then a career in criminal justice is unlikely to suit your personality — regardless of whether you possess the necessary knowledge and skills.
On the other hand, criminal justice professionals play an important role upholding safety, order, accountability, and fairness in a society. They can serve as a critical voice for groups and individuals who may not be able to exercise their own rights. Criminal justice professionals may also advocate for reform in areas such as policing and sentencing, so that these processes are more empathetic to the life circumstances of potential lawbreakers. If you're passionate about helping others and aspire to promote equality and fairness, a criminal justice career can be the perfect field in which to make your mark.
Related Articles
2023 Best Online Law Enforcement Degrees
The best online bachelor's degrees in law enforcement can help prepare students to work in local police departments, federal agencies, and courts.
2022 Best Online Criminal Justice Degree Programs
Discover top online criminal justice degrees ranked by alumni salaries to find the best program to kickstart your career.