How To Become a Counselor
Counselors play an important role in our society. They act as qualified guides to walk people through the struggles of everyday life. Counselors work in specialized fields, such as mental health, education, relationships, or rehabilitation. Given the serious nature of their work, counselors must be properly educated and trained, particularly when it comes to serving patients. If you're interested in pursuing a counseling career, it's important to understand what's required to become a professional counselor.
ADVERTISEMENT
Online Programs You May Be Interested In

Southern New Hampshire University Online
Annual Tuition: $9,600
156 Programs (view all)

Annual Tuition: $16,639 - $17,479
21 Programs (view all)

Annual Tuition: $17,800
195 Programs (view all)
---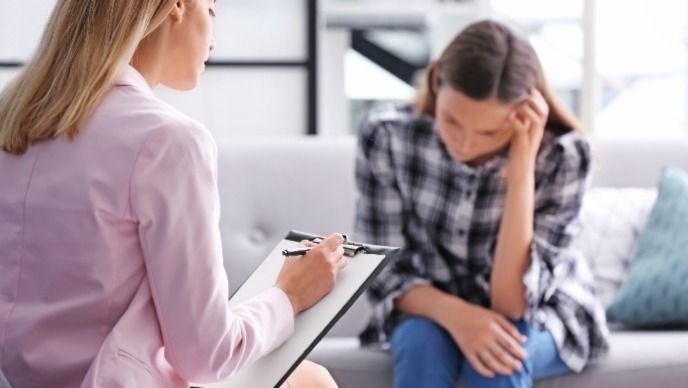 What Do Counselors Do?
The job of a counselor varies depending on which specialization you choose. Counselors fall somewhere between licensed psychologists and social workers. In general, counselors help people solve problems and provide support for an individual's well-being by listening and understanding their issues before offering solutions to help better their lives.
All in all, they focus on behavioral and mental health support as well as overall support. Some clients may have low self-esteem and/or poor communication skills, while others may be experiencing trauma or grief. It may also be the case that clients are not experiencing crisis at all but simply seeking encouragement or someone to talk to about their relationships.
What Are the Requirements To Become a Counselor?
In order to become a counselor you'll need years of dedication. You must earn degrees, achieve certifications, and complete fieldwork. Even once you've completed the bare necessities and secure a full-time role, there are always more opportunities to advance your career through memberships with accredited organizations, advanced educational programs, and professional research.
Below, we outline the steps to becoming a counselor:
What Degree Do You Need To Be a Counselor?
In most cases, you'll need at least a bachelor's degree to land a role as a counselor. This can be achieved through online learning programs or traditional on-campus institutions.
One of the best routes to prepare you for your career is to first earn a bachelor's degree in counseling. While there are many schools to choose from, this area of study will have curricula focused on the foundations of psychology and sociology. You'll learn about the ethical standards that counselors must uphold, interviewing practices for individuals and groups, and how to apply research to therapy practices.
Most counseling degrees are focused on a specialization, which will properly prepare you for your intended career path.
Before you decide on a degree program, it's important to outline what area of counseling you intend to pursue. There are different areas of focus, such as school counseling or mental health counseling. Most counseling degrees are focused on a specialization, which will properly prepare you for your intended career path. Specializations in counseling may relate to substance use, ranging from Addiction Counseling to Foundations in Alcohol and Drug Abuse Counseling. Christian Counseling is another common concentration — but you may decide to pursue a bachelor's degree in Christian counseling more directly — as well as Crisis Counseling.
Once you receive your bachelor's degree you can apply for non-clinical roles, such as a substance abuse counselor or behavioral counselor. However, in order to become a licensed counselor you'll need a master's degree in counseling. While it's still possible to get a bachelor's degree in counseling, most counseling programs are at the master's level, because a master's degree is necessary to obtain a license from the state you work in.
Supervised Clinical Fieldwork
During your studies, you'll be asked to complete supervised clinical fieldwork. In-person fieldwork is especially important for students taking online courses. This learning method involves gaining hands-on experience with schools, social service agencies, or career centers that offer counseling services. You'll learn directly from certified counselors in your field as you shadow their daily work. You may also be asked to complete practice counseling sessions, which will put your skills to the test through mock scenarios.
Counseling Licensure and Certification
Once you've earned your master's degree, you can apply for a counseling license in your state. Keep in mind, each state has different requirements to obtain a license. In some cases you'll be required to complete up to 4,000 hours of supervised training before you're allowed to work with patients or clients. Furthermore, some states require continued education after you begin your career in order to stay up-to-date on new counseling practices.
Counseling Careers
There are many types of careers in counseling that graduates can choose from. Among the most common fields are education, health care, and social services. Within each field there are areas of expertise that support different types of people in need. In the education sector, many graduates go on to work as school and career counselors in high schools and universities. According to the Bureau of Labor Statistics, these advisory roles offer a median salary of $60,510.
If you have only achieved your bachelor's degree — and therefore do not hold a license — you can still secure a full-time role as a counselor. A job as a substance abuse or mental health counselor can be obtained without a license in some states. These particular specializations are expected to see a 23% increase in job openings from 2020 to 2030. Along the same lines, mental health counseling degrees are experiencing a spike that corresponds to this high job demand. In these roles, you'll work directly with patients to analyze their behavior and condition, create plans for treatment, and see them through their recovery.
There are several common specialized careers in counseling:
Social work is among the most common because it puts counselors in direct contact with vulnerable communities and allows them to provide direct assistance to those in need.
Similarly, substance abuse counselors, or rehabilitation counselors, work to identify and adjust behaviors for those who struggle with addiction.
Mental health, family, and marriage counselors also work directly with individuals or groups that require careful consideration, analysis, and support.
Career and school counselors, while still offering helpful solutions to common struggles, are not required to support behavior or mental health problems in the same way as the previously listed counseling jobs. These individuals create action plans to help students and aspiring professionals enter the working world and follow their passions.
Advancing Your Counseling Career
There are a number of ways to advance your counseling career. At the earliest stages of studying, you can earn a master's degree. If you've completed a bachelor's program and have spent time in the field as a professional, you'll be able to apply for a master's program in counseling. Master's degrees allow you more upward mobility to pursue a counselor's license, earn a higher salary, and apply for certified counseling roles.
Beyond a master's, professionals can seek further study as doctoral candidates. Earning your PhD in counseling can take up to four years. During this time, students focus on a specialized area of study, such as family therapy, marriage counseling, or substance abuse counseling. This work can often be completed on a part-time basis, so working professionals can maintain their practice while advancing their careers through higher education. Through in-depth studies in an area of expertise, doctoral students complete research through coursework and fieldwork.
Students on this path work to advance the field of behavioral science for future generations of aspiring counselors. PhD holders will be situated for careers as counseling educators at the university level, full-time clinical researchers, or even academic supervisors.
FAQs About Becoming a Counselor
What Is the Difference Between a Counselor and a Psychologist?
---
Three main factors differentiate a counselor from a psychologist:
First and foremost, the educational requirements for a psychologist are usually more rigorous. Psychologists must hold a PhD in order to receive their license, which could take an additional three to four years of studying. Counselors, on the other hand, can join the workforce after achieving a bachelor's degree because they can operate without a license in certain areas of focus. However, most professionals earn their master's degree in order to officially be recognized as a licensed counselor in their state.
The high level of education required to become psychologists also results in a higher median income. On average, psychologists earn $81,040 per year while counselors earn $48,520.
Psychologists and counselors may work in related fields, but their skills are slightly different. A psychologist's work is more closely related to science in that they use models to analyze a patient's behavior, identify disorders, and test for patterns. Then they provide a scientific analysis before offering a diagnosis and treatment plan. Counselors focus more on communication, empathy, and understanding behavior to create treatment plans for clients.
Is Becoming a Counselor Worth It?
---
Counseling can be a very fulfilling career. If you're getting into counseling because you want to help people through their struggles, you may find great satisfaction in your day-to-day working life. As a counselor, you'll often be put in a position to offer hope to someone who is feeling hopeless. This can be really rewarding for trained professionals who have devoted a significant number of years to studying human behavior.
According to Indeed, counseling is the second most fulfilling job you can have, just behind teaching. They measure their criteria through a series of job factors, such as opportunities for advancement, caring for others, diverse responsibilities, and a sufficient salary.
How Long Does It Take To Become a Licensed Counselor?
---
Becoming a licensed counselor can take up to eight years of post-secondary school. This includes four years to earn a bachelor's degree, plus an additional four years to obtain a master's degree. These are the basic requirements to apply for a counseling license.
Keep in mind, the time it takes to complete this level of education depends on a number of factors. Some programs may offer shorter timelines to obtain a degree through accelerated programs. For most states, supervisory fieldwork or internships are required before you can apply for a license. Some students are able to save time by completing their fieldwork while they study. Others might have to adjust their schedule if they are working part-time jobs or have other obligations, which can lengthen the time it takes to receive your credentials.
Is Being a Counselor a Hard Job?
---
Although counseling can be a very fulfilling job, it can also be quite challenging. You'll be working directly with groups or individuals who are experiencing trauma, heartbreak, addiction, depression and other behavioral and emotional issues. This can take a toll on even the most experienced counselors. Healing takes time and sometimes progress can be slow. For this reason, counselors tend to have a strong mental fortitude in order to work through difficult habits with their clients.
On the other hand, some counseling roles are less reliant on providing emotional support. For example, some roles focus on developing general roadmaps to achieve a sense of progress. This includes school or career counselors, who help guide individuals towards their passions and set them up for success.
Ultimately, the amount of difficulty you experience as a counselor depends on which area of specialization you decide on.
Related Articles
2023 Best Online Master's in Counseling Degrees
View rankings of the best online master's degrees in counseling based on alumni salaries. Read on to learn about coursework, career options, and more.
2023 Best Online Bachelor's in Counseling Programs
Discover the best online bachelor's degrees in counseling for 2023 based on tuition and salary data.