What Can You Do With a Communications Degree?
Communications is an interdisciplinary field that combines the social sciences and humanities to examine how people and society send and receive information. Students majoring in communications take foundational courses in the liberal arts and study the flow of information between various systems. They may also take classes in public speaking, rhetoric, writing, media technology, and communication theory. Some popular specializations include digital media, journalism, mass communications, or strategic communication.
We used data from the U.S. Census Bureau and the Bureau of Labor Statistics to report on the highest earning, fastest-growing, and most popular occupations for communications degree graduates. Learn more about the data and how we used it to create this resource here.
Learn more about the best jobs for this degree
---
Highest Earning Jobs for Graduates with a Communications Degree
With an average salary of $176,126 per year, chief executives and legislators top the list of highest-earning jobs for communications majors, followed by sales managers with $125,577 per year and advertising sales agents with $111,521. All of these positions require strong interpersonal skills and the ability to negotiate and problem-solve.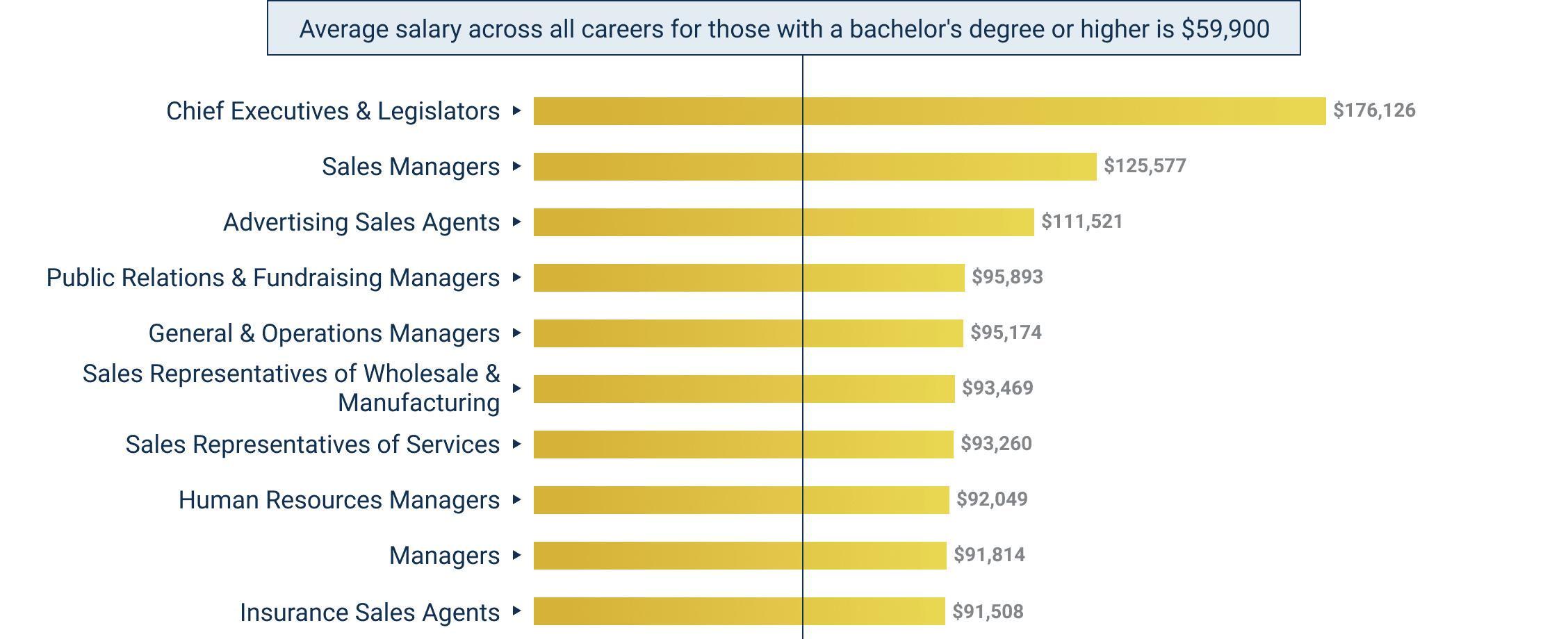 ---
Fastest Growing Jobs for Graduates with a Communications Degree
The fastest-growing position for individuals with communications degrees is speech-language pathologists with a projected growth rate of 24.9%. Television, video, and film camera operators are also on this list, with a growth rate of 18.4%, followed by market research analysts and marketing specialists at 17.7%, and social and community service managers at 17.0%. All of the positions listed below are well above the national projected 10-year growth rate across all careers in the U.S., which is 3.7%.
---
Communications Degree Career Tracks
Individuals with communications degrees are prepared for various careers in different fields, such as marketing, public relations, sales, and business. All of the career paths listed below require effective interpersonal and organizational communication skills.
| Field | Jobs for Communications Majors |
| --- | --- |
| Marketing | Marketing manager, market research analyst, marketing specialist |
| Public Relations | Public relations specialist, public relations manager, public relations and fundraising manager, fundraisers |
| Sales/Customer Service | Sales representative (of wholesale and manufacturing), retail salesperson, insurance sales agent, customer service representative |
| Business | Managers, general and operations manager, human resource worker, secretary, administrative assistant, training and development specialist |
| Writing | Writers, authors |
| Entertainment | Television, video, and film camera operator and editor, producer and director, media and communication equipment worker |
| Services | Social and community service manager, exercise trainer and group fitness instructor, speech-language pathologist |
Top Skills For Communications Graduates
Communications-degree holders are equipped with a broad knowledge base that can be applied to many different career paths. Some of the valuable skills they develop include thinking analytically, communicating effectively verbally and in writing, and working well with a diverse group of people.
Critical Thinking
Communications students are required to conduct research, interpret information, and develop sound arguments. They may also examine communication theories and processes. Communication professionals may be required to problem-solve and strategize to develop a communication plan for an organization.
Public Speaking
Students learn rhetorical strategies and how to prepare and deliver speeches that are meant to inform or persuade others. Many communications professionals are expected to convey information effectively to those within their organization and outside of it, such as the general public or media outlets.
Writing
Students are required to write papers on communication topics in a logical and effective manner. Communication professionals can clearly communicate ideas through writing and adjust their tone and delivery to appeal to different audiences.
Interpersonal Skills
Students may take courses that focus on developing emotional and social intelligence in order to communicate with others more effectively. Those working in communications often interact with various people and groups and must be adept in listening, understanding, and negotiating.
Most Popular Jobs for Graduates with a Communications Degree
The most popular job for individuals with a bachelor's degree in communications is marketing manager, with an average annual salary of $81,316 and a projected growth rate of 6.7%. Next on the list are market research analysts or marketing specialists who earn an average annual salary of $76,052 and have an anticipated growth rate of 17.7% in the next decade. Other popular jobs are human resource workers, with an average salary of $77,807, and customer service representatives, with an average salary of $49,729.
| Career Type | Average Annual Salary | Projected Job Growth 2019-2029 |
| --- | --- | --- |
| Marketing managers | $81,316 | 6.7% |
| Market research analysts and marketing specialists | $76,052 | 17.7% |
| Human resources workers | $77,807 | 5.6% |
| Customer service representatives | $49,729 | -2.0% |
| Sales representatives of wholesale and manufacturing | $93,469 | 1.5% |
| Producers and directors | $81,537 | 10.0% |
| Public relations specialists | $79,163 | 7.2% |
| Retail salespersons | $56,343 | -0.6% |
| Secretaries and administrative assistants, except legal, medical, and executive | $36,638 | -10.1% |
| Writers and authors | $47,354 | -2.4% |
---
Most Lucrative Entry-Level Communications Degree Jobs
From business to entertainment, people in the communications field all have one thing in common: They must understand and meet their audience's expectations and know how to deliver on them. The following are three of the most lucrative entry-level careers for individuals who've been educated to connect with others effectively by earning a bachelor's degree in communications.
Technical sales representatives
Technical sales representatives, sometimes called wholesale or manufacturing sales representatives, typically sell high-end products to businesses, organizations, and government agencies. To better understand their customers' needs and sell the most appropriate products, they develop an in-depth knowledge of the technical aspects of the industry they work within. Responsibilities include identifying and building relationships with customers, demonstrating how their products meet customers' needs, negotiating prices, and providing ongoing customer service.
---
Television and video editors
Most film and video editors work in the television, motion picture, and video entertainment industry, either as full-time employees or independent contractors. They use sophisticated computer equipment to edit together all of the recorded images for a project into a cohesive story. Editing requires a great deal of collaboration with others responsible for shooting the footage, writing the script, and creating the music, visual effects, graphics, and sound effects.
---
Public relations specialists
Public relations specialists—called press secretaries when they work for a government official or agency—manage all aspects of an individual's or organization's communication with media representatives, consumers, investors, constituents, and other members of the public. Activities can include writing press releases, preparing and presenting speeches, developing promotional campaigns, and engaging in social media. Looked at from a broader perspective, the role involves creating a desired image and shaping public opinion.
---
Frequently Asked Questions for Communications Degree Graduates
What kind of job can you get with a communications degree?
Communications majors develop a broad skill set that is applicable to a wide range of jobs in many sectors, such as marketing, entertainment, business, public relations, sales, and more. Some specific job titles are marketing managers, public relations specialists, human resources professionals, and producers and directors.
How much do communication majors make?
Communication majors can make anywhere from about $36,638 to $176,126 a year depending on the career path they choose. Since communications is a broad discipline, graduates are prepared for an array of careers in the media, marketing, sales, business, or government. Those in executive or management positions tend to earn the highest salaries. It's important to note that salaries can vary by your location, with urban areas typically offering higher wages to workers.
Is communications a good degree?
Getting a bachelor's degree in communications is a good option if you're interested in understanding the processes of how information is received and interpreted between people, organizations, and the mass media. Students learn how to communicate effectively verbally and in writing, which is suitable for a range of careers in various fields after graduation, spanning entertainment, writing, marketing, sales, and business.
What are the highest paying communications jobs?
The careers with the highest salaries hold executive or management-level positions in business, politics, and sales. Chief executives and legislators earn the highest average annual salary of $176,126; executives implement policies and determine the overall direction of companies or organizations, while legislators work in the legislative branch of government and are responsible for making and passing laws. Sales managers earn an average annual salary of $125,577 and are in charge of directing the sales or strategy of an organization, reviewing data, meeting financial targets, and managing sales teams.
Professional Associations
American Communication Association (ACA) - The ACA is a not-for-profit, virtual organization based in the United States whose mission is to support new technologies to support the communications fields, including instruction and research.